Responding to their 4-1 humiliation at Tottenham with three straight wins, Liverpool's 4-1 victory at West Ham could be a statement result.
Capitulation at Tottenham aside, we can class this as a cluster of victories now. While the goals have flowed freely of late, the football has still been a bit hit and miss, until now.
Steven Scragg reckons the win against West Ham United has the potential to offer a reconnection, with the type of football which blew Arsenal away back in August.
Football With a Smile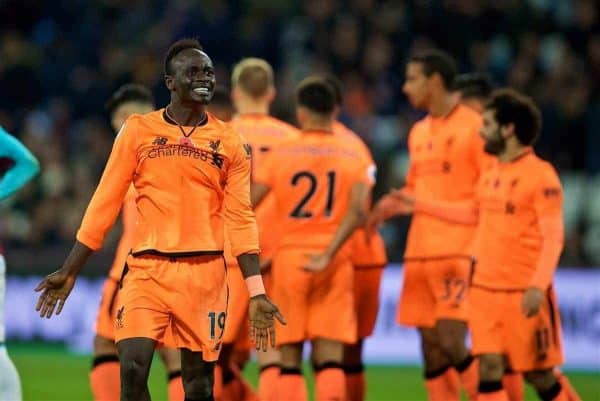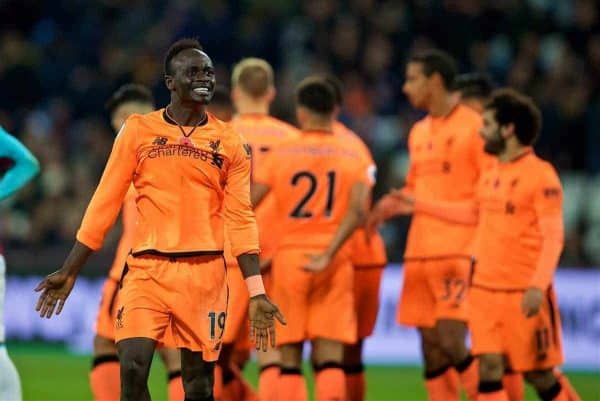 Four wins in the last five games now.
Yes, we've scored goals aplenty all of a sudden, but up until this win at West Ham, it was fair to say that much of our recent good form had appeared intermittently.
Flashes of what we are capable of, rather than any compelling argument to suggest that we had turned a collective corner.
We only clicked when the first goal was presented to us, but from there on, this was much more like it.
Mohamed Salah, both clinical and profligate at times this season, has now plundered 12 goals in all competitions. It really could have been double that amount.
Salah is the biggest generator of smile inducing football for Liverpool so far this season. What a footballer we have on our hands.
A nice surprise to see Sadio Mane return. This was smile-inducing in itself, yet the part he played in the two goals Salah scored was even more so.
Mane, just as Philippe Coutinho and Roberto Firmino have at times, has shown a swift understanding with Salah. It's almost as if Salah was born to play in a Liverpool shirt.
Alex Oxlade-Chamberlain is suddenly looking very much at home with the Reds. This provokes a smile. An adjustment of formation brought fresh impetus to a player, who it's been difficult to feel won't be the odd man out, when everyone is fit and available.
This alternative formation opens the door a bit wider for Oxlade-Chamberlain.
Still Hesitant at the Back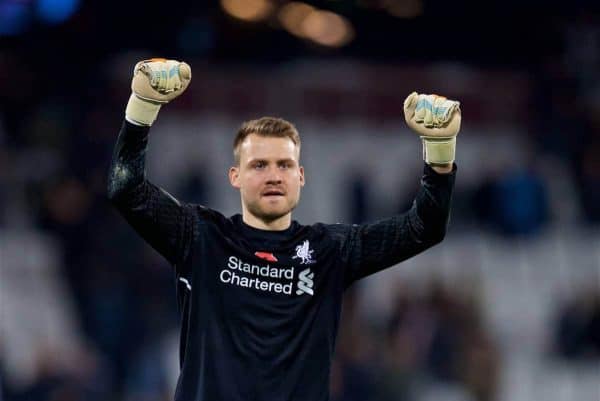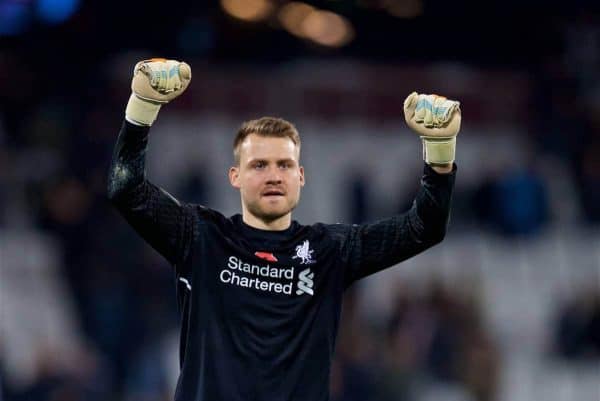 The choice of Simon Mignolet as captain was a bit leftfield, but his goalkeeping remained true to type. Hesitant at times, and alert at others.
The same could be said for the defenders in front of him. It is always good to see a defender chip in with a goal, but Joel Matip remains tentative at times.
He should be better in the air than he is, but he should have a monstrous central defensive partner alongside him. He still doesn't.
It says everything about our defensive complications when Alberto Moreno continues to be the least of our back-line worries.
Joe Gomez was a culpable component in the conceding of West Ham's only goal, but it was big response from him in not letting it effect the remainder of his performance, and it was him initially winning back to ball which led to our fourth goal.
Good to See Other Teams Defending So Comically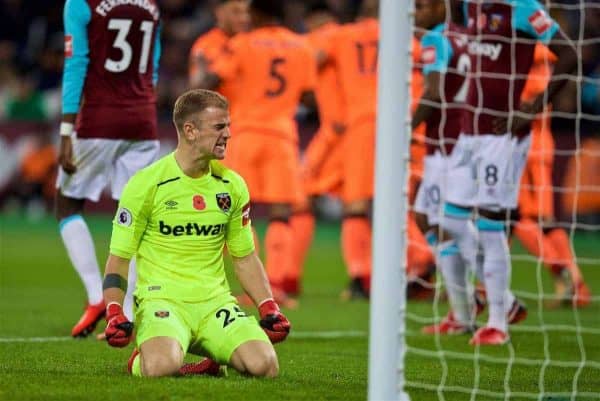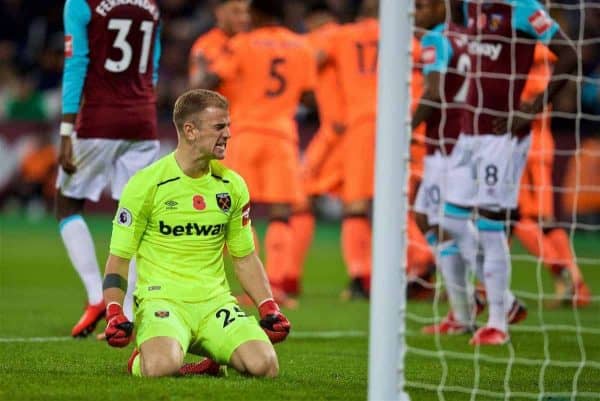 Defending isn't just a Liverpool specific problem. Our first goal came from a set-piece. A West Ham set-piece. Conceding a goal within a short few seconds of taking a corner down the other end of the pitch is quite spectacular.
Chelsea were partaking in amateur-hour defending against Roma in midweek. It should make us feel a little better about ourselves. Take solace. Crap defending isn't just a 'Liverpool thing'.
Our second goal came from a set-piece of our own. Joe Hart always offers hope of goals. We scored four, and it could have been more.
The celebratory bubbles, released to hail West Ham's goal, had yet to disperse when Oxlade-Chamberlain made it 3-1. It made for a surreal scene.
By the time we made it four, West Ham were operating an open-door policy.
Slaven Bilic is carrying the haunted look of a man who will be taking Christmas off this year.
New Ground Wankers?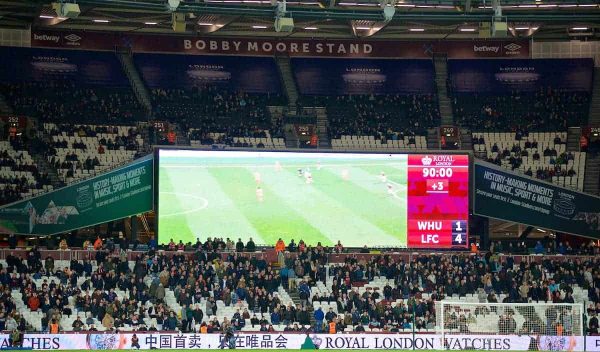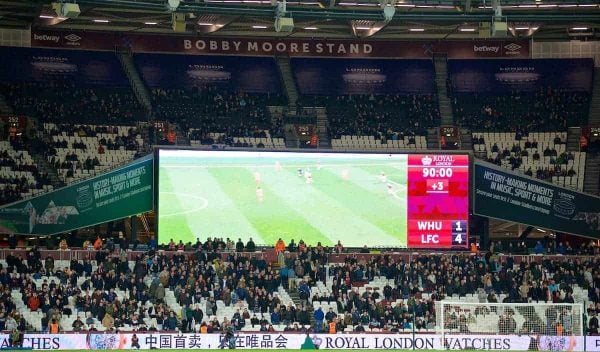 I loved Upton Park. A traditional football ground which was rooted in its community, a football ground which dripped in history. You can't stop progress and all that, but you should be able to.
Football clubs which move on to pastures new lose a sizeable section of their soul.
Arsenal aren't Arsenal to an extent anymore, and despite their compelling reinvention since they hit oil, the same can be said of Man City.
Tottenham already feel detached from their old essence. There is a feeling of franchise to the relocated clubs.
It's a huge shame that another iconic football ground was allowed to disappear into the ether. Unfortunately, West Ham no longer feel like West Ham.
Untimely International Break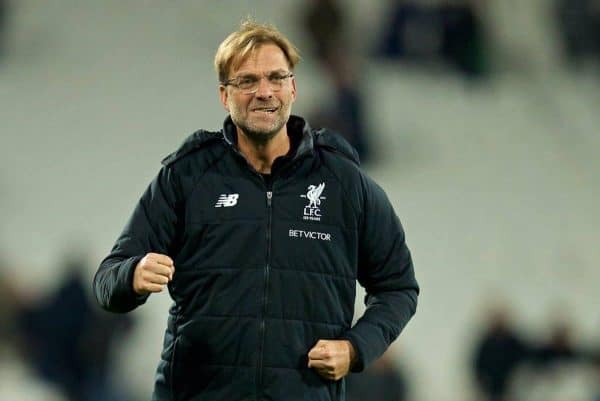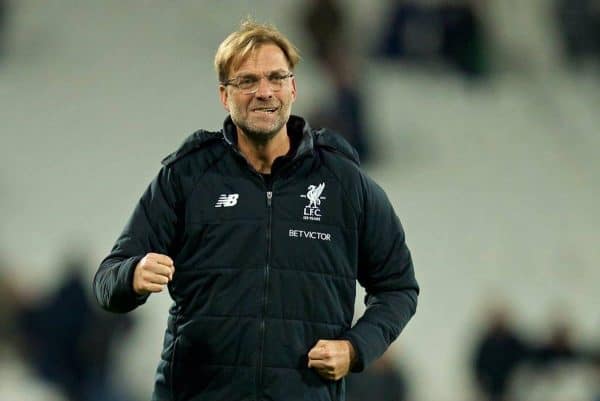 Just as we appear to be finding our range, we have to stop for another round of international fixtures. Frustrating. The chance to build momentum potentially spiked.
This gives us an interesting test of character, to be able to come back beyond that break, and pick up where we left off.
In theory at least, Southampton at home, should offer a sedate return, but then we face a defining double-header. Away to Sevilla in the Champions League, and Chelsea at home. We'll end November away to Stoke City.
I've mentioned clusters of games before. This will be our next cluster of games.
Coutinho, and perhaps Adam Lallana will boost our options a fortnight from now. These three successive wins, which we have secured, can act as a springboard into the winter stretch.
Should we exit November unbeaten, then our mojo will be rising at last.