Trent Alexander-Arnold hailed the "crazy" attacking options Liverpool have at their disposal and admits it is a nightmare for defenders—even in training.
Jurgen Klopp's side took their Premier League tally to 46 goals in 20 matches with a 5-0 win over bottom club Swansea and made it an incredible 75 in all competitions over 29 games.
Only Paris St Germain and Manchester City from Europe's top five league have scored more this season.
Mohamed Salah leads the goalscoring with 21, Roberto Firmino has 16, Philippe Coutinho 12, with Sadio Mane contributing seven after injuries and suspension disrupted the first half of his campaign.
"It is crazy because as a defender you know if you do your job and keep clean sheets it is a solid foundation for the attackers and midfielders to go and do what they do best, and that is score goals and create chances," said Alexander-Arnold.
"When you are not involved in the goal you are almost like a fan with a different perspective.
"But I don't think it comes as a surprise to anyone who is playing or on the bench to see it happen because it happens day in, day out.
"With the level being so high in training it is almost like it is a match situation, because the players you play against are sometimes better than the players you play against at the weekend.
"It is a nightmare because there is no real way to stop them as every one brings a different aspect to the pitch and it is crazy to play against."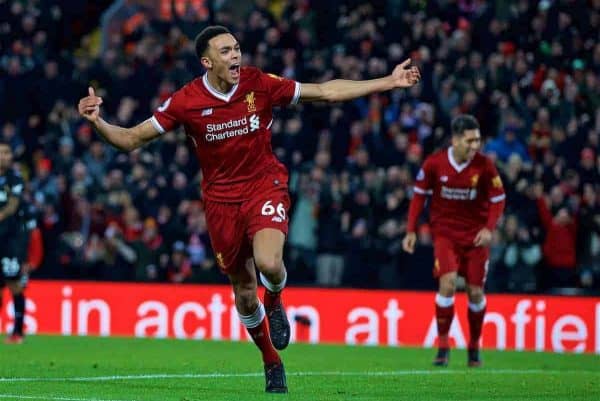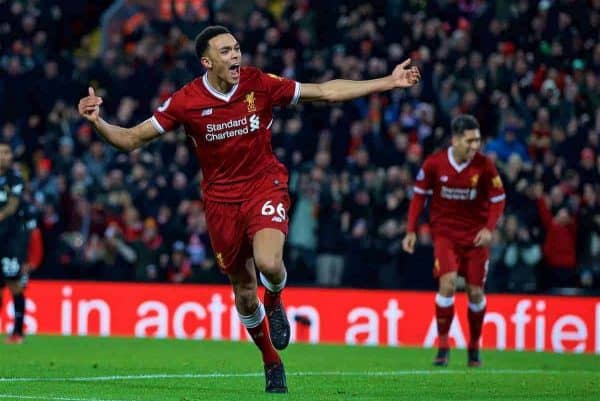 In a goal-heavy season, Alexander-Arnold himself has three after the Liverpool-born 19-year-old smashed home a half-volley in front of the Kop against Swansea for his first at Anfield.
"I've been dreaming of that since I was a little lad and to see it come true is incredible," said the full-back, who has been at the club since the age of six.
"I just thought 'win it back for the team' and then I thought 'there could be a shot off' and it kind of opened up for me so I just hit it and it was a good finish in the end.
"Obviously you have an idea of the picture of the celebration but not specifically the goal, so just any way the goal went in would have been special."
It has been a breakthrough 12 months for Alexander-Arnold after making his first Premier League start at Old Trafford in January, signing a new contract in the summer, playing in the Champions League and scoring his first goals for the club.
"Obviously I am really proud. It started well in January with the Man United game and I've pushed on really well since then," he added.
"To be doing what I'm doing now is a dream come true—I don't think anyone pictured me doing what I have just done to be fair.
"It all came from the manager's trust and every time I get that chance I try to repay him on the pitch."