Liverpool have already signed Virgil van Dijk, but with Philippe Coutinho leaving for Barcelona who else should be on the radar in January?
Van Dijk became the world's most expensive defender when he made the switch from Southampton on New Year's Day, eclipsing Man City's £54 million right-back Kyle Walker.
The Dutchman made an immediate impact, scoring a late winner in Friday night's 2-1 victory at home to Everton in the FA Cup third round, capping a performance of real promise.
But a day later, Liverpool agreed a £142 million deal with Barcelona to allow Coutinho his dream move to Catalonia, leaving a void in Jurgen Klopp's squad.
Given their strong start to the campaign, this mid-season window provides Liverpool with the opportunity to address this and ensure continued success both domestically and in Europe.
So who else should Klopp set his sights on this month? Should it be a direct Coutinho replacement or another option elsewhere?
Here, This is Anfield writers Jack Lusby (@jacklusby_), James Nalton (@JDNalton), Chris Williams (@Chris78Williams), Matt Ladson (@mattladson) and Karl Matchett (@karlmatchett) have their say.
JACK: Thomas Lemar (AS Monaco)

Age: 22
Position: Attacking Midfielder
Nationality: French
---
It's an obvious choice but given Coutinho's departure and the immediate loss of his myriad talents I'd throw everything at Monaco for Lemar.
He's not as established as Coutinho, and he's clearly a different player, but he possesses a lot of the qualities that made the Brazilian so integral to Klopp's system.
At his best on the left, he has experience of operating both as a No. 10 and deeper in midfield, and his creativity, dribbling ability and long-range shooting make him a deadly proposition, while his off-ball work is also key.
There are few that match up in every aspect quite like Lemar, with Napoli's Lorenzo Insigne perhaps the closest operating at the top level.
But Lemar is four years younger, is ready to join Liverpool and Monaco may reluctantly do business at a price; for me, it's a no-brainer.
JAMES: Gustavo Scarpa (Fluminense)
Age: 24
Position: Attacking Midfielder
Nationality: Brazilian
---
Scarpa's put up big numbers for two seasons in a row, but while other players in the league, and even in his own team, are coveted by European clubs, his name is rarely mentioned on the transfer wire.
He has great delivery from dead-ball situations with his wand of a left foot, and he'd provide a creative spark to complement the likes of Salah, Mane, Wijnaldum and Oxlade-Chamberlain.
In 2016 he finished the season with eight goals, and his 10 assists were the most in Brazil.
During the 2017 season he bettered his assists tally with 12, but only added two goals as Fluminense couldn't get out of the traps.
Following Coutinho's move to Barcelona he may be an alternative to Lemar should the Monaco man prove difficult to sign.
Scarpa has an Italian passport too, but don't tell the other clubs.
CHRIS: Max Meyer (Schalke)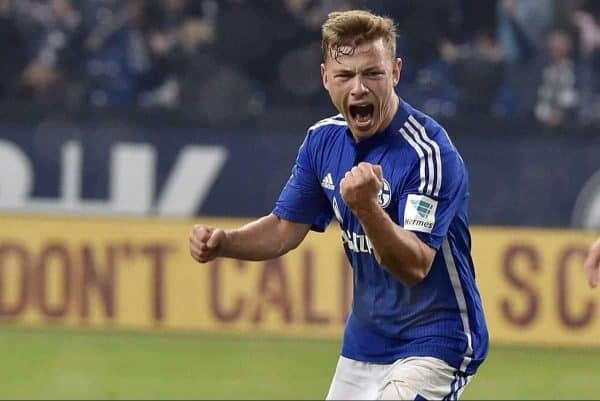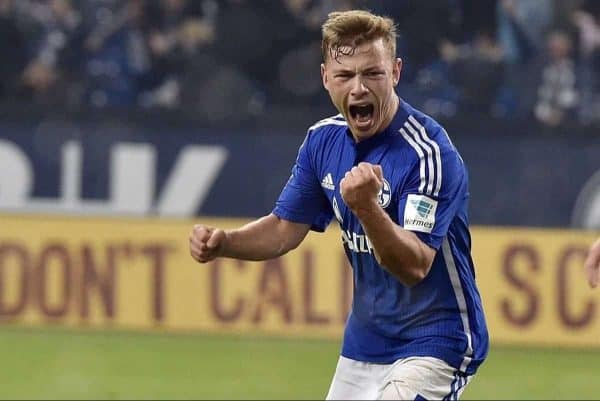 Age: 22
Position: Central Midfielder
Nationality: German
---
He's only 22 but his youth shouldn't put people off. Originally a player who operated higher up the pitch he has been transformed by Dominic Tedesco into a deeper-lying playmaker.
Meyer adapted to his new position immediately and he's one of the the main catalysts behind a Schalke revival in the Bundesliga, over the first half of 2017/18 Meyer has a 91 percent pass completion average.
Schalke play with a back three and Meyer offers them full protection whilst also being able to spot a quick forward transition.
I've no doubt he'd be able to bring his defensive midfielder qualities to any shape Klopp employed.
Because of his past experiences higher up the pitch he'd also be a utility player, able to offer Klopp other options if required.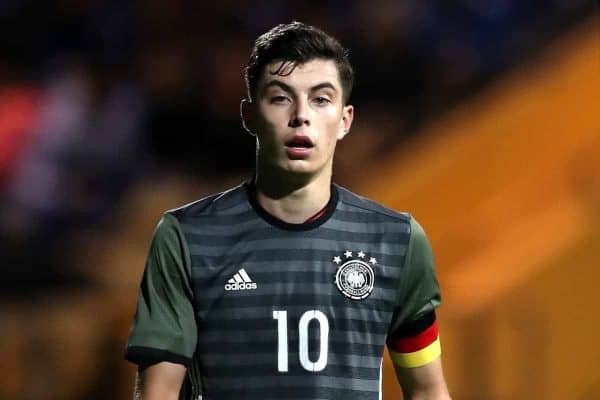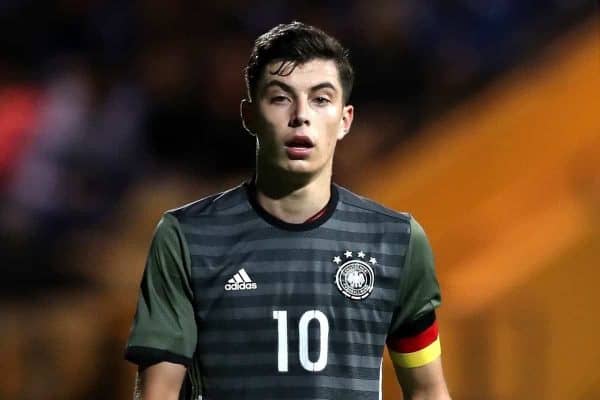 In terms of a Coutinho replacement, they should go all out to sign Kai Havertz from Bayer Leverkusen.
Whilst I'm certain Leverkusen wouldn't be open to a January move he is potentially someone who Liverpool could tie down in the winter window to a summer move.
He may only be 18, but he's provided the same sort of buzz around his play that Ousmane Dembele did when he first arrived at Borussia Dortmund back in 2016.
He's got an ability to drive at defences and scare them stiff, he can also unleash a wicked shot from long range, already sounds like Coutinho doesn't he!
MATT: Alisson (Roma)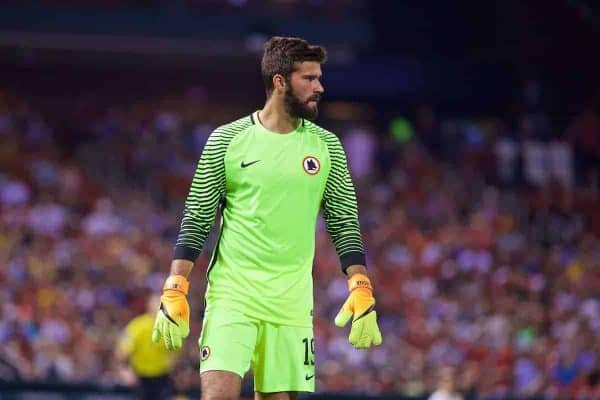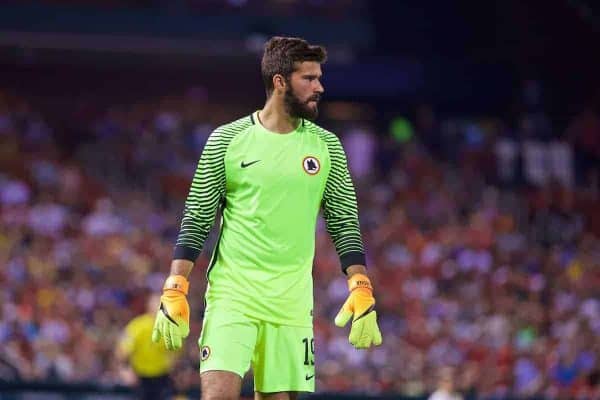 Age: 25
Position: Goalkeeper
Nationality: Brazilian
---
Lemar, Leon Goretzka, bringing in Naby Keita early – all those would be great, especially in the medium to long-term.
But in order to immediately improve the spine of the team in a similar manner as the signing of Virgil van Dijk does, a new top-class goalkeeper is what is needed.
Reportedly Alisson and Jack Butland are the two names Liverpool have looked at. Butland will surely be available in the summer for a relatively cheap price once Stoke go down, but Alisson appears to be the higher calibre player.
Of course, Roma are unlikely to want to sell one of their prized assets in January (who would?) but a loan for Loris Karius or Simon Mignolet in the other direction might help smooth that out.
A goalkeeper with presence, who is good with the ball at his feet and can give confidence to the defence in front of him. That would be the gamechanger for Liverpool this January.
KARL: Asier Illarramendi (Real Sociedad)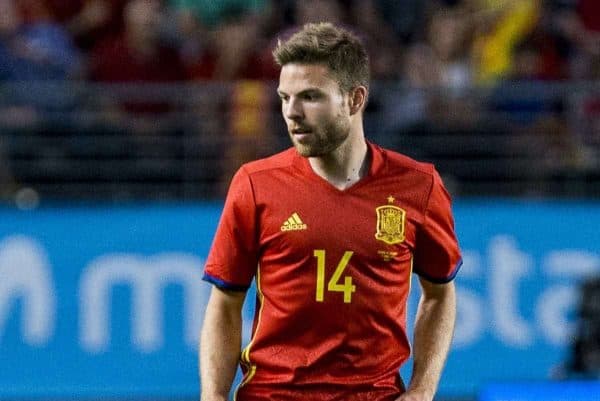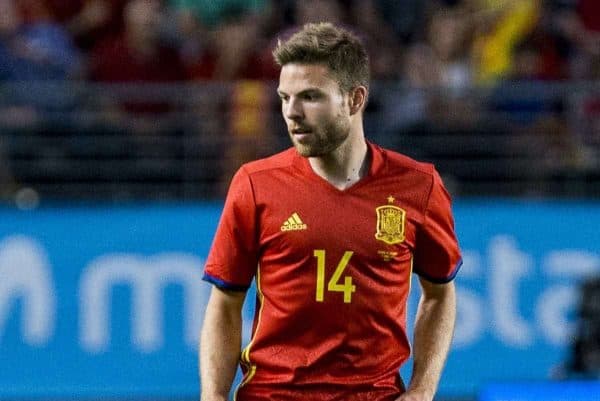 Age: 27
Position: Central Midfielder
Nationality: Spanish
---
He can fill a gap which is in the squad, he can perfectly take on the demands on the midfield under Klopp and he's technically impressive enough to hold his own in a double pivot.
Illarra is a natural holding option, combative and aggressive in winning back possession and mobile enough to protect the defence.
Yet he's also proactive on the ball and always looks to try and surge forward the first few metres into space to get the team back on the offensive.
Aerially he's good, on the deck he's better.
He has been one of the more impressive La Liga performers over the last two years outside of Real and Barca, and is well worth another shot at a bigger club.
He turns 28 soon, so is in his peak and isn't a player the Reds will have to wait for to mature: he'll be straight in, and straight on with his role.