Disappointingly drawn into a very Everton type of game, Steven Scragg is impressed that Liverpool eventually saw sense and didn't let our blue cousins prosper.
Sam Allardyce suggested that his Everton side were going to come to Anfield and have a go.
To be fair, they sort of did.
You couldn't exactly say they were 'expansive' but they were noticeably less negative than they were in the league encounter just before Christmas.
There is an easy way to the heart of an Evertonian. Give them a brand of football which is organised, abrasive, combative and hard to play against, and they will largely be satisfied with their lot. Think David Moyes' 'finest moments' or Joe Royle and his 'Dogs of War'.
The fabled School of Science was shut down due to budget cuts long ago.
Give them a Ronald Koeman, or a Roberto Martinez, what with their 'fancy ideas' and there will be an initial feel-good factor, before they realise that Everton are never going to be able to compete at the top table, when it comes to doing football on the floor.
We laboured, we were disjointed. Everton were abrasive and combative. We basically met in the middle.
Derby belly?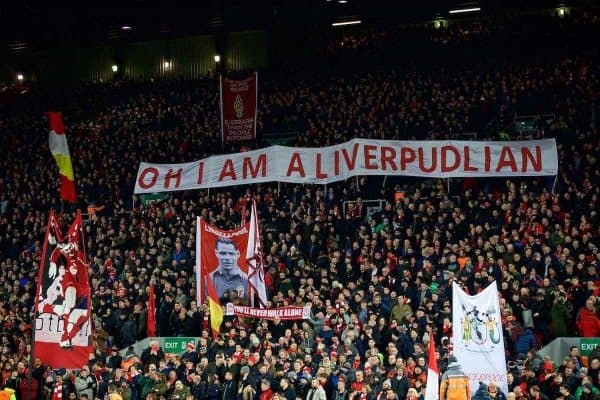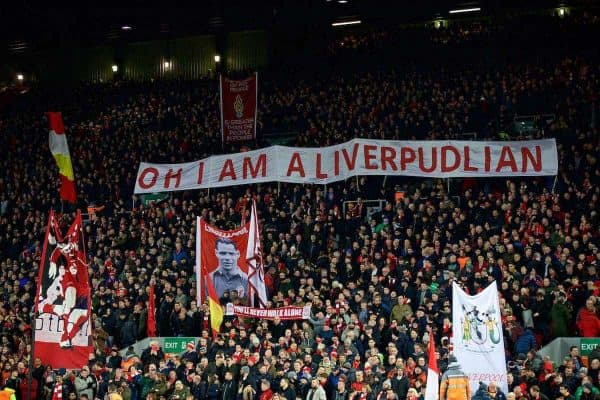 It's something I've long since stopped suffering from – that pre-derby day anxiety.
I used to be gripped by it for an entire week. It would even start to twinge a good fortnight before we faced them. A midweek game beforehand, to distract the attention was always most welcome.
Now, I tend to forget who we're playing from one game to the next. I often tip up at Anfield asking who we're playing today or being utterly convinced we're playing someone completely different.
Modern football is so 'out there' that the imagination is no longer allowed to subtly run riot in the way it used to, during the build-up to derby day, building to an eventual crescendo. People seem to get wound up before games now, which is an entirely different concept to the mind running riot.
The endless analysis which is now available means you can bypass the imagination part of the process.
Once the game starts however, the excesses all fall away, and you are left with 11 in red vs 11 in blue. Suddenly derby day kicks in, like a switch has been flicked. It's something which reaches a still primitive inner sanctum. 125 years of history bubbles to the surface.
I don't see the problem that people seem to have with Friday night football. I'm all for it.
Vibrating armchairs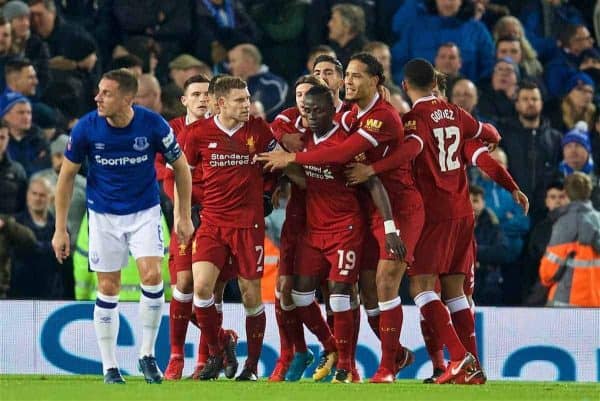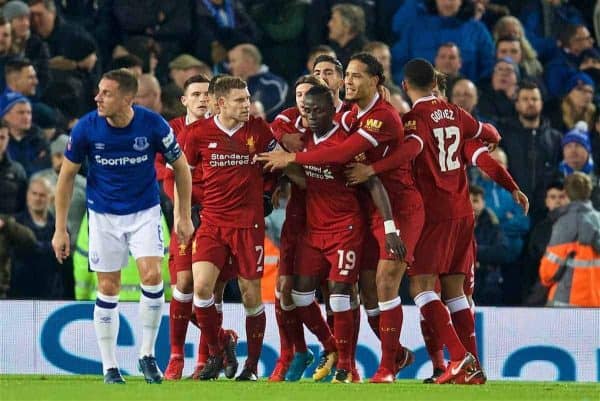 I was definitely sat next to someone who was suffering through derby belly though.
He was doing that shaking leg thing, from start to finish.
Given that the entire row of seats is conjoined, it meant that my chair vibrated through the entirety of the game, a bit like those vibrating armchairs you see at motorway service stations, next to the video games and slot machines.
Live by the soft penalty, die by the soft penalty.
It was with a delicious serving of irony that we opened the scoring.
Three weeks ago, you weren't allowed to put your hands on an opposing player in the penalty area. Although now it is totally acceptable by many accounts.
People are fickle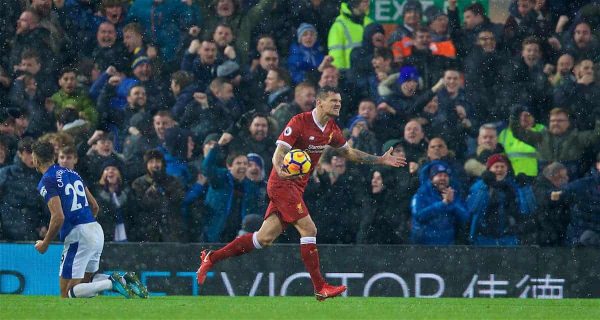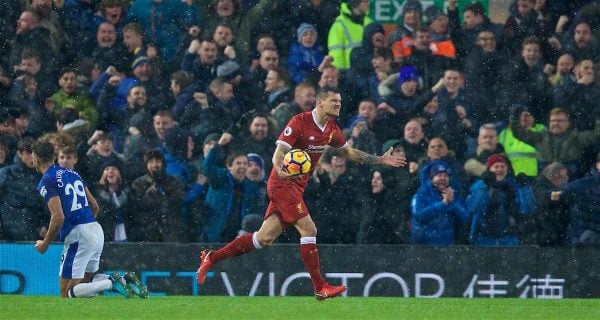 Three weeks ago, I suggested that Everton's penalty was the correct decision. It caused some consternation.
It was all to do with the context.
Football shouldn't be a game where that type of challenge warrants a penalty, but it unfortunately is. This was my angle. So, a penalty it was.
You can't have one rule for one, and one for another. If Dominic Calvert-Lewin wins a penalty, then so does Adam Lallana. It's not 'right' but it is 'correct' under modern-day footballing circumstances.
It was rather sweet, that both instances happened down at the Anfield Road end.
Roberto Firmino vs Mason Holgate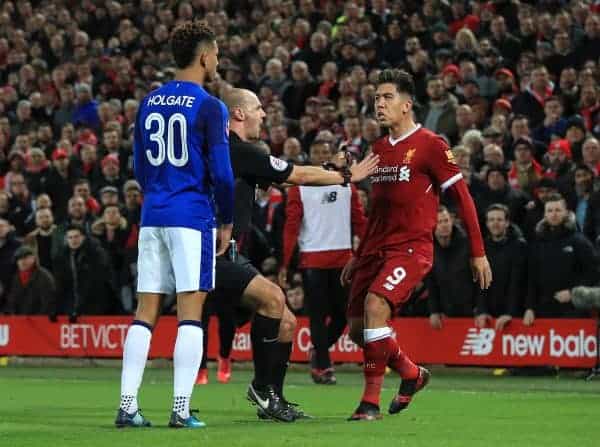 Contentious ground, and a full story to unfold. Holgate was out of order in pushing Firmino into the Main Stand. It was underhand, and a dangerous action.
On multiple occasions throughout the game Holgate struck the image of a moody schoolboy playing against grown men. You almost expected him to pull out a notepad and a mobile phone, and start asking for autographs and selfies.
When ex-Everton players on Radio Merseyside are saying one of their own is out of order, then it's fair to say that he was out of order.
Exactly what Firmino said in retaliation will become clear soon enough. It's promising that Liverpool have been immediately transparent, and haven't pulled up the drawbridge.
Worth the £75m already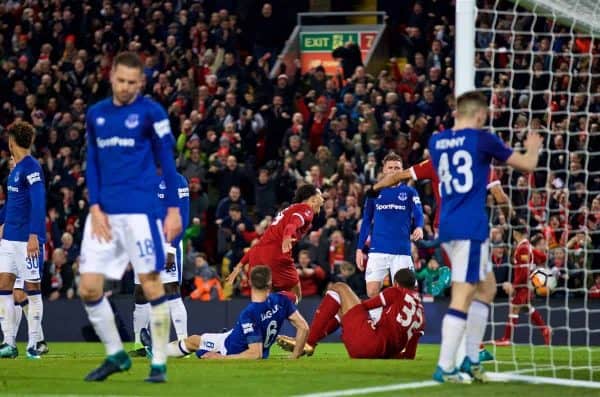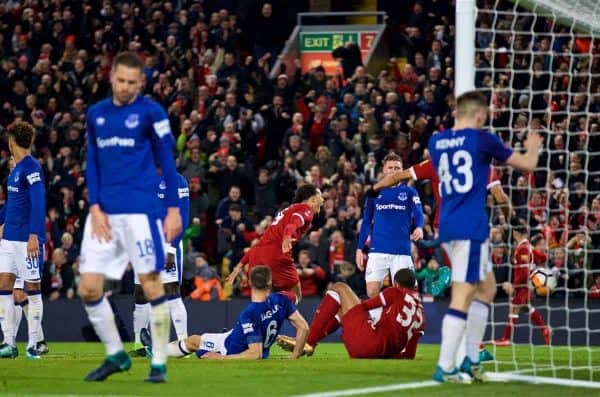 The script couldn't have been written any better.
Virgil van Dijk oozed confident ease throughout the game. Sure-footed, he won the vast majority of his aerial duels, his passing was immaculate, and then he only went and scored the winning goal, didn't he?
Watch it again. Holgate was an unwitting accomplice in our winning goal.
Joel Matip is set to be the first to the ball. Slightly beyond Jordan Pickford's near post, if he reaches the ball then it would be difficult for him to deflect it home.
Holgate pushes Matip in the back, sending him sprawling. This, in turn, paves the way for the better-positioned van Dijk to connect with ball.
Cue derby-winning bedlam, both on and off the pitch.
Can we win the FA Cup?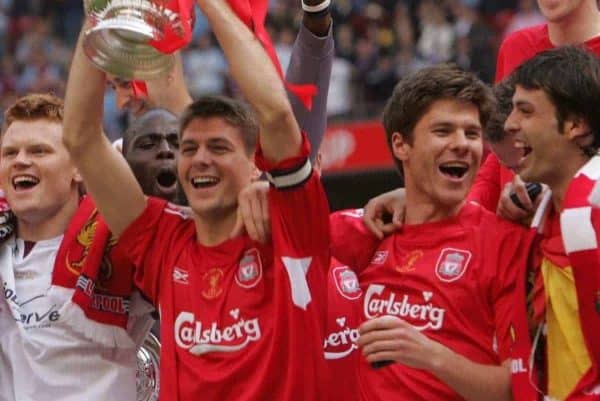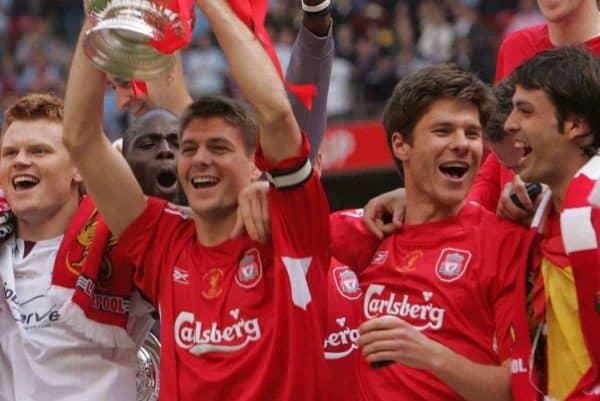 Luck of the draw, and all that. Maybe we will, maybe we won't. It would be nice if we did though. No different to the Champions League in that respect, which according to the experts would be 'unrealistic'.
Confidence is building however, and psychologically we are gaining in strength. Manchester City next, and a score from earlier in the season to settle. Keep this upward arc going, and it would be 'unrealistic' to take us lightly.