Liverpool produced a massive performance and inflicted a first Premier League defeat of the season on Man City at Anfield, with some standout performances for the Reds.
Liverpool 4-3 Man City
Premier League, Anfield
January 14, 2018
Goals: Oxlade-Chamberlain 9′, Firmino 59′, Mane 61′, Salah 67′; Sane 41′, B Silva 84′, Gundogan 90+1′
---
Loris Karius – 6 (out of 10)
Given the nod not just to start, but to establish himself.
A couple of early claims high in his box would have given confidence, but Karius was beaten at the near post by City's first real moment of danger.
Conceding a goal isn't an issue in isolation, but Karius needed to put in a performance where fingers couldn't be pointed his way.
Nothing he could do about the second or third goals.
Joe Gomez – 6.5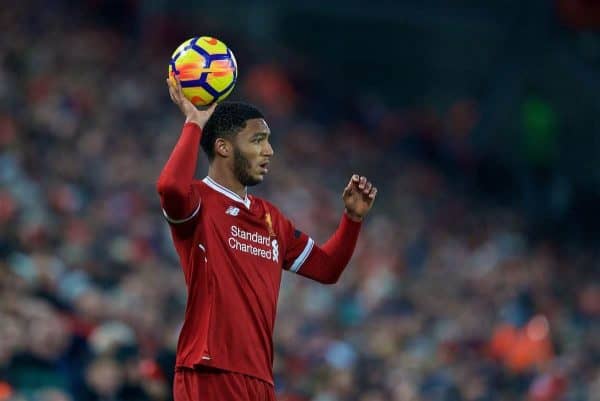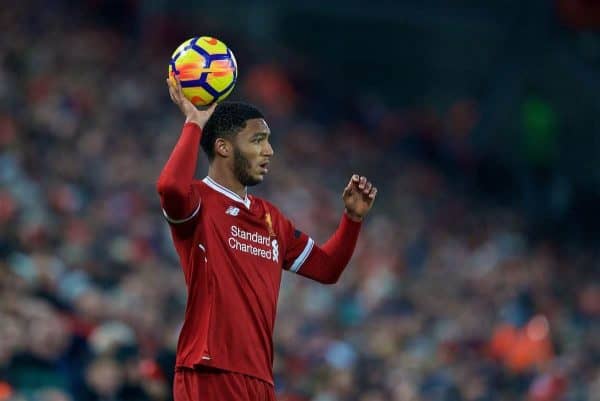 Sturdy in the main early on without doing anything offensive-minded at all, probably under instruction.
However, he was caught under the ball on a lofted pass and it immediately led to City's big chance and equaliser.
Clearly tried to push forward more in the second half, to reasonably good effect, but must continue to learn and progress when he does make his errors.
Joel Matip – 8
A completely functional defender's performance: blocks, headers, clearances and tackles when stepping out of the backline.
Kept it simple, did his job, made sure there were no easy chances from his areas.
Dejan Lovren – 6.5
Like Matip he did his basic job in as straight-forward fashion as possible, a no-frills approach.
Mis-controlled or misplaced passes a few times but was generally solid on the ball, though very lucky when he missed a challenge on Kevin de Bruyne that City didn't make him pay.
Captain for the day and put in a committed performance, but he's beaten far too easily, too often, and his decision-making remains suspect.
The final nervous moments were in large part down to his failed attempts to win the ball, leaving City players in the clear.
Andrew Robertson – 8.5
A vital movement infield to narrow the gap between himself and the centre-back probably saved an early big chance on goal for Man City.
Quick to make tackles, press upfield aggressively and send Raheem Sterling 20 metres up into the air, much to the delight of the Anfield crowd.
Has grown in stature enormously over the past few weeks and the applause he received after hounding City from left-back all the way through to Ederson was richly deserved.
Emre Can – 8
Two very good early challenges to win the ball back as the Reds pressed high and hard.
The German is capable of the brilliant and the baffling; this was one of those performances which will leave fans disappointed to lose him on a free transfer.
Excellent at bursting into space, tackling back in midfield and picking up loose balls.
Alex Oxlade-Chamberlain – 9 (Man of the Match)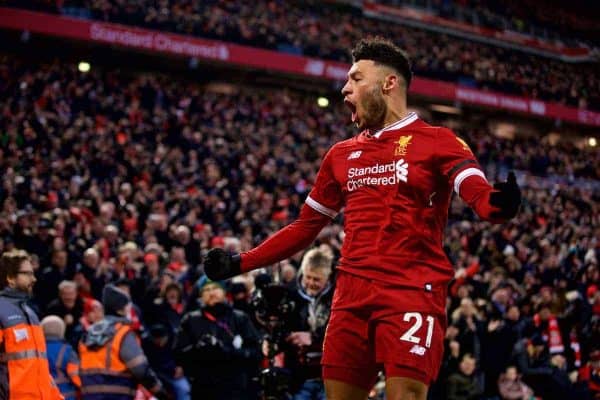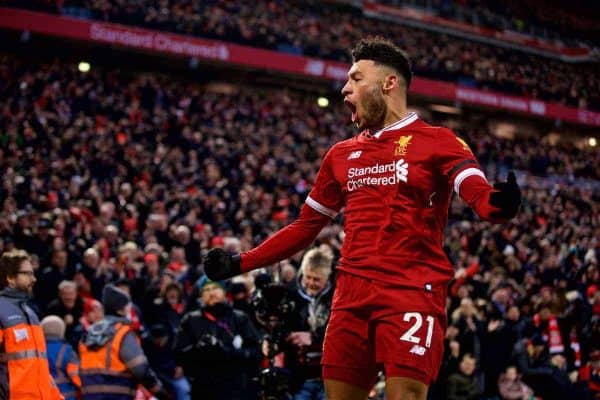 Tremendous goal – winning the ball, surging into space and drilling in the low shot. It was like a former Liverpool midfielder… A perfect midfield play to give the Reds the lead, after he'd started the game in excellent fashion.
Always diligent about his movement and passing when on the ball in the first half.
Exciting and aggressive when dribbling forward and one of Liverpool's biggest threats in the match.
So often the first player to support the front three and he is one of the few who—in a totally different way—can minimise the impact of Philippe Coutinho's departure.
Gini Wijnaldum – 7.5
Vital in the opening half-hour, closing out spaces, staying well-placed in the centre of the park to shut out City's attacks and close down de Bruyne.
Made plenty of forward runs and got into some great positions, but seemed overly hesitant once in the final third and wasted a few chances to shoot or create a chance.
In the second half became sloppy in possession early on, but recovered to continue playing a big part in the Reds' off-the-ball success.
Sadio Mane – 8
An early run in behind showcased his danger, but his first touch was lacking.
Heavily involved both in the press and in the counter, including a tremendous slide-tackle on Sergio Aguero and a near-perfect through pass to Firmino.
After hitting the post with a fine effort there could have been questions over him again—options were there to pass to—but his left-footed rocket into the top corner was immaculate just moments later.
Mohamed Salah – 8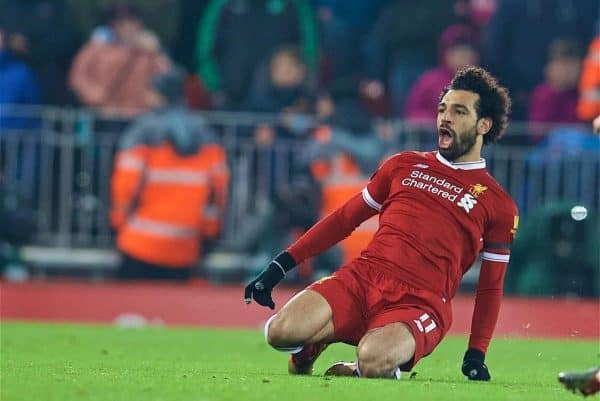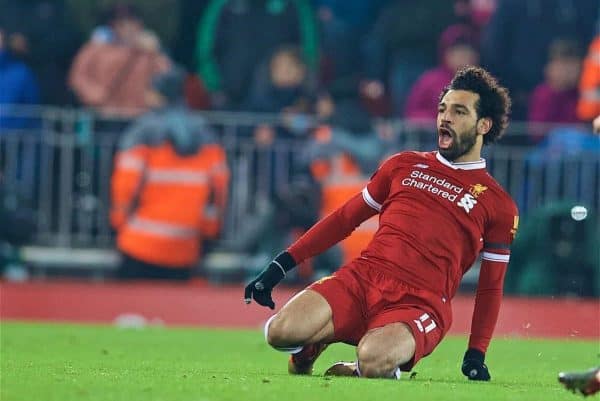 A much more industrious than ingenious performance, by necessity.
Flashes of brilliance and pace saw him see the odd half-chance in the first half, but his off-the-ball work was most important.
He won the ball back and set up the third goal, and had the City defence entirely rattled with his pace.
Got his reward with an opportunistic long-range strike to wrap up the win.
Roberto Firmino – 9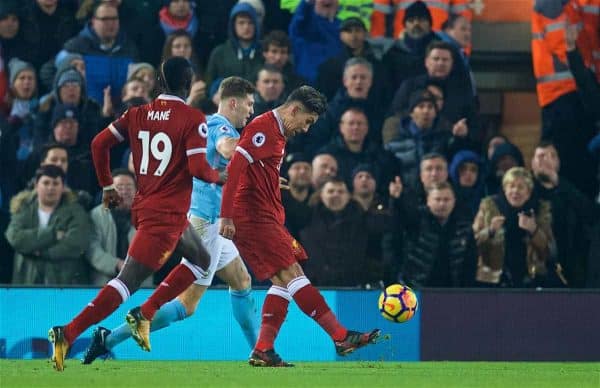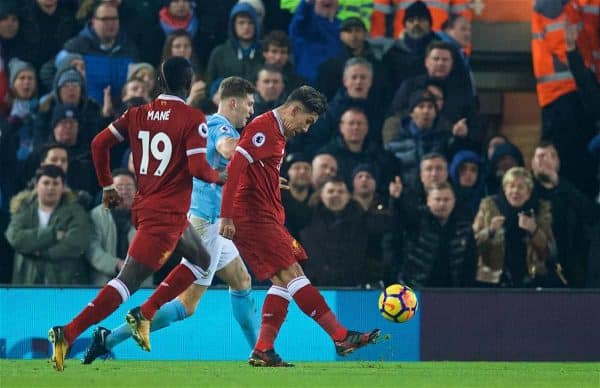 His usual self, so plenty of work rate, leading the press even as high as the six-yard box, causing problems with his movement between the lines.
Several times he tracked back to the extent of making big tackles just outside his own area, without being missed as a presence at the other end.
Firmino's goal to put the Reds back ahead was a thing of beauty: a well-timed run, strength to barge off the defender and the most gloriously, cheeky, confident clip in off the post.
Unbelievable work rate, technique and selflessness.
Starting XI Average Rating: 7.73
Substitutes
James Milner on for Emre Can, 78′ — 5
Came on to be an experienced and calming presence in front of the defence.
Only managed to give the ball away in silly areas, be caught out of position and concede a ridiculous free-kick in the dying seconds for an outrageous lunge, for which he was booked.
Adam Lallana on for Mohamed Salah, 87′ — N/A
Ragnar Klavan on for Sadio Mane, 90+3′ — N/A
Subs not used: Mignolet, Alexander-Arnold, Ings, Solanke.
Manager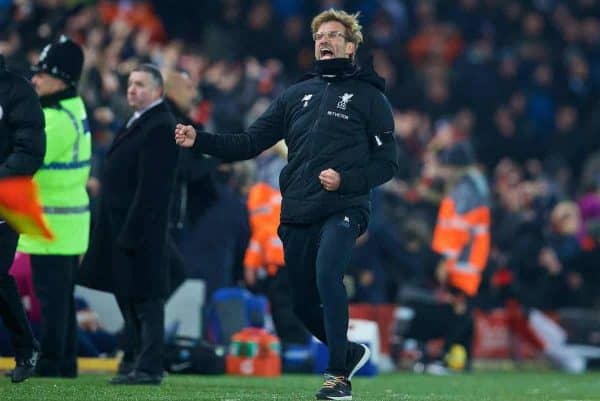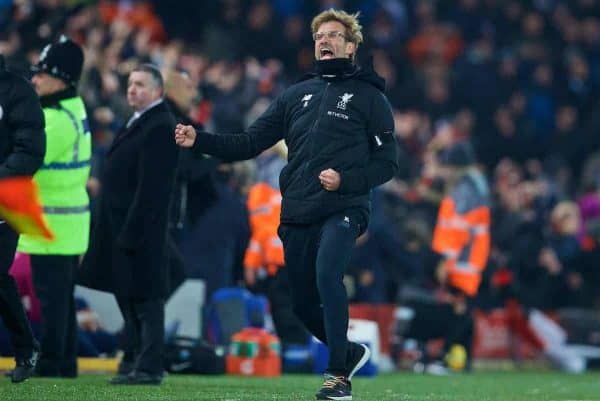 Jurgen Klopp – 9
At 4-1, this was a 10/10 performance from Jurgen Klopp and only his subs detract from that.
He's the first manager to guide their team to a league victory over the champions elect, which immediately makes it a near-faultless performance from the boss.
Liverpool pressed in the right areas, were compact off the ball and quick to counter in numbers—all hallmarks of his team at their finest.
But there were also notable instructions from him for the defenders to be aggressive in closing down the four most attack-minded City players, which worked well mostly, and for the team to harass City's centre-backs, which was pivotal in winning the points.
All the Reds had to do was close out the final 15 or 20 minutes; bringing on Klavan earlier or replacing the forwards before Emre Can—excellent in front of the defence—would have been the better way to do that.
Still, his side got over the line with the win and Klopp takes huge credit for that in getting a sixth win over Pep Guardiola–nobody else has managed even five.