Writing on the coach from London to Liverpool ahead of tonight's FA Cup Merseyside derby, Sachin Narkani is irritated by the talk of you-know-who and Barca-bloody-lona.
It's 12.36pm. This coach was meant to leave at half-past. I hate people being late, a real bugbear, so I'm getting properly irritated as we sit here, engine off, waiting for the last few to arrive. And my mood is not helped by the chatter going on behind me. It's non-stop, relentless, swarming. And it's all Philippe Coutinho's fault.
"Prick", "tosser", "rat" – just some of he words I can hear being used about the Brazilian. These lads are furious, upset as well, the sense of betrayal tangible in this tiniest, most claustrophobic of vehicles. I try and block out the noise but it's impossible, and now I've got a headache. "Will you hurry up!" I mutter under my breath, and at last the last few stradlers turn up. We depart – onto the M6 and towards Anfield for an FA Cup tie against Everton.
Yes, that's right, it's derby day. A derby in the FA Cup under the lights, no less. A genuine occasion, something to lose your mind over with excitement, and yet all these lads behind me can focus on is Coutinho and his impending move to Barcelona. Has it really only been five days since the transfer window opened? Feels like a fucking lifetime.
It's been incessant – on social media, in the general media and on this coach, and I'm frankly not sure how much more I can take. I'm not saying I'm above it all, but there is a part of me that feels detached, as if I'm half-plugged out of the matrix. That I'm floating above the madness, witnessing it all but not taking part. A voyeur as others lose their shit.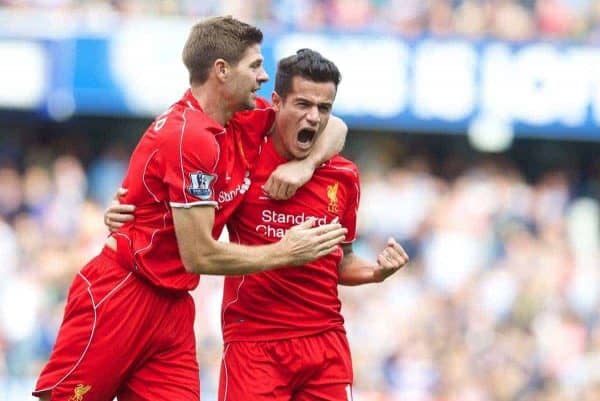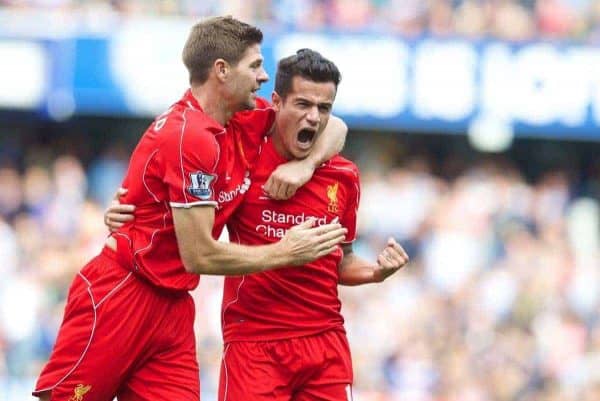 I care, of course I do. I don't want Coutinho to leave. He's a brilliant, brilliant footballer and I always want brilliant, brilliant footballers to stay at Liverpool. But I'm also realistic – I understand that footballers move from club to club, and then to another club if they and their agent desire, and in the case of Coutinho it's easy to get why he wants to swap Merseyside for Catalonia.
He's Brazilian and has the chance to move to a Latin country, where the culture, climate and, to a large extent, language is similar to that which defined his upbringing. And then there is the club itself – Barce-bloody-lona. Not sure if they've noticed but they're bloody brilliant, going to win the league this season, could win the Champions League with a fair wind and have Luis Suarez and Lionel Messi in their front line. The attraction is obvious.
And particularly so for a Brazilian of Coutinho's age. Born in June 1992, he would've grown up watching Ronaldinho and possibly even Rivaldo play for the club, and then looked on enviously as Neymar did the same. In front of 90,000-plus people. Winning trophies and playing great football, in the sun. Of course Coutinho wants to play for Barcelona.
I expect most of the ranters and ravers appreciate this too but yet they, well … rant and rave. There is anger over Coutinho's tactics since the summer – handing in a transfer request, picking up convenient injuries, allowing members of his entourage to make it clear on his behalf that he wants to move on.
There is also anger at Liverpool over the softening in their stance – being strong in the summer but weak in the winter, bending to the will of an employee, reducing the team's capabilities ahead of a critical period of the season.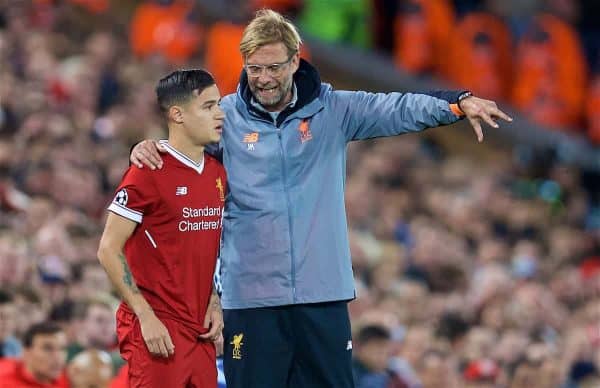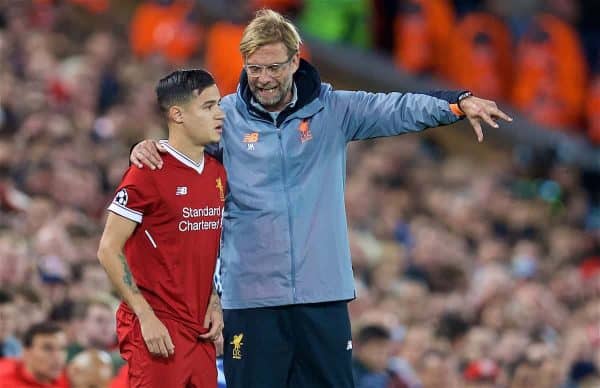 I get all of that, particularly the take on Liverpool's stance – they should be doing more to make sure Coutinho stays until the summer. The obvious step would be to sort out a deal in advance that sees the player become a Barcelona player now but continue to wear the red of Liverpool until the final day of the 2017-18 campaign.
And if a deal can't be done in advance and Coutinho goes on strike – fuck him. Let him stew. It's a World Cup year; sooner rather than later he'll want to play in order to maintain his form and fitness.
I get all of that but I also get Coutinho's desperation to seal a move as quickly as possible in case it slips away at the last, and I also get the hypocrisy of football fans in general when it comes to the subject of footballers moving jobs.
Imagine this scenario: You're born and raised in Edinburgh and growing up, dream of being a fish monger (stop sniggering). You spend hours every day practising your fish mongering skills and get really good at it, so much so that a decent-sized fish mongers in Milan offers you a job. You go there, do well, but find yourselves filleting cod and wrapping up prawns on a semi-regular basis.
You get frustrated and disillusioned with the fish mongering game. But then salvation – a fish mongers in Munich wants you. Another decent-sized one too, albeit, not as renowned as it once was. But the boss is offering you a post where, as long as you put the work in, you'll get the chance to shine.
So you move, and shine, and soon you're one of the best fish mongers at the Munich fish mongers. The local love you – they come in every day just to buy some haddock from you, and they smile and applaud whenever you till up their order. Life is great, you're happy and settled, all those hours spent mongering as a kid have paid off.
And then you get a call – it's a fish mongers in London, and not just any fish mongers in London: THE fish mongers in London. Also one of the best in Europe. They've won awards and sell the best trout in the world. They want you, and they want you to sell their trout.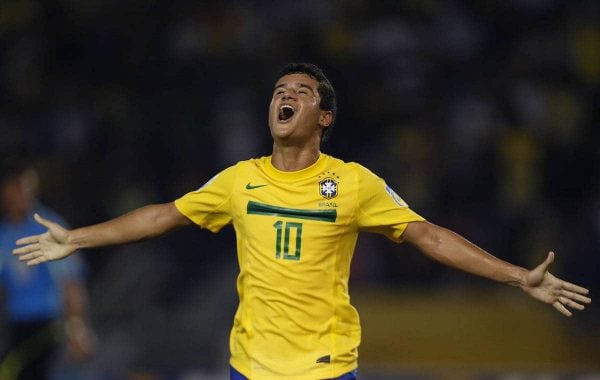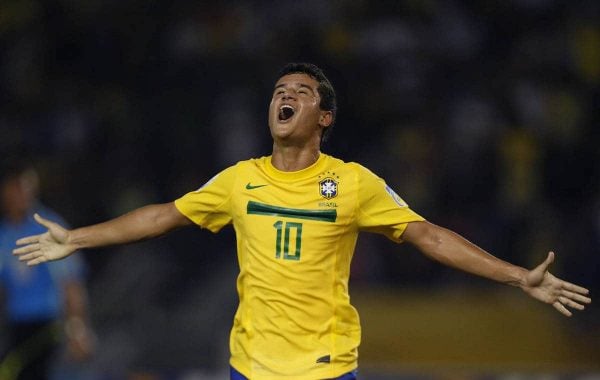 It's the dream – moving to an incredible city where they speak the same(ish) lanaguage as you and carrying out a job at the peak of your profession, for a company you've always wanted to work for. What do you do? Go as soon as possible or stick around and show loyalty to a bunch of people who a mere five years earlier, you had never met and who had never met you. More than that, they had never even heard of you?
Anyone who says stick around and show loyalty is a liar.
OK, I know, football is different to fish mongering; for starters 40,000 people don't go down go their local fish mongers every week and stare at 11 mongers wash a load of tuna under a tap. There is a level of tribalism and outright passion in football which makes the above scenario somewhat irrelevant, and for that reason I do believe there are exceptions – if you play for Liverpool and we want to keep you, you should never, ever, move directly to Man Utd or Everton. Chelsea too. And if you do, then expect all manner of abuse the next time we come face to face, at your new place and ours. But Barcelona? And when we're talking about a Brazilian lad? Nah, no issue there. I get it.
My lack of comparative anger on this coach may also be because I'm much older than the lads behind me. Unlike them, I've seen this before. Steve McManaman, Michael Owen, Xabi Alonso, Javier Mascherano, Fernando Torres, Luis Suarez, Raheem Sterling; Liverpool have been losing players they wanted/needed to keep for close to two decades now and over time the pain and sense of humiliation weakens.
Quite frankly, nothing will ever compare to how I felt when Torres and Suarez left – those were genuinely heartbreaking moments and to a large extent, has made me numb to further loss. Sorry Phil, I can't be hurt no more. Just grab your CDs and go. Oh and leave your key on the side.

This departure will also hurt less because Liverpool are strong enough to cope without Coutinho. There are other impressive, game-changing talents in the squad and I'd even go as far as saying that the man with No10 on his back isn't even the team's No1 man. That, as we all know, is Roberto Firmino.
Jurgen Klopp is the architect of that base strength – he has done a great job of thickening and improving the squad since arriving at the club in 2015 and so I trust him fully to deal with this situation. The word from those in the know is that FSG have left it to the manager to decide if Coutinho stays or goes this month and if he decides its time to cut Liverpool's losses, then so be it.
So I'm calm, relaxed, reflexive and keeping everything in perspective. And more than anything I'm trying to focus on what is always more important than transfer sagas – THE ACTUAL FOOTBALL.
It's derby day, Everton back at Anfield a few weeks after robbing a point there. I want revenge, proper balls-out revenge. Come on boys, let's put these to the sword and, for a couple of hours at least, let's all forget about that other thing.