Loris Karius looks set to be made Liverpool's first-choice goalkeeper until the end of the season and it is a period which will define his Reds career.
As Jurgen Klopp's men edged out Man City 4-3 in a breathtaking encounter last weekend, almost every single outfield player could leave the scene of battle with their head held high.
The same could not be said of Karius, who again suffered a day to forget, having been selected ahead of Simon Mignolet.
The German allowed his compatriot Leroy Sane to squeeze a fierce shot inside his near post to make it 1-1 before half-time and he rarely cut a confident figure throughout a nerve-shredding game of football.
It again highlighted the need for Liverpool to spend big on a top goalkeeper this summer, as fans further lost faith in the continually unimpressive Karius.
Despite his unconvincing form, it looks as though Klopp has sided with him over Mignolet for the rest of the season, with the manager saying before the City game, "if Loris is able to perform, he will stay in the goal."
This is now a four-month spell where Karius has to show he is good enough, or risk being shipped off to pastures new in the summer.
Make-Or-Break Period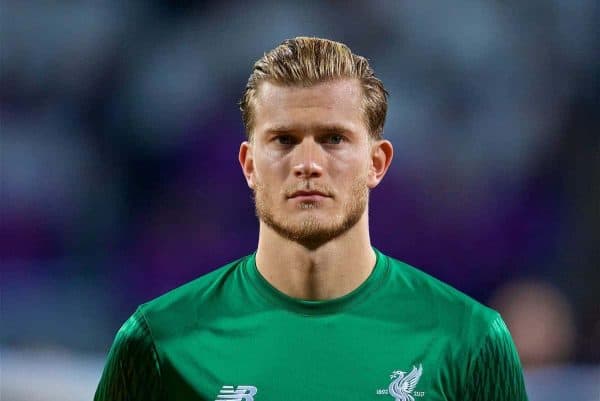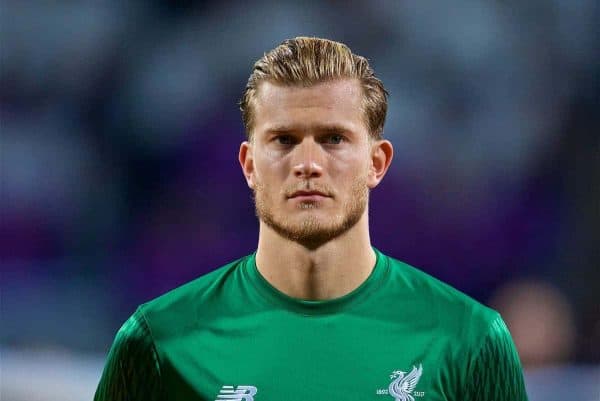 The one factor that can be argued in Karius' favour is that he is yet to enjoy a significant run in the team, 18 months after his £4.7 million move from Mainz.
He has found himself used sporadically, and the longest run of consecutive appearances to come his way has been five, in September and October of last season.
At that point, it looked as though he was very much first-choice—Liverpool won four and drew one of those matches—but some underwhelming displays soon followed, culminating in a dreadful showing in a 4-3 defeat at Bournemouth.
Since then, Mignolet has invariably been the man to oust, give or take the odd tweak, although Karius has been the go-to 'keeper in the Champions League.
Confidence and rhythm are a big part of any footballer's game, and Karius has had neither since joining—barring that early spell, when he actually started nine out of 10 games.
A broken hand soon after his arrival was an immediate blow, and ever since he has looked a far less-imposing figure than he did in a strong first few weeks of pre-season in 2016.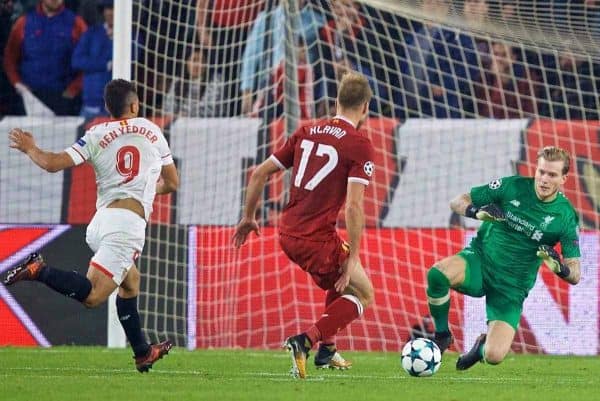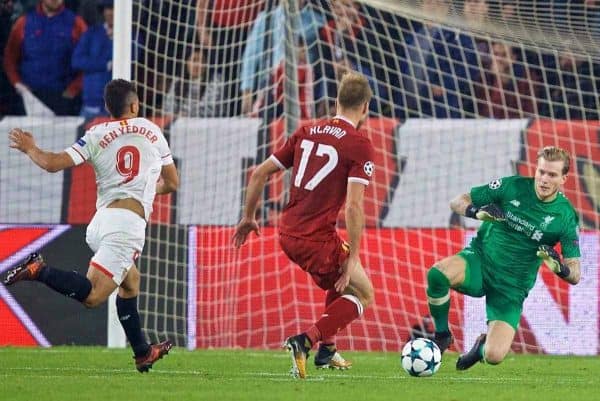 Of the 27 games Karius has played for Liverpool, it is difficult to pinpoint more than two or three in which he has genuinely impressed.
Southampton away in last season's League Cup semi-final first-leg was one, and he did quite well in Sevilla back in November, despite conceding three times.
All too often, though, Karius has been a shaky presence between the sticks, failing to keep out straightforward shots, lacking presence and not distributing the ball to the desired standard.
The 24-year-old is the only goalkeeper to have saved fewer shots (three) than goals conceded (four) in the Premier League this season, which is alarming.
He also has the poorest shots-to-save ratio (43%) in the division, with Stoke City's Lee Grant (50%), second-poorest, still well clear ahead of him.
Goals against Man City, Spartak Moscow, West Ham and Bournemouth (x2) have all been more than avoidable during Karius' time on Merseyside, but so many others have seen him not come close to making a save.
Loris Karius is the only Premier League goalkeeper with more conceded goals than saved shots. He has the worst shot saves ratio – 43%.
Simon Mignolet has only saved 59% of shots that makes him 24th out of 27 goalkeepers. #LFC
De Gea tops the list – 83%. #MUFC
via @InStatFootball pic.twitter.com/uMWMHjokC1

— Artur Petrosyan (@arturpetrosyan) January 16, 2018
At times, he appears to be treading in cement, failing to get into position quickly enough—his footwork is poor—and he doesn't bail teammates out when they make errors.
Top 'keepers do that.
Karius is fortunate to have been afforded what looks like an extended run in the side at the dejected Mignolet's expense, and he must now seize this opportunity.
This is such a vital period for the Reds, who can harbour genuine dreams of going far in the Champions League if everything falls into place, as well as finishing in the top four and attempting to win the FA Cup.
They showed against City that they can beat anyone on their day, and this current outfit is superior to the one that sealed European glory in 2005.
Karius is going to find himself under the spotlight in some high-profile games, and his character is set to be tested to the hilt.
If he fluffs his lines more in the upcoming period, all hope will be lost.
Not Good Enough or Harshly Treated?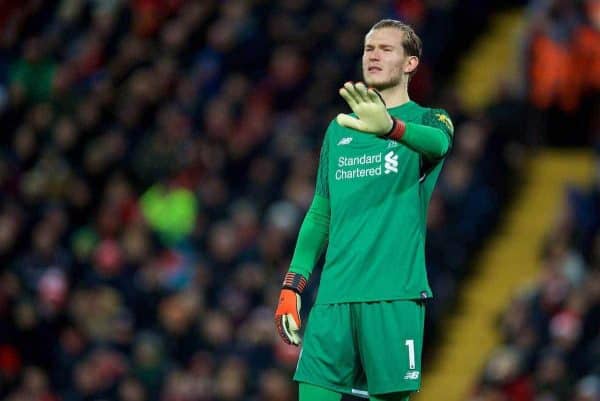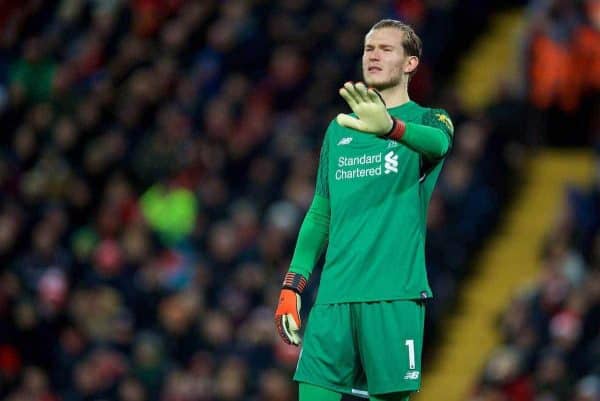 As seems to be the case with football these days, a side has to be firmly taken with regards to a player: he's either rated or useless, and there can't be a middle ground.
This very much applies with Karius, who has a legion of admirers still confident he will reproduce the form which saw him voted the Bundesliga's second-best goalkeeper in 2015/16.
They feel a fair crack of the whip has not come his way yet, and that he will prove to be a success story over time.
On the flip side, there are those who have had enough of him, and would almost begrudgingly rather see Mignolet in the side, despite not rating him either.
They don't believe a change in fortunes is around the corner, with 27 games, multiple errors and barely any great saves enough evidence to suggest Karius needs disposing of.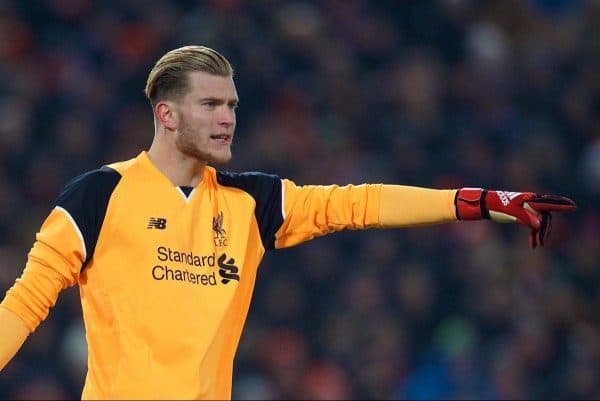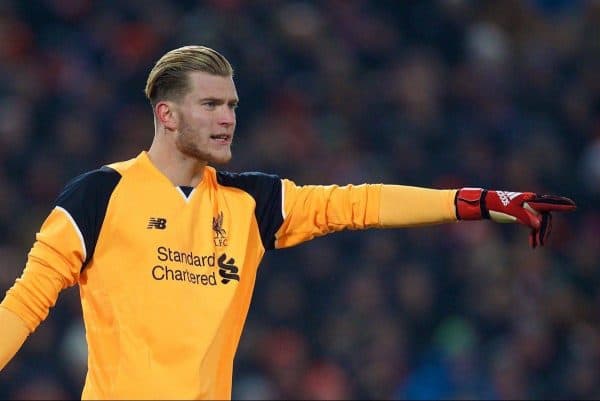 Although a lack of rhythm does deserve to be used a possible excuse, anyone overly-defending Karius has a little too much pride in admitting they might have been wrong about him.
Yes, he distributes the ball better than Migonlet—my nan could—but so much of his game has looked flawed in a Liverpool shirt.
Giant strides have to be made between now and May, if he is to have any hope of being the Reds' long-term man between the sticks.
Even if he turns into David de Gea in the upcoming period, a goalkeeping reinforcement is still required in the summer if Liverpool are to reach another level.
Let's hope the faith Klopp is showing in Karius pays off; should he single-handedly lose the Reds big games, the reaction is going to be deafening.