Liverpool inflicted Man City's first Premier League defeat of the season with a superb performance and 4-3 win in a simply sensational game of football.
Liverpool 4-3 Man City
Premier League, Anfield
January 14, 2018
Goals: Oxlade-Chamberlain 9′, Firmino 59′, Mane 61′, Salah 67′; Sane 41′, B Silva 84′, Gundogan 90+1′
---
United Reds Rise to the Occasion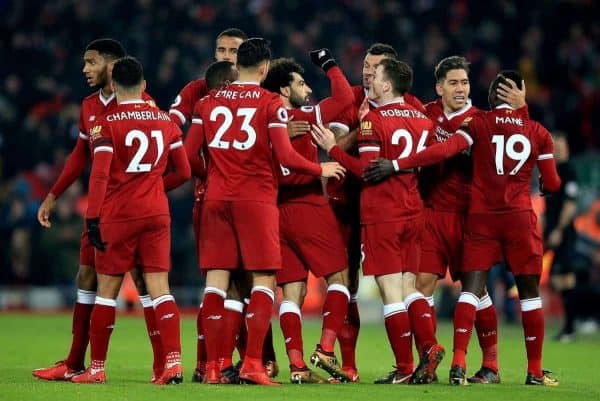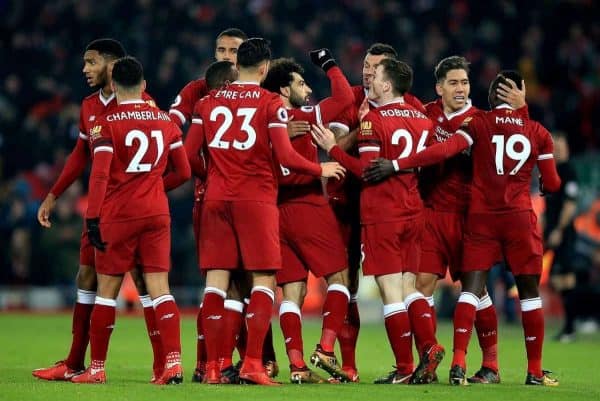 There was slight concern as to how Liverpool would react to losing talismanic figure Philippe Coutinho, but an incredible team effort well and truly eased those concerns as the Reds begin to march on.
From back to front Jurgen Klopp's side dug in and went toe-to-toe with the champions-in-waiting, winning individual battles all over the pitch and showing the exact unity Kopites craved after all that has gone on.
Emre Can set the tempo along with the excellent Alex Oxlade-Chamberlain, but the selfless work of Sadio Mane and Mohamed Salah in defensive duties and the incredible one-man press from Andy Robertson in the second half showed the spirit in this group, and why Coutinho was allowed to go.
The blistering attacking play was also still very much alive and kicking, with the Reds' counters simply unstoppable.
It wasn't plain sailing—though it was never going to be against such an elite side—and almost throwing it away showed that there is still plenty to work on as we adapt going forward.
This is Klopp's Liverpool now though, full of 100-percent committed players, and it's a team that is certainly going places.
Oxlade-Chamberlain the Driving Force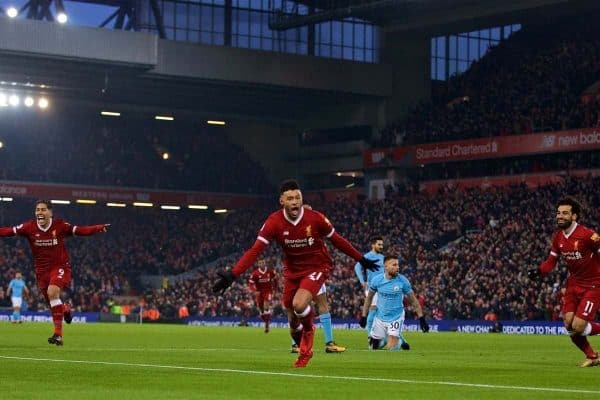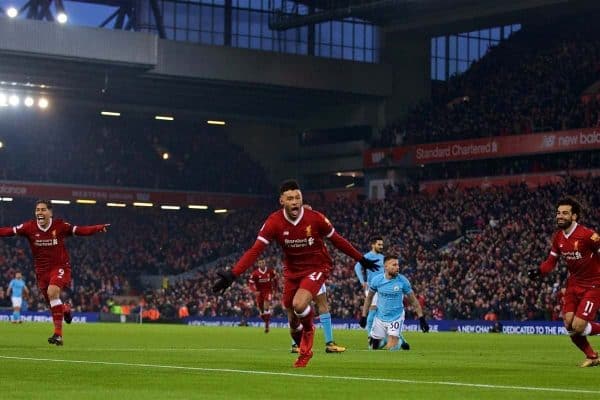 If ever a performance showed why Klopp was so convinced to pay the big bucks for Oxlade-Chamberlain, this display in the most anticipated fixture of the season was it.
The entire midfield unit impressed, with Can and Georginio Wijnaldum impressive too, but the summer signing shone with a sensational display as the driving force for victory.
Oxlade-Chamberlain's energy set the tempo for the Reds' aggressive off-ball work, and his raw speed and power drove Liverpool on to a monstrous win.
It was this, combined with his desire to make the difference that saw Oxlade-Chamberlain open the scoring with a superb individual strike, while it was his vision and excellent through pass that released Roberto Firmino to score a sublime second.
The goal and assist highlight how crucial Oxlade-Chamberlain was, but his overall display and understanding of his role was equally impressive.
His athleticism was absolutely crucial to breaking from midfield and also joining the press instigated by the front three, and it is this that makes him such a key component to Klopp's system.
Oxlade-Chamberlain's signing was met with doubts, but after this there is no such feeling anymore.
Less Gung-Ho, More Control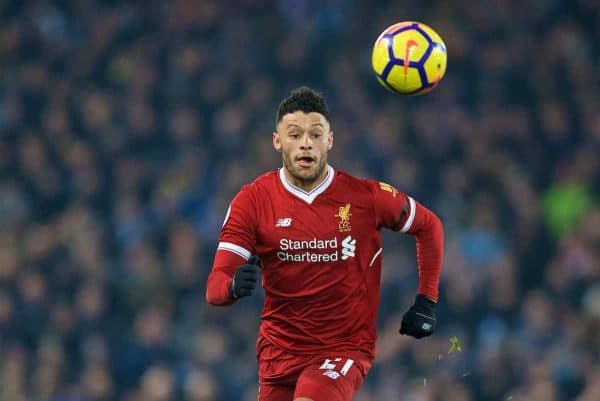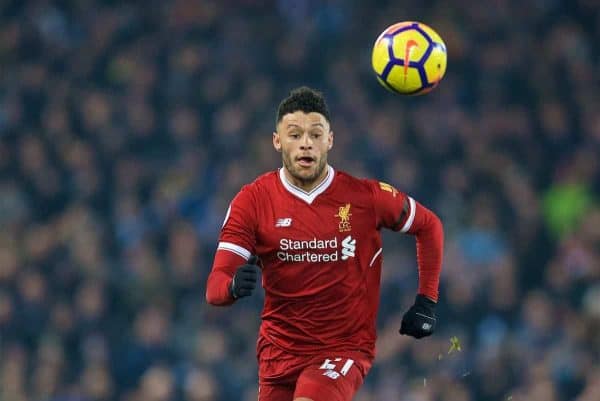 All the focus ahead of this classic centred on how the Reds would reshape without Coutinho, both with regards to personnel and tactically.
Personnel-wise it was pretty much as expected, but it was tactical change that showed how Klopp's team will continue to grow.
We had all become accustomed to seeing the gung-ho football of the 'Fab Four', but without that possibility, a more controlled style of play—though not yet fully up and running—was adopted.
There was a clearer structure to the Reds' 4-3-3 off-ball shape, with the midfield unit staying narrow and compact as Salah and Mane worked tirelessly to fill in the wide spaces.
It was a big switch from the open 4-2-4 that, for all its attacking brilliance, could at times be easily bypassed and leave the back line far too exposed.
Meanwhile there was more patience in building attacks while fewer numbers were also committed forwards at times before exploding to life in the final third—which it was reassuring to see has been retained.
This style is likely to be continued going forward—especially if no creative midfield reinforcement arrives in January—and it certainly looks like the right one.
Karius Fails Klopp's Challenge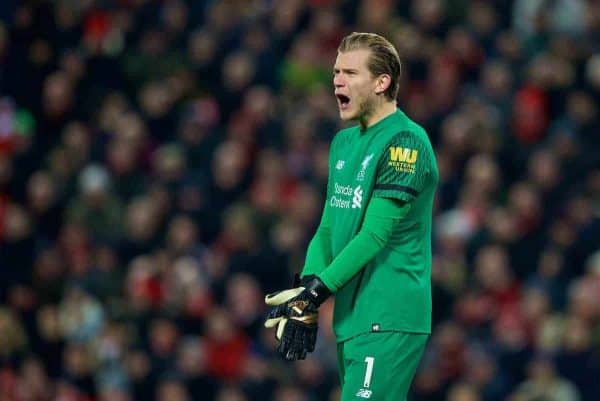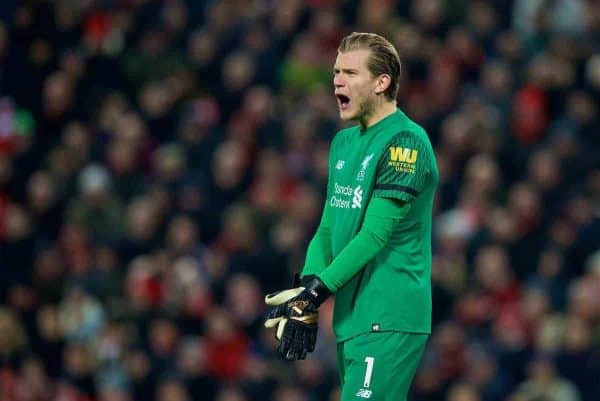 Klopp made a couple of huge selection calls at Anfield, the biggest one coming in handing Loris Karius a start at the expense of the dropped Simon Mignolet.
Klopp laid down the challenge to the German to take full ownership of the No. 1 role that would be his for the foreseeable future providing he performed, but the incoming stopper failed that task.
Though a goal that was not totally his fault, Karius unquestionably should have done far better with Leroy Sane's first-half equaliser.
Yes, it was a ferocious strike, but there is no way Karius should be beaten at his near post from that angle, and his slow reaction in raising his hands to make a stop was disappointing.
While he could do little about the other goals, the 24-year-old conceded three from four shots on target and he simply doesn't inspire as a goalkeeper who will produce at big moments.
In fact he's proved he can't provide it.
Klopp's timing in making this change was questionable for such a big game, and it backfired which now leaves the boss with a huge headache over where to go next.
Into the transfer market for a new 'keeper would be advisable.
Top-Four Charge Has Lift-Off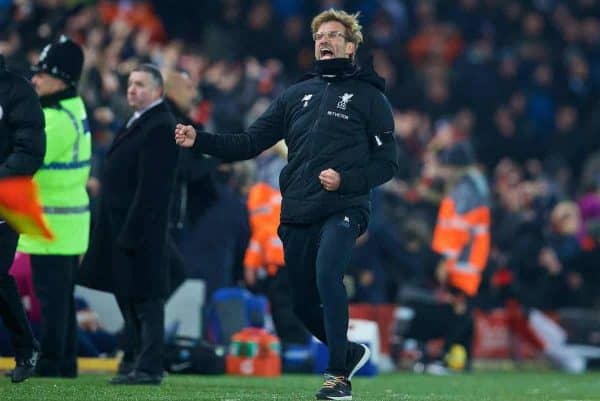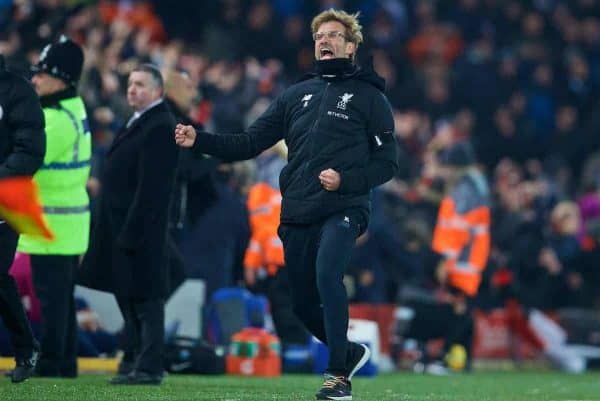 This was an absolutely monstrous win for so many reasons, but none more so than for the boost to our top-four chances and confidence going forward.
The belief such a victory will give to the squad will be limitless, and should give every confidence to the team that while players may go, the progression will continue.
Upcoming league games against Swansea and Huddersfield, either side of a FA Cup clash with West Brom, give us a real chance to back up this fine victory with more successes to build real momentum in the charge for second place.
It's an opportunity Liverpool have to take as this statement result must absolutely not be wasted by sloppy showings in routine fixtures.
Three victories across the competitions would set us up perfectly for the next big test that comes against Tottenham at Anfield in February.