Philippe Coutinho's Liverpool career is over after more than 200 matches for the club, but the Reds are well-placed to continue progressing after his exit.
It's never an outright positive, having to wave goodbye to a key player of the team. But it happens.
Just as John Barnes left when age restricted his use and appeal, just as Robbie Fowler left when injuries robbed him of his elite potential, just as Luis Suarez left at the very peak of his mercurial, unstoppable prime.
Now Coutinho departs too, just shy of that prime, still able to become a more rounded, more consistent player—but a star, an elite force, nonetheless.
It's never an outright positive, but Liverpool fans don't have to be quite so downhearted this time around.
Coutinho joined in January 2013 and scored within six days of his debut; he departs now for Barcelona in the same winter window, five years later.
In between those two transfers, however, came a double century of matches which should not quickly be forgotten, and a clutch of moments of pure genius which have forever written themselves, and his name, into club folklore.
His goals, his genius, his innate on-the-ball ability: it's a lot to replace.
But the plan must be in place, this eventuality prepared for, and indeed with some critical building blocks already cemented around the hole Coutinho's departure now leaves.
Phil's Beginning, New Beginning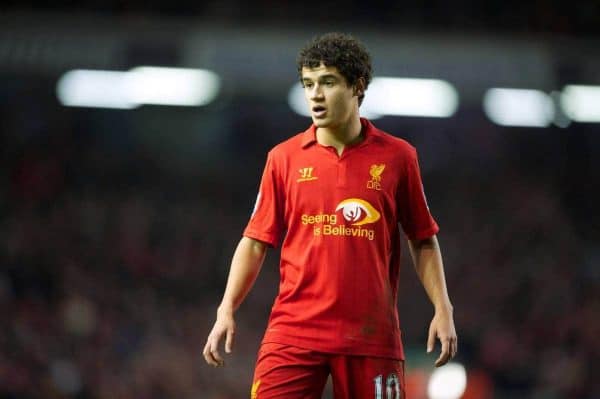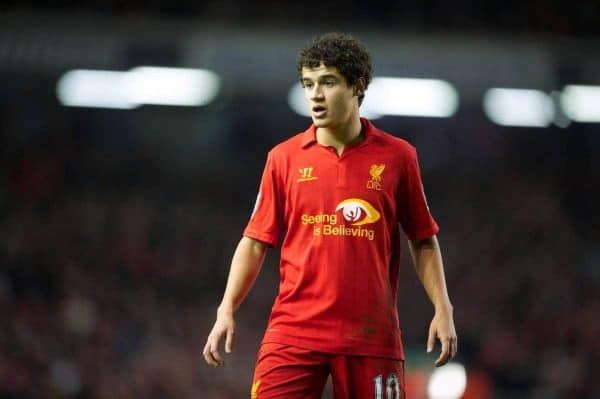 He hit the ground running after joining from Inter Milan. That was important, and unusual, for a January signing.
Wearing the No. 10 shirt and playing like a true Brazilian, Coutinho immediately made a mockery of his £8.5 million fee. He's good enough now that, in a few weeks, Barca fans could be saying the same thing of his £142 million fee.
But that's for another day.
More to the point from an Anfield perspective is, can a new signing do the same? Is there the same level of critical impact required, even, this season?
Liverpool can't afford to drop completely from Coutinho-levels of final-third impact down to zero, of course.
But a bedding-in period might just be enough, if the signing is a long-term success, without ruining the current campaign.
As it is, Coutinho has been left of a front three or central as a No. 8; while it's expected that Mohamed Salah, Sadio Mane and Roberto Firmino might be the front three regularly now, Alex Oxlade-Chamberlain has an increasingly big role to play.
Helpfully, he's also having an increasingly impressive impact on the team.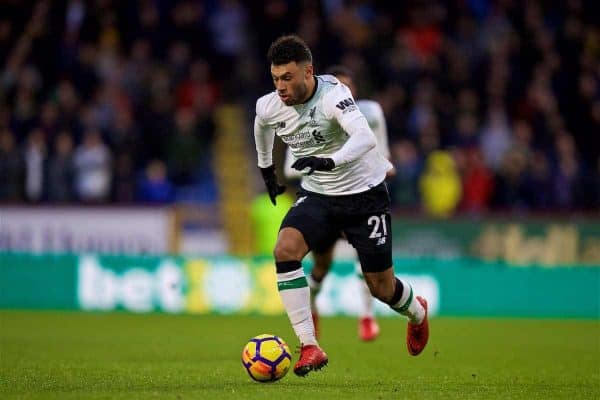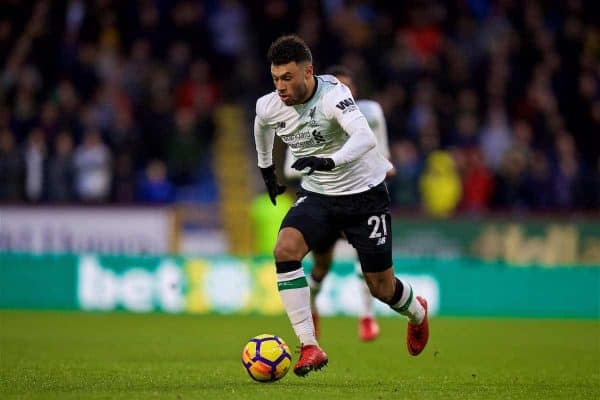 Adam Lallana has also returned, and while he'll never hit Coutinho's levels of productivity or creative brilliance, he fills similar on-pitch roles.
Rotation has been Jurgen Klopp's name of the game this term, and between that front three, Daniel Sturridge and Dominic Solanke (or even a new addition, who knows), Lallana and Chamberlain, there's enough.
Not for a title tilt, but that cannot exist this season anyway, even with Coutinho.
But for top four, for stabilisation as a top Premier League team and a Champions League force, it can, could, should be enough.
Add one more, as there's every chance of happening, and it will be—the side is good enough to make sure of it.
Diamond in the Rough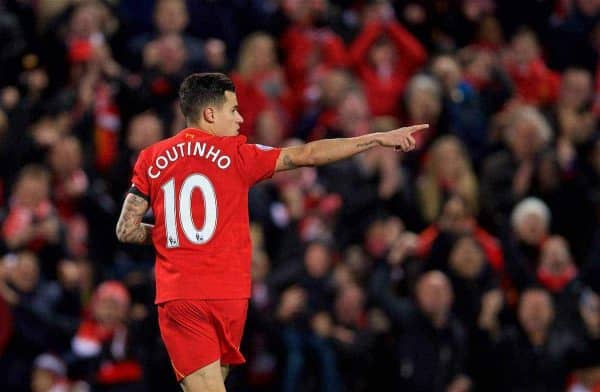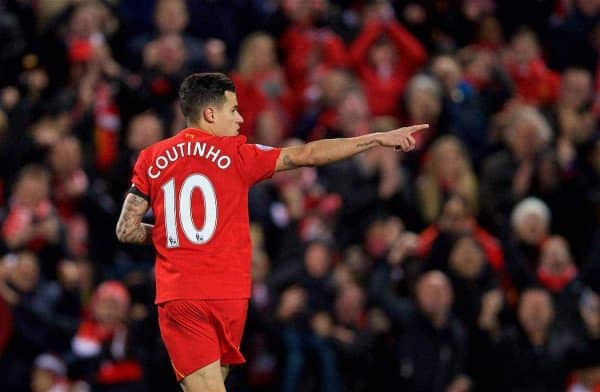 What position has been Coutinho's best? It is a debate which has raged throughout his time in red.
When part of the epic attacking side which almost won the league, he spent most of his time at the tip or on the right of a diamond midfield.
For two years which followed the title tilt under Brendan Rodgers, and perhaps even right up until his departure, his managers have since seemed caught in two minds: should Coutinho be central to everything the Reds do, or allowed to attack space from the left?
Tite even plays him on the right-hand side for Brazil.
Perhaps it shouldn't matter too much; against big sides he was often deployed higher upfield, and in matches the Reds dominated, in central midfield.
Certainly under Klopp, playing as a true No. 8 became a far more regular occurrence, but even Rodgers utilised Coutinho as a 10 with regularity, revolving the attack around him.
Even as a false nine, on one memorable occasion.
It doesn't matter much any more, but Klopp's thinking on the matter could impact on the replacement.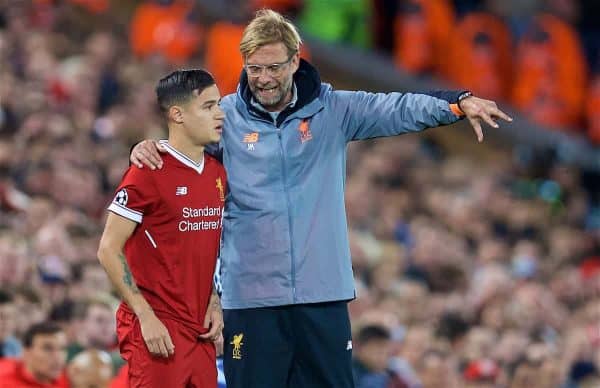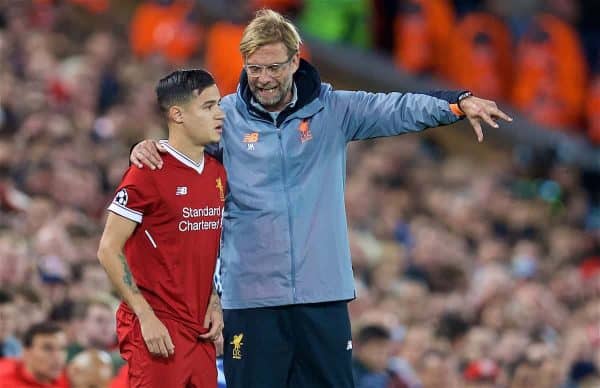 There isn't a like-for-like.
Thomas Lemar is the big name in the frame, a favourite of many fans, and he's close. But he's not Coutinho.
There won't be the goal return, the wizardry in the final third with crazy regularity, the cutting-in-and-shooting, from 25 yards or more, on the right foot.
But as a wide option in a three, a talented and creative No. 8 driving into space from deep—and a set-piece expert—Lemar is a great alternative.
More important than the names we could discuss, however, is that the club have had time to prepare for this.
The preferred name, or quite possibly names, must already be known.
Barcelona's interest wasn't a surprise. There have been months of drawn-out inevitability, with rumours sparking back up as early as October that they'd return in the January window.
Liverpool should already have had options to consider for Coutinho's replacement—they should indeed have such a list to cover for every single key player even if there's no intent to sell.
And the last four months should have been about narrowing the options, deciding which route to take and assessing which targets were accessible.
Replication or Regeneration?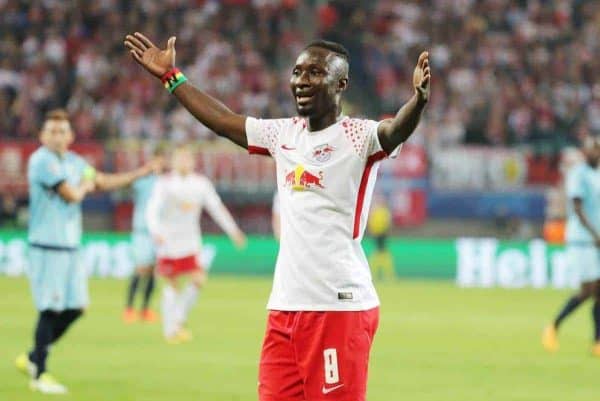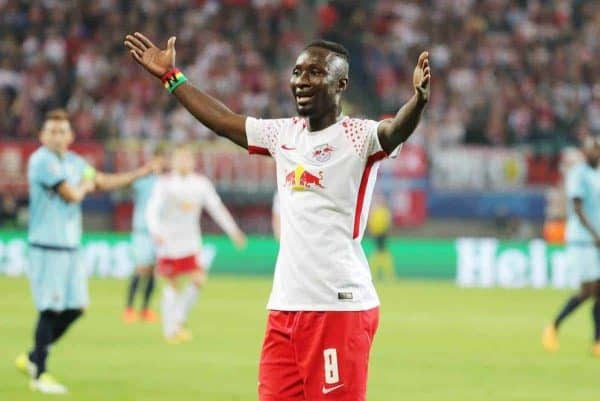 Summer 2017 might have been irritating for fans of Liverpool on many counts, with chases for Naby Keita and Virgil van Dijk not immediately paying dividends.
All the while there was the backdrop of Coutinho's supposedly imminent departure, despite stone-cold assurances from club and manager that he'd be going nowhere.
So that proved to be the case—for a further half-season, at least.
And what a half-season it was by the No. 10, once his early season back injury—alright, fine, his wish to not scupper what little hope of a transfer remained—was sorted out.
But those two former names are now sorted and signed: Van Dijk the Dutch derby darling, and Keita to arrive in the summer.
It's a spine, and it's ready to be added to.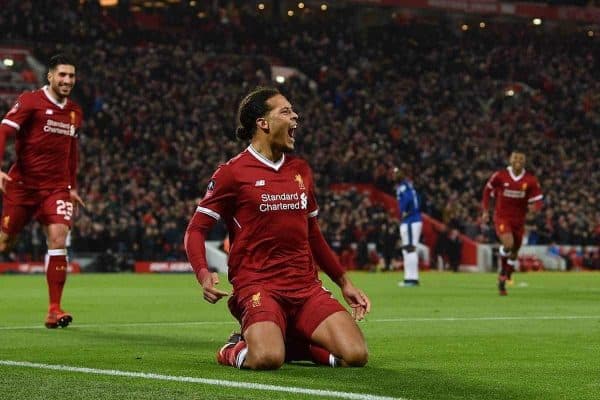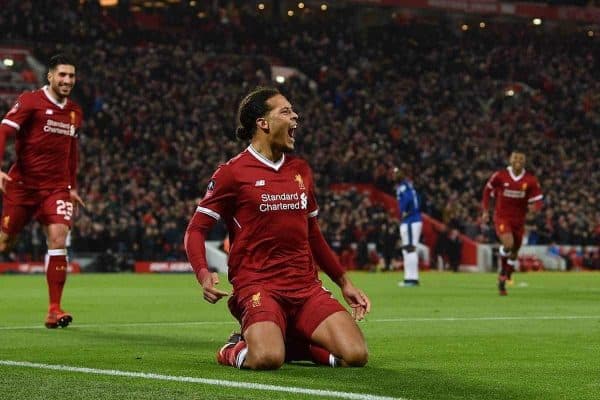 But there has been an alteration of late worth noting, because it has taken place both with and without Coutinho: the switch to a 4-4-2.
Sometimes it's a flat midfield, clear and fluid as a quartet. Other times it's a three to start, but once in possession one of the wide forwards surges central to make a two-man attack.
Salah and Firmino up top, Mane's pace wide, Oxlade-Chamberlain drifting from No. 8 to the channel: it's a system which has yielded results, and good partnerships in the making.
The others—Lallana, James Milner, Gini Wijnaldum—fit the template, too.
Guess what? So too does Keita, when he finally rocks up at Melwood: he is ready-made for a midfield double-pivot, allowing an extra midfielder to join up the four-man attack rather than the three of last season which Coutinho was a part of.
So the "replacement" for Coutinho doesn't necessarily have to be a spot-on tactical swap, either.
Klopp has a plan for his on-pitch efforts, and more and more often we're seeing either the Reds start, or make in-game switches, to a central four.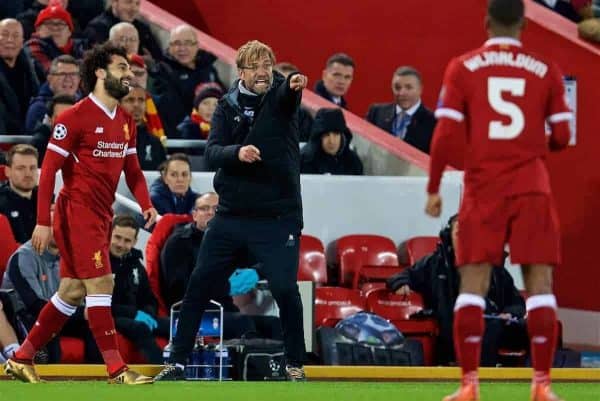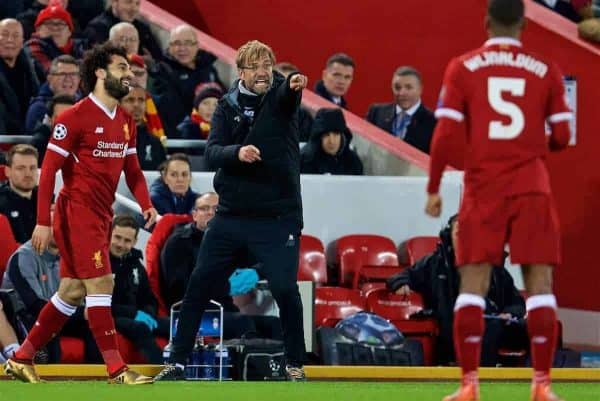 With Emre Can also likely to depart, finding a perfect partner for Keita becomes as important as finding the goals to replace Coutinho's input.
Keita, in case you've not tracked his progress, is a midfielder who relentlessly drives forward, isn't afraid to surge into the box and get into shooting positions.
Could it be that a pretty big portion of Coutinho's goals are reproduced by the current RB Leipzig midfielder?
He should certainly get more for the Reds given the emphasis on transition play, but it makes finding the right stabilising player to sit beside and behind him all the more important.
But that's for summer, when he joins, even if the Coutinho fee goes toward the right player.
Right now, a new wide option is imperative, and a forward option wouldn't go amiss either. It would also be imperative, if one of the strikers leave.
Klopp's Waiting Game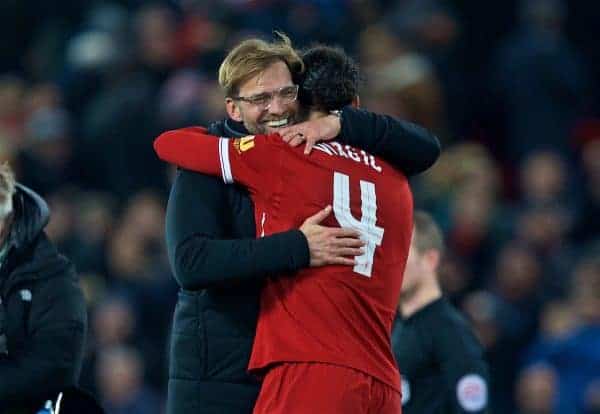 Turn the page back, to the frustration of the Van Dijk and Keita chases.
The constant, aside from the fact the Reds have actually snared both, is that both men were Klopp's first choice for their respective roles.
Not just first choices actually; his only choices.
Now consider he wants Lemar, or Riyad Mahrez, or whoever else.
There are other options of course, just as effective and possibly cheaper and certainly, in comparison to the latter, closer to elite quality.
Further consider Monaco (or Leicester, or whoever) refuse to sell. Is Klopp to say, "fine, run down the list until one's available"? Welcome to Anfield, Andre Ayew.
Of course not. He'll be aware of the risk of waiting, just as he has for this initial half-season using a Van Dijk-less defence, but the manager believes in his squad.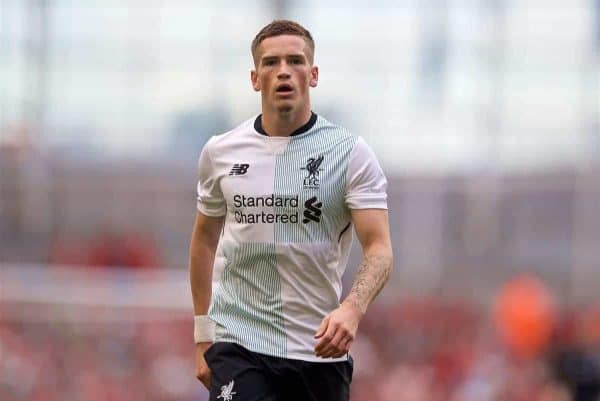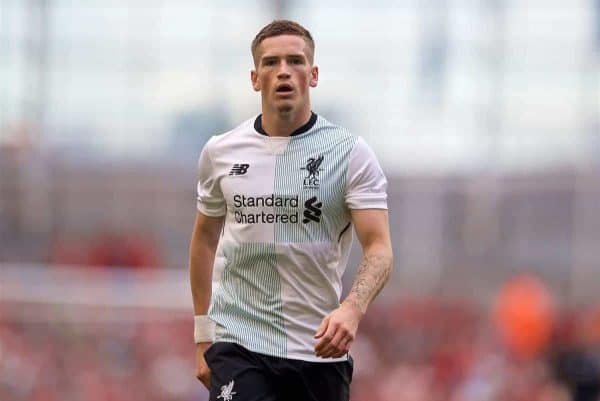 He also believes in handing chances to those who deserve it.
Marko Grujic, Lazar Markovic and others haven't had a look-in, but could Ryan Kent, if he returns from his unsuccessful loan with SC Freiburg?
Could his impact be enough in a half-dozen matches to cover when needed, add pace and unexpected thrust off the bench, to get the Reds through to summer?
It will be considered, it will be weighed up.
And if Lemar becomes available for the right price on January 29, don't be surprised to see a late enormous bid.
It's clear now the club will do what needs to be done, and that includes both sides of the transfer spectrum.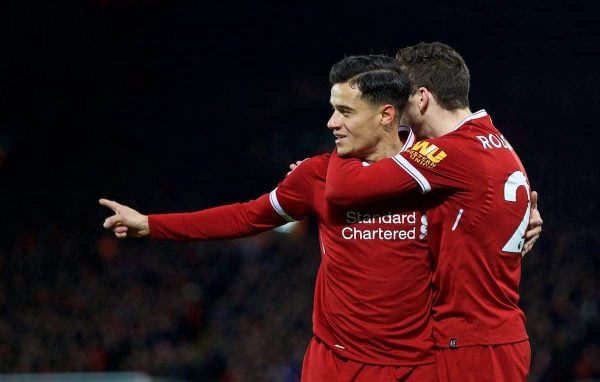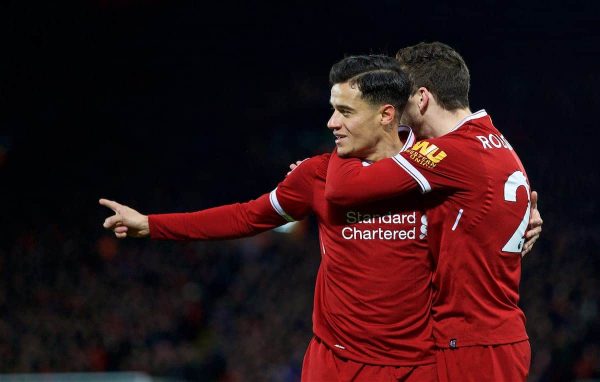 Planning to keep Coutinho involved getting the best of him on the pitch to make Liverpool a better side.
Planning on what to do in the event of his sale should have involved outlining who is worth spending perhaps 30 percent more on if the need arises.
For those bemoaning the fee for Coutinho, reel it in. Only Neymar, ever, has gone for more money at this point.
Suggesting he was worth more "in this market" bears no relevance; Barca helped create it, now they pay for it. Liverpool have done just fine from their £8.5 million investment five years ago.
As ever, the only important issue now is reinvestment: on who, when, and how wisely.
The Premier League is a lot more competitive now than it was when Luis Suarez departed. The Reds cannot afford to completely Markovic up their windfall this time.
But two big factors are in the Reds' favour: time and recent history.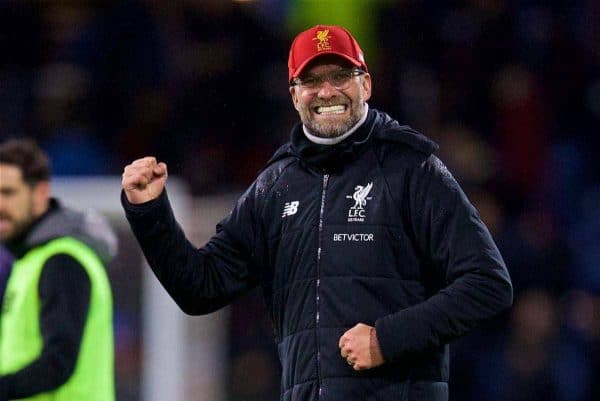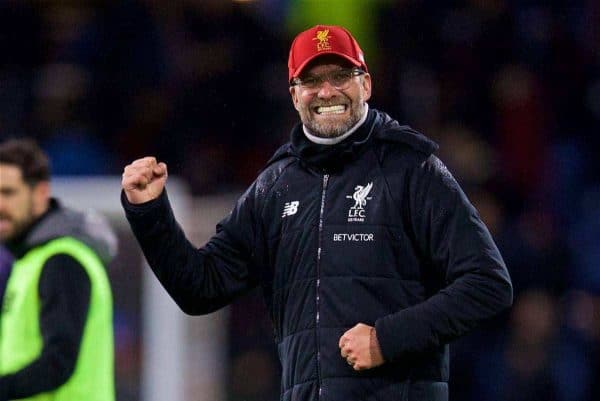 The signing of Salah was right. Of Van Dijk was right. Of Oxlade-Chamberlain, Andrew Robertson, Keita. All right.
And they've had four months now to identify the right moves to make, to continue life after Coutinho.
It can be done, it must be done, and there should be confidence it will be done—even if not every penny is reinvested by the end of the month.