Jurgen Klopp has adopted an interesting approach to controlling games when Liverpool are ahead, but is his squad strong enough for it to work?
Liverpool, as a defensive unit, are a bit of a conundrum. They're not as solid as some like to imply whenever they start mentioning clean sheets and they're not as leaky as many would have you believe.
They are, for now, somewhere in between.
There was an assumption that the arrival of Virgil van Dijk would shore things up but, despite him having appeared in just the four matches in a changed starting XI every single time, people are already writing it off.
Not him as a player but whether the £75 million spent on him should've been spread over two or three players.
But the former Southampton man wasn't ever going to be the quick fix many had hoped for. As Karl Matchett pointed out following the 2-2 draw with Tottenham, Liverpool did defend well on the whole against Mauricio Pochettino's side.
The Reds, as a defensive unit, are one of the meanest teams around. They restrict the opposition to, on average, just the 7.8 shots per 90 minutes—behind only Man City when looking at shots faced across the top five leagues—yet they concede on a regular basis—only Arsenal have conceded more in the top six.
Jurgen Klopp has used a number of different personnel in various systems but Liverpool continue to leak goals.
There have been upgrades across the board but it appears as though the former Mainz centre-back still hasn't been able to root out the cause.
Why Do Liverpool Struggle Defensively?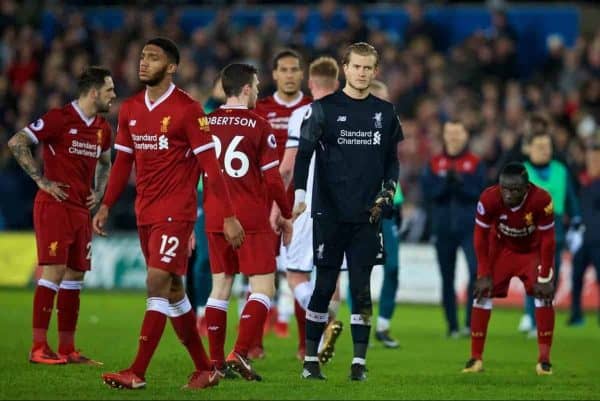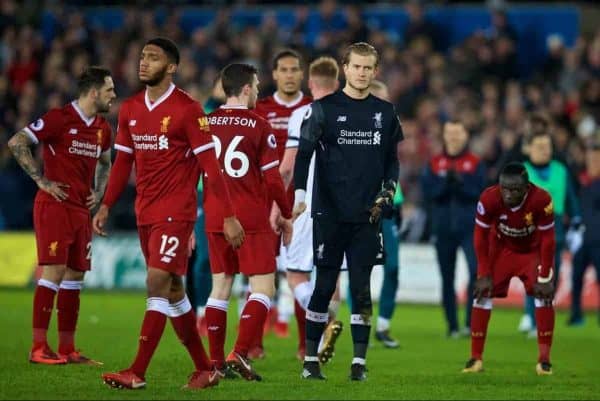 Against Spurs, Liverpool played a more conservative system after taking an early lead.
They looked to play balls into the channels for Sadio Mane and Mohamed Salah to run onto while a midfield three of James Milner, Jordan Henderson and Emre Can didn't stray too far from their defensive responsibilities.
It's a performance fans have seen at Anfield many times before, just rarely is it from the home side.
The idea is a clever one. It tempts the opposition into pushing on and attacking which leaves space in behind for the likes of Salah and Mane.
Klopp is essentially tasking his players with creating counter-attacking chances instead of it being left up to chance. It's a variation of gegenpressing, just not as high up.
Liverpool seem to defend well for large parts but eventually succumb. There's always an excuse for it but how long can bad luck be blamed before it becomes a genuine issue that needs addressing?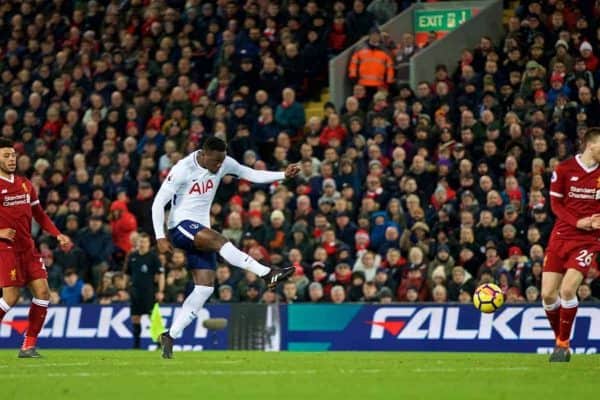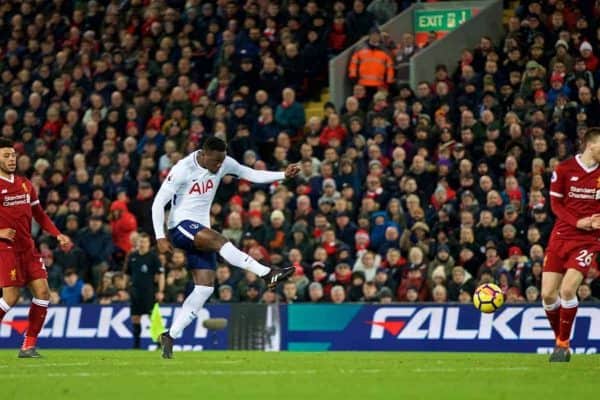 It went under the radar against Spurs but their first goal, the wonder strike by Victor Wanyama, is entirely preventable.
Whether or not Loris Karius should have caught the ball is subjective. His punch went far enough away from goal to justify his decision to opt not to catch it.
Yes, Can should have cleared the ball and, yes, Alex Oxlade-Chamberlain should have been on his heels.
The ball out wide to Christian Eriksen should never have been allowed. In fact, the situation Wanyama found himself in shouldn't have happened. Not for a team determined to dictate where the opposition can and can't play.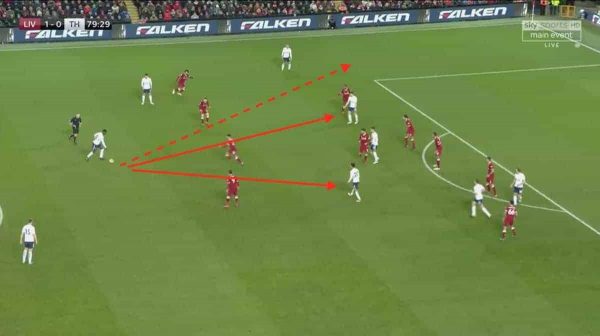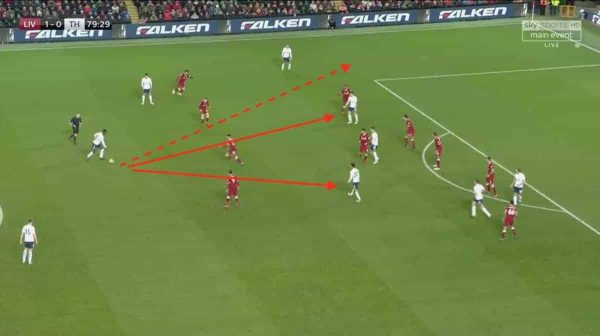 In the picture above you see the Spurs midfielder in possession. He's around 35 yards out from goal with four Liverpool players ahead of him but he has three passing options into team-mates in dangerous positions.
Klopp's men shouldn't allow a player in their final third to have this much time on the ball, let alone allow them clear passing lanes.
Context, as ever, is necessary. Liverpool had just defended a corner so that's why the full-backs are on the wrong flanks. This may account for the skewed shape but doesn't explain why there's no pressure on Wanyama.
Andrew Robertson, who had pressed Heung-min Son, doesn't continue his run and doesn't look to cut Wanyama's passing options. He's stood in no-man's land as the ball is clipped into Eriksen. Likewise with Oxlade-Chamberlain. He's not stopping any pass into feet where he is.
This isn't a one-off, either. Liverpool, when defending a lead, fail to have the concentration needed to dominate the space.
They're supposed to be compact and narrow but they allow the opposition to play incisive passes through their midfield lines when it shouldn't be happening, not in your defensive third.
Repeating the Same Mistakes

They tried it against City. At 4-1 the pace dropped, as you'd expect, and Liverpool looked to play on the counter with men behind the ball.
With such a cushion it's not the end of the world but a comfortable scoreline eventually ended in a nervy 4-3 win. Why? Because Liverpool stopped doing the basics.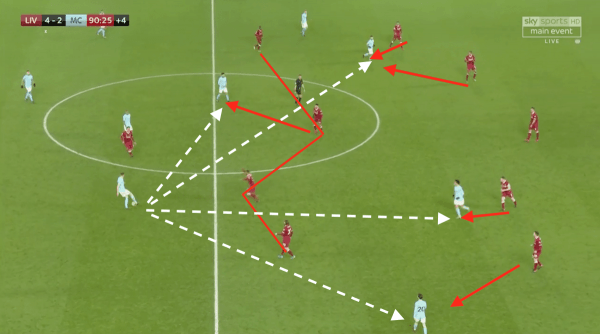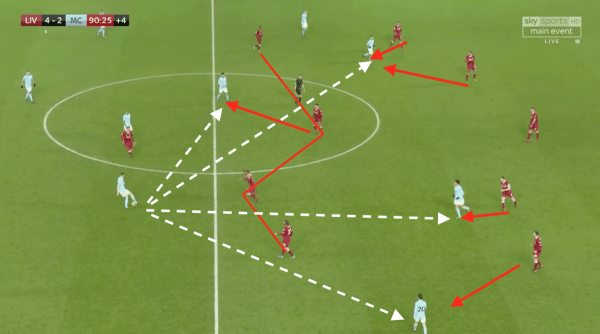 In the picture above you see a good example of Liverpool controlling the space. John Stones is in possession and he has four potential passes forward, highlighted by the white arrows.
But if you look at Liverpool's midfield line of four, they're cleverly blocking off the passing routes. Every single pass is a risky one and if it does make it into the feet of the City player there's a Liverpool player following up to put pressure on.
Stones is forced to play it back to Nicolas Otamendi. He then plays it out wide on the left and it's eventually worked back into the centre of the pitch.
City appear to be in control but there's no incursion into Liverpool's defensive third. It's all well controlled by the home side.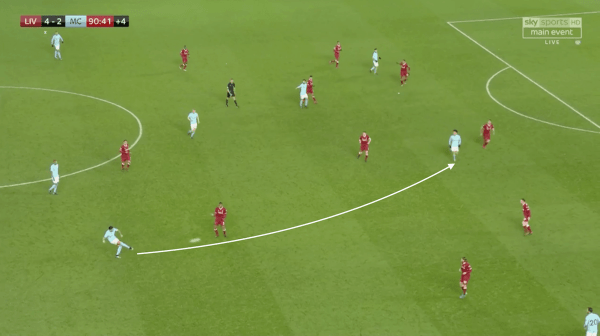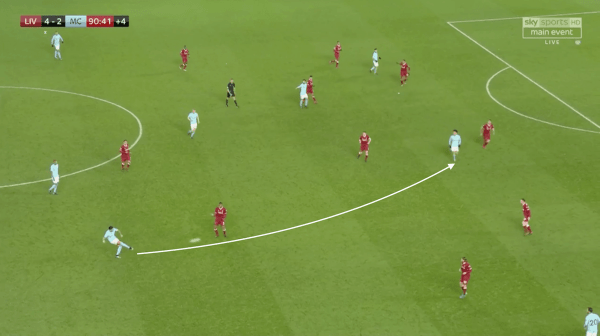 But all the hard work earlier is undone moments later. Georginio Wijnaldum doesn't put pressure on him and fails to cover the passing option. Milner is unaware that Leroy Sane has peeled off into space and Dejan Lovren can't attempt to intercept that because he risks exposing Karius.
Sane eventually works the ball to Sergio Aguero and City score off the resulting cross. It was all pretty simple for Guardiola's men. Furthermore, the ball to the German is one most players could spot. It's nothing special.
How are you supposed to see out a game when the opposition are able to play straight through the middle of your team?
It happened during the 1-1 draw with Chelsea earlier on in the season. Liverpool had a lead to defend and Klopp was content with sitting deep and absorbing the pressure.
Willian scored a fortunate equaliser after his cross looped over Simon Mignolet. It was pure fluke and unlikely to be repeated. People remember that and forget what went before it.
How did Willian end up with the ball on the edge of the area?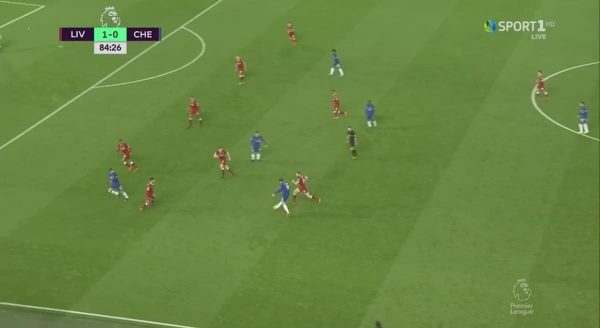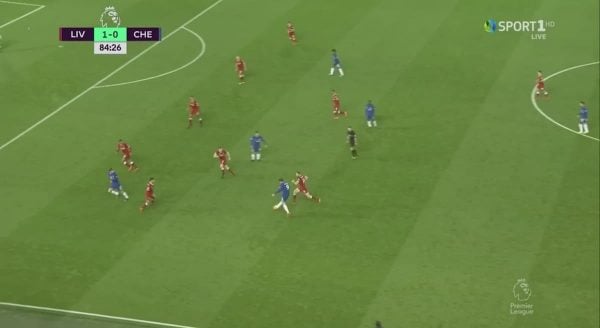 Henderson loses the ball and then vacates his position to hunt down Alvaro Morata. The Spanish forward feints to go backwards before turning into the space and driving back towards the Liverpool goal.
In the picture above you see Morata just as he plays an outside-of-the-foot pass into Eden Hazard's feet.
Henderson isn't able to block the pass and Milner, again, isn't aware of his surroundings. He doesn't realise Hazard has cleverly positioned himself there.
The pass from the No. 9 to the No. 10 is relatively easy.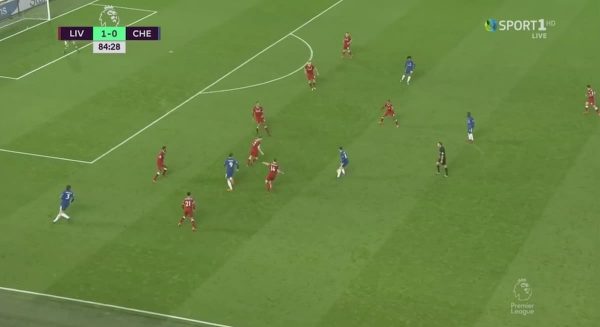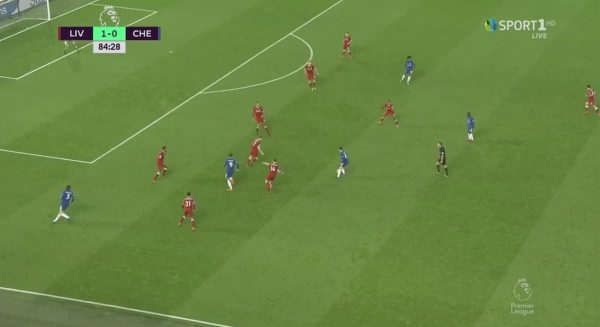 Hazard, in space, has time to turn on the ball and face the Liverpool goal. Players are slow to react, probably because they think there's no incisive pass on but the Belgian playmaker plays it behind Wijnaldum and into the feet of Willian.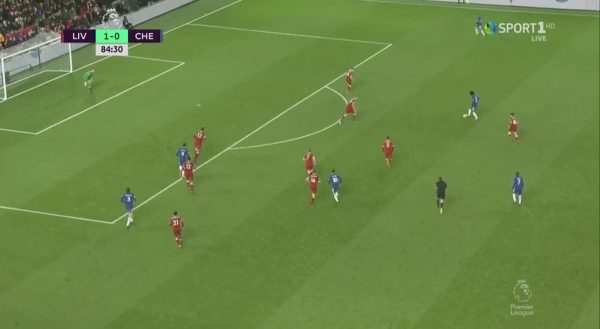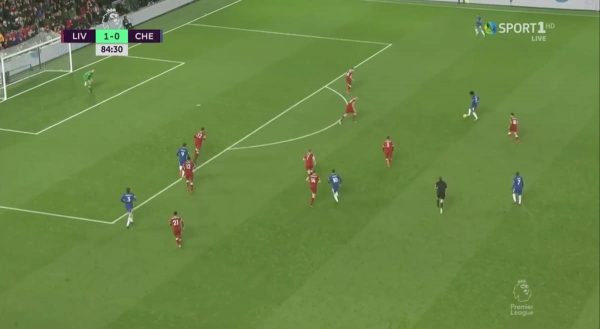 What was a comfortable situation for Liverpool now sees them stretched. It's two vs. two on the left and Ragnar Klavan looks to front up the Brazilian.
He beats the Estonian before lifting the ball into the area in the direction of the back post due to the fact Chelsea have two men there.
Again, though, there was no need to brilliant play. It was just a simple pass and it managed to bypass the Liverpool midfield and get the opposition into a dangerous area.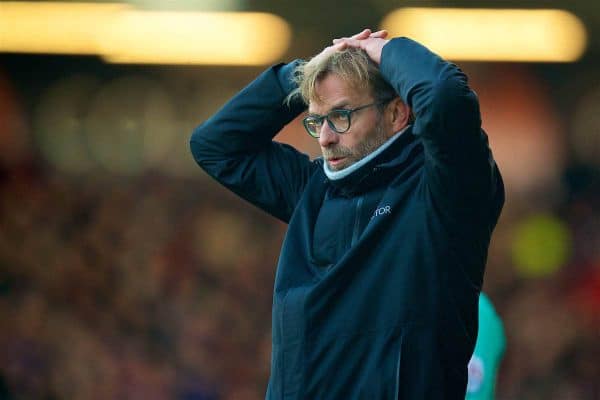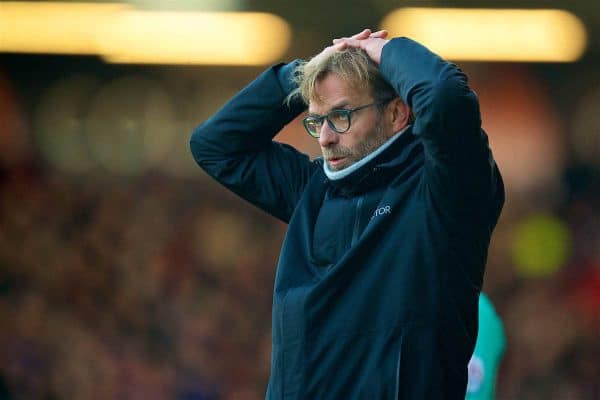 This has plagued Liverpool since Klopp replaced Rodgers. They attempt to go into safe mode but certain players switch off and gaps are exploited.
It happened against Man United last season during the 1-1 at Old Trafford, when Zlatan Ibrahimovic headed home a late equaliser.
The phase of play began with Antonio Valencia playing a one two with Juan Mata on the right flank. Wijnaldum failed to block off the passing lane and what should have been a straightforward situation to defend turned into Valencia having time and space to play in a cross.
You can miss a press in the final third. You can afford to not shut down a passing lane.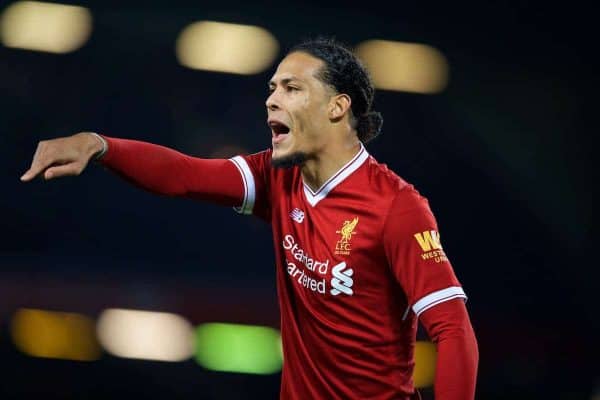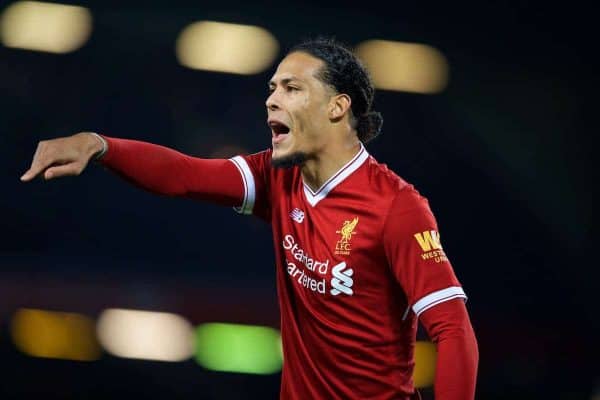 But in the defensive third it's completely different. Any sign of weakness is exploited and more often than not leads to a chance for the opposition.
The Reds clearly don't have the personnel yet to manage these situations and should avoid sitting deep if they're trying to see games out.
It means Klopp is between a rock and a hard place—with many saying Liverpool shouldn't be so gung-ho—but, for now at least, attack really is the best form of defence.