Liverpool yet again dropped late points from a winning position against Tottenham at the weekend and it is an issue that must be eradicated.
Do the Reds partake in a dull matches anymore?
It feels as though every 90 minutes involving Jurgen Klopp's side is a Game of the Season contender, with non-stop action at both ends of the pitch.
The latest in a long line of thrillers came on Sunday afternoon, as Liverpool and Spurs played down a dramatic 2-2 draw at Anfield.
Controversy surrounded Harry Kane's last-gasp equaliser, scored from the penalty spot, but that and other talking points masked a major weakness again rearing its ugly head for the hosts.
The Reds are making a habit out of conceding late and dropping valuable points, and it is threatening to hamper their top-four bid.
Slow Finishers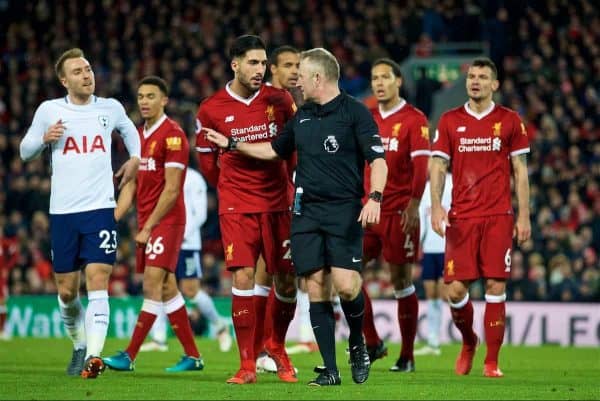 As Kane stroked home his spot-kick with just seconds remaining, the most damning indictment of this Liverpool side was that it didn't feel like a surprise.
That's despite Mohamed Salah giving Klopp's men a 2-1 lead with a stoppage time goal of his own—yet another majestic individual moment from the 25-year-old—with just three minutes left in proceedings.
There has been a total inability to hold onto leads this season, and given the defensive nervousness that follows the team around, you knew Spurs would likely get another opportunity to take home a share of the spoils.
Kane's goal made it 12 points dropped from winning positions in the Premier League in 2017/18, and a number of those have come with time running out.
The opening game of the campaign proved to be a sign of things to come, as Liverpool came up short away to Watford.
Miguel Britos' sloppy 93rd-minute equaliser sent the Reds back up north infuriated, and this inability to stay strong late on has not eased up from that point on.
Closing Stages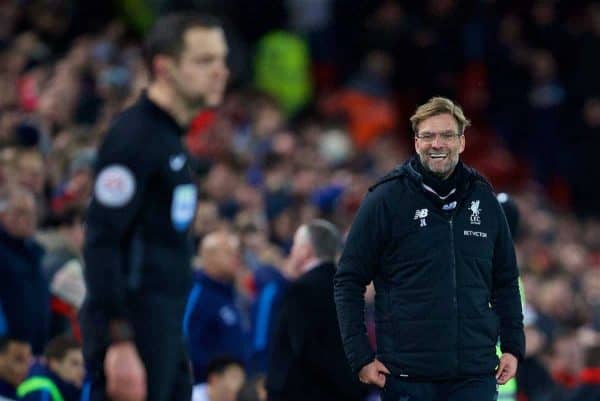 The leads Liverpool have let slip in the final 20 minutes doesn't make for pleasing reading:
3-3 vs. Watford, August – Britos 90+3′
2-2 vs. Sevilla, September – Correa 72′
3-3 vs. Sevilla, November – Pizarro 90+3′
1-1 vs. Chelsea, November – Willian 85′
1-1 vs. Everton, December – Rooney (pen) 77′
2-2 vs. Spurs, February – Kane (pen) 90+5′
The Reds have further lost out on points from another three games having lead at any point:
The 3-2 win at Leicester City was a nerve-shredding evening back in September, and only a Simon Mignolet penalty save from Jamie Vardy avoided another late collapse.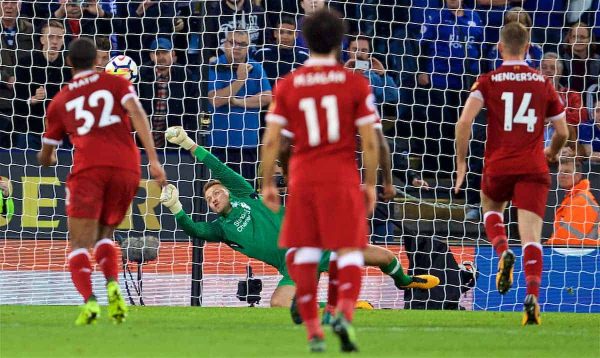 Then there was the 4-3 win over leaders Man City last month.
It was wonderful to see the Reds prevail in such a classic contest, but the eventual scoreline flattered City, and they so nearly snatched the most unthinkable of draws.
The Merseysiders were 4-1 up and threatening to run riot, but a couple of soft strikes made for an unbearably nervy finale, with Sergio Aguero nearly pouncing at the death.
It should never have got to that point.
Sunday's intense clash with Spurs was just the latest example to add to the list, and Kane's goal may be such a key one come the end of the season.
A win for Liverpool would have taken them five points clear of the north Londoners, but instead, Mauricio Pochettino's side are just two adrift and hunting them down.
Had those eight late points not been dropped, Liverpool would find themselves second in the table on 59 points, three clear of Man United.
That is a sign of how strong they have been prior to the final phase of matches, but also highlights their ineptitude at getting the job done.
Quite why this keeps happening is up for debate, but there are several potential reasons behind it.
What's Wrong With The Reds?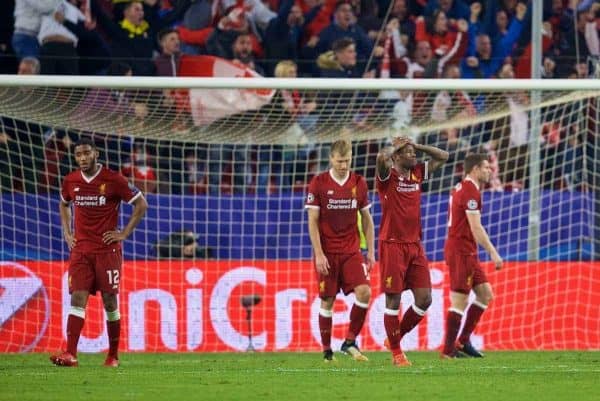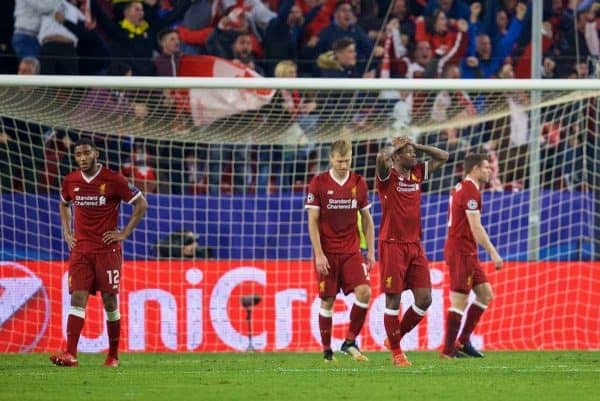 The first factor to immediately hold against this Liverpool outfit is a questionable mental strength when the going gets tough.
In fairness, a brief run of gritty 2-1 wins against Leicester City, Burnley and Everton in and around the New Year suggested otherwise, but that is looking to be more of an anomaly than anything.
You don't trust this team to grind out victories and stand tall in moments of extreme pressure, with few sides seemingly less-capable of mastering the dark arts.
There is something admirable and almost child-like about the way Klopp wants his side to play football in the most fair, aesthetically-pleasing way possible, but it won't always work, and can be naive.
Occasionally, teams have to win in undeserved fashion—Spurs were the better team at the weekend, and a home win would have been unwarranted—but Liverpool can only seem to pick up three points when it is thoroughly merited.
There also has to be question marks held against whether their relentless pressing game ends up taking its toll as the minutes tick by.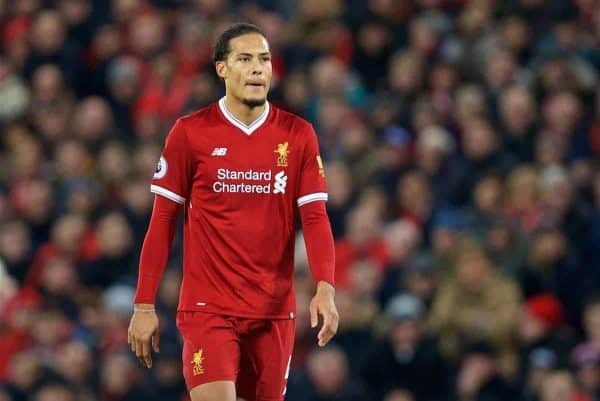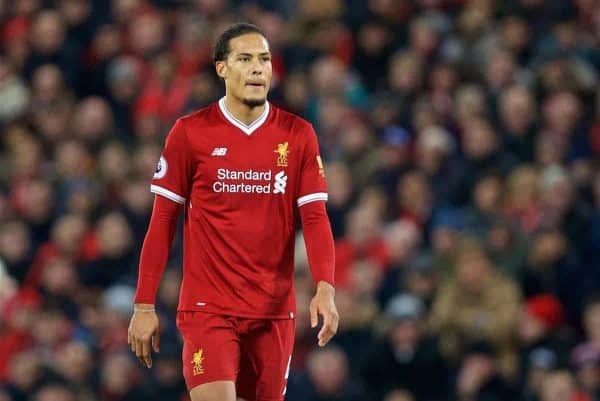 In the second-half on Sunday, Liverpool's players looked out for the count, having put an admirable workload into their performance before the break.
Are the Reds simply running out of steam in the closing stages, when bodies and minds are both exhausted? Is a lack of squad depth hampering them from the bench? It feels likely.
In Klopp's first season at Anfield, 15 points were dropped from winning positions, and the following year it was 18.
Improvements are not being made in the slightest in that area.
A third reason could be Klopp's substitutions, which have been criticised in some quarters.
For all his undoubted pedigree as a manager, his changes can leave you scratching your head, and he waits too long for his first switch.
Even when it comes, it doesn't always feel like the correct decision.
That wasn't the case against Spurs, with the removal of Jordan Henderson making sense after such a sustained period out of the team, but it has been evident during other points of the season.
Whatever the crux of the issue is, it has to stop hampering Liverpool, especially if they harbour any hopes of becoming a trophy-winning team again.
Unlucky But Avoidable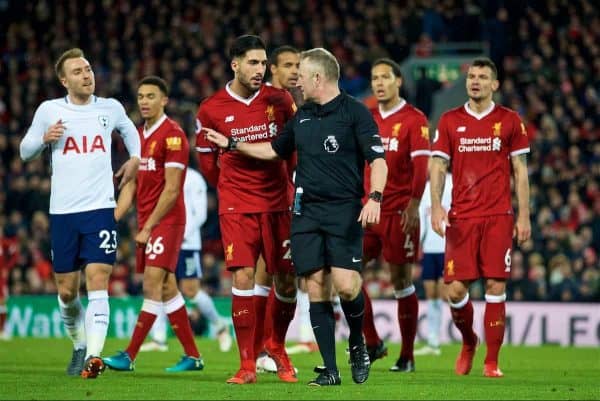 The Reds actually defended well for the large part against Spurs, and in the end, bad luck played a big part, as well as their inability to hold on.
Both penalties on Sunday were hugely contentious, with referee Jon Moss having an atrocious day at the office, and on so many other occasions Liverpool would have walked away with the win.
They say fortune evens itself out in football, but Klopp's side have been on the wrong end of many questionable decisions this season.
Britos' goal back in August was offside; Sadio Mane's sending off at Man City was horribly unlucky; Willian's strike for Chelsea was a complete fluke; Everton's penalty, won by Dominic Calvert-Lewin, was incredibly soft.
The list goes on.
Perhaps it is bias on our part, but they don't seem to be getting the rub of the green with key refereeing calls, and Klopp has a right to feel like the world is against him somewhat.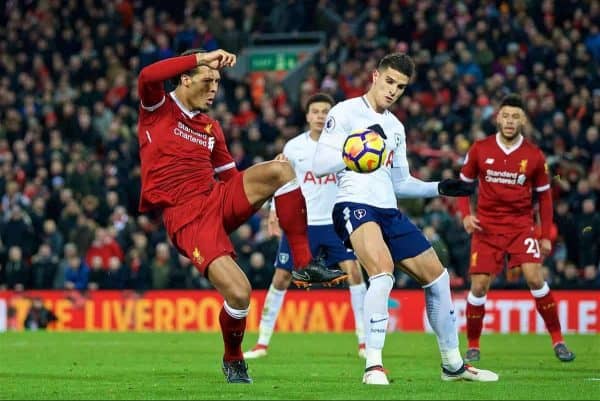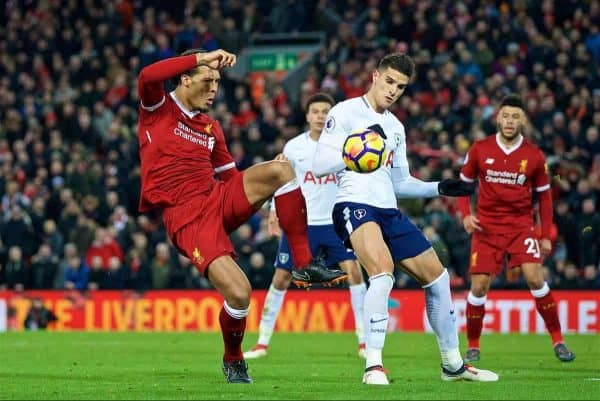 Despite this, however, Liverpool still allowed Spurs the chance to win these penalties, sitting back, cutting a nervous outfit and making individual errors.
With better concentration, they would never have been in a position to allow these decisions to go against them.
At no point did the Reds look comfortable at 1-0 up—all of their top-six are far more professional in that respect, barring Arsenal—and that all goes back to a combination of mental fragility and fatigue.
The players can lick their wounds and feel sorry for themselves after another big decision didn't go their way, but they would be recommended to focus more on not conceding late so often.
There is so much to love about this side, but being more streetwise at the most pivotal moments will take them to that next level.