Naby Keita was at the centre of more controversy on Monday night, and the nasty edge to his game is something Liverpool can benefit from.
Keita's RB Leipzig side travelled to Frankfurt for an important Bundesliga clash, and it proved to be a feisty affair at Waldstadion.
The hosts ran out 2-1 winners in the end, denting Leipzig's Champions League qualification hopes, but it was a moment just before half-time that stood out.
Keita sparked a brawl involving every player on the pitch, following a nasty late tackle on Frankfurt's Makoto Hasebe.
Although he didn't get involved in the moments afterwards, it was clear that the tackle was deliberate, and Hasebe's reaction was justified.
Keita would leave the pitch later on in the night with a thigh injury.
The Guinean has a reputation for being hotheaded, and although nobody wants a loose cannon in their ranks – someone who is actually going to be a hindrance because of sending offs and suspensions – Keita is exactly what this current Reds team lacks.
Nice Guys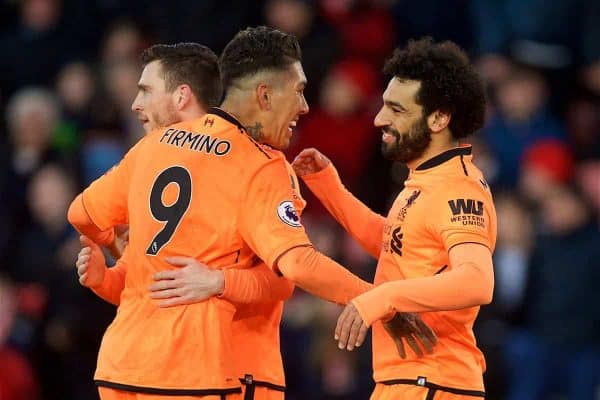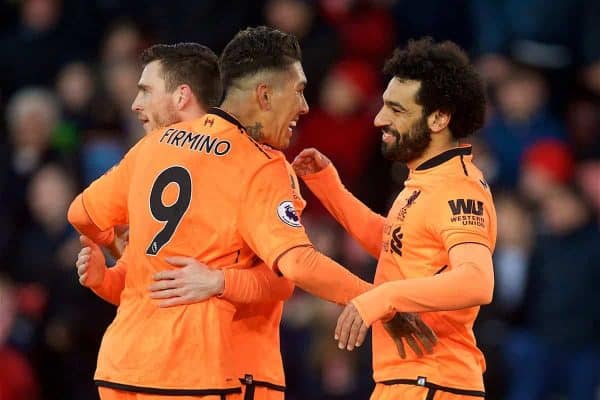 You look at Liverpool at the moment and generally see a likeable bunch of human beings you would perhaps be happy to see your daughter marry. The odd spiky character aside, too many stay well clear of unpleasantness.
A few try their best to act the hard man, with Adam Lallana's recent red card for the Under-23s a rather pathetic incident, but it doesn't come naturally to them.
This has been clear on the pitch, with almost a child-like innocence to their play, and an ineptitude at mastering the dark arts.
It is rare that you see a Liverpool player wasting time, feigning injury or berating referees, and although their level of sportsmanship is commendable, you don't achieve great success through being too fair.
Naby Keita terrorising players left, right and centre. He's a proper nark, will get under the skin of many a Premier League player next season. #SGERBL

— Chris Williams (@Chris78Williams) February 19, 2018
Back in November, Klopp actually hinted at not wanting his players to perform in the so-called dark arts of the game, saying "the day somebody thinks like this [in my team], with not being a proper sportsman and being fair, then I stop."
How much the German really believes this is debatable, however, but they do say every football team is an embodiment of its manager.
You look at the Reds' rivals and see a far more gritty edge to a lot of the individuals, as well as an ability to grind their way through matches.
They are no more talented, but when the going gets tough and moments of adversity arise, they get over the finish line more regularly. Liverpool, on the other hand, can shrink.
The Merseysiders still have plenty of improving to do in that area, but the addition of Keita is going to make such a difference.
They have not only signed a world-class midfielder but one with bags of menace.
> READ: Who partners Keita in Liverpool's midfield next season?
Nasty Naby

Keita may have avoided punishment on Monday night, but it was another moment that highlighted his win-at-all-costs mentality.
He has picked up three red cards this season for club and country, which has done very little to alter the perception of Liverpool's incoming summer signing, as well as receive six bookings.
Last season that figure was eight in the Bundesliga alone.
One of the best things you can say about Keita is that rival supporters are going to grow to loathe him, much in the way Liverpool fans feel about Ander Herrera, Ashley Young, Alexis Sanchez and Dele Alli.
You need players of this ilk in your ranks – players who will do anything to get a result, rubbing opponents up the wrong way.
Ultimately, it will be Keita's quality on the pitch that determines whether or not he becomes an Anfield hero, but that nasty side will give him an immediate head start in the eyes of supporters.
There may be the odd occasion when he lets down his teammates, but in the long run, his fiery style will be a wonderful addition, as it was with Javier Mascherano, who signed 11 years ago on Tuesday.