Jurgen Klopp faces big decisions in defence and midfield for Liverpool's top-four clash with Tottenham, but Virgil van Dijk is poised to return.
After ending the mini-blip at Huddersfield, the Reds look to reassert control on the top-four race by claiming a crucial three points at Anfield.
Victory from what Klopp has declared a "six-point game" would open a five-point lead on Mauricio Pochettino's side, and opportunities to seize such an advantage simply have to be taken.
The smaller squad now at Klopp's disposal after an under-utilised January transfer window makes selection more predictable.
But the boss still has some big decisions for a must-not-lose clash—most notably at centre-back and central midfield where numerous Reds are battling for the nod.
Team News
The Reds' XI vs. Spurs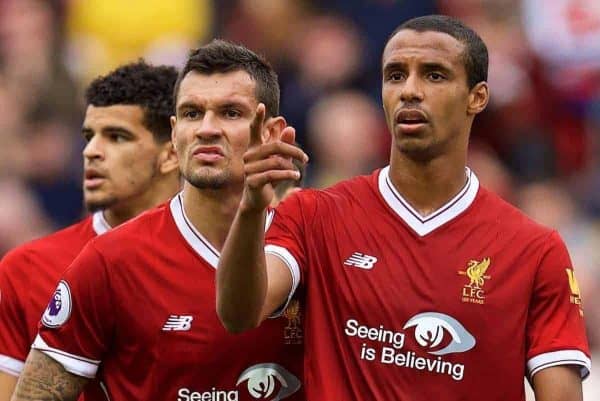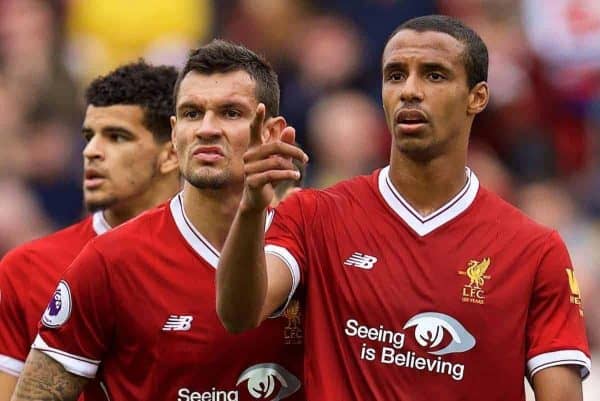 As stated, Klopp's key decisions for the top-four clash come at centre-back and central midfield.
After helping keep a clean sheet at Huddersfield, it could be argued Lovren and Joel Matip should continue and be handed a chance to banish memories of dire displays in the 4-1 loss at Wembley.
However, it's far more likely one of the duo will partner Van Dijk who is almost certain to return after a midweek rest, and it poses an intriguing call for Klopp.
Matip has always been the preferred option, but going on form and how the Cameroonian's has perhaps suffered from five successive full games, Lovren should be handed the chance.
A similar dilemma presents in midfield after Henderson and Milner impressed on their respective returns, with re-energised pair Wijnaldum and Oxlade-Chamberlain waiting in the wings.
It could be argued the English duo should remain too, but while Henderson is likely to start, Milner seems poised to drop out for Wijnaldum who often delivers on the big occasions.
With the front three again picking itself the Reds could line up like this at Anfield: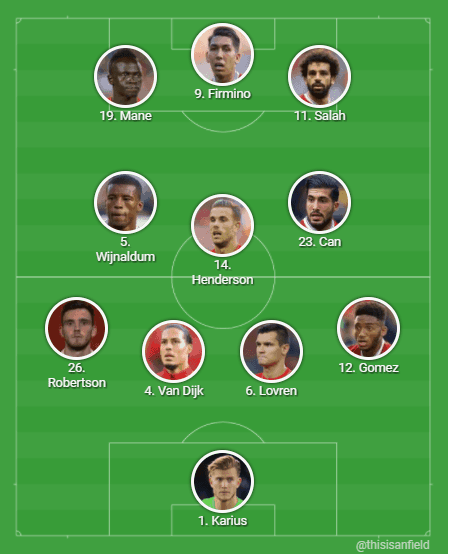 There's little room for manoeuvre with such a thin squad available, but Klopp could still field a slightly different lineup.
At the heart of defence Matip, rather than Lovren, could be retained alongside Van Dijk to continue building what Klopp seemingly envisages as his first-choice partnership.
Meanwhile in midfield, Oxlade-Chamberlain's extra athleticism and explosiveness could see him given the nod over Wijnaldum to replace Milner
Those two alterations would see this lineup take on Pochettino's side: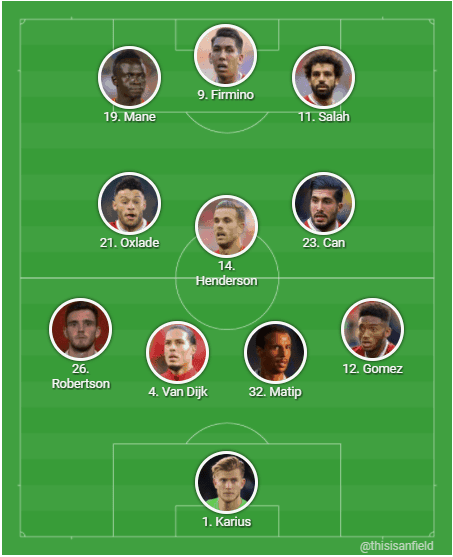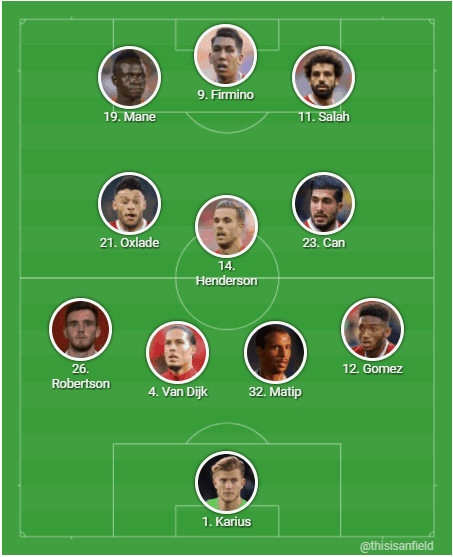 Sunday's clash presents a big opportunity to strike an early but decisive blow in the race for a top-four spot, and it's a chance the Reds must take by claiming a huge three points at Anfield.