Andrew Robertson is swiftly becoming one of the most popular Liverpool players, and he believes that is due to his all-action displays at left-back.
Following injury to Alberto Moreno, Robertson has carved out a role as Jurgen Klopp's first choice, with the Spaniard facing a battle to regain his place.
Robertson has a major advantage in the backing of the Kop, with his full-throttle displays as part the Reds' back four endearing him to supporters.
For example, This is Anfield's Steven Scragg argued after last Saturday's 4-1 win over West Ham that the 23-year-old was Liverpool's best left-back "since the days of Jim Beglin."
Given he had no previous experience at a top-level club, let alone one battling in the knockout stages of the Champions League, this is a major step forward for Robertson.
And speaking to the Liverpool Echo this week, he attributed his performances, and the reception he has grown accustomed to, to a relentless work ethic.
"I might not have the best of games every now and again, but I always leave everything out there," he said.
"Whether things are coming off and whether I'm finding people with my crosses, I always give 100 percent—that's the way I've been since I was a kid.
"It's no secret that my family and I used to go and watch Celtic at home. I've always had that passion for football in me.
"That's not changed from being at Queens Park, Dundee United, Hull or Liverpool. Wherever I've been, I've given my all.
"I think Liverpool fans maybe enjoy seeing that work rate. As a team we are all working incredibly hard and that's enabling us to produce performances the fans can enjoy."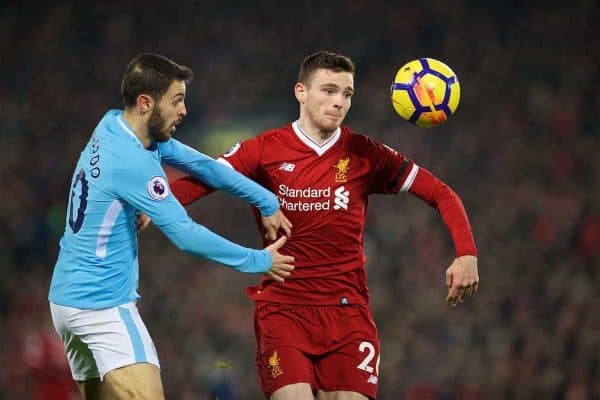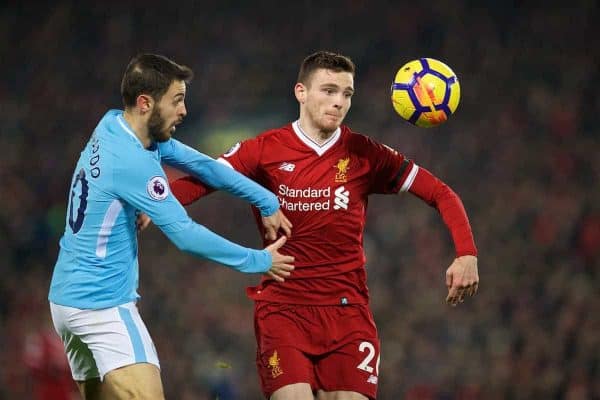 Robertson is right to suggest his energetic displays are a key factor behind his popularity at the club, exemplified by a non-stop press in January's 4-3 win over Man City in January.
This never-say-die approach is reminiscent of a host of Anfield favourites over the years, perhaps most notably Dirk Kuyt.
Like Kuyt, Robertson blends work rate with genuine quality, and like Kuyt, who joined from Feyenoord for £10 million in 2006, that he was signed for a relatively low fee magnifies this.
That Liverpool were able to acquire his services for just £8.5 million is a testament to his humble beginnings, having been released from Celtic as a teenager.
Leaving Glasgow to work his way up with Queen's Park, Dundee United and then Hull City, Robertson possesses a humility that clearly underpins his efforts on the pitch.