With Mohamed Salah inspiring a 5-0 victory over Watford on Saturday, Liverpool responding to their previous frustrations in the perfect way.
That's how a team of substance is meant to respond to an unnecessary loss away to Man United.
None of that shoulders slumped, shuffling of feet thing we used to do: Jurgen Klopp's Liverpool is maturing nicely.
Compare this with the bipolar nature of the 3-3 draw at Vicarage Road that we launched this Premier League season with.
Back in August, while completely frustrating, the way we semi-imploded against Watford was all too predictable.
It felt like it was a scene-setter of sorts, that we would have to get used to days like that.
We were going to be brilliant going forward, but in light of Southampton's stubbornness over not being all-round 'good-eggs' and letting us have Virgil van Dijk, we were going to be a joke at the back.
The Britos Empire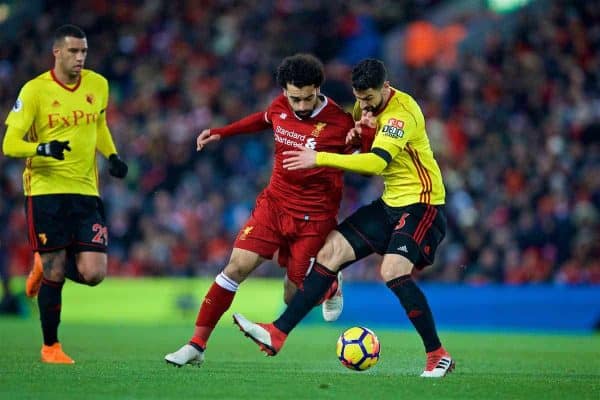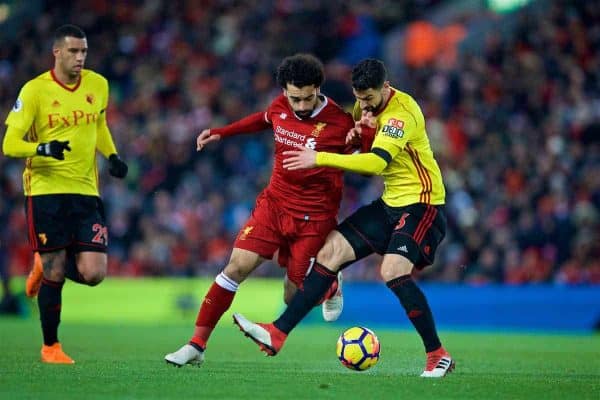 Miguel Britos was the man who deprived us of two points in the final seconds of that weird, weird game at Vicarage Road seven months ago.
That late, late equaliser feels like it was a lifetime ago now.
Liverpool have moved on since then.
How though? Of the 11 who started that 3-3 in August seven were in the lineup which kicked this one off at Anfield. The other four were on the bench.
Fourteen of the 18 who were on duty at Vicarage Road were on duty at Anfield.
The thought processes have changed, rather than the personnel. This is what is most impressive about the work Klopp is carrying out.
More of this during the summer, combined to some astute moves in the transfer market, and anything is possible.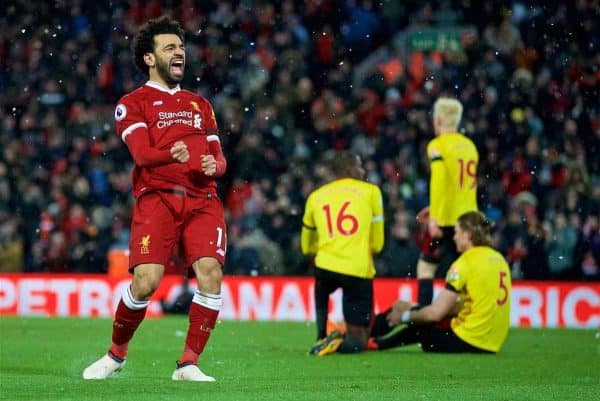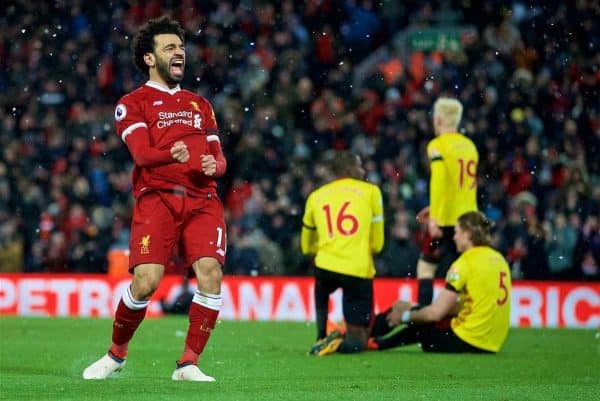 On Saturday, Britos was tortured and goaded at Anfield by the dancing feet of Mohamed Salah, Roberto Firmino and Sadio Mane.
Watford were frightened at times, they struck the image of someone watching a horror movie, sat there, popcorn on lap, pensive, awaiting the next chilling scene to roar its way onto the screen.
Passes to nobody in particular drifting out of play, while under no real pressure for the ball. All the hallmarks of a team waiting for the bogeyman to pounce.
Basically, Watford played like Jordan Henderson on an off day.
Sit Down and Stay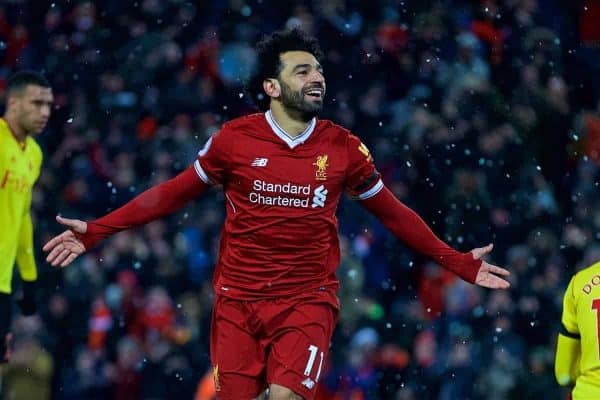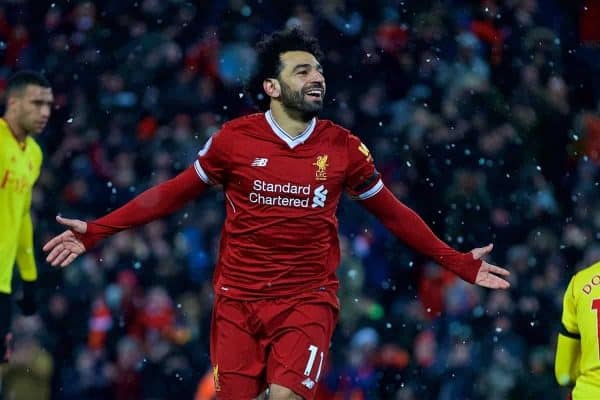 Salah was outrageous. Just when you think you've seen the highest gears he has to offer, he goes and does something like this.
We've long since reached the point at which Salah has to be classed as a privilege to watch.
A week or two ago, a discussion broke out on Radio 5 Live in which one reporter stated that the only two teams in the Premier League he would happily pay to watch were Liverpool and Man City.
We should start charging for press passes.
Salah was literally making Watford defenders sit down. Before long I'm expecting him to make them roll over, so he can scratch their tummy. Entering the field of play with some Bonios he can toss to them as he glides past.
The superlatives have all been said. Now we're being told that we'll struggle to keep hold of him. That might actually be true: who wouldn't want the Egyptian Messi?
Who could afford to pay the transfer fee it would take to get him though? Imagine being Barcelona, spending that kind of money on Philippe Coutinho and not receiving our best player.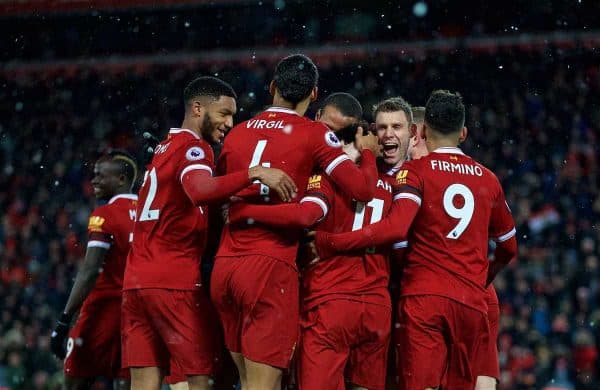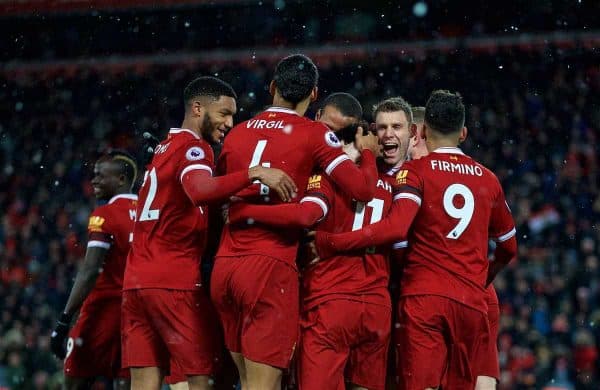 Salah's third goal was laugh-out-loud football. How does he score that goal?
He has a queue of Watford defenders in front of him, the keeper is reasonably positioned, and Salah himself is falling over. I was as proud of that goal as I am of my children.
I logged on to Twitter when I got home and saw a steady stream of postings of that iconic photo of Diego Maradona, against Belgium at Espana '82, the one where the Belgian defenders seem to be queuing up to stop him.
The comparison to Salah's third goal being the clear message.
That Maradona photo is a myth however. The Belgian players in the photo actually formed a defensive wall at a free-kick. The ball is played square to Maradona and the wall fragments.
The position the photo is taken from creates an illusion which fools people to this very day. Maradona was doing no 'Salah imitation' that day at Camp Nou in 1982.
Central Heating Football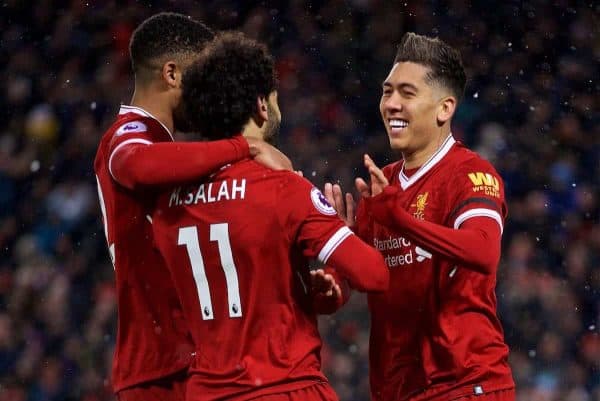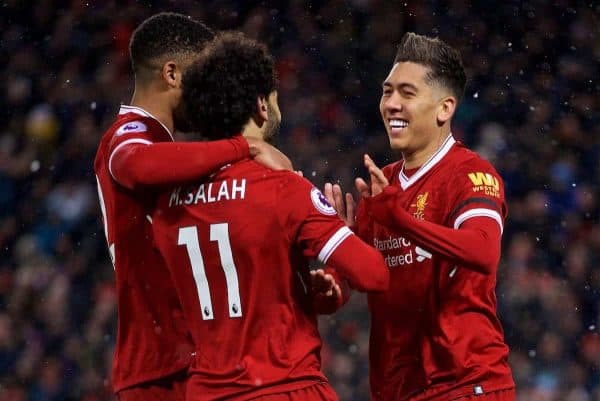 This was footballing central heating.
On a bitterly cold day, on a day when any pretence of being a youthful 40-something was emphatically blown away in the Main Stand, when I started casting envious glances at the thermal blanket somebody was covered with three rows back, it was the football which created the limited warmth available.
Imagine sitting in that and watching your team being effortlessly dismantled.
Salah warmed the soul, but so too did Firmino. That flick he scored with was like lowering yourself into a bath that is a little bit too hot. The type of bath which nicely scatters the senses for a minute or so.
A fortnight off now. Frustrating, but also useful in preparing for the tests ahead.
Roy Hodgson, Man City, Everton and then City again. We can enter that run of games with plenty of belief, and we can exit it unbeaten.
This is where you get to take a prolonged deep breath, before things really go nuts.