Mohamed Salah stole the headlines once again at the weekend, but Roberto Firmino's importance to Liverpool continues to shine through.
After a four-goal haul and an all-round demolition job, it's only right that media and fans were singing the praises of the Egyptian King.
Out on his own as the Premier League's top goalscorer, one behind the highest-ever Premier League tally for a season by an African player and drawing comparisons with Lionel Messi, Salah is deserving of every line of admiration he receives.
But as the No. 11 himself was so quick to point out after the mauling of Watford, it is a team game.
His partner in crime in attack, Roberto Firmino, scored the other in the 5-0 win and Jurgen Klopp singled the Brazilian out—as well as Sadio Mane—for bringing so much to the cause to help Salah and the rest of the side.
"In a 5-0 that you speak about a striker because of his defensive work rate, I didn't have that a lot," said the manager after full-time.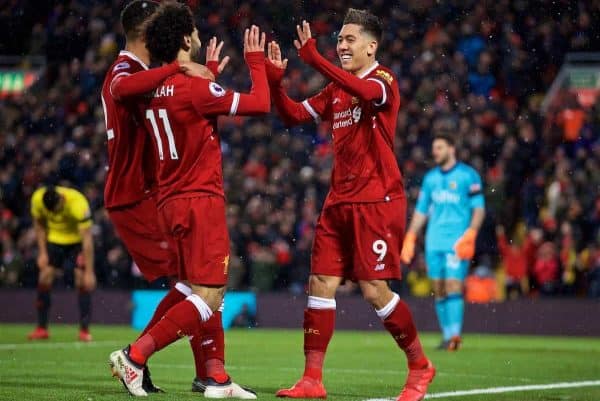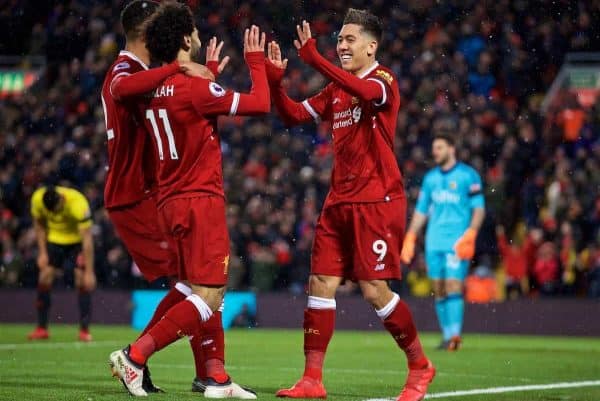 "But what Firmino did tonight again, ask the other teams if they like it, to have him in their back and around, it kills so many situations for the opposition team.
"There's always coming someone from behind, in no other game, only against Liverpool that the No. 9 is chasing you. That's just outstanding.
"That's why we can win football games."
Just as Salah is an inspiration to his team-mates when offensive opportunities present themselves, so too does Firmino encourage greater work in the opposite direction.
Klopp can be repeatedly seen on the sidelines at Anfield applauding his forward-thinking players when they track back, and that was the case once more against the Hornets.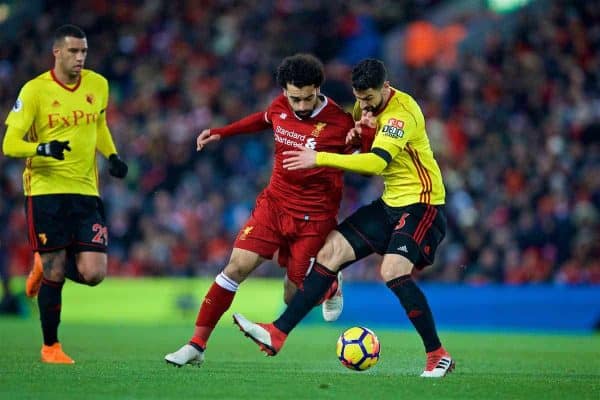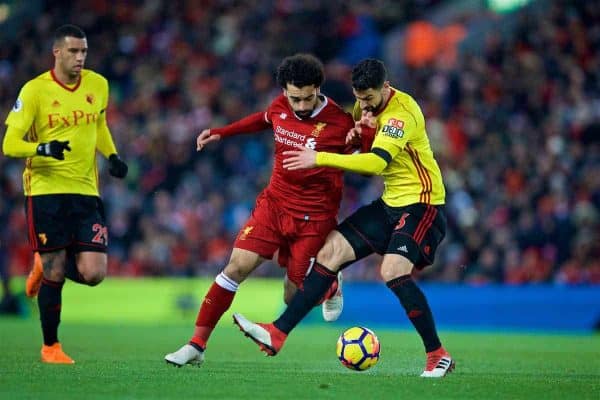 "I think there was one situation in the first half—[Salah] doesn't love defending as he loves attacking but he's still involved.
"Thank God to Roberto (Firmino) that he's doing all of these things without thinking.
"He (Salah) does it. But sometimes he needs a little… (reminder). A lot of my players need that.
"If you talk about Roberto, Roberto loves running in that (forward) direction, and chasing the players. If I said to him, 'Stop it'. He couldn't.
"He runs all the time but then Mo didn't stop as well tonight in the other direction. He took each sprint like the 100 metre final in the Olympic Games. That's what I mean, the team adapts to the strengths."
It takes many components to make the team work in such harmony, different strengths and the willingness to pitch in for the sake of others, and Firmino embodies everything about that approach.
And while Salah is rightfully taking the acclaim for his leading role, Firmino's initial contribution is often what makes it all possible.