Jurgen Klopp showed his displeasure at the Merseyside derby being moved to an early kick-off—and results might indicate why that's the case.
Liverpool were due to play Everton at Goodison Park on Sunday, April 8, but after the Champions League draw for the quarter-final it was switched to a day earlier.
And not just a day earlier, but an earlier kick-off time too: the derby now gets underway at 12:30 p.m. on the Saturday, a starting time which has been a costly one for the Reds this term.
Klopp didn't hold back—but now he needs to ensure he finds a way to improve on his record in these early matches, as they'll have a telling impact on the rest of the 2017/18 season.
Angry mode
"I'm already in angry mode," said the boss in his pre-Watford press conference. And it wasn't even due to the Hornets match.
"We play Wednesday night then 12:30 on Saturday. The players get up Thursday, have lunch, train, next day recovery and kick-off.
"It's not perfect, we have to take it like it is, but if I cant be angry about that…"
The inference that Klopp was despairing about the kick-off time was almost that it was a personal slight, on himself as well as the team.
"Whoever made the schedule maybe doesn't think we're going to the quarter-final as they gave us a Sunday game—'it's only Liverpool.' I cant see it differently.
"We have another 12:30 after the international break. How often has that happened [to other teams]?"
It's not the first time Klopp has fumed on post-noon kick-offs, either.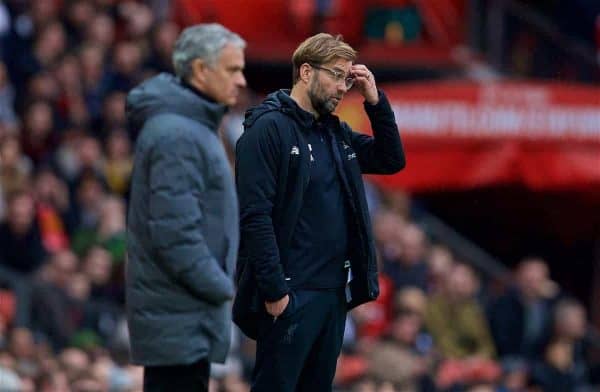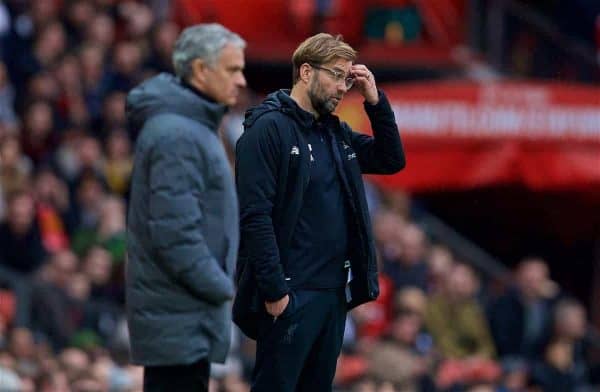 Before the FA Cup tie against West Brom, Klopp spoke of his dislike at playing the early Saturday match after late midweek matches in Europe.
"It's not too cool to be honest. I like night games, Saturday night is in general a night people don't go to bed too early, it's a good time to play football.
"Much better than at 12—I'm hungry at 12, not at 7:45!"
Fume or not, the Reds will play Everton just after noon—and indeed three of the last eight league games will be early, so results simply must improve.
So far, Klopp has struggled with those fixtures.
0% win rate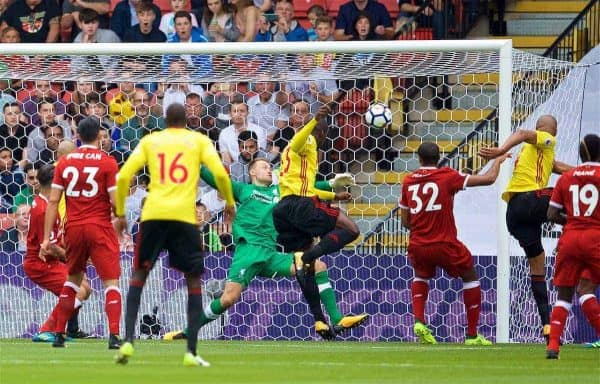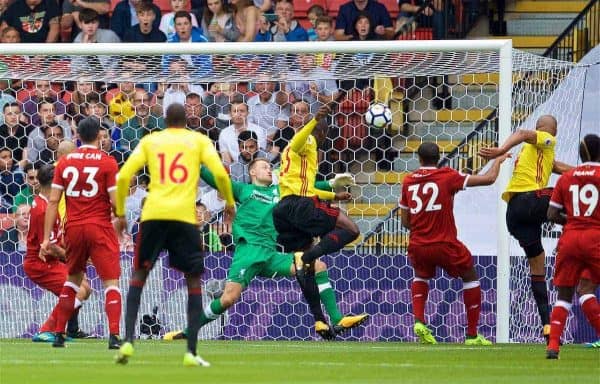 This term it has been a complete flat-line as far as early kick-offs go: four games, zero victories.
That's the bottom line Klopp is dealing with, and an indicator perhaps of why he dislikes them so much.
There are mitigating circumstances in such a broad statement, of course: none of the four have been run-of-the-mill, straight-forward, three-point bankers. That will again be the case against Everton, too.
On the opening game of the season—a notoriously tricky fixture day to judge, regardless of opponent—the Reds were held to a late 3-3 draw at Watford.
Since then the only 12:30 kick-offs have come against the Manchester clubs: the 5-0 Etihad defeat, 0-0 at Anfield against United and the recent 2-1 Old Trafford loss.
Klopp's overall record in early matches—that's a 1:30 p.m. kick-off or earlier—at Liverpool doesn't make for impressive reading.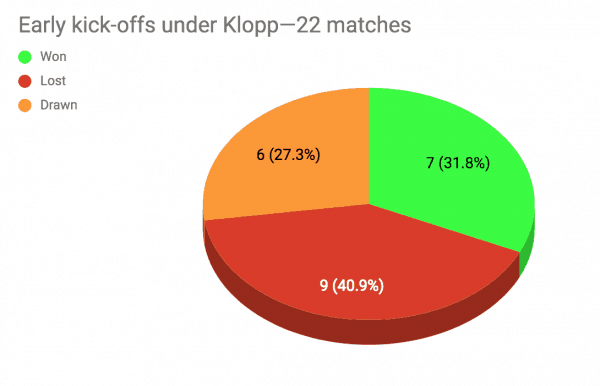 Less than a third of the games have resulted in victory, and the most frequent outcome has been defeats.
He needs to quickly buck that trend or there's a good chance the Reds miss out on valuable points in the coming weeks.
Time to change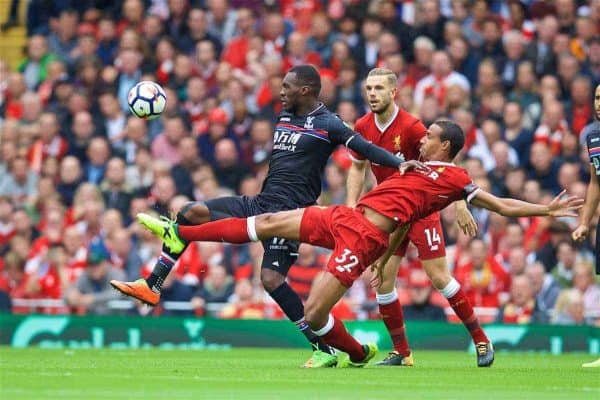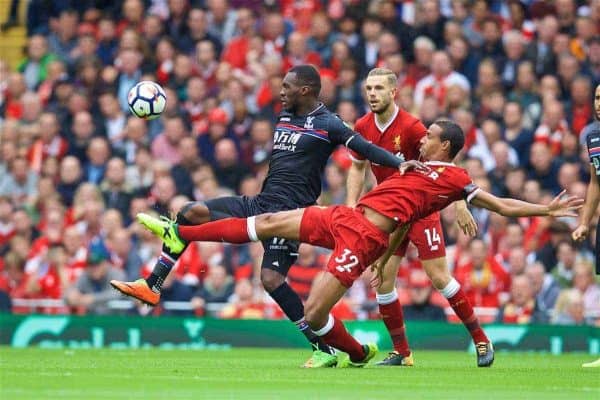 For it isn't just Everton who the Reds will play at 12:30—they're not even the next opponent at that time.
Crystal Palace away, after the upcoming international break, is first on the agenda.
Then it's Everton—sandwiched in between the two legs against Man City in Europe—and then home to Stoke City, at the end of April, is also a 12:30 game.
In usual terms, Palace, Stoke and the derby would be seen by Reds fans as a group of matches which should yield a minimum of five points, but probably seven and quite possibly nine.
Three or less would be devastating for hunting down second place, perhaps even for the top four itself.
What's the answer?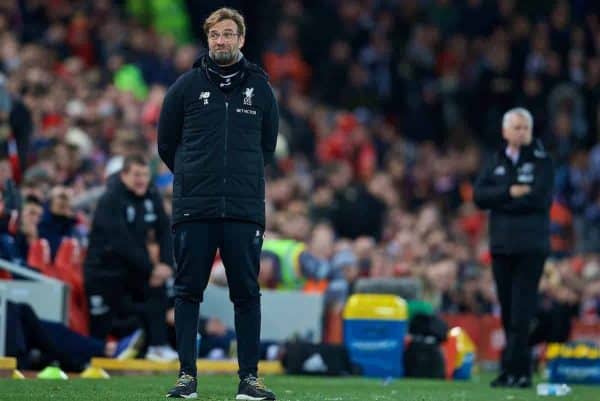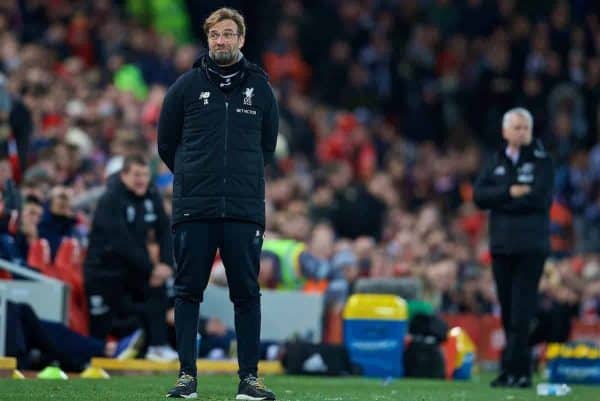 The Reds are notoriously fast starters when at their best.
Klopp's side have 29 league goals in the first half of matches—second-highest in the league behind only Manchester City—and have been leading in half their 30 games at the break. Again, only City has managed better.
In the early kick-offs that has to be the emphasis more than ever before: start quickly, not allow the match to become low-key and sluggish, allowing the opposition to settle into defence.
That perhaps counts most of all in the derby, where Sam Allardyce will look to his team to get into shape and rarely break out, but Palace and Stoke are both in the drop zone—they'll be defending for their very top-flight lives.
Klopp has to get the message across to his players that they must hit the ground running.
Perhaps that comes from a change in preparation for the game: meet earlier for home matches perhaps, alter eating times, a different warm-up routine.
So far Klopp hasn't found the answer and it clearly vexes him when the Reds must get the weekend programme up and running early on Saturday.
But do so they must in almost half their remaining games, and so the boss has to find a way to improve his woeful early kick-off record.
---
Liverpool's Early Kick-Offs Under Klopp
2015/16
Spurs 0-0 draw
Chelsea 3-1 win
Watford 3-0 loss
West Ham 2-0 loss
Norwich 5-4 win
Palace 2-1 win
Southampton 3-2 loss
Bournemouth 2-1 win
Swansea 3-1 loss
2016/17
Spurs 1-1 draw
Swansea 2-1 win
Bournemouth 4-3 loss
Plymouth 0-0 draw
Swansea 3-2 loss
Wolves 2-1 loss
Everton 3-1 win
West Brom 1-0 win
Southampton 0-0 draw
2017/18
Watford 3-3 draw
Man City 5-0 loss
Man United 0-0 draw
Man United 2-1 loss