Pep Guardiola has warned that Liverpool's forwards are "almost unstoppable" – but Kevin De Bruyne believes Manchester City can silence Anfield on Wednesday.
Guardiola may have taken City to the brink of being crowned Premier League champions but he is braced for a tough test against the Merseysiders in their Champions League quarter-final.
Mohamed Salah, Roberto Firmino and Sadio Mane head into the first leg of the eagerly anticipated tie having scored 75 goals between them in all competitions this term. Salah struck his 37th in Saturday's victory at Crystal Palace.
City boss Guardiola said: "Not just him (Salah) – Mane and Firmino, all three, they are almost unstoppable. They are fantastic, fantastic players.
"The way Liverpool play is so complicated for us. We know that. They are so quick, they are so good and it is tough.
"But it is the quarter-finals of the Champions League so we cannot expect, at that level, that something is going to be easy."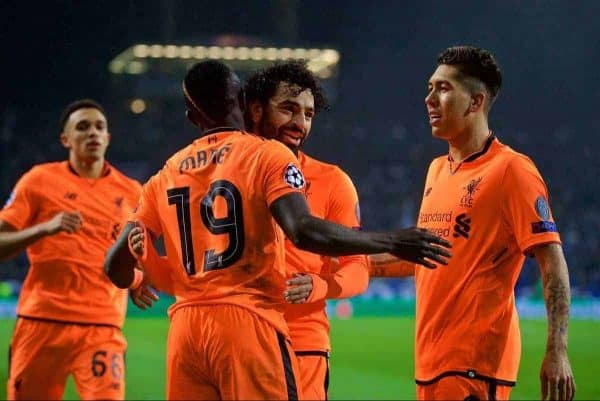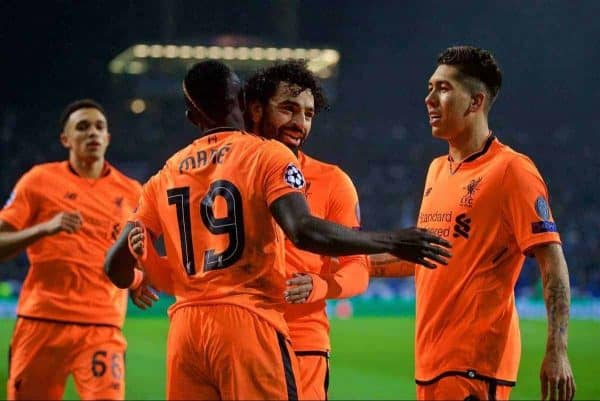 City are 16 points clear at the top of the Premier League and, having beaten Everton 3-0 on Saturday, can now secure the trophy if they beat rivals Manchester United next weekend.
Yet despite their dominance this season they were beaten, 4-3, by Liverpool on their last visit to Anfield in January.
Guardiola suggested after that game that his players may not have dealt with the atmosphere well as the Reds scored three goals in a blistering 10-minute spell in the second half.
"We lost a bit of control, we were involved in the environment of Anfield," he said.
The atmosphere could be a significant factor again on Wednesday but midfielder De Bruyne is convinced City can handle it.
The Belgian playmaker said: "If they score you know it is going to get a bit more heated than if we score. It's just the way football goes.
"But you saw it against Everton – they have a good crowd – but if you are three goals ahead then it is really difficult for them to get into it. Let's hope we can do the same at Anfield."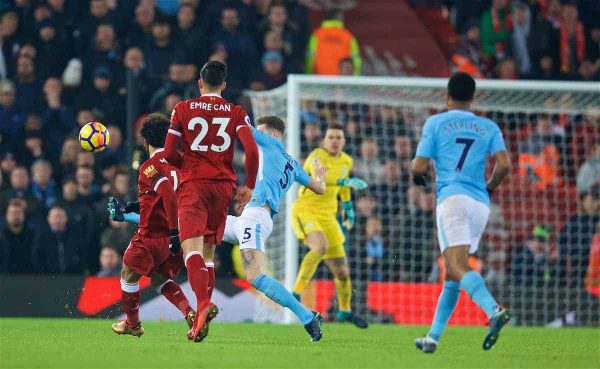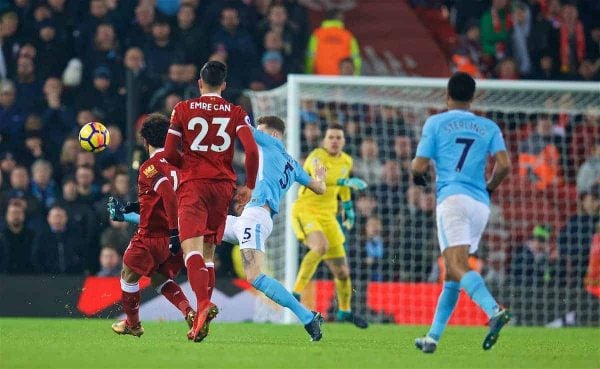 The Champions League tie will see thoughts of the title party put on hold for a few days, but next weekend's derby presents a potential dream scenario for fans.
De Bruyne said: "I think for the fans it would be wonderful. Obviously if we don't make it, we don't make it, we will have a lot of chances left still, but to make it against United would be special."
Everton had no answer to City's attacking brilliance as they struck three times in the first half at Goodison Park through Leroy Sane, Gabriel Jesus and Raheem Sterling.
De Bruyne said: "The first half, especially, was the best football we have played this season.
"I think we have had a lot of games where we have controlled the game, but the first half was something different, another level.
"They didn't know what to do. You could see in their faces in the first half that they didn't know what was happening. And that's why you feel in so much control I guess, when you see it on their faces."