The Reds ensured Champions League football will be played at Anfield for successive seasons after a convincing 4-0 final day win over the Seagulls.
Mohamed Salah's record-breaking 32nd Premier League goal, Dejan Lovren's header and first Reds goals for Dominic Solanke and Andy Robertson sealed qualification and a fourth place finish.
It completes another excellent Premier League campaign for the Reds, with Champions League football secured for back-to-back campaigns for the first time since 2009.
Supporters were delighted with the result and here's how Reds fans reacted to the win—and the season—across Twitter, Facebook and on our forums.
Supporters praised the professional performance and numerous individual displays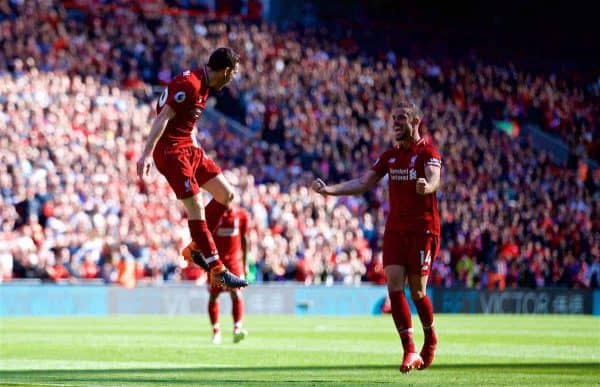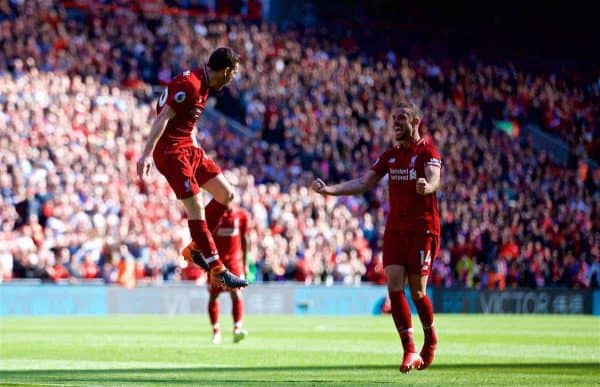 This is what happens when you have a weeks rest.

— LFC Fans Corner (@LFCFansCorner) May 13, 2018
If you were worried you underestimated this football team.

— Craig Hannan (@C_Hannan7) May 13, 2018
Excellent performance, easy win….Salah breaks goal scoring record, 1st goals for Andy Robertson and Dominic Solanke…pretty much a perfect day for Liverpool

— John Bradley (@jbradleymedia) May 13, 2018
Perfect preparation for Kiev. We were fantastic when we needed to be.
– Danny on the forums
This has been the perfect day. Now win it in Kiev lads.

— Green Scouser (@Green_Scouser) May 13, 2018
What today shows is that the performances against Stoke and Chelsea were because we were absolutely knackered.

We got two weeks before Madrid.

— Empire of the Kop (@empireofthekop) May 13, 2018
Champions League again, well done reds!
– Gary Merrell on Facebook
Hendo has been class today.

— Empire of the Kop (@empireofthekop) May 13, 2018
Wijnaldum also been superb.

— Empire of the Kop (@empireofthekop) May 13, 2018
It's reassuring to see how energetic we were. It looked in the last few games we were running out of steam, but clearly with a whole week's rest we found our Mojo again.
– John Scott on Facebook
Karius has absolutely earned the starting job next season at this point.

— Liverpool Offside (@LFCOffside) May 13, 2018
Icing on the cake, that. Robertson's been one of the highlights since the turn of the year. Great to see him get a goal.

— Leanne Prescott (@_lfcleanne) May 13, 2018
Fans were also delighted to see Salah break the Premier League goal record and collect the Golden Boot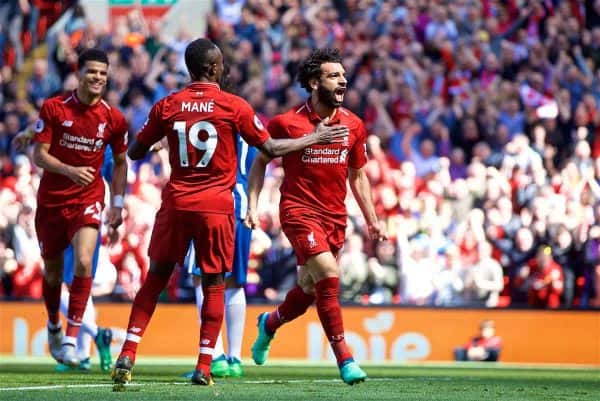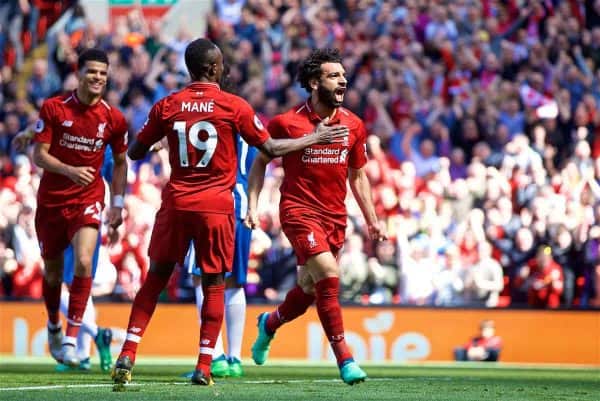 Mohamed Salah assisted Dominic Solanke's first ever Liverpool goal while Harry Kane steals Eriksen's legitimate goal. Levels.

— Samue (@SamueILFC) May 13, 2018
https://twitter.com/RashadJunior/status/995673595782279170
#LFC Mo breaks his "drought"

— Red Till I'm Dead ???????????? (@Duranozfan) May 13, 2018
Salah officially awarded the golden boot. Made even sweeter knowing nearly everyone at work had Kane bahahahaha (I can hardly talk I put Aguero but sod it, they don't get any points muhahahaha)

— Kirsty (@LFCKirstyLFC) May 13, 2018
Mo getting the golden boot is epic!!
– IndianScouser on the forums
And Kopites were just as thrilled to see Dominc Solanke and Andy Robertson score first Reds goals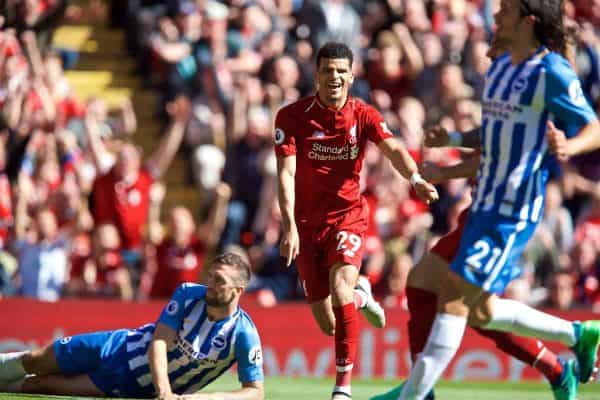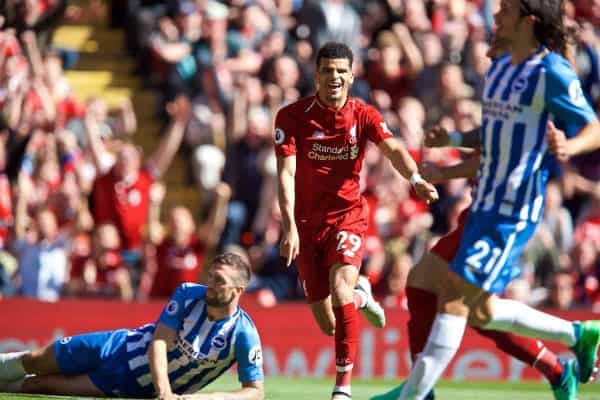 Also, goal and assist today for both Salah and Solanke. Couldn't be better-timed for both.

— Karl Matchett (@karlmatchett) May 13, 2018
Goalanke #Solanke

— LFCZA ?? ???? (@LFCZA) May 13, 2018
https://twitter.com/IndigoLFC/status/947833407450513408
Absolutely made up for Solanke there. Deserves that goal after a really tough season. Brilliant moment for the guy. What a finish.

— Joel Rabinowitz (@joel_archie) May 13, 2018
Yerrrrrrrss Big Dom! What a strike.

— Sam McGuire (@SamMcGuire90) May 13, 2018
YESSSSSSSSSSSSSSSSSSSSSSSSSSSSSSSSSSS. People will be gutted! Made up for you Big Dom! #LFC

— Graeme Kelly (@GraemeKelly1) May 13, 2018
https://twitter.com/Kloppholic/status/995691425701429249
ANDY ROBERTSON HAS SCORED A GOAL FOR LIVERPOOL, I've been waiting for this day for so long.

What a time to be alive.

— – (@AllezTheReds) May 13, 2018
Andrew Robertson scored at last. There's no man who deserved a goal as much as him this season, surprise package this season fully nailed his LB spot as his own. Bit of a shame that his first goal isn't at Kyiv as we were praying for him to score. ?

— Samue (@SamueILFC) May 13, 2018
There was love for Rafa Benitez after the legendary former boss did a favour beating Chelsea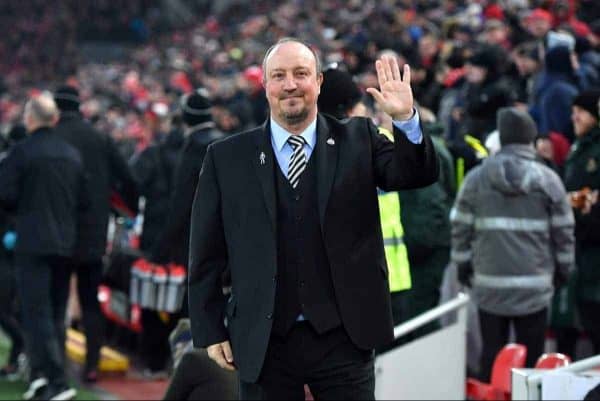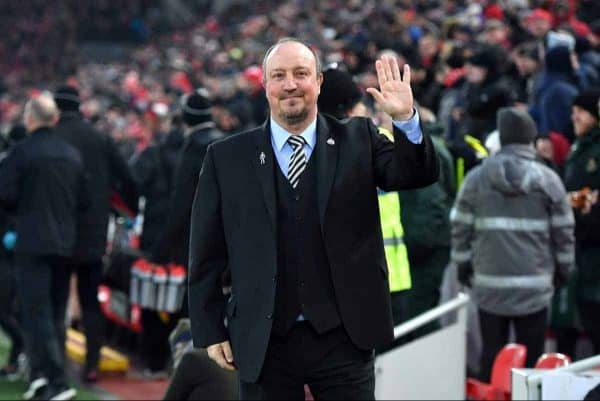 — LFCZA ?? ???? (@LFCZA) May 13, 2018
Klopp should probably appoint Rafa Benitez his assistant if Buvac does one yeah

— Karl Matchett (@karlmatchett) May 13, 2018
Well done boys at North West and North East.
– Charles King on Facebook
Rafa, Rafael, Rafa, Rafael, Rafa, Rafael Benitez.

— LFCZA ?? ???? (@LFCZA) May 13, 2018
https://twitter.com/AnfieldHQ/status/995684212933124096
— Zo (@NTXZO) May 13, 2018
And finally, supporters reflected on the season as a whole and turned their attentions to the Champions League final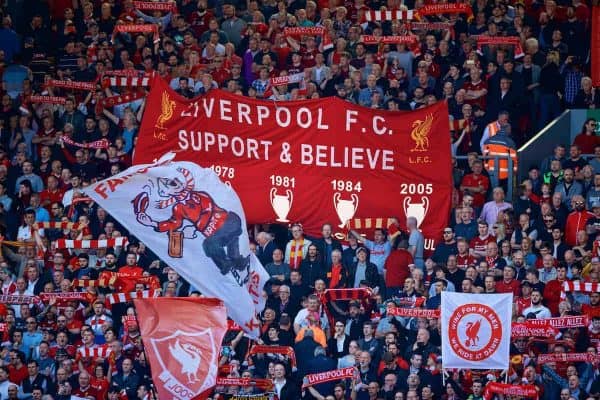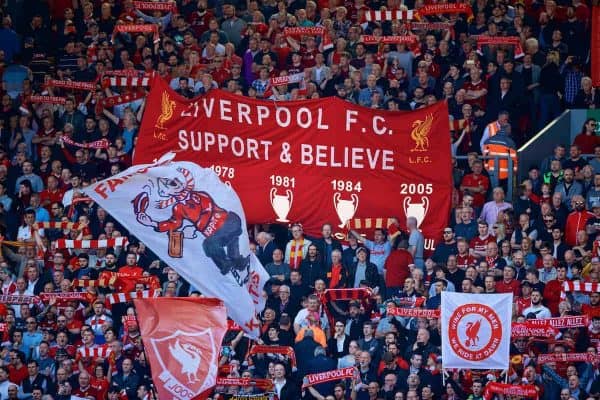 Top four consolidated and a place in the European Cup final. If you don't agree that we've progressed then unfortunately football isn't for you.

— John McMahon (@JohnMcMah0n) May 13, 2018
That'll do nicely! Fantastic performance to finish a great Premier League season. Onwards to big ears no.6

– Illuvatar on the forums
Well done Reds. Did what we needed to do and some. Bring on Madrid !

— kop in full voice (@LFC_Bantz) May 13, 2018
Job done, CL football secure for next season, no injuries today, onwards and upwards.

— Red Till I'm Dead ???????????? (@Duranozfan) May 13, 2018
Just one team out of 92 has finished the season unbeaten at home, and they play in red managed by Jurgen Klopp. Well in lads, @LFC, you've been great.

— LFC Fans Corner (@LFCFansCorner) May 13, 2018
Job done. Wrap them up in cotton wool till the 26th.

– Rupzzz on the forums
What an incredible end to our Premier League season. Top four secured, unbeaten at Anfield this season, Mo Salah now the Premier League all time leading goal scorer and a Champions League final on the horizon. Really couldn't have asked for more. Thank you, @LFC.

— Kloppholic (@Kloppholic) May 13, 2018
Great season that would've been a brilliant season with 12 months of Can Dijk and a bit more depth in quality. Now onto the small matter of big ears.

— Si (@TalkingAnfield) May 13, 2018
ALLEZ ALLEZ ALLEZ

— nate (@natefc) May 13, 2018
Well what ever happens in Kyiv me and this lot will be back in Europe next season. I love you Liverpool, I do #YNWA @LFC pic.twitter.com/xmjQxppIjE

— Jeff Goulding (@ShanklysBoys1) May 13, 2018
https://twitter.com/TheKopMagazine/status/995692874816729089