The media felt Liverpool rediscovered top form at an ideal time and praised Jurgen Klopp for another season of progress after the 4-0 win over Brighton.
The Reds ensured Champions League football will be played at Anfield for successive seasons after sealing fourth spot with a fantastic final-day victory.
A record-breaking 32nd Premier League goal for Mohamed Salah and Dejan Lovren's header gave the Reds a half-time lead, before first goals for Dominic Solanke and Andy Robertson completed the rout.
Victory ensured of a top-four spot and Jurgen Klopp will be delighted with the manner in which his players secured it, shining with a superb collective performance.
All attentions will now turn to preparing for the big showdown in Kiev on May 26, but before that, here's how the media reflected on the final-day win and a successful league campaign.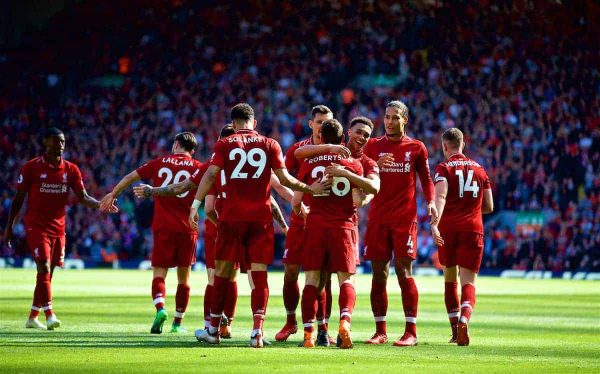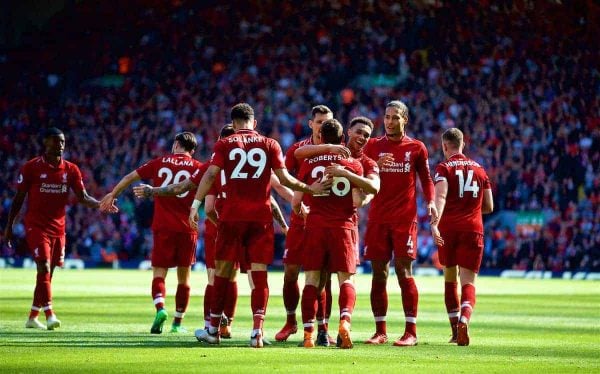 Reporters reflected on a "perfect afternoon" and praised the Reds for a professional display to complete the job…
Writing for Goal, Neil Jones was full of praise for the way Liverpool approached the game as the Reds showed no complacency:
"Klopp can take pride in the way his team approached this potential banana-skin. Liverpool's hunger and mentality, he says, is beyond question, and his players backed those words up here.

"Confident, alert, aggressive and ready to work and to play, they had too much for a Brighton side whose goal had been achieved nine days ago."
ESPN's Mark Ogden thought the game provided perfect preparation for the Champions League final:
"Klopp could not have scripted a better 90 minutes of preparation for the Champions League final had he tried, with even Adam Lallana climbing off the substitutes' bench to prove his fitness with a late cameo appearance.

[…]

"So rather than become an awkward distraction, this game enabled Liverpool to end the season on a high without unnecessary drama."
And also for ESPN, Dave Usher felt Klopp got the rewards for going with such an attacking selection:
"With James Milner ruled out, Jurgen Klopp elected to go all-out attack and sprung a surprise by including young frontman Dominic Solanke in the starting lineup. It worked a treat as Solanke provided a goal and an assist.

"It was a day when everything Klopp did paid off handsomely, as two of his substitutes—Adam Lallana and Danny Ings—helped to create the fourth goal for Andy Robertson."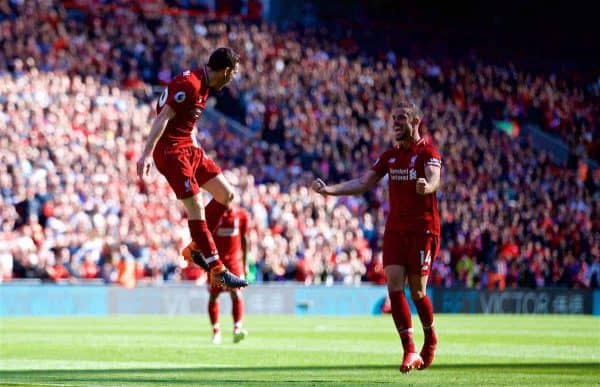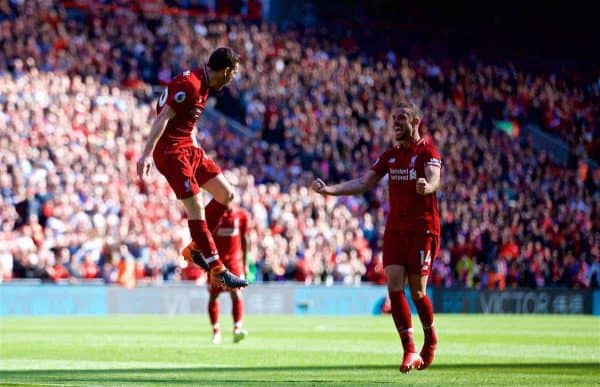 Reporters felt a top-four finish was thoroughly deserved and reflected on the Premier League season…
Firstly, Jones believes a top-four spot was 'just rewards' for the way Liverpool have played this season:
"Just reward, you must say. Anything else would have been remarkably harsh on a side that has played the way Klopp's has this season."
Richard Jolly, for the National, was full of praise for Liverpool's "endurance" in the top-four race, noting the Reds' improvement in juggling competitions this season:
"They have struggled to balance different priorities since then.

[…]

"In contrast, this was a feat of endurance that brought a second comparison with 2008/09, the previous campaign Liverpool completed unbeaten at home in the Premier League; if draws have been a frustration at times, Klopp has nonetheless made Anfield a fortress again."
The Liverpool Echo's Ian Doyle rightly assessed the campaign an undoubted improvement even though the Reds finished with a point fewer:
"Liverpool may have finished with one point fewer than when finishing fourth last season, but Klopp is right when he says this has been a much better campaign.

"A certain May 26 date is definitive proof of that."
Echo colleague James Pearce lauded Klopp's work in inspiring a "breathtaking brand of attacking football":
"It was the year when Klopp took Liverpool to the next level playing a breathtaking brand of attacking football.

"Klopp has assembled the most potent front three in European football and created a system which has enabled them to flourish."
The Telegraph's Chris Bascombe commended Klopp for achieving back-to-back Champions League finishes and believes the whole club is thriving under German's guidance:
"Before now, it has been nine years since Liverpool qualified for the competition in successive campaigns. Returning, cementing the position and—potentially—winning it again shows the polish is back.

[…]

"Liverpool have enjoyed success during trying periods of their recent history, but it is over 30 years since every aspect of the club was ready to make the most of it on and off the pitch."
On a different note, our man Karl Matchett complimented Klopp's side for ending the season unbeaten at Anfield, but also felt the home record showed areas for improvement for next season:
"Twelve wins and seven draws show there is still room for improvement next term, but that should only add to the excitement of what could lie ahead.

[…]

"Anfield is once again a place teams will fear to tread."
Meanwhile, Jones believes no matter what happens in Kiev, the campaign has been one of undoubted progress:
"Whatever happens in Kiev, this has been a season of progress at Anfield. Klopp has built a team that supporters can be proud of, that can be a joy to watch and maybe, just maybe, can bring success to the club too."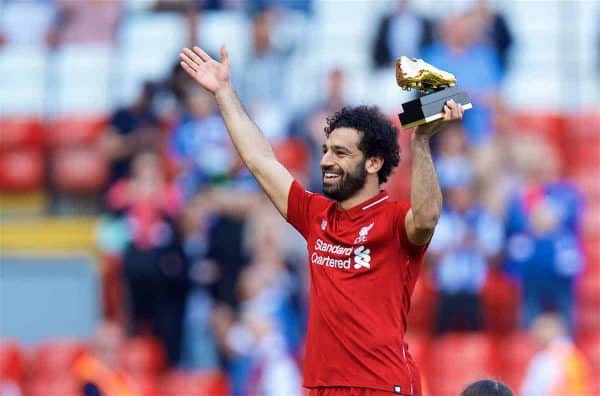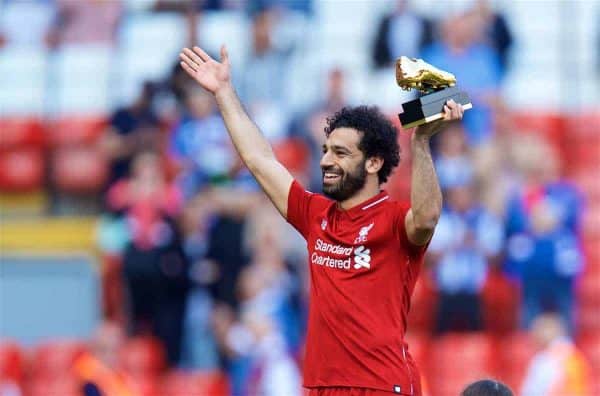 The media were pleased to see the Reds rediscover top form—both certain players and as a team…
Doyle felt the biggest positive was the re-emergence of the blistering attacking play:
"Pleasing for Jurgen Klopp will be the fact Liverpool rediscovered their attacking verve after a few stuttering performances of late."
Jones was pleased to see the likely starters against Real Madrid back at full sharpness ahead of the big day:
"Liverpool's team for the final picks itself at the moment, so it was reassuring to see so many of those starters looking sharp."
Matchett was particularly delighted to see Salah return to goalscoring form:
"Ahead of the final and biggest match of the season, his return to top gear couldn't have come at a more opportune moment."
The Mail's Dominic King focussed on Salah's record-breaking goal, and believes this stands the Egyptian in a class of his own:
"But for Salah, this swish of his left foot propelled him beyond the modern giants—Alan Shearer, Cristiano Ronaldo, Luis Suarez—and into territory of his own.
In among all the admiration for Salah, the Guardian's Paul Wilson assessed Roberto Firmino as the Reds' key man this season:
"The Brazilian has arguably been Liverpool's key player this season, for all that Salah's goals have earned the headlines and awards."
Matchett reserved praise Solanke, labelling the striker's display his "best performance so far" and felt the goal provided a welcome confidence boost:
"His movement was good throughout and, though he lost his footing and thus a couple of chances early on, he improved immeasurably and without question produced his best performance so far.

[…]

"One game, or indeed one goal, won't make or break his career at Anfield—but ahead of the Champions League final there's no question that a confidence booster couldn't have been better-timed."
Usher thought Jordan Henderson stood out and called on the captain to produce a similarly leading performance against Real Madrid:
"His passing was crisp and purposeful throughout, and the captain has really stepped it up as the season has reached the business end. Liverpool need him to lead by example in Kiev in two weeks."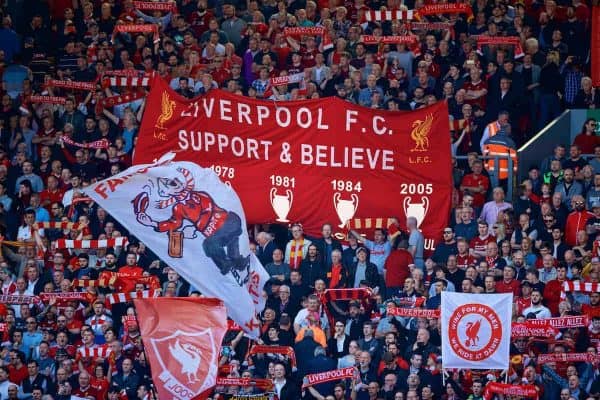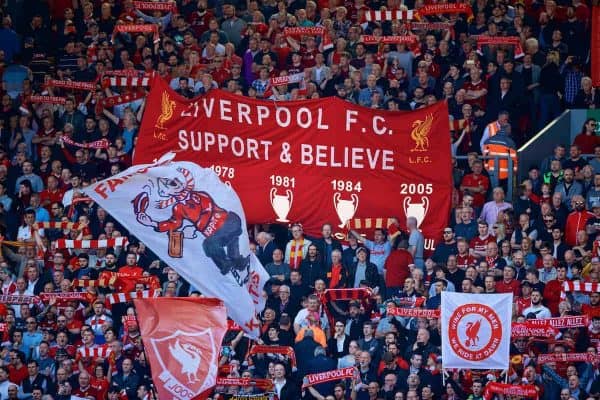 Various thoughts were provided as attentions turned to the Champions League final…
On a tactical note, Matchett noted excellent displays of Henderson and Gini Wijnaldum in the 4-2-3-1 formation, and believes this gives Klopp something to consider for the final:
"Klopp will be pleased at the movement shown by his forwards, but also by the dominance and quick recoveries of his central midfield duo, Gini Wijnaldum and Jordan Henderson.

"The two will be utterly crucial in the final as they try to contain and help overrun Real Madrid's world class midfield, so to see them working together in a slightly different shape was another plus-point for the boss."
The Mirror's Alex Smith thinks the Reds can beat Real Madrid by producing a similarly blitzing attacking performance and slightly better finishing:
"If they put on a similar offensive performance, albeit with better finishing, Real could well be blown away."
King believes Liverpool can attack the final with full confidence, knowing they have the ability to overpower Real Madrid:
"Liverpool's strength, after all, is their ability to take games away from teams in the blink of an eye, and Real Madrid will be conscious that Klopp's men will attack them in Kiev, their confidence having been bolstered by what was the perfect warm up game."
Finally, Jones ended by focussing on the big question:
"Objective number one is accomplished; now can Liverpool put the cherry on the cake on May 26? What a party there will be if they can…"