A journey to Kyiv and back again made for some memories of a lifetime; Gareth Miles brings us his diary of a Champions League final road trip.
During the second leg of the semi-final against Roma, my son and I were both looking at the flight costs rocketing. We told ourselves it was too high, and that we probably wouldn't even get tickets anyway.
We had been to every home game, but with work and the short supply of tickets, we had never been to an away leg. We were resigned to watching the final in the local, as we had always received just one ticket in the ballot, never two.
A mate of mine, also in the membership scheme and in the ballot, joked that if we all got our tickets that we would drive.
It didn't look far on the maps we looked at—must have just been the small screen. So, we entered the ballot with hope…and then waited.
Friday 11th May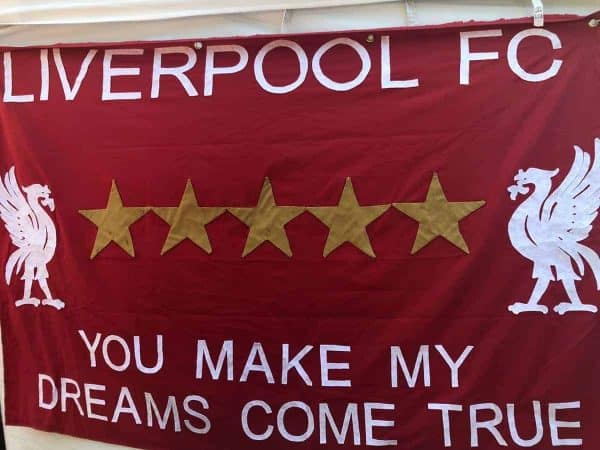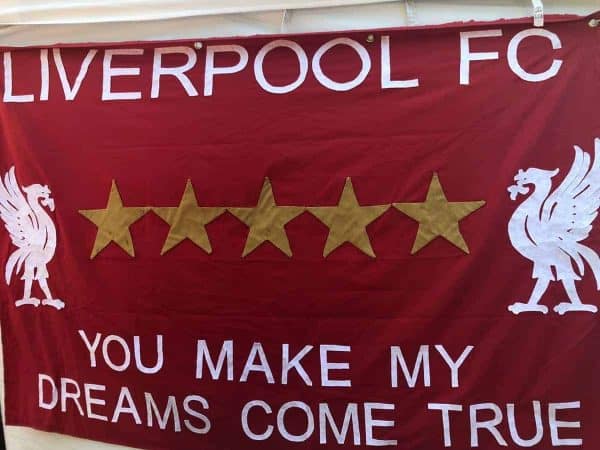 I spent all day refreshing my inbox, checking Twitter and texting my mate, but by 5 p.m. we had given up hope that we'd even have one ticket between us.
Later in the evening the first email arrived; it was worth trying, but one ticket was no good, the missus would put her foot down and I would not be going.
Three minutes later, the second one arrived—that must be my luck for the year used up.
My mate then got his email about an hour later: he had one.
Great, now to sell it to the wife, the son's missus and my mate's wife; fuck, getting the tickets in the ballot was the easy part.
Keep it quiet from the wife until I had conformation from the others—no point in fighting a battle you don't need to—but continued to look at flights and travel options all day Saturday.
At one stage we thought we could get a flight to Budapest and hire a car, but no company would allow you to cross the border, so that went out the window.
Back to Plan A: Drive, 1,697 miles each way, or about 28 hours according to Google.
Sunday 13th May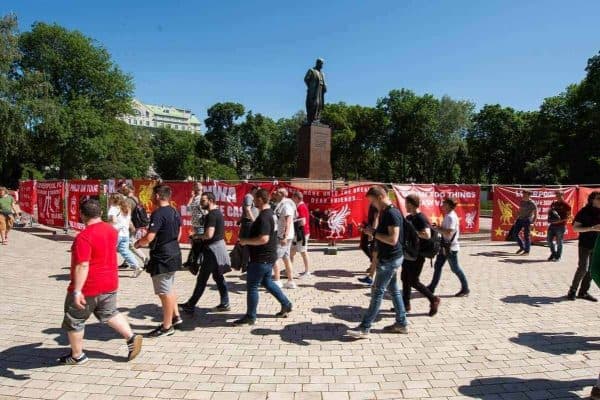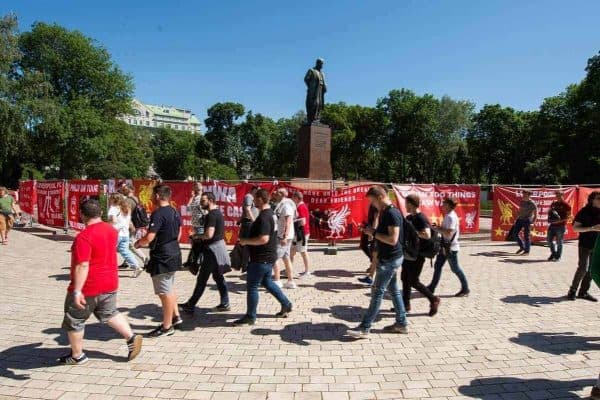 Next day, my 24th wedding anniversary and 51st birthday (her choosing so I would never forget it).
Card and present in the morning, confirmation that son and mate Steve were up for driving; now, when the fuck do I broach the subject?
Being the coward I am, I let her enjoy the day and just as we were going to bed I knew I had to bite the bullet—and she agreed…but with caveats.
• Need an operational bath—that's doable.
• Put then summer house up in the garden that was delivered a month ago—hottest weekend to dig the footing, but done.
• How much is it going to cost? Fudged that a bit as not sure.
• Couple days off when I get back to spend with her—not a problem, I can carry on redecorating that bathroom.
• Holiday for the two of us—Ace up the sleeve, I had booked a surprise cruise for our 25th only four weeks previous, that I was going to give her at Christmas. Sorted!
Monday 14th May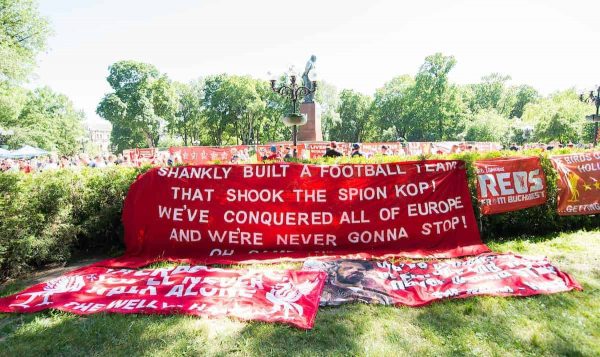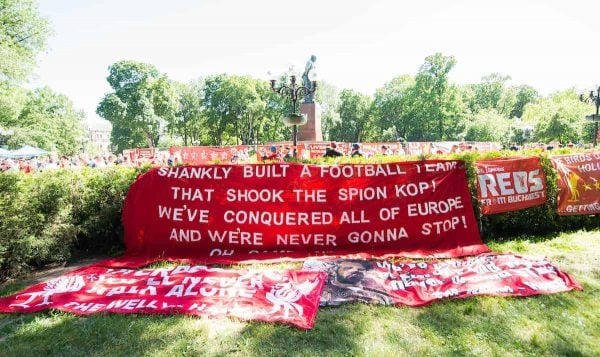 Tickets bought: Category four, restricted view, £48 each. Result.
Didn't care where they were but then checked the seat numbers; Block 55, front row—how can that be restricted?!
Mate had his so that was three of us in the car—now to sort out everything for the trip: European breakdown cover to Ukraine, change insurance, book Channel Tunnel, car checked.
Checked the AA site regarding driving in Ukraine and good job too; documents are required to show you own the car and the VIN number or they won't let you in.
Sorted all this out over the week and then relaxed, keeping an eye on Twitter and seeing the problems people were having getting there.
Felt a bit smug that we were sorted and hoped that everyone else got sorted as well!
Saturday 19th May
Happened to be on Twitter and there was a Red looking for a seat on a coach anywhere; god knows why, I offered him a seat in the car. No reply, oh well, I tried.
Had a reply to the tweet later, not from the first person but from Adam, a season ticket holder from Nottingham asking if the seat was still available.
Spoke to him on the phone, he had given up and was about to pass on his ticket when he saw my tweet and gave it a go.
Agreed to share the costs but not the driving, as I had already changed the insurance for the drivers that were already going.
God, I hope he is not a dickhead.
Spoke to the wife when I got home and she had the same thought: you're going to be in the car with someone you do not know for five days, are you mad?
As I understand it, these were the exact words that Adam's wife used as well.
Sunday 20th May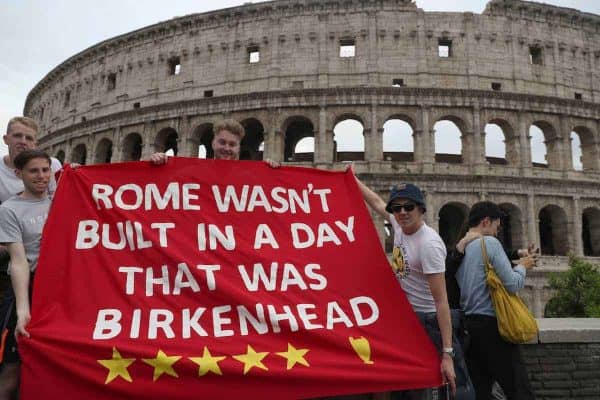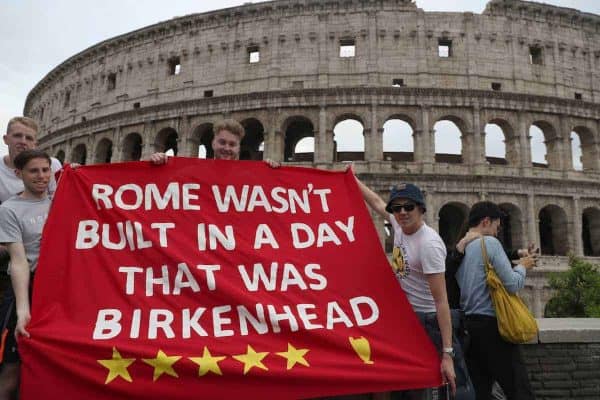 Working on my to-do list and typically, a warning light comes up on the car. Fuck fuck fuck.
Have it booked into the garage on Tuesday luckily, but that only gives them 36 hours until we leave—hope it is simple to fix.
Spoke to the garage and they brought it in to connect the computer so we knew what was wrong.
Bloody warning light went off again; for the first time in my life I prayed for the part to go fully so we at least knew what it was.
Tuesday 22nd May
Woke up at 4.30 a.m., dead worried.
Car was still in the garage and the fault would not appear; I had visions of breaking down halfway across Ukraine and not getting to the game.
At 3.30, the mechanic took it out for one last try to find the fault; result, it failed, dialogised an air flow sensor.
Might be able to get one for the next day…started praying again.
Wednesday 23rd May
Got the phone call! It had arrived and been fitted at 4 p.m. Talk about cutting it fine…but it's sorted, and £300 later I pick the car up.
Checked we had all documents, passports, insurance and all the stuff needed to drive in Europe.
Texted Adam to not forget his passport; minor panic that it was still in date—it was, but only just.
Thursday 24th May: Departure day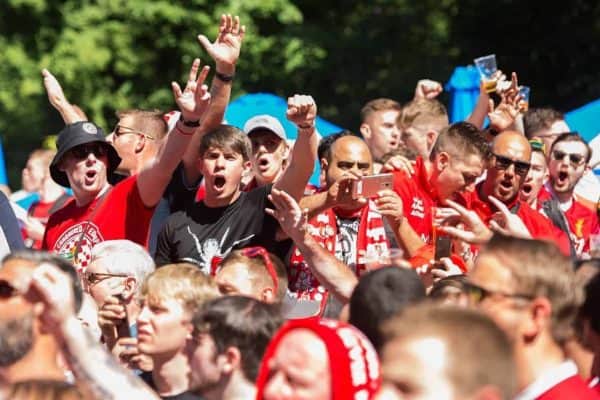 Up again at 4, panicking I've forgotten something. The one day I need a lie-in, I cannot sleep.
Picked up Euros and Polish Zloty, glad I did as the tolls seemed to be every 10 miles.
Get home from work and my wife Helen has made us a care package that would feed us all for a month.
Also, actual body violence was threated if anything happened to her son. I had life insurance so she was not so worried about me.
Adam arrived at 3.45 and, thank God, he seems a nice guy.
Steve arrived just after; Helen gives her last "are you bloody mental" to all of us and "make sure you stay safe," but it then into the car to pick up Gareth Jnr from work.
We quickly get on the road as the Tunnel is calling; we need to be there by 9.20 for 10.22 crossing.
Missed the worst of the traffic and arrived at 8.30, so we partook a fish and chip supper before we checked in.
First bit of good luck: got put on an earlier train, so gained an hour already.
Arrived in France, straight off and hit the motorway, half an hour later it's two countries done and onto the third, Belgium.
Friday 25th May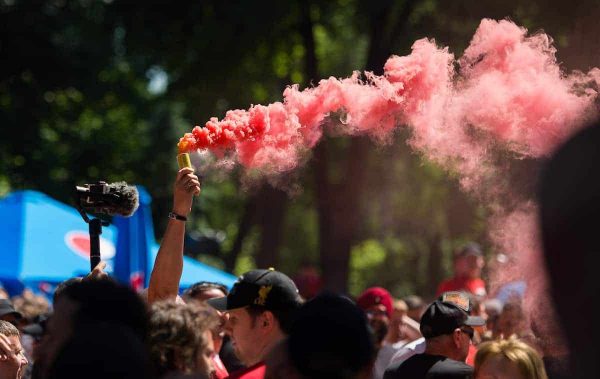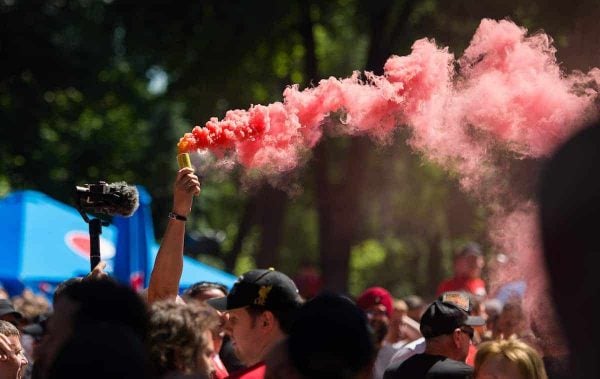 Early morning and I'm flagging now so time for a pit stop.
First driver changeover, fuel fill-up also required. Gareth Jr. nabs the sleeping bag and is out like a light; Steve takes over driving and I last all of 10 minutes before I am snoring away.
Wake up in the morning, I've missed a driver changeover and Holland. Coffee top-up and we are off again.
Sat Nav in the car has a different route to Google maps and we spend half an hour choosing which one to follow.
Google was the winner—not the best one as it happened.
Midday we cross into Poland and we are about halfway. We have not seen another red yet, but as we cross the border and stop for lunch at McDonald's, we see the first coach.
Sink wash in the McD's toilets and—sort of—refreshed, we carry on.
Poland is a lot bigger than we thought.
Adam had news from home that his daughter was sick and had to go to hospital so he was worried, but after a short visit she was fine and sending us messages with her Liverpool shirt on.
At 5 p.m. we stopped in Pulawy, Poland for food, and bugger me if there is not a Tesco.
Stories on Twitter about cancelled flights; we are all gutted for the people affected.
On to the border and joined the queue, met some reds that were held up because they did not have a V05 document as proof of ownership.
The border guards were allowing a photo to be sent, but one group had a hired minibus that they need permission from the owner as well to be allowed in. Not sure they got it.
Heard another story of some lads that turned around to go back into Poland and hire a car from there, as they had no one to get their V05 from home. I hope they all got in.
After 90 minutes in the queue and a muppet from Poland bumping the back of my car—luckily, no damage—we were in and it was now dark.
This was the first time we all looked at each other and spoke out load: Are we doing the right thing?
It was just turning midnight when we crossed into Ukraine.
Saturday 26th May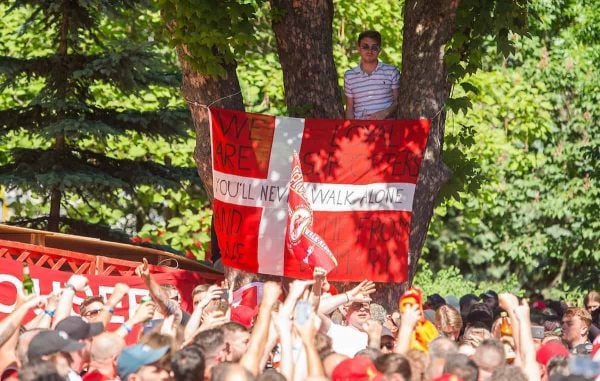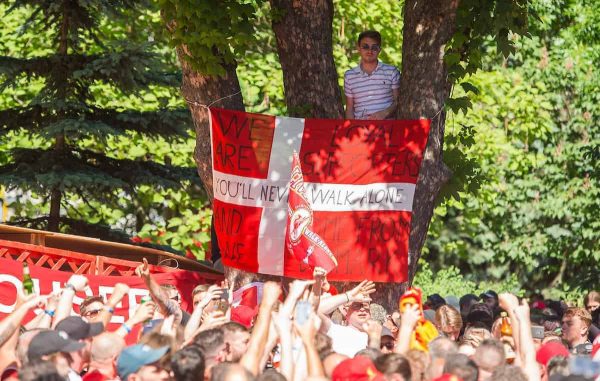 Stopped at the first petrol station to fill up as we had heard stories about people with GB plates being stopped and fleeced.
Old guy in the petrol station spoke better English than our Ukrainian, that's for sure, told us that he had served some reds but not seen any Spanish at all.
At one stage we spotted some roadkill which was either a bear or a boar. We were even more worried that we might have one run out in front of us.
All the drivers were getting tired by now and we had to keep swapping at hour intervals; they became like Le Mans pit stops—engine still running, jump out, in and away in less than 30 seconds.
At 5 a.m. we arrived on the outer edges of Kyiv and the next problem hit us: where do we park?
They only place we could think was the airport and, being so early, driving through Kyiv was not too bad.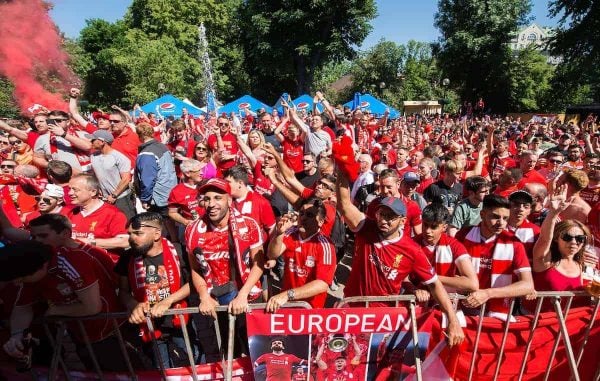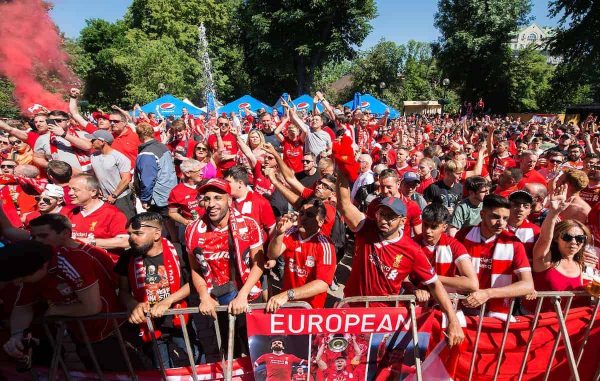 Used the airport toilets to freshen up and got cash out, breakfast in the airport and a couple of hours shut-eye, wife phoned to say cat has been rushed to the vets.
We made our way to the town centre using the local taxi. 15 Euros was the agreed price but we would have paid more if he had supplied crash helmets.
The road was three lanes and I am sure that he used six, and the speed limit seemed to be 'as fast as he could.' All this with YNWA on his stereo system, while waving a Liverpool flag out of the window.
The fan park was filling up already and it was good to sit down with fellow reds and just shoot the breeze.
After a couple of beers we started to get peckish so walked down into the town to look at the stadium and get a bite to eat.
We found a great place on the main street with outdoor tables and a mist spray to keep you cool; great service, menu in English, free wifi and when the bill arrived, very cheap.
There were a few Real Madrid fans about, but the town was mostly red.
We then returned to the fan park and numbers had certainly increased—the queue for the bar was stupid.
Lads were in the fountain and Allez, Allez, Allez had started with a vengeance.
A couple of hours in the sun was enough so we retreated to the shade, but not before watching in awe the lads drinking 40% proof local brew and then lighting up fags straight after, just hoping that they didn't breath out before they had finished lighting up.
Phil Thompson was in the zone, chatting, taking pictures and generally having a good time.
The only downside: eight portaloos for everyone, and by the time I used them they were like the last day of Glastonbury.
No trouble in the park but I did feel sorry for the local police or army sitting in their battered buses, just in case.
We decided that we were going to get in early into the ground and made our way down as the barriers were removed
Three bag checks and a lost pair of prescription sunglasses later we were in, still with two-and-a-half hours to kick-off.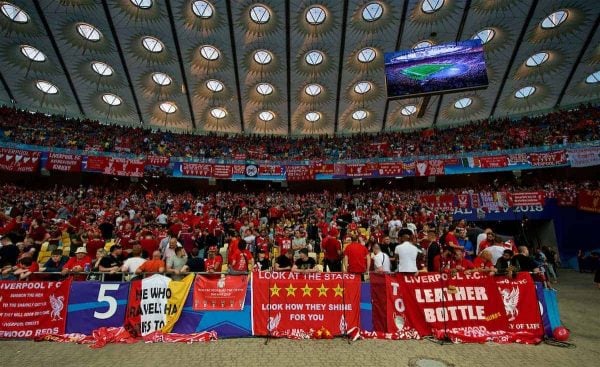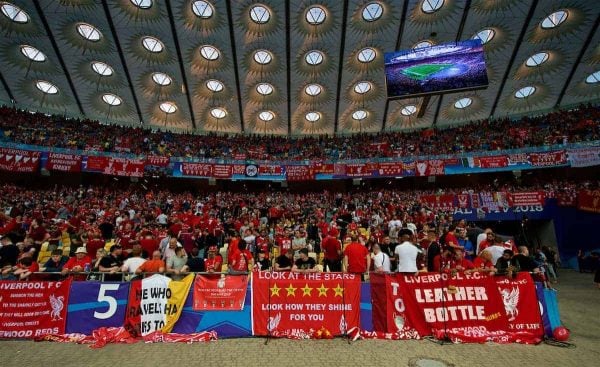 Photos taken included one for a father and son whose words were "this might be our last one as Dad had managed to get a ticket in the Real Madrid end." We wished him well and his reply was, "compared to sitting in the Milwall end, this will be a piece of cake."
Made our way to the seats, found out that restricted view meant you could not see the actual goalmouth due to the advertisement boards.
We wondered what we were going to do until kick-off, but from arriving until the final whistle, the LFC following did not stop singing.
My highlight was either the Reds singing "one kiss" or my son standing on the barriers, singing with a man old enough to be his grandad, both whipping off their shirts singing Allez, Allez, Allez when we scored.
I not sure how many reds were in the ground but one section of the Madrid end seemed to be mostly red, and my seat seemed to have three people in it at any any one time—not that we used them, apart from standing on.
The result was not what we wanted but that was the only thing that went wrong the whole day.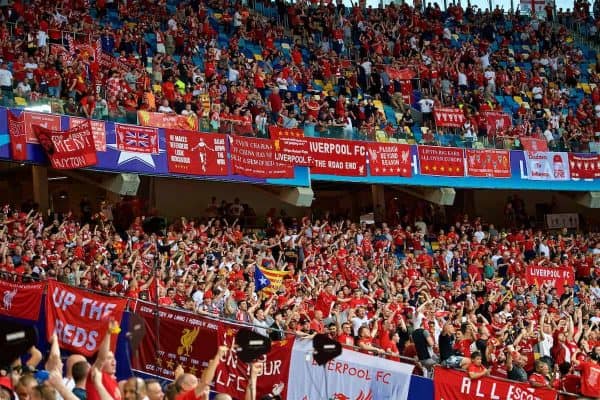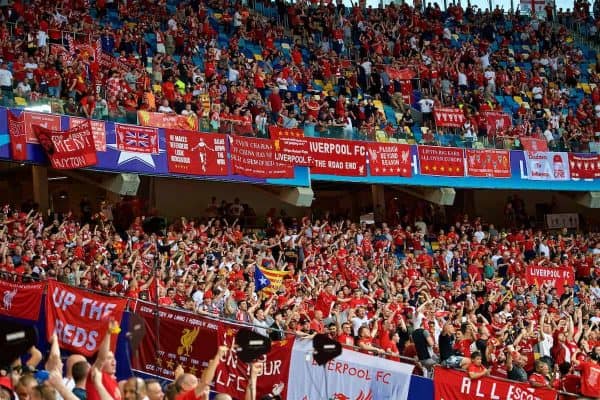 Managed to get a taxi back to the airport and relieved to find the car untouched.
Quick wash-up and pay the car park (about £1.40 for 24 hours) and we were out of Kyiv by 1 a.m.
Used the car Sat Nav this time as we had all run out of data and found it was the better route anyway. Again, short turns in driving as we were all running on fumes by now.
Got followed by police through Ukraine for a couple of miles but Steve, who was driving, said they just looked at the car, passed us with thumbs up, turned and waved, going back the way they came.
Border crossing was very quick heading into Poland and the guard was very surprised that we did not have fags or booze.
Two highlight of the return journey were:
• Stopping at a German services and spending the best three Euro for a shower on Sunday.
• Steve sitting on the toll payment side in Poland, paying all four tolls and then going back to sleep—and then not remembering a single one of them afterward.
We managed to find a 24-hour tobacco place in Belgium and stocked up, again getting an earlier train across to the UK.
Trouble-free motoring until we pulled in to get breakfast…and the headlight bulb went.
I would have taken that before we started.
Finally, at 10.30 in the morning we arrived home…and the first thing we did was have a decent cup of tea.
Would I do it again? Bloody right. Great LFC fans, Ukrainian people were friendly and helpful, only banter with the Madrid fans, nothing more.
Oh, and the cat's treatment cost me more than the whole trip did, but she is now home, safe and well.
Key numbers from the trip
• 3,536 miles
• 5 meals at McDonald's
• 7 fuel stops.
• 8 road tolls
• Several pints each
• Too many coffees to mention
• About £250 each for the journey
• 4 friends to keep in touch with by the end of the journey.
---
* This is a guest article for This Is Anfield. If you'd like to contribute a piece for consideration please see this page. Follow Gareth on Twitter, @miles_gareth.