Steven Gerrard admits that, with hindsight, he left Liverpool a year too early when he quit the Reds in 2015.
The iconic midfielder left the club to join MLS side LA Galaxy, after 710 appearances for Liverpool.
He started 36 games in his final season, 2014/15, under Brendan Rodgers, but was increasingly reduced to a squad role as age caught up with him.
Speaking this week, Gerrard admits he should have stayed another year.
"I should have maybe played on for one more year. I regret not doing the extra year just because I miss playing. So much," he told the Scottish Daily Record newspaper.
"I speak to a lot of players who've come out of the game or players who are coming to the end.
"They couldn't wait to get over the line to call it a day.
"Whether that be their bodies or mentally they just give up on it or they're really just looking forward to the retirement side of it.
"I knew towards the end that I was finding it tough letting go. So that's just the way I am. I'm still here, so it hasn't hit me that hard!
"But emotionally it was tough. When you love your job and you work so hard to achieve your dream job to play for your boyhood team but you know that's coming to an end.
"If you've had enough then it's probably not tough. But I felt, certainly, that my ?Liverpool days came to an end probably a year too soon.
"I went to LA Galaxy in America to come out of ?Liverpool, just to breathe. Because I knew my Liverpool days were coming to an end and I knew emotionally I would've found that tough."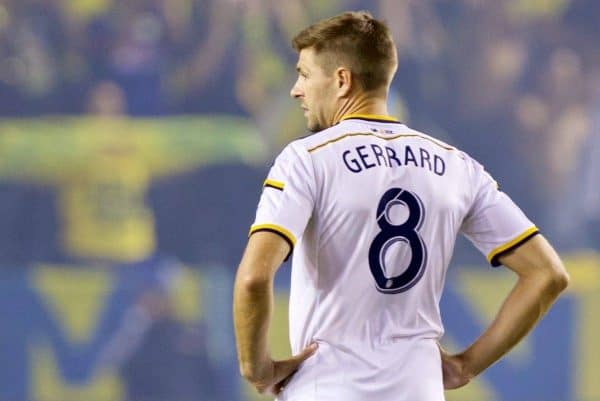 Gerrard's time in MLS wasn't a success on the pitch, he says the time in LA though helped him come to terms with no longer being a footballer for Liverpool FC:
"My wife got pregnant while I was out there in the MLS and it just made sense to come back home. My time in America was the perfect time.
"Eighteen months was fine. It was enough. To go out and have a good think, a good debrief of my career, how it went.
"I can look back on it and be proud of the good times and reflect on the brutal times I had as well. I charged up and got ready for this.
"But when I was out there I still had stuff to focus on.
"I was plodding through my coaching badges, trying to get them done and dusted. I tried to use the time the best I could.
"It wasn't about enjoying the lifestyle or that kind of stuff, although Los Angeles is a magnificent city."
Gerrard begins his first season as a manager with Rangers this summer.