Roberto Firmino has achieved hero worship status at Liverpool and now he heads to the World Cup hoping to do the same with Brazil.
Firmino had an absolutely tremendous campaign with the Reds in 2017/18, spearheading Jurgen Klopp's attack and netting 27 goals in all competitions along the way.
In doing so he won a place in the Brazil squad, and he'll hope to be given the opportunity to lead the line at some point for Tite—though there's a big part to play for Firmino in Russia regardless of whether he starts or not.
A great interview with FourFourTwo has revealed his hopes for the summer and his heroes of the past.
Talking about how Brazil might fare, Firmino thinks they are back to near their best and will be among the challengers.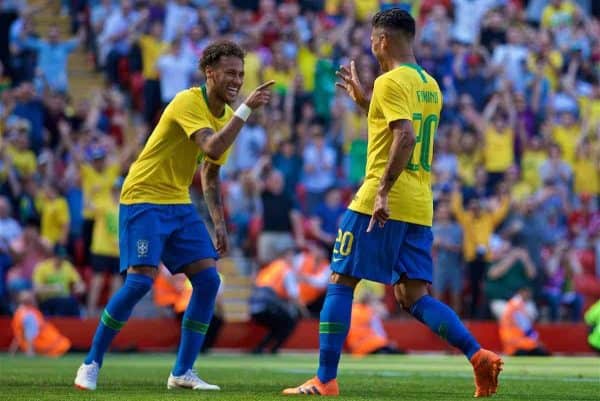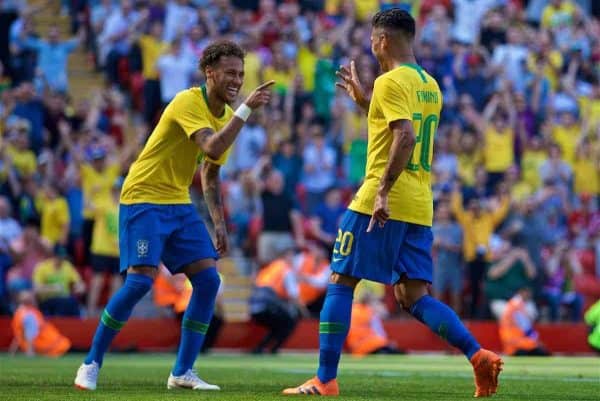 "There are other favourites than Brazil, maybe eight," he said. "We have to prepare ourselves to play our best football during the tournament.
"Brazil went back to the top level, playing well and winning. The Brazilian beautiful game is back.
"As everybody knows, [Philippe] Coutinho is a great footballer, the magician as he's called here in England!
"He's made his choice to move to Barcelona but every time we meet playing for the Selecao, he's an exceptional guy that football has given to me."
Firmino goes on to talk about Tite's influence since taking over as manager, his earliest World Cup memories and why he had Ronaldo's haircut back in 2002.