Liverpool target Xherdan Shaqiri laid on the assist as Switzerland drew 1-1 with Brazil on Sunday, but the winger was still not roundly praised.
The Reds have identified Shaqiri as a possible target this summer, and as a result supporters had a keen interest in his World Cup opener.
Deployed on the right flank against a Brazil side featuring Roma goalkeeper Alisson and ex-Liverpool man Philippe Coutinho in midfield, Shaqiri produced a varied display.
At times, the 26-year-old looked at odds with the pace of the game, but he still created the second-most chances (three) of any player behind Neymar (four), including for Steven Zuber's equaliser.
Cancelling out Coutinho's trademark long-range curler, Shaqiri's low, flat corner laid an easy header on for the Hoffenheim midfielder—with Alisson strangely rooted to his line.
Shaqiri made more tackles and interceptions combined (five) than any other Swiss player apart from the suffocating Valon Behrami (six), though speaking to beIN SPORTS before the game Arsene Wenger argued that he "does not like to defend":
"Shaqiri is not a good defender, he is a midfielder who does not like to defend, he is a No. 10.

"I see problems there for Switzerland to stop the left side of Brazil."
This was a sentiment echoed by Gary Neville who, serving as a pundit for ITV, criticised Shaqiri ahead of kickoff in Rostov-on-Don for being "unprofessional":
"I'm not a fan of Shaqiri to be honest with you.

"I think that was, to be fair, made worse by the fact that he distanced himself from his team-mates as Stoke.

"They were unprofessional last season Stoke, there's no doubt, and he epitomised it.

"He could score the goal of the tournament and he could have the most amazing game, but he could also be there for three matches, do nothing and just amble and wobble around.

"To be honest with you with him, players like that I can't have. I struggle with it."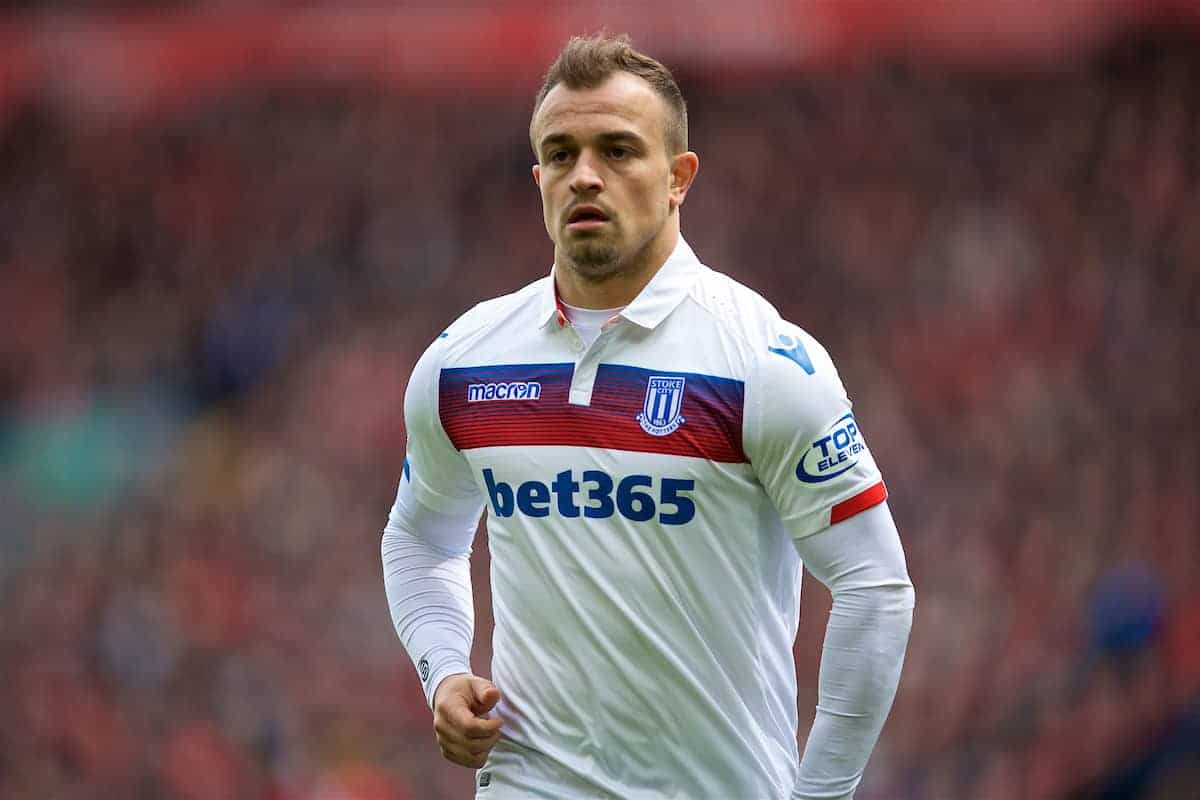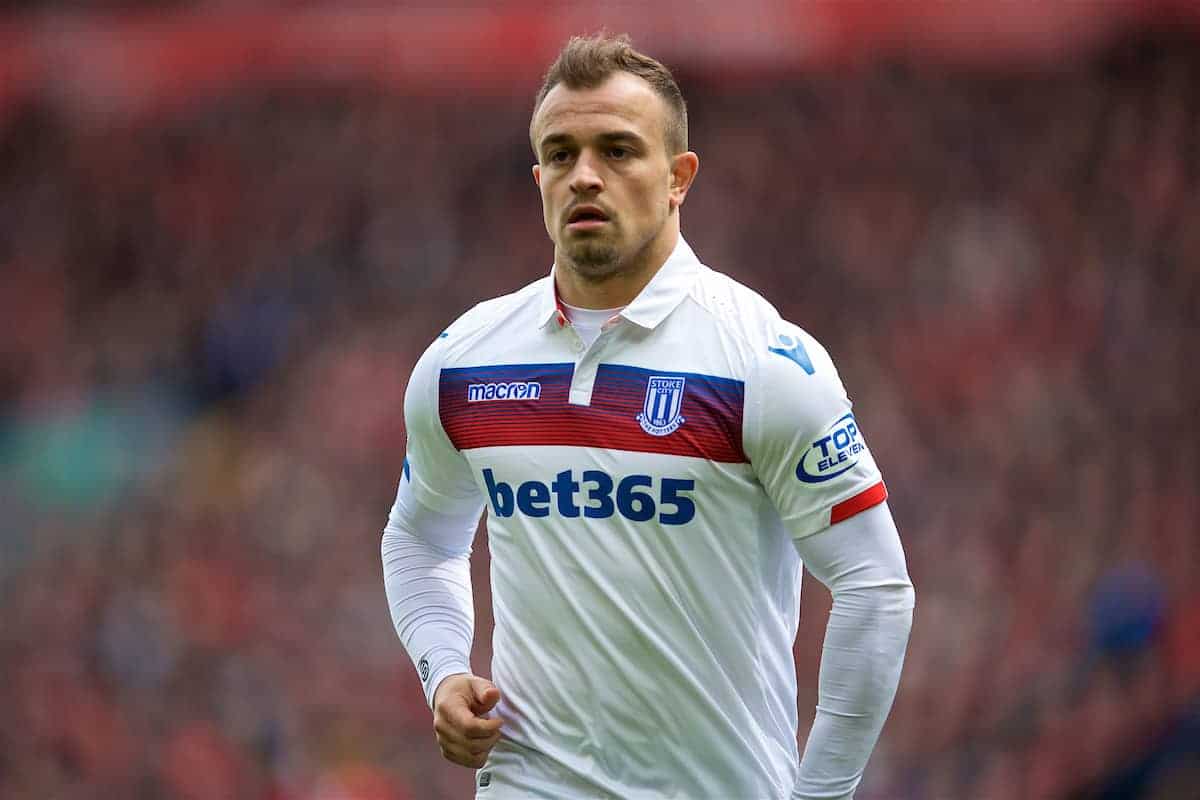 Shaqiri is certainly a maverick, as Neville suggested, but he was far from the lethargic non-entity both he and Wenger predicted, and provided Switzerland with a key threat going forward.
As Liverpool supporters took to Facebook, Twitter and our forums during and after the game, though, the stance on the Reds' interest in the winger remained divided.
Some highlighted his unexpected work ethic…
Shaqiri is pressing and just won the ball ??

— GaGs (@GagsTandon) June 17, 2018
He gets accused of being lazy quite a lot but Shaqiri has put in a very good shift tonight.

— Dan McLaughlin (@Dan23_92) June 17, 2018
All within the context of a game plan. Hasn't pressed them into submission or tracked back to his own goal line because he hasn't been asked to but he's worked hard and been ready to turn play over quickly on the counter which is perfect for us.

— Dan McLaughlin (@Dan23_92) June 17, 2018
"Looks thinner in a skin-tight, figure-hugging, kit with Switzerland than he does in a baggy, shapeless, loose-fitting top at Stoke. Who knew?"

– Anfield rd Dreamer on the forums.
Liverpool fans saying Shaqiri wouldn't work hard enough so therefore they don't want him.

Lazy opinion & shows you don't understand football. If you did you'd know each team have their own tactics & just maybe he isn't lazy?

— Dijkinho (@Dijkinho) June 17, 2018
Shaqiri ran 10.6km tonight & did 32 sprints but he's lazy according to Liverpool fans.

Clearly he isn't lazy as he runs within .5km of Mane/Salah average for LFC but his sprints are down.

That comes down to tactics & style more than ability imo.

Let's see if we get him #LFC

— Dijkinho (@Dijkinho) June 17, 2018
Though others were less impressed with his efforts…
Shaqiri without the ball is awful.

— Ian Ryan (@Ian1892T) June 17, 2018
"Anyone watching the Brazil game and still thinks Shaqiri would be a good signing is delusional. Talk about lazy."

– Chris Antsey on Facebook.
I would fear for Shaqiri's life if he had a preseason under Klopp.

— Ian Mc (@McGlynnimino) June 17, 2018
That shaqiri just isn't for me. His work rate and team ethic is a million miles from what we want and have

— jay phillips (@jay82phill) June 17, 2018
"Busy, speedy, tricky…. then he runs out of steam and walks back.

If he can't run himself into the ground for his country at a world cup, then I'm not convinced Klopp can get him to."

– scouseheadross on the forums.
Thought Shaqiri was awful must avoid at all costs

— Van The Man (@DavidVaughan5) June 17, 2018
After watching Shaqiri last night I think Edwards may need to do a virus clean of his computer because something doesnt add up.

— Paul Stanley (@pstanley123) June 18, 2018

https://twitter.com/HusainNick/status/1008594999095767045
But his delivery for Zuber's equaliser drew widespread plaudits…
That was an unbeleeeeeevable delivery from Shaqiri. Ball almost NEVER gets to that area on a corner, but it's hit so hard and so flat that Brazil can't head it away.

Probably a GK catch normally.

— Ted Knutson (@mixedknuts) June 17, 2018

https://twitter.com/ThatRexGuy/status/1008426754095112197

Some corner from Shaqiri that. Wowser

— GaGs (@GagsTandon) June 17, 2018

https://twitter.com/SGEHJR/status/1008426590571843585

Shaqiri with a great corner tbf

— LFC Views (@Mobyhaque1) June 17, 2018
There is no indication as of yet that Liverpool will make a firm approach for Shaqiri, who is available for around £13 million due to a release clause in his Stoke contract.
He would not be signed as a first-choice option, instead as versatile cover for the likes of Sadio Mane and Mohamed Salah, but there are still reservations over his ability to operate within Jurgen Klopp's system.
Switzerland are next in action on Friday evening, when they take on Marko Grujic's Serbia in Kaliningrad, giving supporters another opportunity to run the rule over Shaqiri.