Yaya Toure's agent has made a bizarre claim over the former Man City midfielder's availability to other sides in the Premier League's top six.
Toure is set to leave City on the expiry of his contract on July 1, and has expressed an interest in remaining in the English top flight after eight years in Manchester.
The Ivorian launched a scathing attack on City manager Pep Guardiola on Monday, accusing him of having "problems with Africans wherever he goes," and being "too intelligent to be trapped."
Toure played just 17 times last season, averaging 52 minutes on the pitch per outing, but at 35 and competing for a place in one of the best sides in Premier League history, it was a tough task.
He still believes he can contribute at the highest level, however, and Toure's agent Dmitry Selyuk has told Sport24 he would be available for just £1 a week to top six sides, to prove a point to Guardiola:
"Yaya has many offers from different countries, where they are ready to pay a lot of money.

"But we decided to dedicate the next season to Guardiola, and to prove and show the fans of Manchester City that Yaya has not finished with football.

"He is full of energy and wants to play this season in England.

"At a time when huge sums are being spent in England for the purchase of football players, I officially declare that Yaya is ready to move as a free agent to any English club of the top six with a salary of £1 a week. But for certain successes to make a bonus system.

"I believe that a player like Yaya would not reject Arsenal, Chelsea, Manchester United, Tottenham and Liverpool.

"Yaya is a winner, and never before has a top footballer with leadership qualities rejected any club, especially when they don't have to pay for it."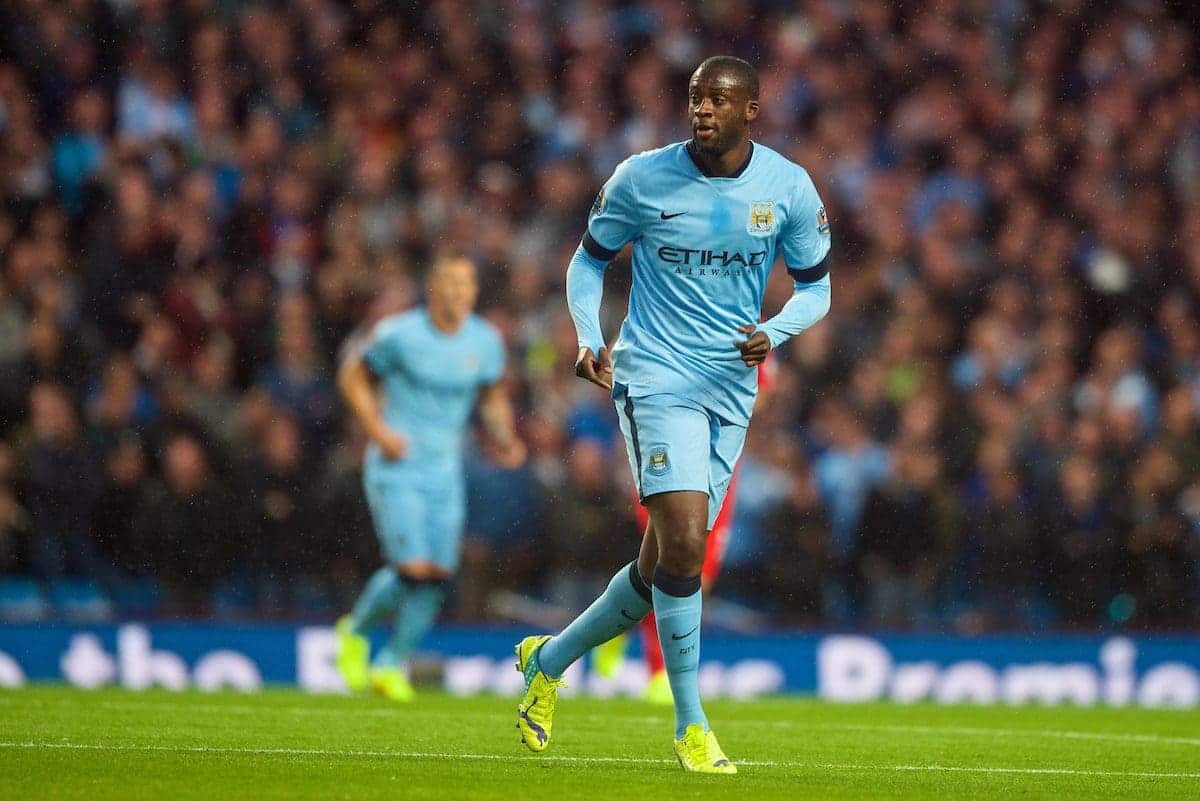 Selyuk did also claim that "African shamans" would "curse" Guardiola to ensure City fail to win the Champions League during his tenure, so his words should be taken with a pinch of salt.
He added that Toure "still has the strength to play at the top level for at least three or four years," and "we chose [the shirt No. 42] as the age in which he will finish with football."
Liverpool's current oldest player is Ragnar Klavan, at 32, with James Milner just over two months younger than the Estonian, while Adam Lallana, Simon Mignolet and Adam Bogdan are all 30.
The Reds had the youngest average squad in the Premier League last season, at 25.9 years, and while this is no indicator of a steadfast rule it is unlikely Jurgen Klopp would sign a 35-year-old.
This is particularly the case given the high-intensity pressing system deployed at Anfield, with the additions of Naby Keita and Fabinho much better attuned to this approach.