Jurgen Klopp admits Liverpool have splashed out with their world-record deal for Alisson, but he doesn't believe it is crazy money in the current climate.
Much has been said and written in recent weeks about Klopp's promise two years ago not to spend big on players, saying: "Other clubs can spend big money on top players. I want to do it differently. I would do it differently even if I could spend that money."
He has, of course, gone on to change approach, but anyone who has actually followed them closely will know there is more to it, with the Liverpool manager only willing to break the bank for someone who fits perfectly into his plans.
Alisson is one such player, with the Brazilian costing the Reds £65 million and becoming the most expensive goalkeeper in history in the process.
Speaking to ESPN, Klopp says he knows the fee is big, but using Atletico Madrid's Jan Oblak as an example he knows it isn't excessive, especially with 'keepers:
"Everybody thinks it's a lot of money. It is a lot of money. But he could've left for crazy money.

"The clause for Oblak, for example, is €100 million, so nice! And that's it in this year where obviously a few things happen on the goalkeeper position.

"That's part of the job, to try to bring the best players you can get.

"The goalkeeper market is different because it's not each year that there is anybody available and stuff like that.

"We didn't know exactly if Alisson is available or not, but from a specific moment we realised obviously he is available and that's what the moment when we decided we want to go for him."
Liverpool's goalkeeping situation has been a sticky one for years now, with nobody able to fill the void left by Pepe Reina at his peak.
Klopp claims he is happy with that area of the pitch, however, and says Alisson's arrival had nothing to do with Loris Karius' Champions League final nightmare:
"We are really fine with our goalkeepers."

"So there's no doubts Simon Mignolet—big quality, absolutely Premier League highest-level quality, Loris Karius as well.

"Yes, we all know what happened in the [Champions League] final, but we know as well why it's not about that.

"It's not the reason. We really wanted to bring in a player which we didn't have before to be honest and that's what happened with Alisson."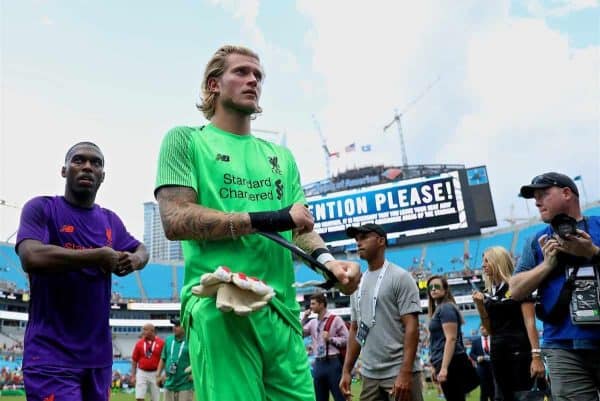 It is believed that Liverpool were chasing Alisson signature's long before Karius endured his miserable night in Kyiv, so Klopp is likely telling the truth here.
Despite that, had he persevered with his under-fire compatriot as first choice this season, or brought Mignolet back into the side, supporters would no doubt have voiced their concern.
Alisson has the potential to be a game-changer of a signing, finally solving a problem that has existed between the sticks for nearly a decade.
The 25-year-old arrives on Merseyside on Sunday, joining his new teammates on their pre-season training camp in Evian, France this week.
His first appearance for the Reds will be in next Saturday's friendly against Napoli in Dublin.