Though he primarily fills a specialist role in the Liverpool squad, Fabinho's tactical flexibility will have been key to his £39 million move.
The Reds' covert move for Fabinho, two days after their defeat in the Champions League final, was a major boost to supporters for one key factor.
Not since Javier Mascherano's departure to Barcelona in 2010 had Liverpool been able to call upon a reliable, top-level defensive midfielder.
The years following El Jefecito's exit saw Christian Poulsen, Jay Spearing, Lucas Leiva, an ageing Steven Gerrard and Jordan Henderson recycle duties in the role, to varying degrees of success.
For a club whose modern-era successes were built upon a solid backbone in the middle of the park—before Mascherano, it was Didi Hamann—this was a clear deficiency needing attention.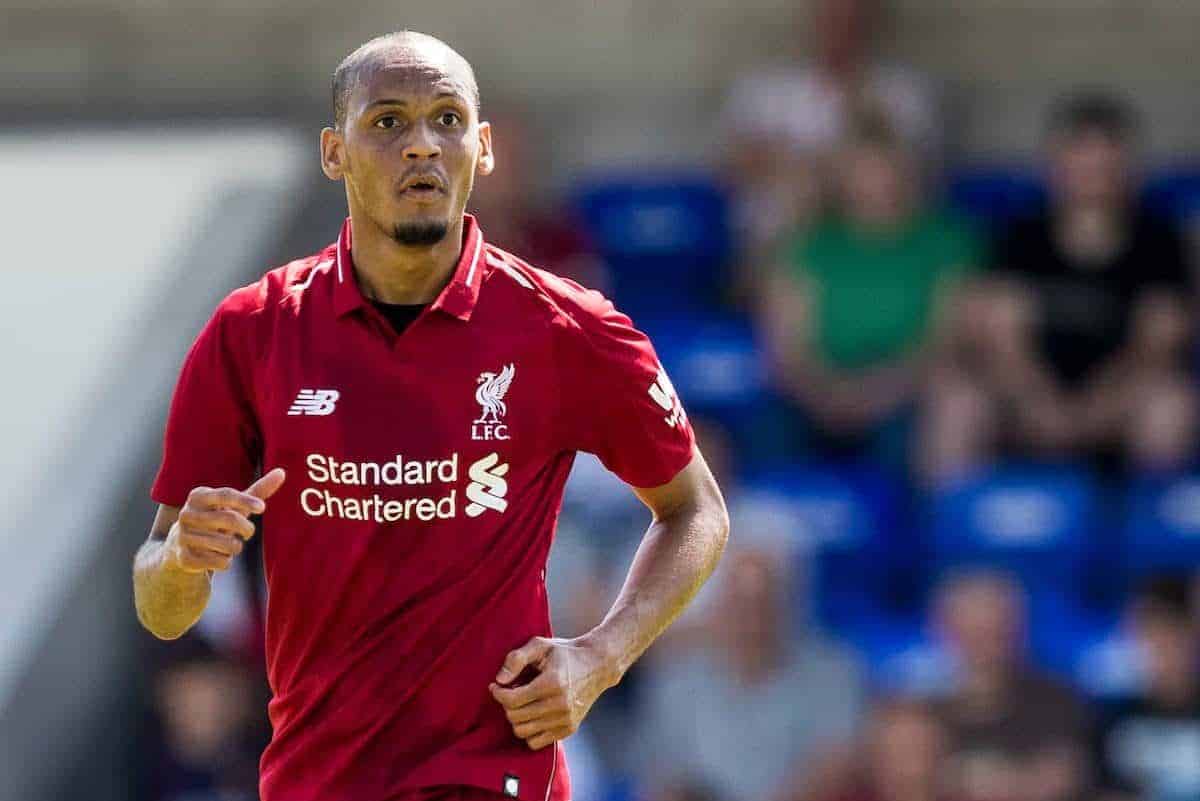 Fabinho's outstanding form for Monaco makes him, at just 24, one of world football's standout talents in the deep-lying role, and arguably ensures the fee paid to sign him is already a bargain.
Throughout the majority of pre-season, Fabinho took up duties in his favoured position for Liverpool, but in the final friendly of the summer he made a shift that amplified his worth.
Taking over at centre-back after the break in the Reds' 3-1 victory over Torino at Anfield, Jurgen Klopp's plans for the Brazilian unfolded further.
And with Ragnar Klavan leaving after the end of the English transfer window, the manager made a point to mention Fabinho among his options at the heart of defence for the campaign ahead.
"We have [Matip], Dejan [though he is] still injured, Nat Phillips and, if we need, Fabinho can play in the position as well," he explained of his options beyond Virgil van Dijk and Joe Gomez.
Klopp's decision to sanction Klavan's £2 million move to Cagliari was arguably as informed by his belief in the developing Phillips as it was Fabinho's versatility.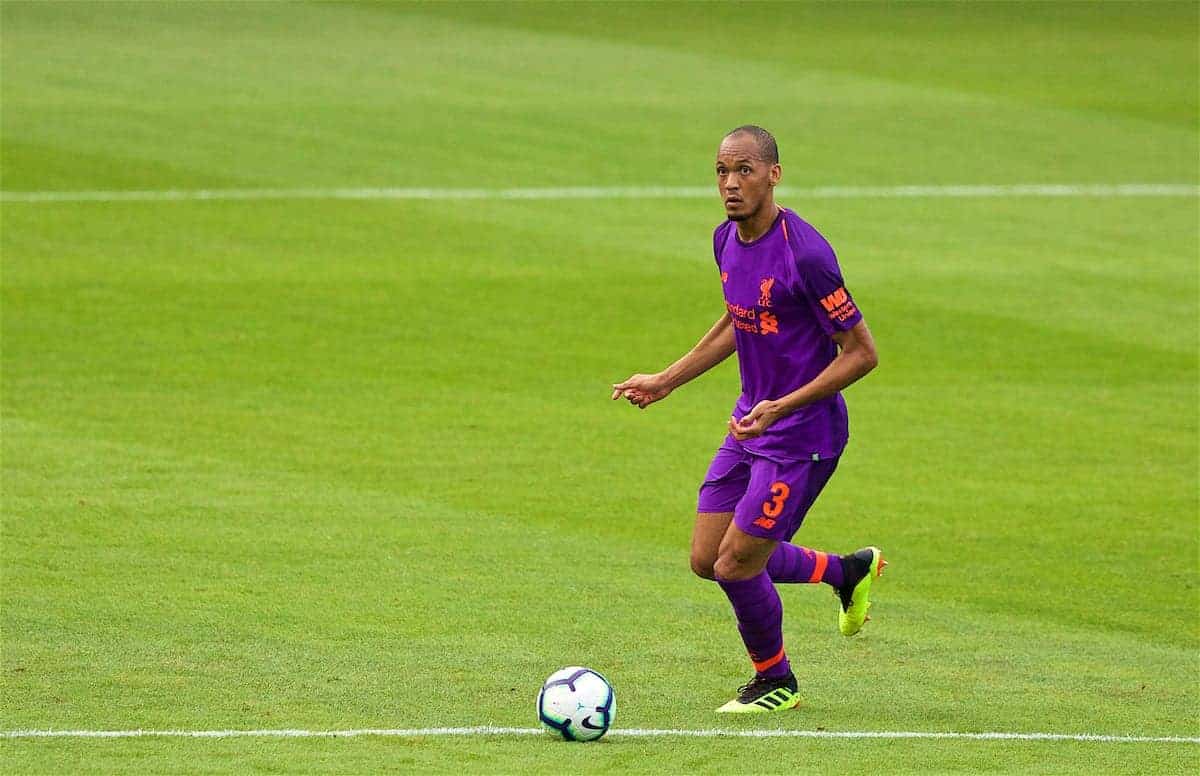 Hours later, Liverpool's new No. 3 was restored to the Brazil squad for the September international break—but this time, he was characterised as a full-back.
A natural defensive midfielder, well-versed in the role of right-back and considered a viable option at centre-back—plus a variety of other roles in midfield—the signing of Fabinho follows a telling trend in the Reds' recruitment.
Like Naby Keita—who played both as a No. 8 and a left winger on his debut against West Ham last weekend—and Xherdan Shaqiri—who Klopp envisages playing out wide, in the No. 10 and the No. 8—Fabinho arrives to not only play a key role, but to provide Liverpool with genuine depth.
He is likely to operate predominantly as a No. 6, but if required he could cover for Trent Alexander-Arnold and Nathaniel Clyne at right-back.
He could replace Matip, Lovren or Van Dijk at centre-back; and he could feasibly even fulfil the knitting duties of Georginio Wijnaldum and James Milner elsewhere in midfield.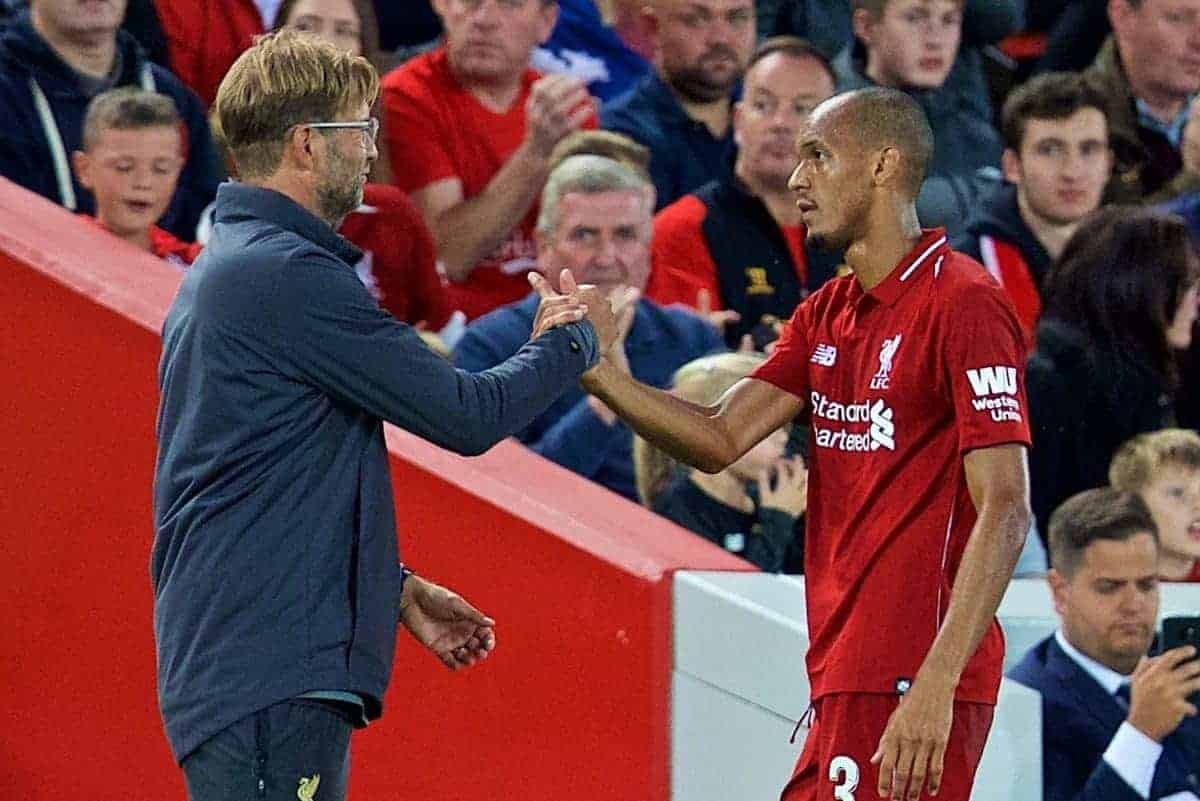 Fabinho's arrival helps facilitate Gomez's move into his natural role at the back, as well as liberating Henderson from the engine room, providing Klopp with another industrious option further forward.
"[Henderson] can still play as the eight or we could play some games with a double six, Fabinho could play the eight or whatever, that's all possible," the manager told the Liverpool Echo.
"If things were fixed with just one lineup and all the others were only needed when the rest are ill that would be the wrong way and we'd have no chance."
The Sao Paulo native, like both Keita and Shaqiri, aids the manager in building a malleable, interchangeable squad.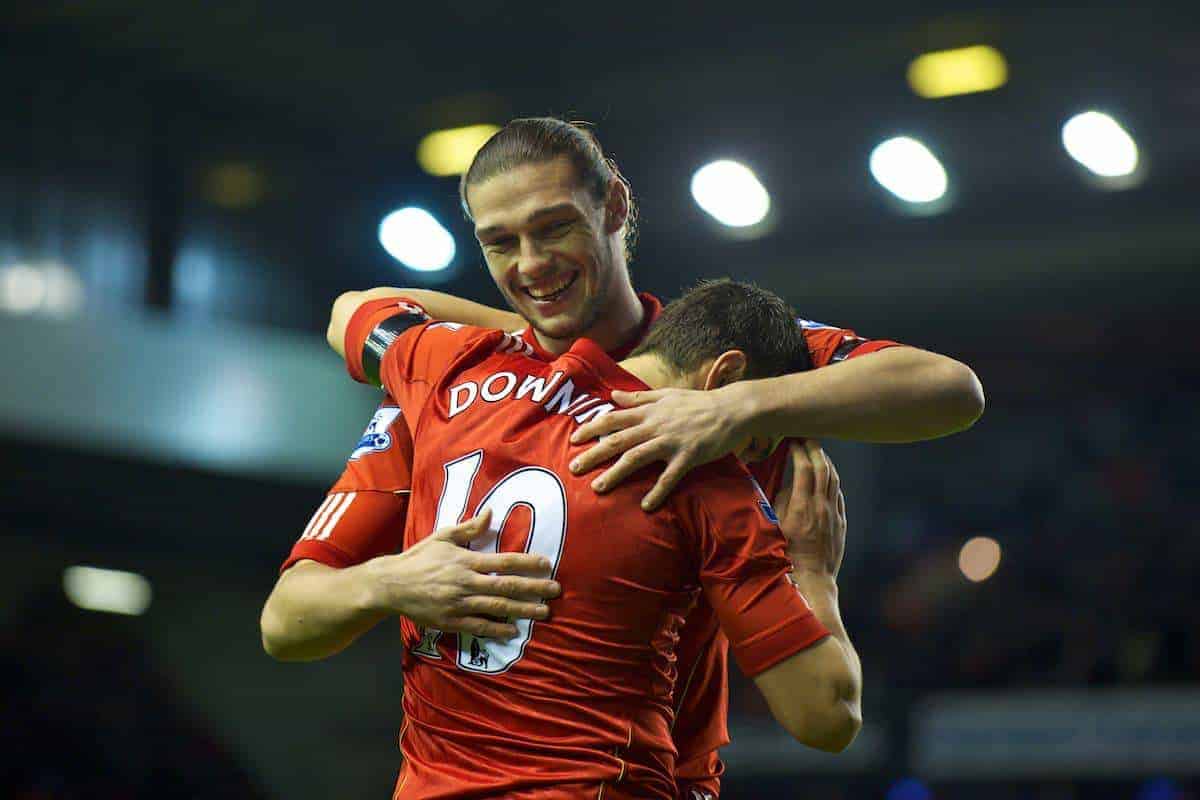 Gone are the days of signing a big No. 9 and specialist wingers to provide the crosses, with Henderson the only survivor from Kenny Dalglish's back-to-basics reign, and himself in a role indistinguishable from his early beginnings at Anfield.
In fact, Klopp deliberately overlooked suggestions Liverpool needed another out-and-out No. 9 this summer, instead putting faith in Rhian Brewster, who is studying Roberto Firmino as his blueprint.
Bar Lovren, Van Dijk and perhaps Andy Robertson—with Klopp describing the Scot last August as a "specialist" left-back—every outfielder in the current squad can play at least one other position or role.
For example, Alexander-Arnold has found a home at right-back, but has turned out in midfield; Wijnaldum has played as a No. 6, No. 8, No. 10, out wide and even at centre-back.
This is far from a revolutionary approach, but it is essential to Liverpool's DNA under Klopp.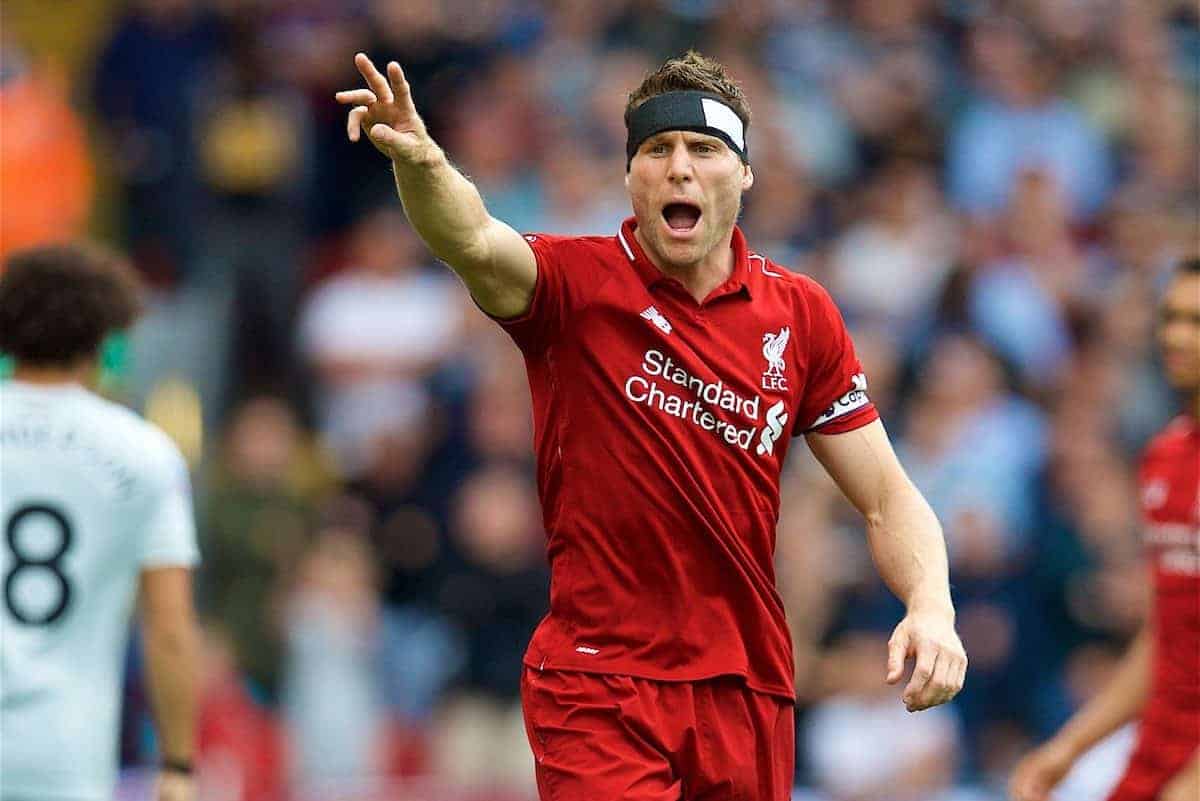 It is the reason behind James Milner's longevity and, at the other end of the scale, the prominent role both Curtis Jones (17) and Rafa Camacho (18) played throughout pre-season.
"We have enough players, now we have to see who fits which opponent best, then make the lineup," the manager explained when assessing his centre-back options, with this applicable squad-wide.
While the Reds nominally line up in a 4-3-3, this can be interpreted as a number of different systems when looking down from the stands—3-4-1-2, 4-2-3-1, 4-4-2—while any of Firmino, Mo Salah or Sadio Mane could be seen as the centre-forward at any given time.
Klopp himself described Mane as a "very offensive midfield player," such is the ambiguity of a player's role within his tactically flexible unit.

The same can be said of Klopp's interchanging midfield, with Fabinho able to rotate roles with the likes of Keita and Wijnaldum, despite starting the game between the centre-backs.
He may take time to adjust, largely due to his ability—and the demand—to play a variety of roles.
But when he settles Fabinho can be expected to thrive, and give Liverpool another dimension.