Alisson Becker has made a positive start to life at Liverpool, with two clean sheets from two games and an assured performance on Monday night.
With Jurgen Klopp having opted to swoop for the Brazil No. 1 in the summer, Alisson has immediately come in and looked an impressive presence between the sticks.
Despite having had little time to gel with his new defensive team-mates in pre-season, he was comfortable on his debut and commanding at Crystal Palace recently.
He has taken every early contribution in his stride and looked totally unfazed at Selhurst Park—which perhaps stems from challenges earlier in his career.
Speaking to the club website on his move, the 25-year-old declared:
"In terms of my life and my career, it's a huge step for me being part of this club and this family. You can be certain that I'll give my all."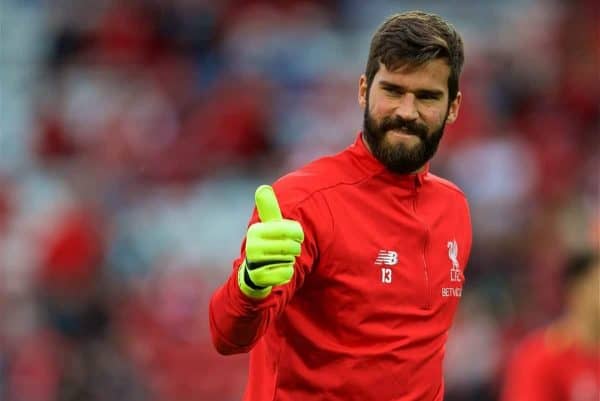 However, with the Brazilian a part of the country's World Cup challenge, he was soon to disappear to complete his summer holiday.
As July turned into August Liverpool welcomed Alisson to training, it was the French town of Evian that would be the start point for the goalkeeper's career in red.
Within 24 hours Liverpool had a glimpse of just what the modestly sized goalkeeper was all about. Marko Grujic denied at point blank range in a small-sided training game gave those watching a taste of what they had longed for.
A goalkeeper that could possibly decide a fixture—in the right way.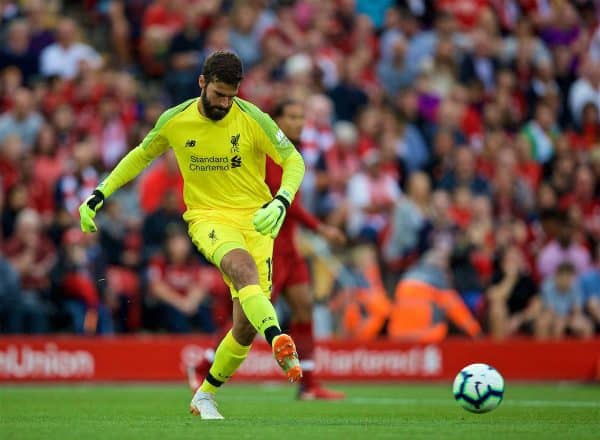 His arrival heralded as a massive coup for Liverpool, but just how is he looked upon at home?
This Is Anfield's Chris Williams spoke with ESPN Brazil's world football correspondent Gustavo Hofman on how the shot -stopper is viewed on home soil and to gain an insight into what makes Alisson such a big performer.
If those connected with Liverpool were positively vibrant then back in Brazil, the watching masses are a little more cautious, Hofman explains.
"For everybody who watches European football, there's no doubt that is he's an excellent goalkeeper. But for the Brazilian people, who don't follow European football, there are some doubts.
"People thought that he wasn't tested (during the World Cup), but when he had to appear—he wasn't so good."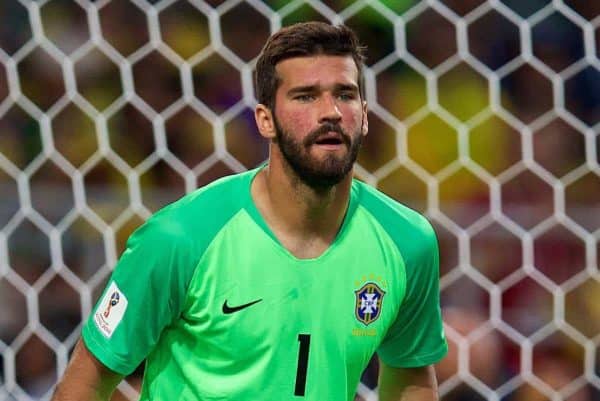 This may not be the best of reading for Liverpool fans, but the view from Brazil's watching masses is very much based on who was left out of the World Cup squad, not on who was taken.
So, what about the player himself, what are his characteristics?
"Alisson is a very strong guy, strong-minded…he makes his own decisions.
He is very talented, excellent ball handling, very good with his feet and a true leader."
There is room for improvement though, Hofman added, suggesting Alisson must "develop to defend crosses and corners."

As with all signings, there is a pressure that comes from wearing the red of Liverpool. Many have failed while some simply excel. Just how does Hofman see his compatriot faring?
"He is a natural leader, who grew up playing in a major Brazilian club, Internacional. Always dealing with pressure—since he was young.
"When he began at the Brazilian national team, everybody doubted about him and it made him stronger. It also happened in Roma. So, for sure he's ready to play for Liverpool."
On the evidence in red so far, he's a tremendous acquisition for the club.