Injuries elsewhere meant Joe Gomez has started the season at centre-back for Liverpool, a role which many have long felt would be his eventual best.
Jurgen Klopp partnered Gomez with Virgil van Dijk on the opening day of the season at Anfield, facing West Ham, as had been hinted at in a couple of the final pre-season friendlies.
The No. 12 had both impressed and looked awkward at different stages of last season, before missing the campaign run-in—and the World Cup—after surgery was required.
To start this term in the team, then, is a big chance for Gomez to once more showcase his worth, and perhaps lay down the foundations to secure his long-term future at the club.
Long-Awaited Opportunity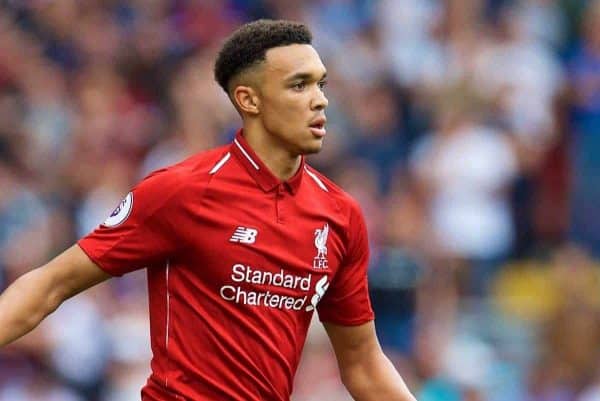 For all promising young players, a chance is a requirement: a chance they have to earn, then they have to take.
Last season, Liverpool fans saw Trent Alexander-Arnold receive precisely that; injuries to Nathaniel Clyne and Gomez himself saw the teenager unexpectedly handed a chance to shine on a regular basis.
With the two dovetailing early on for the right-back role, it was Trent who eventually won out, and indeed went to Russia with England.
Gomez, now, finds himself in a similar position—except for the, well, position; Joel Matip injured again, Ragnar Klavan more comfortable on the opposite side, Dejan Lovren unavailable for weeks.
The chance has fallen Gomez's way, for at least a couple of matches, and it is now entirely up to the 21-year-old to seize the opportunity in the same way his younger team-mate did last term.
Gomez vs. the Hammers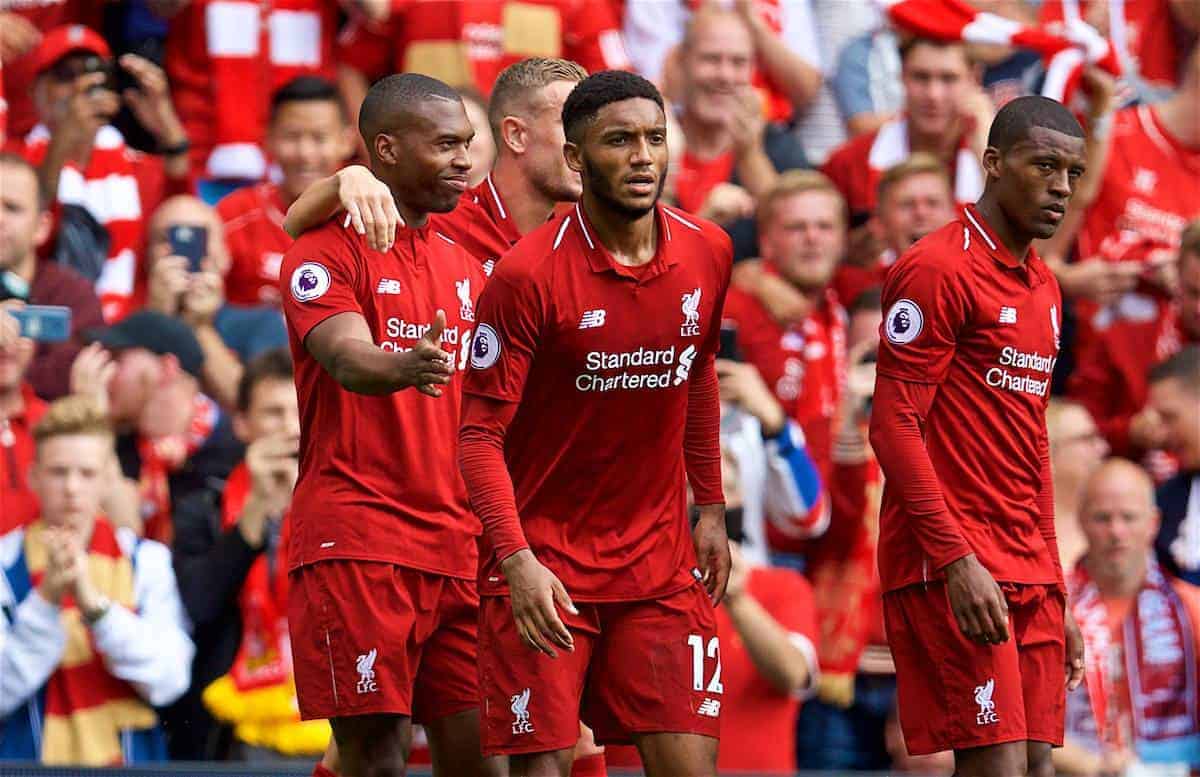 There were several comments, during and after the game against West Ham, that Gomez had been something of a weak link at times, which quite frankly is nonsense.
A single instance of barely credible danger for the away side seems to have led to this mini-narrative; a long ball, over Gomez's head, which led to a shooting chance on the angle for Marko Arnautovic.
In literal terms, that's what happened. A closer look at the actual passage of play makes it easy to dismiss any complaints over Gomez's course of action over that 20 seconds, however.
Arnautovic was actually standing on Van Dijk when the ball was lashed forward from deep, and ran diagonally in behind Gomez.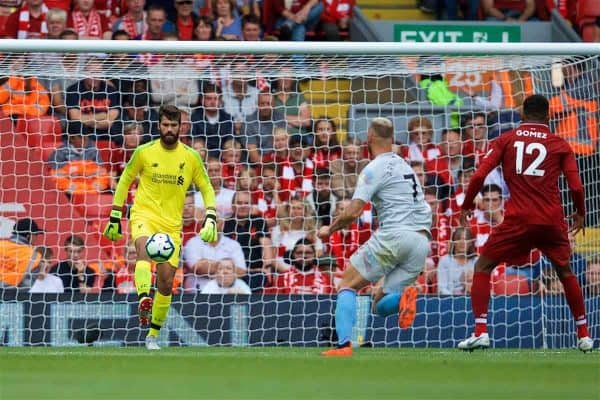 It was good movement from the forward rather than the defender losing him, but Gomez recovered anyway; a decent showing of pace saw him react and catch up with his man, as well as a determined slide to block any real chance of the shot troubling Alisson.
If that single instance of West Ham threat is all there is to suggest Gomez was any kind of a liability, he has little to worry about.
Elsewhere, there was much to admire about Gomez's defensive performance.
Gomez's Game by Numbers

3 tackles
4 clearances
3 fouls conceded
92% pass accuracy
70 touches
His recovery pace saw him track across to the channel or in behind a fellow defender more than once, and even if he wasn't heavily involved aerially, he did make one important intervention and put a few good challenges in.
Two areas of his defensive work should be considered in terms of Lovren's game, since that's Klopp's usual first-choice partner for Van Dijk.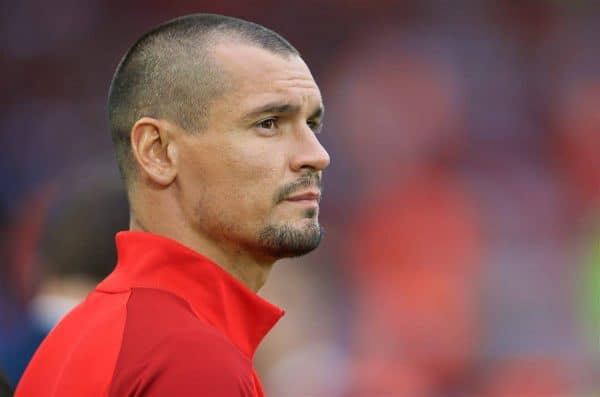 First, a negative: Gomez made at least two fouls in the same needless area of the pitch, up near the halfway line, when the forward had little support.
The wish to win back possession quickly is, in basic terms, both admirable and a part of this Liverpool team's style.
But just holding the man up for a second or two longer, waiting for a team-mate to help out rather than fouling in trying to win it back quicker, is the better course of action at times.
Lovren does exactly the same thing, as did Martin Skrtel before him—it's an irritating trait of some defenders to just need to go for the ball immediately.
On a more positive note, Gomez's time at full-back saw him look an awful lot more at home in the channel, positionally and on the ball, when pulled out to the right side. Lovren struggles with this, especially on the left.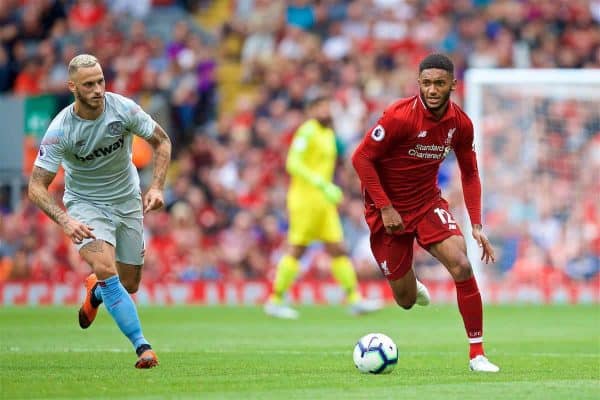 Finally, it's worth noting Gomez's performance against West Ham in terms of helping the buildup play.
At least twice, he took it upon himself to surge forward, dribbling into the midfield line and opening up play, committing a defender and thus creating a space for a team-mate to move into.
Instead of being passive and safe, giving it to a midfielder to do the work, Gomez contributed in a positive way without leaving himself at risk of being exposed.
Against teams who sit back in large numbers, having a defender willing to do that can be invaluable, just to unsettle their lines and raise the tempo.
Options & Future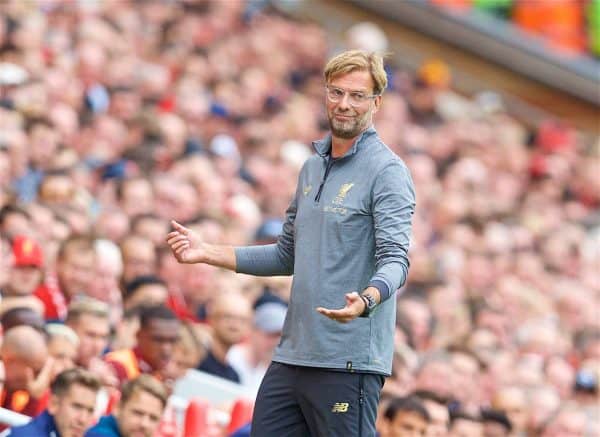 After a clean sheet, a win and an all-round dominant performance, it's not likely Klopp will be looking to make sweeping changes for the second game, even if some regain fitness in the meantime.
Gomez should, therefore, be looking at a second consecutive start at the heart of the defence, but from then onward it will be all about what he has shown.
Lovren could be out for up to three weeks, says the boss, meaning it will likely be after the international break in early September that he returns.
Matip could be ready, but has the Cameroonian done enough at any point in 2018 to demand he makes an instant return? Arguably not.
After Crystal Palace away, it's Brighton at home to finish August. Leicester away is the final pre-international break fixture.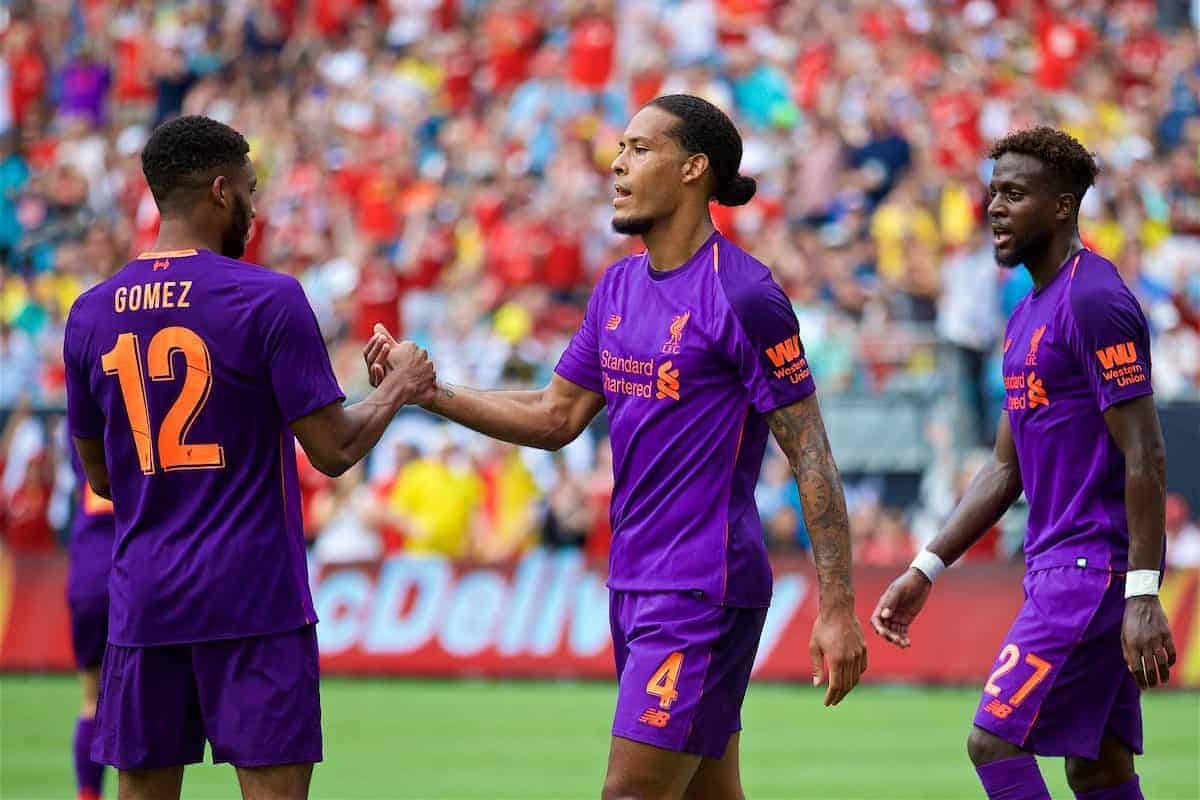 Further solid performances, from Gomez himself and the team as a whole, could quite conceivably see the No. 12 feature in all four games, presumably growing in confidence and stature along the way.
Klopp has always said it's down to the players, regardless of reputation or age, to show why they should remain in the team.
This is Gomez's chance to forge himself a regular place, make himself a go-to selection for the boss, and that's all any young talent could ever ask for.