The second part of our 'admit you were wrong' feature looks at past individuals from Liverpool history—and some shameful opinions are laid bare!
Sometimes a player looks just right: good price, necessary position, exciting name. But then it all goes a bit Fernando Morientes.
It can't be helped when quality just doesn't meet style.
But, sometimes, it's more about the initial judgement being rather more wayward—and here we've got several examples of exactly that.
We previously asked This Is Anfield's writers to name the current player they had gotten it wrong on, and here they line up to admit some errors of seasons past.
From humble pie to the bitter taste of over-expectation, we've all hoped for rather more than we got from one signing or another before!
Have a read, then let us know yours in the comments below!
Andriy Voronin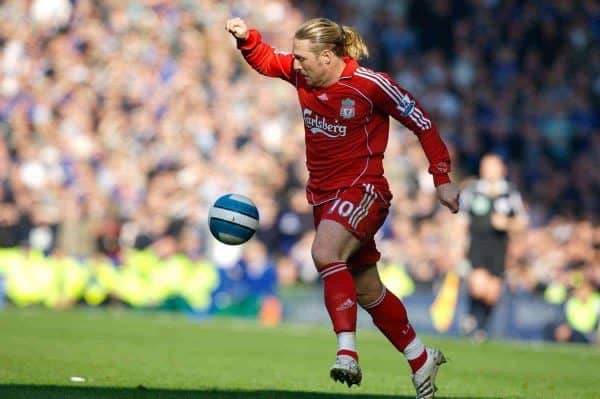 Like any other would-be manager/scout/footy-internet sensation, I love it when I'm right about a player, especially one either barely anyone knows of or watches (hi, Mario Fernandes) or else someone who others have argued against me would be average/needless and I've gone heavily in favour of (hey, Luis Suarez).
And, again like anyone else, I'm absolutely convinced that I can see precisely why a particular player is going to be a massive hit—only to be let down, sometimes in incredibly spectacular fashion.
There are two in reasonably recent Liverpool history which stand out here.
The first, and please don't stop reading after I name them, was Andriy Voronin.
I'd watched him for a couple of seasons already, I knew what his game was about and I was sure, really sure, that he'd be a hit at Anfield.
Not because he was technically brilliant, nor incredibly rapid, nor even a guaranteed source of goals—he was none of those things.
But because the other striker we were bringing in, Fernando Torres, was all of those things.
And to go with that kind of forward and get the best out of them, you need a different type: one to drop deeper, be selfless, run defences ragged with constant movement and work rate, and be able to attack the box as well to grab themselves a few goals and share the burden.
Voronin ticked every box to me: a slightly more skilful version of Dirk Kuyt, in fact, who had already won over the Anfield faithful with a prodigious work rate and the capacity to score important goals, even if he wasn't a 30-a-season man.

The first couple of games hinted at being right on the money: Vorinin did a few bits, scored an important goal in a Champions League qualifier, hit a couple in the league early on.
The Reds still played 4-4-2 mostly at the time under Rafa, 4-2-3-1 came later, and Voronin was a good stepping stone until we reached elite level of signings.
Except, obviously, he wasn't.
Vorinin never got to grips with the speed of play needed, was wasteful too often and was so bad in possession sometimes it was unreal, made all the more frustrating by when he did have good games—remember his performance vs Besiktas in the 8-0?—he could be a genuine match-winner.
All told, he was a shambles. That was one of the sharpest downturns in form and fortunes we've witnessed, and there was no coming back.
Failed loan spells, irrelevant sub performances and a low-cost departure, and that was his Reds career done: six goals in 40 games, a bit lower than Dirk on both counts in fairness.
(Karl Matchett – @karlmatchett)
Joe Cole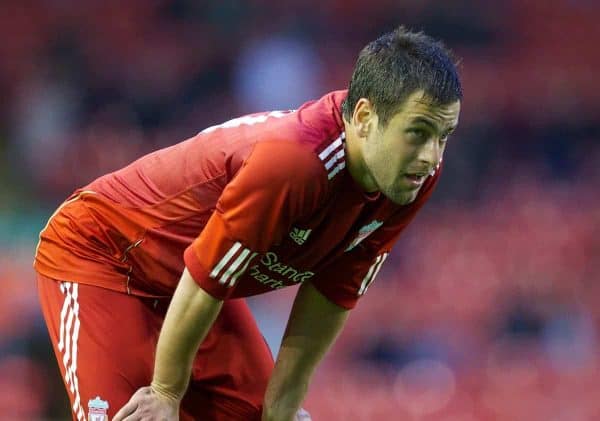 I've been wrong about loads of signings, but Joe Cole sucked me in more than most. Injury had robbed him of whatever speed he may have had but that shouldn't have caused him to be blowing for tugs after ten minutes, surely?
Picture Joe Cole in your head right now and I bet he's got his hands on his hips gasping for breath.
Some players just appear to be knackered (Stephane Henchoz), but Cole genuinely looked like he was a 60-a-day smoker. Maybe he was.
He got off to a nightmare start when he was sent-off on his debut and I also remember him missing a penalty at the Kop end in one of his early games too.
Things never really got any better for him, although there were one or two isolated flashes of the player he once was. Maybe if he could have ditched that caravan he appeared to be towing he wouldn't have been so terrible?
The worst part is how long it took me to finally accept I was wrong. A decent loan spell in France was enough to convince me once again that he could still be useful for us.
"Brendan will get the best out of him," I told myself. Brendan's rampant ego means he loves a reclamation project (think Balotelli) and he did give Cole an opportunity, but after a few months it was clear to him—and me—that it wasn't going to work.
(Dave Usher – @theliverpoolway)
Mario Balotelli

When Liverpool signed Mario Balotelli I saw it, as Brendan Rodgers did, as a calculated gamble.
He was one of the most in-form goalscorers in Europe, who had already tasted success at Man City, and at £16 million it could have been a real bargain.
Obviously, his attitude issues were a major red flag, but I believed this could have been managed.
Unfortunately it didn't pan out that way, and while he's not the worst we've have had in recent years—personally, I think his successor Christian Benteke was a bigger failure—he's certainly light-years from what Liverpool needed.
That Roberto Firmino arrived in the same summer that Balotelli was initially shipped back out to Milan is fitting; as though Rodgers didn't know it, he was the perfect centre-forward for us.
Liverpool remains the only club where Balotelli has failed to score regularly, with his average of minutes per goal (377.5) stark when compared to his clubs before and after: Inter Milan (173.9), Man City (147.1), AC Milan (160.6) and OGC Nice (121.5).
He's back in the Italy squad now, and is revitalised at Nice, so it's clear it wasn't a completely misguided move from the Reds—but he certainly didn't live up to expectations at Anfield.
(Jack Lusby – @jacklusby_)
Adam Hammill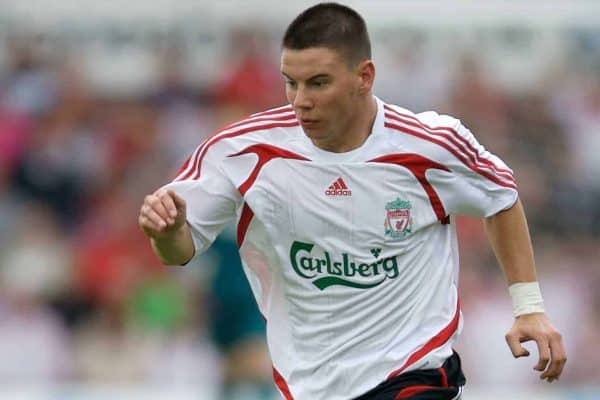 The other one that sticks in my mind played even less: not a single senior competitive appearance, in fact.
We've had plenty of false dawns with promising Academy players not quite making the grade, but while some hyped-up attackers such as Paul Anderson or even Krisztian Nemeth never truly wowed me, I was convinced in every way that Adam Hammill was The One.
Fast, powerful, skilful in one-on-ones, able to shoot from miles out and—to use a Klopp term—arrogant on the ball, Hammill was to me a player who could not just break through into the Reds' first team, but be a genuinely top Premier League player.
A long-term contract, a good loan spell with Dunfermline and another decent one with Southampton, and I thought he'd be ready.
If not an elite level player like, say, Eden Hazard, he had all the tools to be a regular threat from the flanks in the way Yossi Benayoun was.
Not top-class, but the next level down.
Then he was sold to Barnsley. He's now 30 years old, and doesn't have a club.
(Karl Matchett – @karlmatchett)
Harry Kewell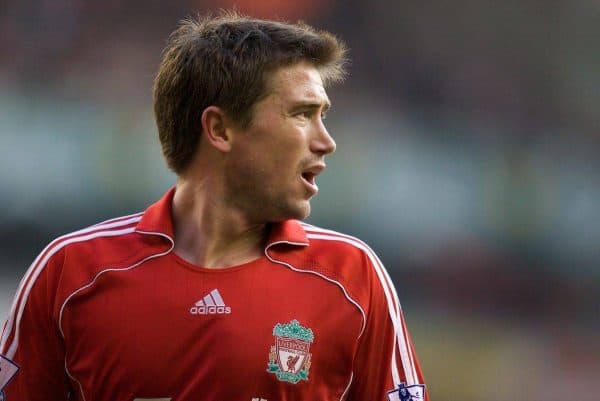 It's easy to forget what an incredible talent Harry Kewell was at Leeds United during the early 2000s—perhaps the most exciting young winger in Europe.
When Liverpool signed him in 2003 it felt like a game-changer, with left-wing an area that had been a weakness ever since John Barnes drifted past his peak and became a central midfielder.
I firmly believed Kewell was the so-called 'final piece of the jigsaw' in a side full of quality, inspiring them to the Premier League title in the process.
There was a strong defence built around Sami Hyypia, a dominant midfield with new captain Steven Gerrard at the centre of it and Michael Owen was still banging in the goals up front.
Early strikes against Arsenal and Everton suggested Kewell was completing the puzzle, but in the end, his Liverpool career was one of disappointment.
That's not to say he was consistently poor—there were plenty of moments of quality—but he never came close to reaching his Leeds heights and becoming a Reds legend, which many predicted upon his arrival.
Injuries hampered him badly, with the Australian famously limping off in Istanbul and in the 2006 FA Cup final, and it all fizzled out in rather limp fashion by the time he left for good in 2008.
We'll always have those derby goals, that volley against Tottenham and the odd sparkling display here and there, but it is impossible to call him a roaring success at Anfield.
He was brought to be the next Barnes, but wasn't fit to lace his boots. How horribly wrong I was.
(Henry Jackson – @HenryJackson87)
Paul Ince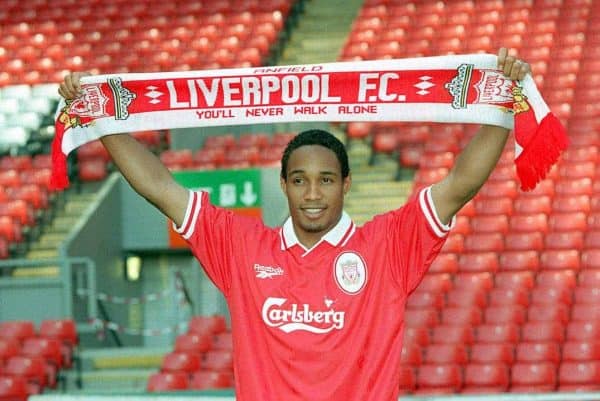 There's probably a lot I could choose here, including some who I felt that missing out on would be bad but then they turned out to be pretty crap anyway.
Mine is similar to Henry's in that I thought he would be that 'missing piece of the jigsaw' we sought in the mid-90s.
We had a team of attacking quality, playing attractive football, all we needed was a hard-man midfielder with experience of winning the league and the title would be ours. Step forward Paul Ince.
I was pretty convinced we'd win the league under Roy Evans with Ince in midfield, and although we came quite close we ultimately were the plucky losers who just didn't make it over the line.
Ince then turned into a dick when Gerard Houllier arrived, saying that he "wanted to punch Houllier in the face."
(Matt Ladson – @mattladson)
Joe Allen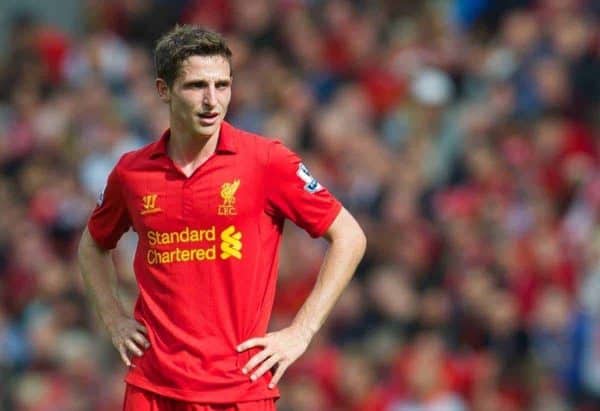 When Brendan Rogers signed Joe Allen from Swansea, I was convinced we had signed a top-class midfielder.
Maybe not exactly box-to-box, but someone I believed would be a ball-winner and a top-class distributor to the forwards.
He seemed to have a real engine on him, the right level of aggression, and a good turn of pace. What he lacked in stature, he seemed to make up for with heart.
Man of the Match in only his second game, and supporters Player Of The Month for August 2012, all boded well.
But looking back, he never reached those early heights again and seemed to become less and less effective as time went on.
A paltry four goals in 91 Premier League games for Liverpool was a hugely disappointing return. In his four seasons at the club he scored zero, one, one and two league goals respectively.
After losing his place under Jurgen Klopp, he moved on to Stoke City where—just like at Liverpool—he started with a bang, but then slumped alarmingly.
He was not only a regular starter in their relegation season but now finds himself in 18th position in the Championship with one win in six games.
Stoke, just like Joe's career, seem to be on a consistent downward spiral. Yeah, I have to admit I was wrong on this one.
(Alex Malone)
Graeme Souness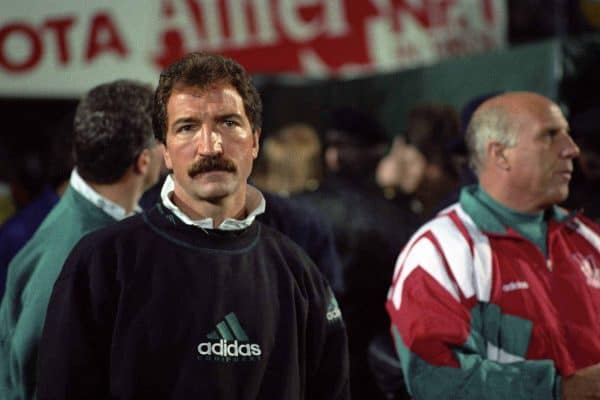 It wasn't the first time, nor was it the last, but when it came to Graeme Souness' appointment as Liverpool manager, I was wrong.
Horribly wrong.
Souness had been the finest Reds' midfielder I'd ever seen.
A ruthless perfectionist who demanded nothing but the best from himself and everyone around him, Souness was a natural born winner.
That is, until he became our manager. He tore up the 'Bootroom' in the name of modernisation and said goodbye to too many decent players, too soon.
Their replacements could never live up to his standards.
It could only end one way, with him becoming only the second Reds manager to be sacked. I thought he'd lead us back to glory. How wrong I was.
(Jeff Goulding – @ShanklysBoys1)