Trent Alexander-Arnold is keen to follow in the footsteps of Liverpool greats Steven Gerrard and Jamie Carragher by acting as inspiration to players in the academy.
The 19-year-old burst onto the scene with both club and country last season, playing in Liverpool's Champions League final defeat before heading to the World Cup with England.
Alexander-Arnold settled straight into Jurgen Klopp's side at Anfield and has made the right-back position his own.
He then went on Russia, turning out in the 1-0 group-stage defeat to Belgium as Gareth Southgate's Three Lions finished fourth and he remains a part of the squad moving forwards.
Despite his tender age, Alexander-Arnold is already looking to give back to the youngsters coming through the ranks at Liverpool and recalls when Carragher was present as he signed for the academy.
"It's a privilege to play for the team I have always loved and always wanted to play for," he said.
"I have never felt pressure. I have always felt that it's a blessing and I am happy to be part of the team and walk out at Anfield with the Liverpool badge on my chest.
"I was at the under-9s signing ceremony at Anfield in May, I think it was. I saw the pre-Academy turn into the Academy. I remember when I did it, Jamie Carragher was there.
"He signed me and I got my picture taken with him and it was a dream come true. Seeing the smiles on all the young faces was incredible."

Asked about being in a similar position to Carragher now, Alexander-Arnold added: "It's hard to believe.
"Hopefully I'm a decent role model for them to look up to, to work hard and to aspire to become.
"The likes of Gerrard and Carragher were there for me, they were what I wanted to become and they gave me that bit more inspiration to work hard in the Academy. Hopefully I'm doing the same for them."
While Alexander-Arnold's development on the pitch was clear for all to see, the defender concedes he struggled to control his emotions when developing through Liverpool's youth system.
"I remember when I was a bit younger, I used to show my emotions too much," he added.
"That was a thing I needed to get rid of because I showed the opposition I was angry or disappointed with myself. That is when you start to get targeted.
"To show emotion is a good thing, but to show too much emotion can work against you. It's down to (coaches) Neil Critchley and Alex Inglethorpe, who helped train that out of me.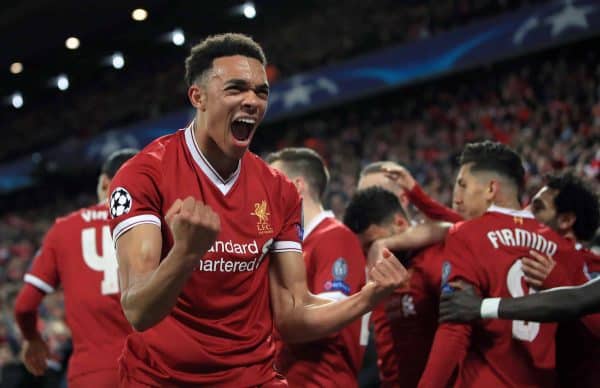 "It was in the season before I was introduced to the first team that they really worked with me a lot on that. It's down to them that I am now more level-headed and am trying to compose myself more on the pitch.
"The way they did it was to target me in training and to try and get into my head with the way they speak and putting players against me who would get the best of me. It was a hard situation in training and I didn't like it.
"Looking back now, it was the perfect way of going about it. I can only thank them so much for the things they have done. I wouldn't be where I am now without their help."