Jurgen Klopp expects to see the "full Neymar package" when Liverpool open their Champions League campaign at home to Paris St Germain.
Reds manager Klopp refused to be drawn into criticism of the Brazil international's diving antics at the World Cup, where he was roundly condemned for rolling around on the floor unnecessarily.
Instead he chose to partly excuse Neymar's actions in the face of physical treatment from defenders – something Klopp says Liverpool will not be participating in on Tuesday.
"I know people were talking about when it looked like he made more of a situation than it was," said Klopp, whose team were losing finalists last season.
"For me that is a completely normal reaction because players were really going for him and he wants to protect himself and I understand that as well.
"If an opponent gets a yellow card then he is much closer to a red card so I see it from that perspective.
"I thought it is smart that he saves himself. Everyone doesn't have to be worried, we don't go for him against us.
"We play football and we want to win the ball, we don't try to act in these kind of things; we try to avoid passes to him, try to avoid him winning challenges – which is a big job to do.
"I am not sure if it is 100 per cent possible to avoid his qualities. I am pretty sure it is not. He is a fantastic footballer, an outstanding player.
"I don't think he is a person who wants to act because if you are like that you cannot play the football he plays.
"I don't think about these kind of things. He got rested at the weekend so he will be 100 per cent fresh for us, he is not injured any more, so we will see the full Neymar football package.
"We still have to cope with that and that is what we will try."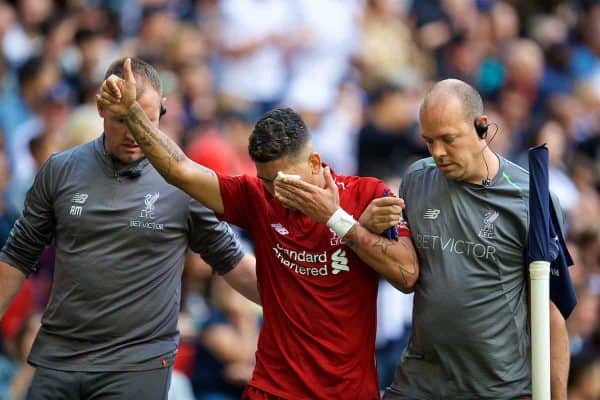 Neymar's Brazil team-mate Roberto Firmino faces a late assessment to see whether he has recovered from an eye injury sustained at Tottenham on Saturday.
The Brazilian suffered an abrasion on the cornea of his left eye after being caught by Jan Vertonghen's flailing arm and it has impacted on his vision.
However, Klopp remains optimistic the forward – who performs a key role in the side – will be fit.
"Not definitely (fit) but yeah. He couldn't play today, no chance, but we all hope there is a chance tomorrow. That is good news it will be close," added the German.
"Everyone who saw the pictures after the game was shocked. It was a big relief for all of us.
"It is painful and no one needs that but he will be fine – we don't know exactly when. Another 30 hours before the game so we will see."
If Firmino does not make it that would present Daniel Sturridge with, incredibly, the chance of the first Champions League start of his Liverpool career.
Klopp's other options are restricted with minor injuries to Dominic Solanke and Divock Origi, although he could also bring in Xherdan Shaqiri and move Mohamed Salah more central.
"He (Sturridge) will be ready," said Klopp.
"If Bobby can't play and Dom (Solanke) and Divock (Origi) can't then we are short of options because both of them are a doubt because they got little injuries in the under-23 game with Swansea.
"We thought it made sense (for them to play) but they did not come through without any problems.
"There is no problem with the first line-up, only with having options."