Steven Scragg reflects on the dramatic manner of the draw at Chelsea – and some thoughts on the differences between the Reds and Blues off the pitch.
Bruises administered. It was all meant to be about bruises being administered at Stamford Bridge on Saturday. Instead, it was a point apiece and heavy degrees of mutual backslapping between the two teams.
New best friends eh?
Well, not quite, as there tends to be too many cultural and ideological differences between the two sets of supporters, but certainly on the pitch and in the coach's technical areas there is a newly found respect between Liverpool and Chelsea.
Maurizio Sarri strikes the image of somebody who has a bit of a class about him.
What he's doing at Chelsea then is anyone's guess.
Less than one minute of the game had passed before our host's supporters started singing about Steven Gerrard.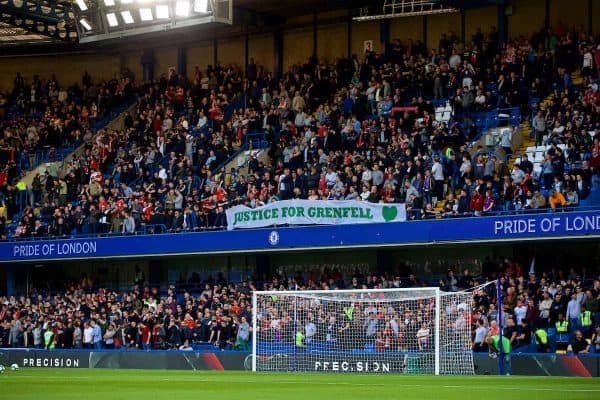 Throw in them chanting "Always the victim" after the unfurling of a Liverpool banner in support of those who perished at Grenfell Tower and that's more like the Chelsea we expect.
Smiles and concessions of a fair result from their manager at full time, when a draw has just been snatched from the jaws of victory is all a little bit disorientating.
Football clubs are made up of a holy trinity. The owner of the club, the coach along with his players, and the supporters.
We know the predominant unlikable hue of the supporters and – Carlo Ancelotti, Rafa Benitez and Gus Hiddink aside – Chelsea usually employ a curmudgeon of a manager.
The fact that Roman Abramovich usually comes across as the most likeable thing about Chelsea says all you need to know about the club that used to be owned by Ken Bates, who surrounded his pitch with an electric fence.
Sarri is likeable though and even the respect Eden Hazard showed Daniel Sturridge in post-match interviews after the game was likeable too.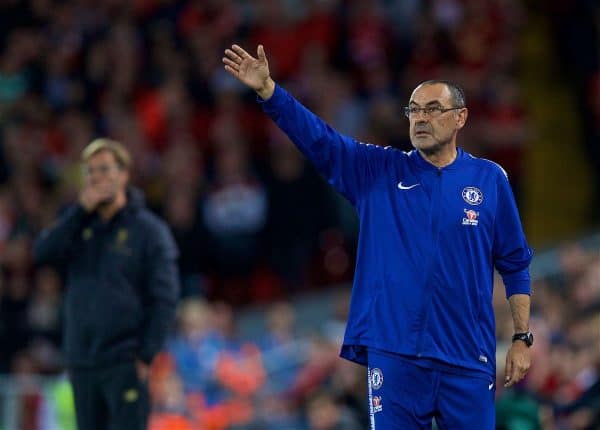 It all felt a bit, well, odd.
It's Chelsea Jim, but not as we know it
Despite the late procuring of our equaliser, Chelsea were fortunate to take a point from this one, as we were careless with the opportunities we carved out.
Two goal-line clearances, other instances of fine movement opening the Chelsea defence, only for us to be wasteful once we could see the whites of Kepa Arrizabalaga's eyes.
At times, there was a genuine fear amongst the Chelsea players, over the movement of the Liverpool players. Make no mistake about it, there is some very real body-language from our top-six rivals that suggests they believe that this Liverpool is most definitely the real deal.
Conversely, Chelsea could have finished the game off, before Sturridge stepped forward so gloriously in the 89th minute to level the scoreline.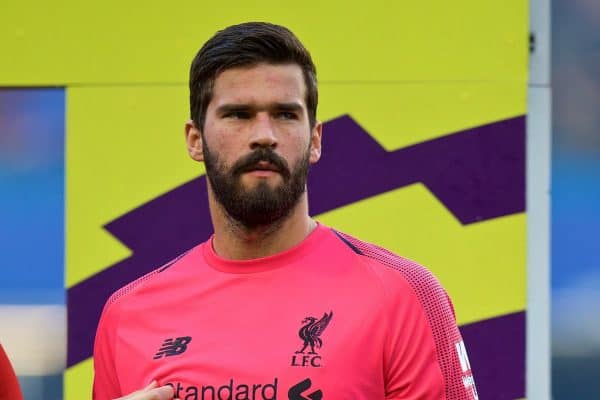 Alisson proved his worth with two significant saves. Those were saves which went a long way to making the difference between our unbeaten start to the Premier League season continuing for at least one more week, or it coming to an end.
Successful title-winning campaigns are built upon the goalkeeping reliability of the likes of Alisson Becker.
Belief is a two-way concept in football
Jurgen Klopp has made this Liverpool team believe in itself. Jurgen Klopp has made this Liverpool team believe in what it is capable of achieving.
Even more importantly, however, Jurgen Klopp has succeeded in getting under the skin of Liverpool's rivals, he has succeeded in making those rivals believe in Liverpool too.
Our rivals really do believe we are a serious threat. In the wake of this draw, Sarri was waxing lyrical about how his side are closer to Liverpool than he thought.
Part psychological ego massaging of his own players, part respect to Klopp and his team from Sarri, Pep Guardiola will do something similar this week, except in private. Beat Manchester City at Anfield next weekend and this belief might just become monstrous.
To exit these two games against Chelsea with one draw and one defeat, yet still feel 10-feet tall at the end of them is a stunning achievement.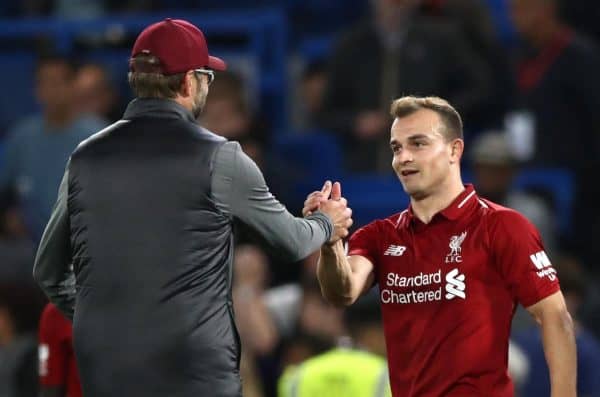 The manner of Sturridge's goal couldn't help but accentuate that feeling of being 10-feet tall and it was one of those glorious moments where an away end goes absolutely nuts.
If you've never been lucky enough to experience a moment like it, then you've been denied the eighth wonder of the world, while simultaneously avoiding a pair of badly bruised shins.
In one sweep of his left foot, Sturridge blew away all the frustrations of what had seemed set to be 'a bad day at the office'.
I don't know about you, but each time Liverpool take to the pitch at the moment, I feel pretty fearless. Yet, there is still so much more to come.
The trials and tribulations of Mohamed Salah continued in West London. Hooked after 65 minutes in this one, his movement was sound, but his confidence when he locks sight on goal is at a low ebb. He will shake the cloud which is following him eventually.
Naby Keita looked the part after his introduction. He shouldn't be used as an easy 'in' for Jordan Henderson bashing however.
James Milner was primed for a strong start to the season, which he has produced. Within that, I'd expect an autumn plateau to occur.
Henderson was given a sedate introduction to the season due to his World Cup participation. A baton of sorts will pass from Milner to Henderson during October.
The relay between Milner and Henderson, in allowing Keita the time to acclimatise to the English game, along with the perfectly timed upward trajectory in Gini Wijnaldum's form will be one of the most important passages of the season for Liverpool.
So, to Naples we go, before the visit of City on Sunday. On the front foot we need to be, making them endure all the sleepless nights.
We need not worry about these games, we just need to be prepared for them.