Our exclusive chat with Jamie Carragher continues as the iconic defender talks on his time in the shirt, the owners and much more besides.
IN CONVERSATION WITH… JAMIE CARRAGHER, PART TWO
Kopites have a special affinity with Jamie Carragher. They once famously dreamed of a team filled with players just like him.
We all admire his work ethic and commitment to the cause.
In the second part of our conversation with the former defender, we explore what it's like to be a local lad representing Liverpool Football Club, his thoughts on the owners and the magic of Anfield.
Of the club, of the city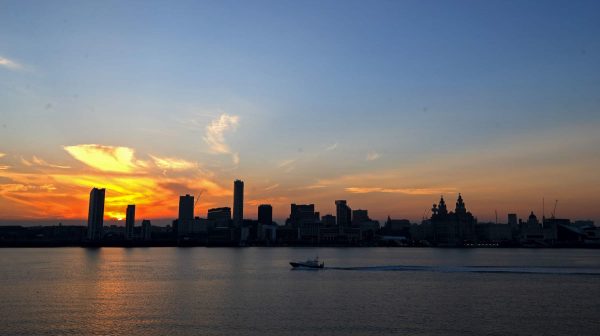 The conversation eventually turns to his achievements with the club, and we inevitably touch on Istanbul.
It's a subject no doubt revisited countless times in interviews and in Jamie's own mind. It probably always will be, and rightly so.
However, I'm not interested in covering old ground.
Instead, I want to know what it felt like being three goals down to AC Milan at half-time in Istanbul, not as a footballer but as a Scouser playing for your hometown team.
As they trudged off the field that night, every one of those men in red would have been hurting. But, for most of them, I wonder if the hurt was merely a matter of professional pride.
Surely, for him and Stevie, it was way more personal than that. Does he think he felt the pain more intensely than his team-mates because he was a local lad?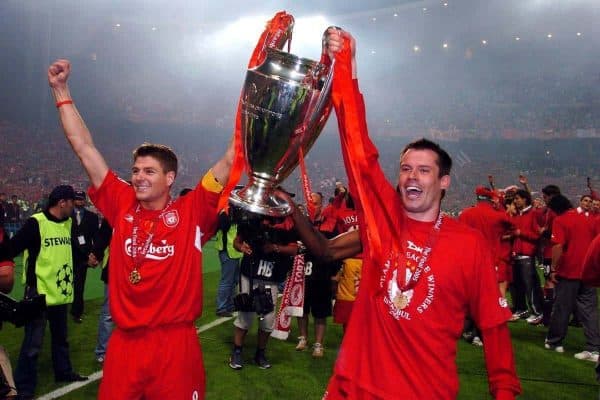 "Yes. Obviously, I've got that connection. If I was playing for any other team, I'd be more worried about embarrassing myself. But it's where you're from. It's your people, your legacy really. And, it's your club.
"Sometimes I got too emotionally involved. I wouldn't say it affected my performance but it certainly affected my day-to-day living."
So, I ask, did he find his football life started to bleed into his home life at difficult times? As far as Jamie is concerned, in such moments there is no distinction between the two.
"It's not that," he explains "if things aren't going well, you can't separate the football from your home life. Football is your whole life."
So is being a local lad and playing for Liverpool something of a hindrance at times?
"No, it's a plus and a hindrance. Look, I always say after Istanbul, no one could have felt as good as I did coming home on that bus.
"But, probably, no one could have felt as low as I did after Athens. That's the flip-side of being a local Liverpool player."
I recall a passage in Carragher's autobiography in which he talks about the Kop song about a 'team of Carraghers.'
In it, Jamie interprets that as being about loyalty. The other Scouser in the team, Steven Gerrard, was flirting with Chelsea at the time. Carragher suggests, in his book, that this helped him to cement his place into Kopite hearts, as the loyal one.
I suggest it was more than that, and it probably has more to do with his obvious passion and willingness to fight for the cause. The one thing supporters look for in a player is some sign that he wants success at least as much as they do.
In Jamie, we got that in spades.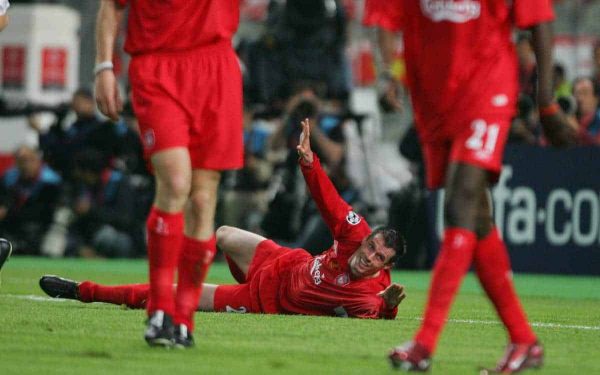 "Yeah, I got that too," he agrees, "It was about a team of Carraghers. Everybody fighting for each other, fighting for Liverpool.
"Look, I class myself as an archetypal Scouser. If you ask what is an archetypal Scouser, I think I come pretty close to it. I don't mean that in terms of blowing my own trumpet. I mean the way I am, loud and aggressive on the pitch. But, I like a laugh and a joke too.
"I think I've got a lot of time for people. I've still got the same mates, still go to games with my Dad and my mates. I don't go corporate and talking shite to people. It's not a lack of choice, I just don't like that world. It's not me."
It's clear that Jamie's 'Scouseness' is something important to him. He feels it deeply. I ask him if he believes Liverpool people are different to the rest of the country.
"The great thing about Liverpool people, I think, is that they have a grit and determination to fight. We refuse to toe the line.
"In Liverpool, you're either a Scouser who supports the Reds, or a Scouser who supports the Blues. There is no in between. We've got something about us, grit, determination and fight, but also with that a great humour. I don't think there's any better mix than that really. That is life.
"I think we embody that, definitely. Liverpool people stand up for themselves, but we also know how to enjoy ourselves."
Ownership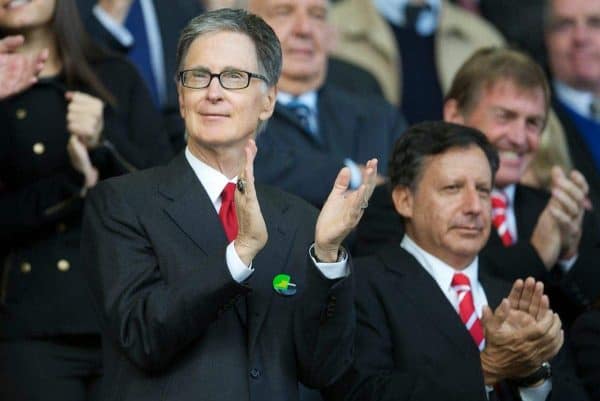 This talk of the fighting spirit of Liverpool people makes me recall a period early in Jurgen Klopp's reign. The club had announced a new ticket pricing scheme that many felt was outrageous.
It led to protests and eventually a walk out on 77 minutes during a game against Sunderland, in opposition to the introduction of a £77 ticket. I remind Jamie that he actually joined in that protest. What made him do that?
"Walking out of a game probably goes against everything I believe in," he says, "But it was wrong—£70-80 a ticket!
"They got the wrong city with that one. I don't think they [the owners] have made too many mistakes. Well, in the main they've been good. I just think that was a cross by their name. To be fair to them, they rectified it quickly.
"People in Liverpool can't pay that for a ticket. That's a London, corporate price. It's not Liverpool. I just think they got that badly wrong, but fair play to them, they rectified it very quickly."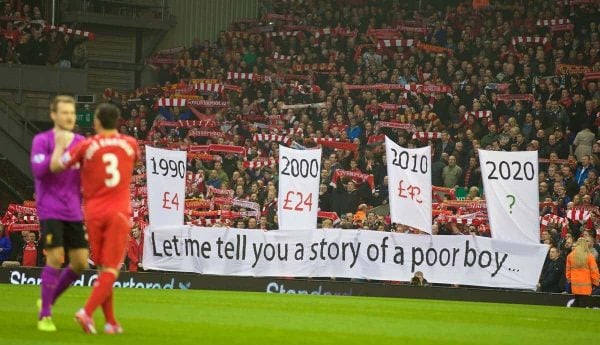 Carragher's career takes in three ownership structures.
When he broke into the team, he played for a club owned by the Moores family. Of course, he would also bear witness to the debacle of the Hicks and Gillett fiasco. How does he rate the current owners overall?
"I'm a big fan of the owners. I do like them. Obviously, they haven't got Manchester City money. They can only do what they've done.
"I like what they've done with the new stand, new training ground, they've brought in Jurgen Klopp and there's money there to spend. People always talk about net spend but we're spending. We've got a world record defender and goalkeeper."
European nights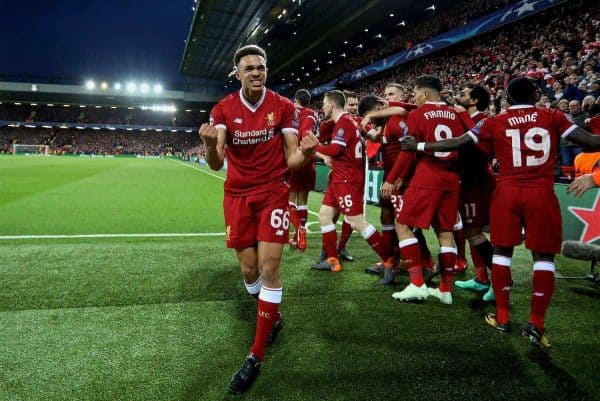 Of course, one of the big decisions made by the owners was to remain at Anfield.
That was a pivotal moment for the club, and it guaranteed that there would be many more famous European nights to come. We recall that incredible night against Manchester City during the run to Kyiv.
It often feels like every European night creates a new level of intensity that surpasses the last. For Jamie, that night conjures up memories of the 2005 tussle with Chelsea.
I ask him if, as a player, he was aware of the impact the atmosphere was having during the game.
"Definitely," he answers emphatically. "I spoke to the Chelsea players after both semi-finals and it definitely affected them. They were a much better side than us. Without a doubt, it got to them.
"And, with coming here with trepidation. They're expecting it. We don't disappoint. We give them it."
So it affects them. But, what about our players. What effect does it have on the men in red?
"It adds to our performance and it takes a bit off them. That Chelsea one in 2005, I mean I'd never seen an atmosphere like that.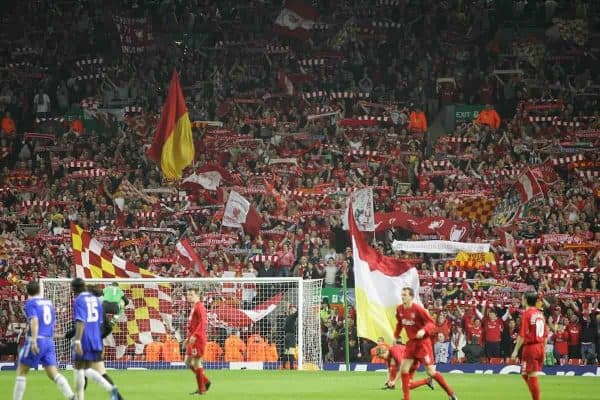 "Coming out, it was massive, it was powerful. That was our Inter Milan, St Etienne, all those great nights. Hopefully there's many more to come.
"There's no stadium like Liverpool in Europe or the world for nights like that. Certainly when you're getting to a quarter-final or semi-final."
Obviously, I completely agree. But I'm conscious that many people point to stadiums in Turkey and other places famous for creating fearsome atmospheres.
Carragher is having none of it, and who could argue. He's played in many of them. There are few people more qualified to judge than him.
"There's something about Anfield and the Kop," he maintains, "It feels like it's on top of the pitch. It's brilliant that we've stayed there so that we can keep that and build on it. There's something about all the flags and the banners. You don't see that anywhere else."
So, have opposing players ever commented to him about playing at Anfield?
"Well, the Chelsea players did. When I speak to Wayne Rooney, he says 'the toughest game I ever have is Anfield, Liverpool away.
"It's not just that. It's also the way we play at home and make it difficult for teams. It feels like a tight pitch, Anfield. You feel like you can get after players, really make it uncomfortable for them.
"But clearly, the atmosphere, on top of people all the time, claiming for every decision, getting after referees and doing everything to get the result we want."
Why does Jamie think we do that sort of thing, especially in Europe? Is it about us putting on a show?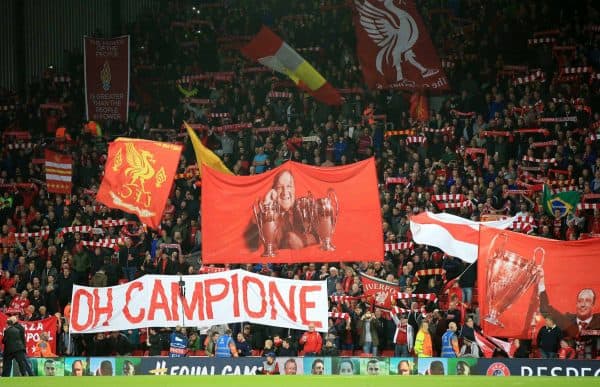 "Yeah. I think you know the whole of Europe is watching. So you think right, this is what we do. This is what we're about. And, I think what's happened is, of late it's this new generation of fans.
"You feel as if the batons been passed and now can they take it up and keep it at that level, or even take it to a new level with all the songs."
Jamie Carragher is clearly a product of his city and a man in tune with the people and the supporters. It's that, and not just his loyalty, that has always had us dreaming of a team of Carraghers.
Coming in Part Three: The Red and Blue rivalry, eating, sleeping and breathing football and why management is off the table.