Jurgen Klopp has detailed the work put in on the training ground improve Liverpool's set-pieces, and the effects the English weather has had on that.
Previously, free-kicks, throw-ins and corners were considered a weakness for the Reds, with a leaky defence routinely crumbling under dead-ball pressure.
But with his side having conceded just three goals in nine games in the Premier League this season, and having scored five times from corners and free-kicks, this has been reversed.
According to Klopp, speaking ahead of Liverpool's home clash with Cardiff City, this is due to hours of work at Melwood, saying "we put more focus on it."
"A lot, a lot. We did a lot on set-pieces," he told reporters when asked if the workload has increased.
"Actually, it's quite difficult to talk about set-pieces because you don't want to talk about it!
"[For] the routines, there are different runs and different things.
"We did it in pre-season—and it was clear at the start of pre-season that we want to focus on it because it was not a proper strength of ours.
"That's what we do week in and week out. It doesn't work out all the time, but I would say it is a different approach that we choose.
"We have different runs, never the same routine, so it's always something different. We put more focus on it."
Using pre-season to address this issue was crucial, particularly the tour of the United States, as Klopp explained that the cold weather in England can change plans quickly.
"[Sometimes] you really cut off really important training time for set-pieces—and for set-piece training in England, it is quite difficult because it's not very lively," he added.
"I haven't spoken for a while about the weather because it was so good, but it's rather cold [here] and in Germany it is similar.
"In Spain you could work five hours a week on set-pieces, that's not a problem—but because of the weather in England and Germany it is quite difficult because when it is cold you cannot stand around.
"It's never very lively, 'you go there, you go there, you run there, you block here…' and at the end everybody is so cold!
"We did a lot and it's good to see that it worked out somehow."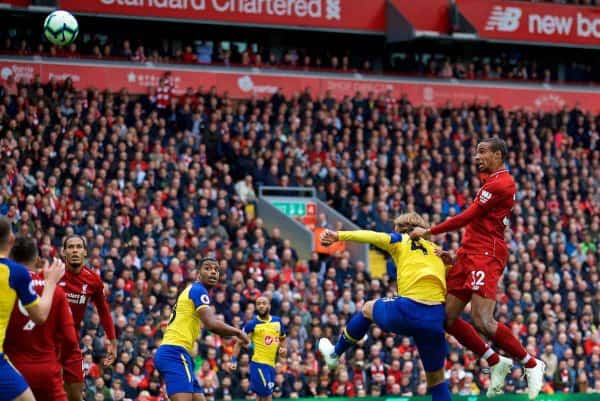 It certainly has, with Liverpool now more of a threat in the final third from set-pieces than they are in danger when opposition sides are awarded them.
This is testament to the manager's approach to marginal gains as the Reds challenge for the Premier League title—and his ability to acknowledge flaws in his approach.
The appointment of throw-in specialist Thomas Gronnemark should hopefully only improve this further, as Klopp aims to turn negatives to positives at Melwood.