Jurgen Klopp admits he is aware of his poor recent record in finals, as he seeks to win his first trophy as Liverpool manager.
Klopp marked three years at Anfield earlier this week – a period that has seen the club transformed under his leadership.
He inherited an average squad that had decayed with Brendan Rodgers in charge and has gradually turned the Reds into one of Europe's most feared teams.
Despite all the many positives Klopp has brought to the table, from stunning football to magical Champions League nights, he is still awaiting his maiden trophy in the Liverpool hot-seat.
It is a stick that his critics use to beat him with, with plenty of exciting football ultimately not leading to silverware.
Klopp has lost his last six finals, including May's defeat to Real Madrid in the Champions League, further allowing some to nonsensically label him as a 'loser'.
Although it is a tag that has little to no substance to it, the boss knows full well that he needs to end the drought sooner rather than later.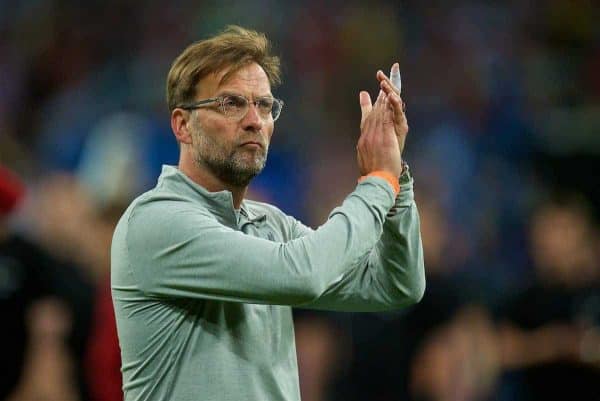 In an excellent interview with JOE's Melissa Reddy, Klopp echoed Bill Shankly's famous "if you are second you are nothing" quote, saying he knows being a runner-up won't do:
"If somebody wants to judge me because of the last three years then I know what people are saying, and it's the truth.

"I lost the last six finals [three with Liverpool: League Cup, Europa League, Champions League], it's not something that's really enjoyable, but you can see it from two points.

"Yes we lost, but at the same time we reached them, that's not cool but in most sports second place is OK.

"If you go to the Olympic games and you come home with a silver medal, it's still something but in football it's nothing.

"It's nothing for me as well, so I don't get up in the morning and say 'I'll reach another final' or whatever.

"It's not like this, I want to win and I know that's the responsibility."
When it comes to Klopp's shortcomings in finals, it would be wrong to absolve him of all blame, but things could have panned out very differently with a little more luck on his side.
Mohamed Salah's injury in Kyiv robbed him of his star man at point when Liverpool were the better side, while Man City edged out the Reds on penalties in the 2016 League Cup final.
The Europa League final against Sevilla in the same year was going smoothly until certain individuals, namely Alberto Moreno, lost the plot in a short second-half spell.
Winning is clearly a huge part of football, and Klopp does now need a trophy to show for his efforts, but it also isn't everything.
On his arrival at Anfield three years ago, Klopp pleaded for time to work, but said he was "pretty sure" he would win a title within four years – whether he meant a league title or a trophy is up to some debate.
Now, Klopp says: "When we win something, this city will explode – I'm sure – in a very positive way."
When being the key word there.
* You can read the full interview, here.