Jurgen Klopp has made an excellent donation to the Support Sean Cox fund, as Liverpool FC prepare to show solidarity ahead of Saturday's game at Anfield.
Reds supporter Cox suffered life-altering injuries as the result of attacks from Roma fans before April's Champions League home tie.
He is currently in the National Rehabilitation Hospital in Dun Laoghaire in his native Ireland, with his brother telling a jury during court proceedings this month "he can't talk, he just whispers."
Cox was put into a medically induced coma but now "can slightly push himself" to sit up in bed, though his brother added "he has to be helped to be pushed up fully."
While justice is dealt to those responsible, Cox's family are adjusting to a new life, with friend Gus Lynch setting up the Support Sean Cox fund earlier in October.
"[Sean] will continue to require ongoing and intensive long term care and support," Lynch wrote.
"The reality is that the provision of this long term care and support for Sean will necessitate significant funding over many years."
At time of writing just under €50,000 have been raised, and Klopp donated a sizeable €5,000 to the cause on Friday.
His message to the lifelong Liverpool fan was simple: "You'll Never Walk Alone. Best wishes, Jurgen Klopp."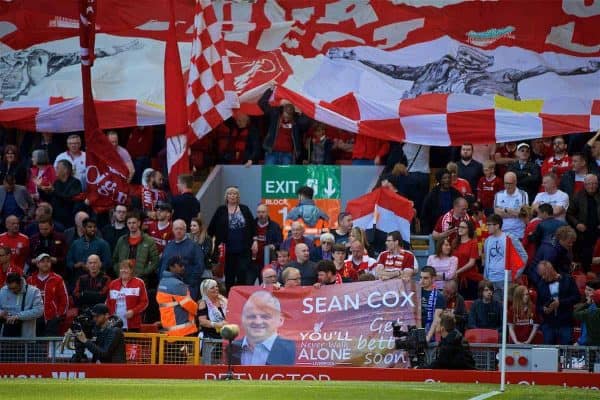 With the Reds taking on Cardiff City in the Premier League on Saturday, the club will dedicate the afternoon to Cox and his family's efforts to support him.
"Volunteers from Liverpool Football Club and Spirit of Shankly are holding a bucket collection in support of Sean Cox ahead of tomorrow's fixture," it was confirmed on Friday.
"While club officials remain in dialogue with the Cox family regarding initiatives to support them, it was felt appropriate that requests from supporters to show their solidarity were acted upon at the earliest possible opportunity."
This will also include LED advertising and tannoy announcements urging supporters to donate whatever they can to provide Cox with a more comfortable rehabilitation.
Proceeds from the LFC Foundation's matchday lottery will also go towards the fund, while a special auction will also be held in the future "which will include unique LFC memorable experiences."
For those who aren't at Anfield on Saturday and wish to follow Klopp's example, donate to the Support Sean Cox fund here.