Jurgen Klopp is known for his attacking, entertaining brand of football and the Liverpool manager has explained why he feels football should "entertain the people".
In words that stand in stark contrast with Jose Mourinho's approach, after the Man United manager gave a 3-minute press conference at 8am on Friday, Klopp spoke about his belief that football should entertain – otherwise, why bother?
"The most important job of football is entertaining the people," said Klopp.
"It's only football. We don't save lives, we don't plant anything, create anything, are not good in surgeries. We only play football, so if we don't entertain the people why would we play then?
"It's not always possible, but it's a really important thing. That's why we have to try to create constantly, or as often as possible."
Klopp also showed his humility by praising Pep Guardiola's side in this respect: "Pep's team are the best at that. I can admit that easily because its so obvious."
Last season, Liverpool and City played each other four times, each scoring nine goals across the four games.
Liverpool were victorious in three of those four games, able to cause problems for a City side who aren't often up against such an opposition, Klopp though knows his team must be at their best to achieve a similar result at Anfield on Sunday:
"We are not bad in a few things and that's why we're not the most comfortable opponent for City in the past but that means nothing for Sunday.
"We need to be at 100 per cent, if not 110 to deal with the quality of City."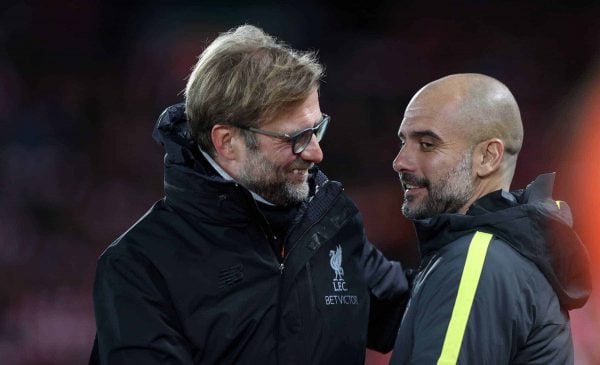 Guardiola, speaking in his pre-match press conference, spoke similarly, saying: "I never understand going on the bigger stages and try to just defend.
"It is boring and secondly our team is not built that way, I will try to convince our players to be ourselves, even at Anfield. "
Meanwhile, Klopp also spoke about how he enjoyed last weekend's entertaining 1-1 draw with Maurizio Sarri's Chelsea: "What can I say, I loved that game! This was a very good game."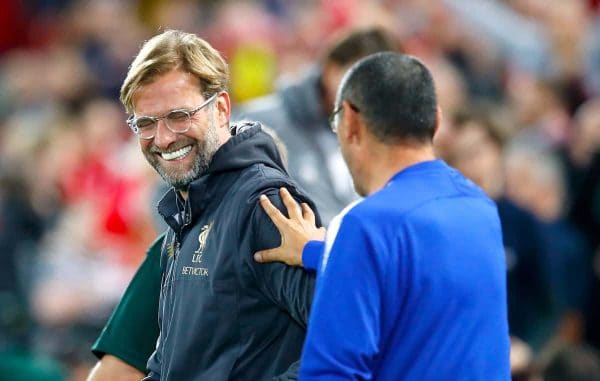 Guardiola's City have scored 21 goals in their opening seven league games, with Klopp and Sarri's sides each scoring 15. Mourinho's United have 10.
Klopp's words arrived during an extended 25-minute press conference on Friday afternoon, whereas Mourinho gave short, terse answers during his press conference that lasted less than four minutes early on Friday morning, even opting not to answer when asked if he is you doing all he can to win matches.
It must be depressing to be a United fan with Mourinho as your manager.