Last season, Roberto Firmino was one of Liverpool's best—and most important—players from a centre-forward role, but recent games have seen him feature deeper than usual. Is it the right move from Jurgen Klopp?
There are always doubts about Firmino, it seems.
Doubts from Brendan Rodgers about what position to play him in, or even how to get him into the team at all. Doubts from Tite this summer, over whether Firmino should have been Brazil's starting striker at the World Cup.
And even doubt from Reds fans, before they'd really been shown what the former Hoffenheim man could bring to the team.
More recently, there were doubts that the Reds could do well with him as the No. 9; after all, you need a 20-goal-a-season striker to challenge for major honours. Or is it 25 a season?
Either way, Bobby chalked off both of those milestones last term, and then some.
But now it seems even Klopp has doubts: not about if Firmino is good enough, but perhaps about whether he can eke out even more from his incredibly gifted attacker, altering his role in the side to make Liverpool a more potent force overall.
The question is, will this come at the expense of productivity and star-showing performances from the man himself?
Personal best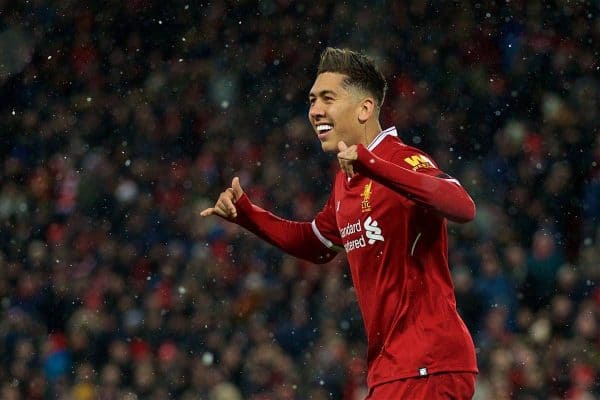 A selfless, hard-working, brilliant individual, Firmino encapsulates everything that the modern forward requires.
He can score with his head, both feet, attack crosses, take on defenders, shoot from range or work the channels—all while being a great foil for those alongside or around him.
Firmino scores, creates, wins back the ball.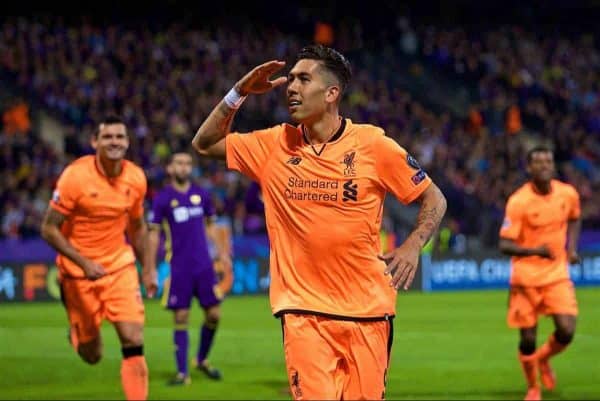 On a tactical level, he was vital for the Reds right from the moment Klopp walked through the Melwood doors, but last season he became seemingly the perfect forward in every way for this team.
With the No. 9 on his shirt, he developed even further: a predatory threat to go with his incisive passing and relentless pressing.
A tremendous haul of 27 goals (plus 17 assists) was not just his best return for Liverpool, but for his entire career.
He'd found, or Klopp had for him, his perfect role in a team style which suited his attributes down to the ground.
So why the change?
Klopp's on it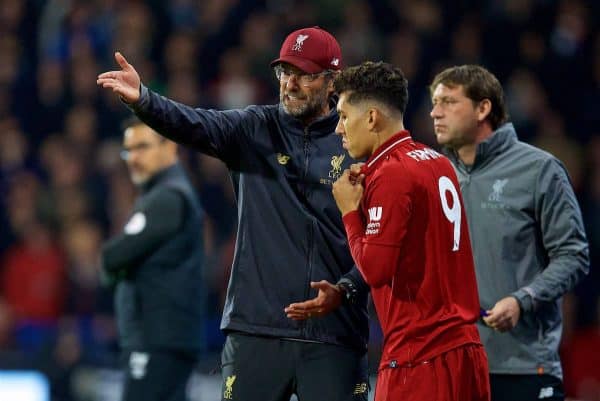 Changes or not, better for Firmino or not, we have to acknowledge that Klopp has known all along, with perfect clarity, how to get the best out of the Brazilian.
After a difficult start to life at Liverpool, Klopp immediately helped Firmino become a major part of the side, ousting Divock Origi and Christian Benteke to be the preferred option before long.
As a centre-forward, rather than a support striker, Firmino has had to shoulder more responsibility as time has gone on: link-up play, penalty box presence, regular goal threat.
Klopp hasn't just gotten the best out of Firmino, he's put players around the Brazilian who in turn have their own best traits highlighted by him.
Sadio Mane's in-from-out runs, Mohamed Salah's love of playing a one-two wall pass, even the deeper-lying players, centre-backs or midfielders, who love to pass along the ground from deep: Firmino finds them all, links with them all, is available to them all at any given moment.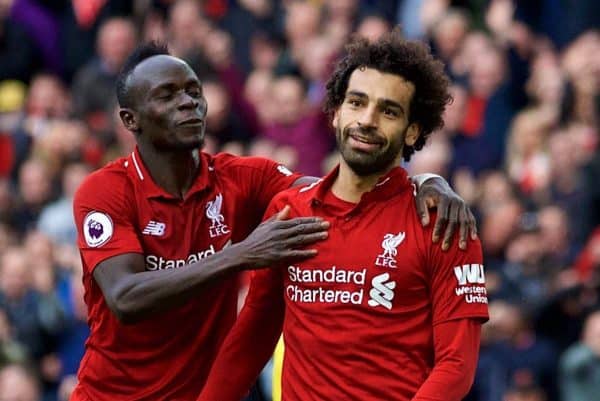 Now this season has come a new approach, right from the first match of the campaign.
It started with Firmino operating almost at the tip of a diamond in open play, allowing Salah and Mane to operate high and central, and in recent games has seen Firmino start as an outright No. 10, behind Salah the striker in a 4-2-3-1.
The question for Klopp is: Does he see something even further, even more to come from Firmino himself in this role? Or is it more about helping the tactical development of the team with extra support attacker, an all-rounder, supplementing the pace and lethal edge of Salah and Co.?
It's an important question because it will impact on how Firmino is seen, by supporters and pundits alike.
As a '10,' he's much more Steven Gerrard than, say, a Mesut Ozil-type, to put it into Liverpool terms.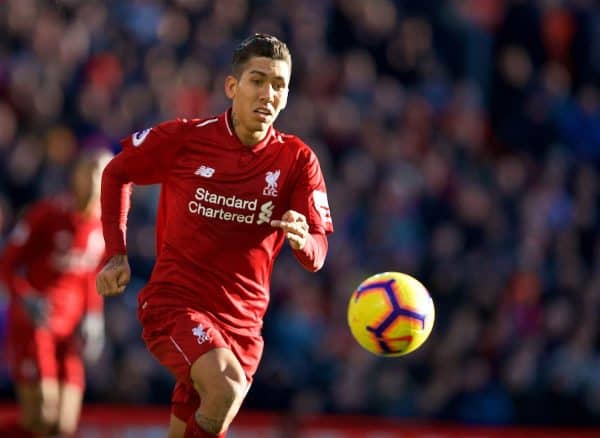 Which is to say, he's a strong runner from deep, he'll drop into the midfield line, he can be a goalscorer through movement and timing—but much less a dribbler or a more static, through-ball-playing stereotypical playmaker.
With Firmino in there, it's two systems in one: 4-5-1 off the ball, 4-4-2 on it, rather than just a 4-2-3-1 at every stage as there might be with a true No. 10 in place.
That's one positive for the Reds with Firmino in this altered role.
Something lost, something gained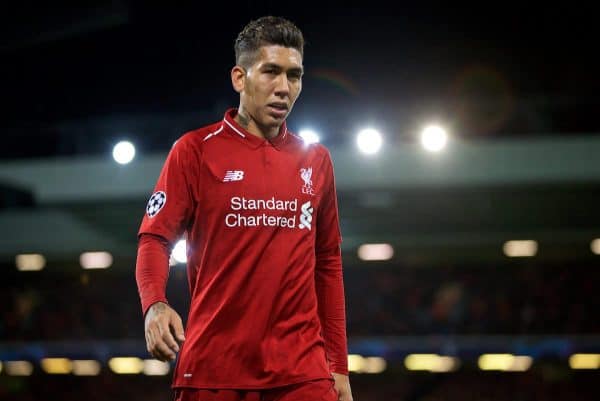 Getting Firmino on the ball in deep areas is no problem, in and of itself.
At the Reds' ridiculous best of 2017/18, he was everywhere: edge of the centre circle, inside-left channel, sliding into the six-yard box to poke another goal home.
On the ball, he does it all, so it doesn't initially matter where it takes place.
But as a second forward, something there is lost.
He's no longer the one popping up at the top end of the pitch, dropping deep to draw a defender out—then exploiting the gap a few seconds later after his marker has lost sight of him.
If Salah makes that run, Mane finishes the goal or Daniel Sturridge stretches the defence in behind, all is well.
Firmino, from deep, even provides a better goal threat for a rebound or second ball than the likes of James Milner or Gini Wijnaldum would.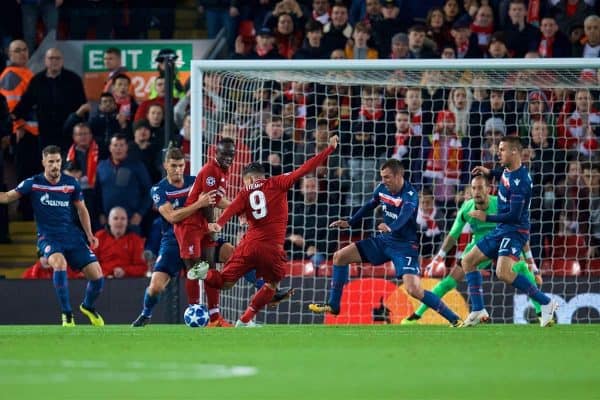 But the surprise element of Firmino's drop-and-dart run is gone, and perhaps something of the untrackable nature of Salah's inside forward play, too.
Keeping the Egyptian high and central has worked wonders at times, of course. We want him nearer the goal, Firmino does plenty of off-the-ball work and using the Brazilian over a third midfielder effectively gets another attacker on the pitch.
Against some teams, such as Cardiff and Red Star, maybe that's the right ploy.
And there is an attractiveness about the possibility of seeing Sturridge and Firmino in tandem at times, too.
But against other teams, and as a long-term tactical strategy, is losing part of Firmino's penalty box-threat, and part of his space-creation by way of dropping deep, getting the best out of him?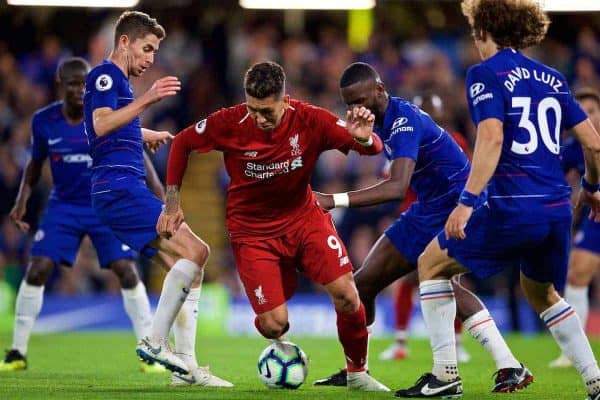 There is an indefinable element missing from Firmino's game when deployed as the second forward.
He's still capable of creating or scoring, still set to play a big part, but this latest move from Klopp might just be taking advantage of his most selfless player.
It could make the team more of an overall threat, given time, and that will remain the most important aspect.
But it might just detract from Firmino's own best game and his ability to reproduce the stunning campaign he managed last year.