Trent Alexander-Arnold says he plans to stay at Liverpool for the entirety of his career, as well as aiming to captain his boyhood club one day.
It has been a remarkable rise to fame for Alexander-Arnold, who has gone from academy hopeful to Reds and England regular in under two years.
There are few more promising young players in world football, with the 20-year-old excelling in a right-back role but also touted as a potential future midfielder.
Having a local lad with wonderful ability in the team is priceless and Alexander-Arnold is taking on the mantle from Steven Gerrard—and seems to be thriving under such responsibility.
In a superb interview with the Times' Henry Winter, the likeable full-back said he has his eyes set on remaining at Anfield until he eventually hangs up his boots, praising the fans in the process: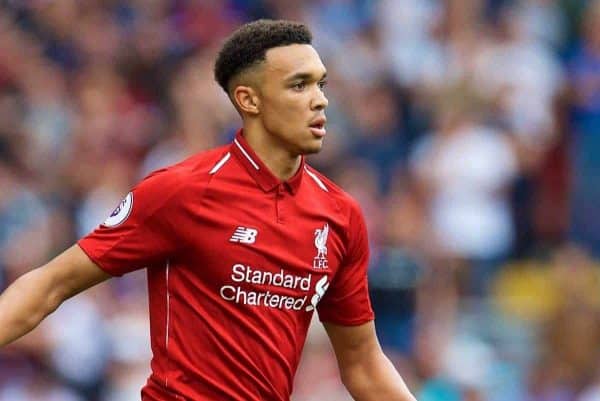 "There is nowhere else I'd rather be than Liverpool. Somewhere I want to stay for the rest of my career is Liverpool.

"It's what I've always dreamed of. Liverpool are special. It's completely down to the fans. Whether we are winning or losing we always have their love.

"I remember Istanbul. Only Liverpool could fight back from 3-0 down. The players said they could hear You'll Never Walk Alone at half-time.

"Not many teams' fans would still be there, singing their hearts out at 3-0 down, after making a long trip to Turkey.

"A lot of teams' fans might have left early, tried to get an early flight home, but not Liverpool fans, we stay to the end."
Alexander-Arnold is also keen on emulating Gerrard when it comes to skippering Liverpool, with the young Englishman adding:
"I want to become captain one day. That's definitely a dream of mine.

"I hope with dedication, the right advice and the hard work that still needs to be put in that one day I might achieve that dream of becoming captain, something that me and my family will be very proud of if it comes."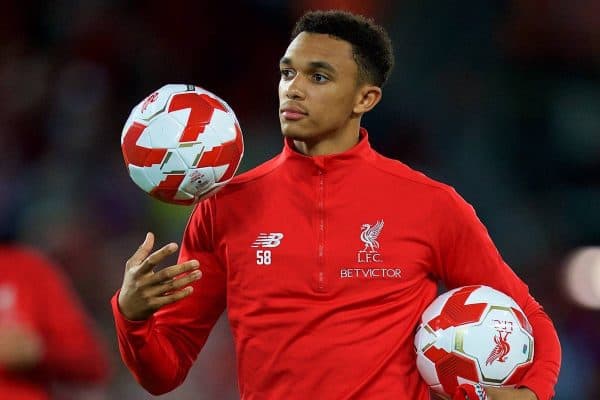 While Alexander-Arnold the footballer is a joy to watch, his off-field work is something that makes him an equally admirable figure.
Despite his tender years, he knows how important using his fame to good to use is, especially in terms of helping the local community.
This includes spending Christmas this year serving lunch to those in need, and this selflessness is a trait he believes he has inherited from his parents:
"Something that got drummed into me as a child was to help people that are less fortunate.

"My mum and dad taught me that hard work and always being humble is the main thing. Everyone is equal.

"Everyone should be given an equal opportunity. I just see myself as a normal lad who plays for the club he loves and trying to give back to the local community.

"Liverpool is my home, the place I love and I want to see it thriving.

[…]

"If I can change someone's life that's the best thing that will come out of my week.

"Because it is not just about being a good footballer, you have to be a good person as well, first and foremost.

"You've got to have the right morals. At the root of every good footballer is a good person, someone hard-working and dedicated."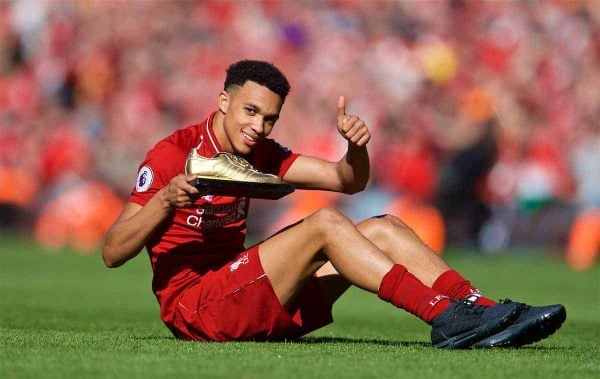 Jurgen Klopp has built a squad full of great talent but also humble individuals—two categories that Alexander-Arnold easily falls into.
He can be the poster boy at Anfield for many years to come and his chances of captaining the club he grew up worshipping are surely great.