Liverpool goalkeeper Alisson insists it is too early to assess his start to his career in England after admitting he was expected to be perfect after his £65 million transfer.
The 26-year-old briefly became the world's most expensive goalkeeper with his move from Roma in the summer and his start to the campaign appears to have justified the Reds' significant outlay.
He has kept seven clean sheets in 12 Premier League appearances and just five goals conceded is the club's best return in the competition after a dozen matches.
Alisson had one major hiccup when he conceded a goal at Leicester trying to trick his way out of trouble and the Brazil international believes it is premature to deliver a verdict on how he is performing.
He prefers to share the credit with the likes of Virgil van Dijk and Joe Gomez, who have done so well in the back four in front of him.
"I came here for a high price and some people expect to me to be perfect—it is not easy but I'm trying," he told reporters ahead of Brazil's friendly against Uruguay at the Emirates Stadium.
"It is really early to say if I'm satisfied with how I'm playing but I'm working to be perfect, I'm working to be better.
"I am really happy with my move to the Premier League. I'm working really hard to help Liverpool to achieve their goals.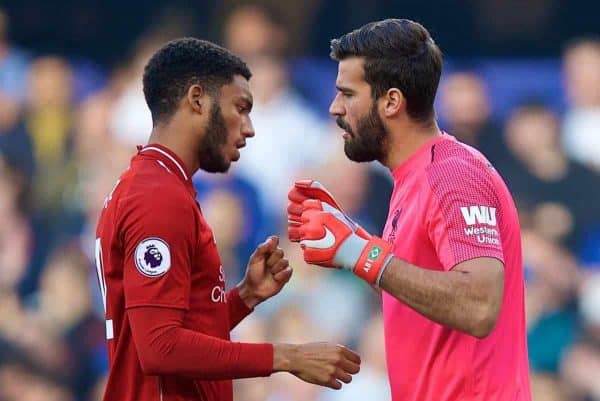 "The Premier League has great intensity, you have to be really focused all the time.
"One thing that is important here is the concentration and focus. They are asking me to be really mentally strong.
"My team have a really great defence so it is not often the ball comes near my net but I have one or two opportunities to show my quality, so I need to be focused all the time."