With the Premier League starting to take shape after the 10-game mark, the gulf between those chasing success and those simply surviving is becoming stark.
If Liverpool's 2016/17 campaign was characterised by marquee victories over fellow 'big six' sides, two years on and the balance has shifted.
Now, 10 games into the league season, the only points Jurgen Klopp's side have dropped have come against Man City and Chelsea, drawing both, with the Reds winning all eight of the others.
Those wins have come against West Ham (13th), Crystal Palace (14th), Brighton (11th), Leicester (12th), Tottenham (fifth), Southampton (16th), Huddersfield (20th) and Cardiff (17th).
Notably at just over a quarter of the way into the season, seven of those sides are currently residing in the bottom half of the table.
Spurs stand out as the anomaly, with the 2-1 win at Wembley further strengthening Liverpool's title claim this season, but with five of those seven yet to record more than two wins of their own there is a clear trend.
Only seven sides in the English top flight this term have won more than half of their games, too, and with a five-point gap opening between 12th and 13th the trend here is growing disparity.
The key story at this stage of the campaign is, for better or worse, that the gulf between the 'big' and 'small' sides is increasing.
For Better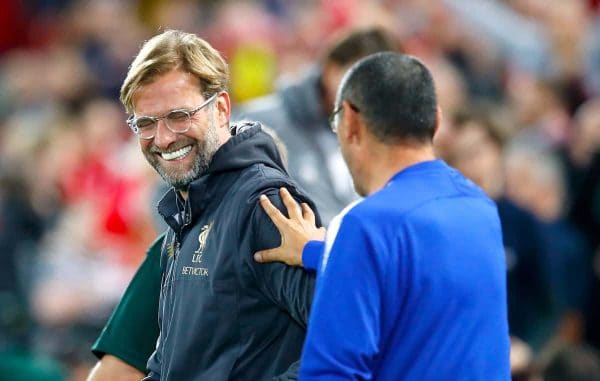 From a selfish perspective, it is difficult to paint the start of this season in a negative light, with Liverpool still unbeaten after 10 games.
They are behind last term's record-breaking City only on goal difference, having scored seven fewer and conceded one more, and have done so while also maintaining pole position in the Champions League.
The Reds' victories over sides such as Palace, Brighton and Huddersfield are the result of a new-found defensive grit, with the likes of Alisson, Virgil van Dijk and Joe Gomez contributing to six clean sheets in the league.
Having netted 20 in 10 games, too, Liverpool have recorded their best goal difference (+16) at this stage of the season since 1990; then, under Kenny Dalglish, they had won nine and drawn one in the First Division.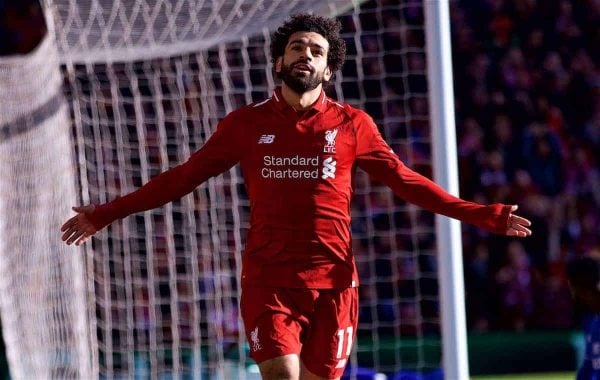 Back then, the Reds were defending champions, but now are chasing the title-holders, and doing so with more conviction than in any season in a decade, with their best points tally since 2008/09.
According to football writer Huw Davies, the following exemplifies the unprecedented start to the Premier League season:
Naturally this comes at the detriment of those below them, as those points have to come from somewhere.
For Worse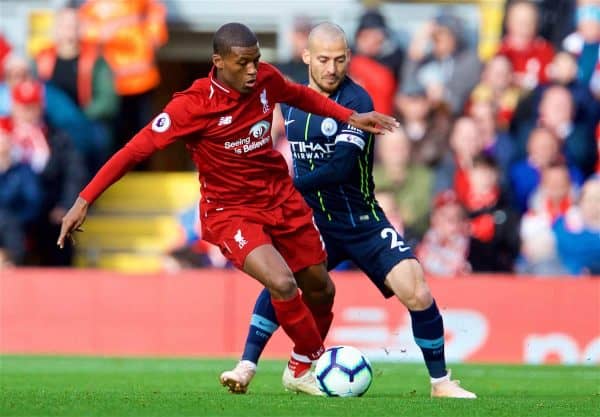 Davies adds: "After 10 games in each season from 1992/93 to 2017/18, the top half had, on average, 66 percent of the points in the league.
"That percentage never rose higher than 71 percent in 26 years. In 2018/19, it's 74 percent."
The distribution of points, though dictated by performance, has slid rapidly in favour of those within the top half, and 158 of the 279 points (57%) on the board so far are held by the top seven.
Eighth-placed Man United (17) aren't far behind Watford, but they certainly are in terms of their main rivals, with a nine-point gap between Jose Mourinho's side and both City and Liverpool.
It would be difficult to bemoan this gap even from an objective standpoint, but there is certainly an argument that there is a lack of competition within the top flight this season.
This is most pertinent in the eight spots below Leicester, with 13th-placed West Ham as close to the foot of the table as they are the Foxes.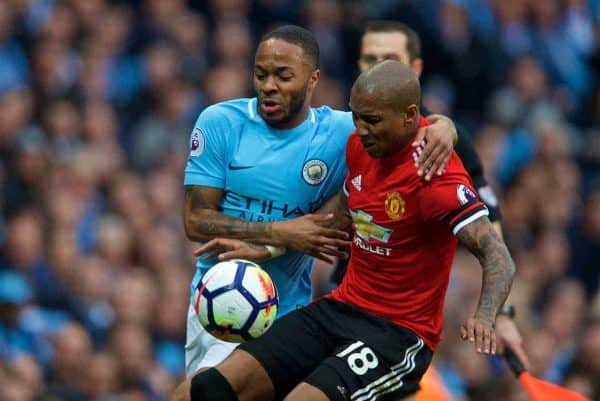 At this time last season, 12th and 13th were equal, and the biggest gap between a single position in the table was five points, between first (City) and second (United).
Now, the 'lesser' sides in the league are at odds with those in the upper tier, and from Liverpool's perspective this has led to a clear distinction between the challenges posed.
Klopp alluded to this earlier in October, after a tough run that ended with the 0-0 draw with City, saying "now we have games where we will probably have more possession than we had in all the other games."
This highlights the concern that sides now set themselves up against the likes of the Reds, City and Chelsea to simply not lose—and unlocking those rigid defences is evidently key to success.
While it would be hyperbolic to compare this to the monopoly of La Liga, this certainly jars with the notion that the Premier League is the most competitive in world football.
Why Has It Happened?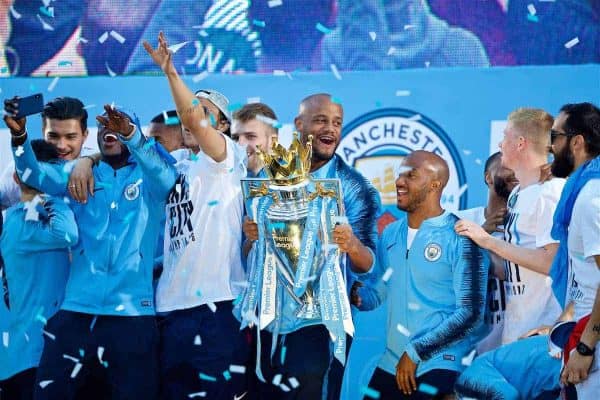 Pep Guardiola set the bar higher than ever before in May, with his City side securing 100 points on their way to the title—and Bernardo Silva believes that has spurred their rivals on.
"I think it will be harder [to repeat that feat] because last season nobody was expecting us to win as many games and to reach that level of points," he explained.
"So this season the teams know they have to do better to beat us."
Silva's notion is that after City's historic achievement in 2017/18, the likes of Liverpool, Chelsea, Arsenal and, in his words, even Spurs have stepped it up.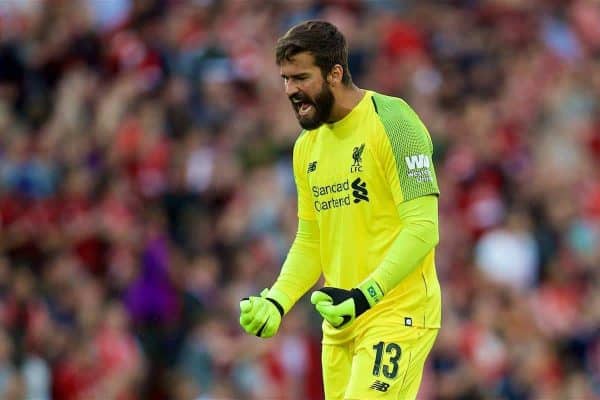 In some instances, this could certainly be seen in the summer transfer window, with the current top three all breaking their club records for a single outlay, while Arsenal did so in January.
It comes as no surprise, for example, that the three goalkeepers with the most clean sheets after 10 games are Ederson (seven), Alisson (six) and Kepa (five).
Though the fees paid don't correlate with the shutouts recorded, and in fact the opposite is true, these are the three most expensive goalkeepers in world football.
And while figures for TV and prize money are ever-increasing for all clubs, those who finished in the top six last season received at least £22 million more than seventh-placed Burnley.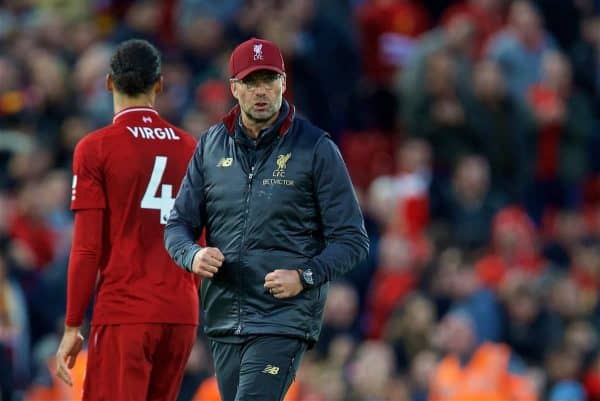 In June of this year, the 'big six' also won their battle to be given a larger share of the international TV rights money from the 2019/20 season, with this and earnings from European competitions only widening the gap further.
The assumption, therefore, could be that while those chasing City and the title this season have been fuelled by their exploits last time out, others could be opting to consolidate their losses.
Using Liverpool as the example, for obvious reasons, their clashes with those currently in the bottom half of the table present telling statistics: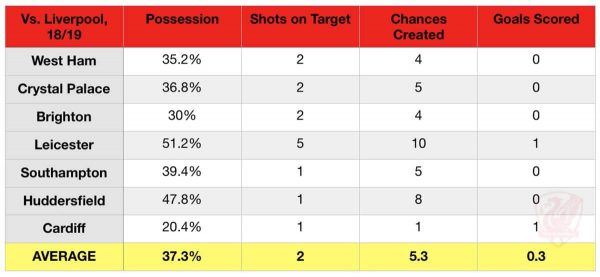 The 2-1 win over Leicester is the clear outlier, with the Reds having conceded just over half of the possession and more shots on target (five to four), created fewer chances (eight to 10) and shipped one of only two goals from those seven games.
But, on average and even skewed by that display at the King Power, it is striking that Klopp's side have had 62.7 percent of possession against sides currently in the bottom half, conceding an average of two shots on target per game.
There remain the ambitious few, chiefly Bournemouth and Watford, reaching for the brass ring, but the evidence is laid out on the table at this stage.
Will It Remain?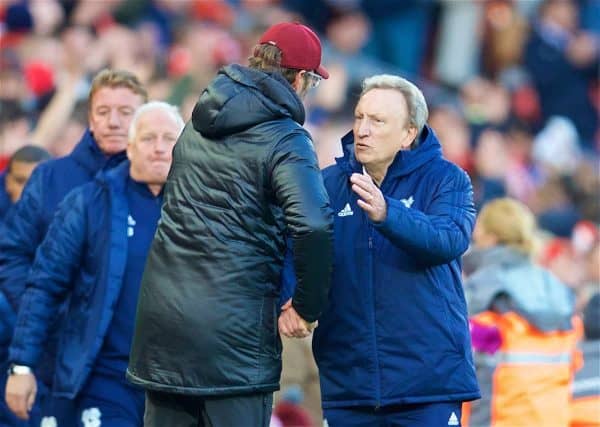 Cardiff manager Neil Warnock vocalised this ahead of their 4-1 defeat to Liverpool in October, claiming "it is virtually impossible for any team in the current game" to beat Klopp's side:
"It must be lovely being in charge of a team like that but [Klopp]'s created it.

"They haven't always been like that. He saw what weaknesses there were and he's shored them up.

"Yes, he's spent big money but at that level—you saw how much they made in the Champions League last year.

"They've already paid for most of the players they've signed. He's an exceptional manager.

"We're very lucky to have the managers that we have in what is the best league in the world."
Warnock's sentiment was one of praise and admiration, but also highlighted a defeatist, almost voyeuristic element that could be seen throughout the 'lesser' sides.
The prospect of Liverpool having "already paid for" the likes of Alisson, Fabinho and Naby Keita due to their remarkable £72 million windfall in Europe does point towards the need for frugality elsewhere.
It is often overlooked that every deal in modern football is structured over a number of years, and therefore success could be seen to breed success.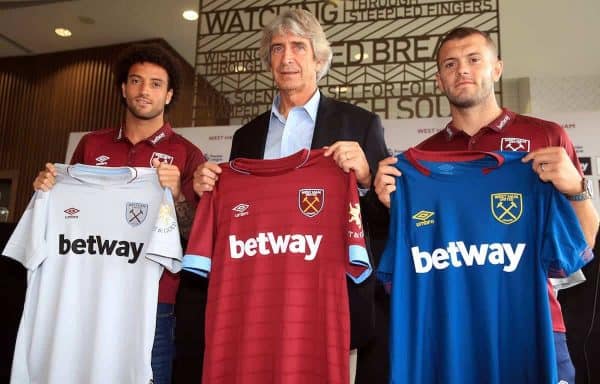 There are sides such as Fulham (£105.3m), Leicester (£104.3m), West Ham (£99m), Wolves (£59m) and Southampton (£56m) that spent heavily with less of a return so far, though, and perhaps Watford (£24m) prove that it can still be done the 'right' way.
But the disparity between those at the top and bottom ends of the Premier League remains alarming, and that already at this stage of the season the narratives are the title fight and relegation battle.
Liverpool supporters should clearly enjoy this, as Klopp, Michael Edwards and FSG have coalesced to ensure the club are on an upward trajectory.
For the Premier League to remain the most competitive in the world, however, there is clear structural change required among those beneath the Reds.