Mo Salah has given an interview in which he speaks on various Liverpool-related firsts, including playing at Anfield and hearing a first Kop song.
The Egyptian King has rediscovered his scoring touch of late and netted his 50th goal in Red recently.
To celebrate, Liverpoolfc.com spoke with the forward and asked him about his early memories of the Reds, thoughts soon after joining the club…and one of his team-mates!
As is to be expected by now, Salah comes across as thoughtful, appreciative and humourous with his responses—with close friend Dejan Lovren the target for the latter!
Playing as Liverpool on games consoles is a story often heard about signings, but Salah ascertains that it's true in his case.
"I think I first heard of Liverpool when I was 10 or 11, something like that. The story of me playing as them on my PlayStation is true; sometimes it was as other teams, but most of the time I was Liverpool.
"Back then, I could never have imagined I'd be here one day, but it was always a dream of mine and you have to try and follow them."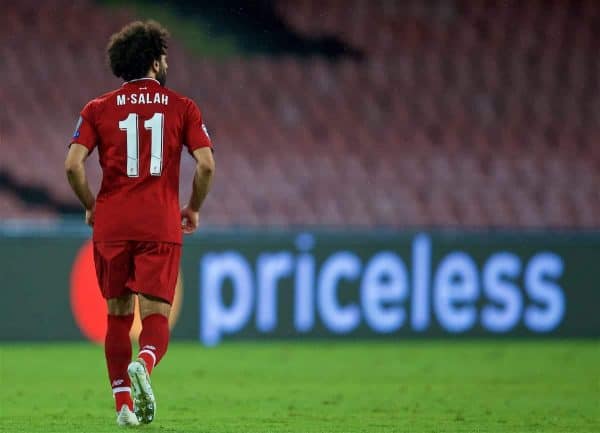 It's fair to say that particular dream has come true and in more scintillating fashion than Salah himself could have imagined.
The No. 11 almost moved to Liverpool several years ago, before heading to Chelsea instead, but says a year ago when the opportunity re-arose, he had no doubts about the right thing to do.
"When I went to Basel from Egypt, I had a plan in my mind that I would hopefully one day come to Liverpool. There was a chance before, but at the time it didn't work for both sides.
"When there was interest again last year, I was very interested in coming to Liverpool straight away in my head, but you also have to see what the plan for you is and how you will fit into it. Here I am now!"
On the fans and playing at Anfield, Salah was particularly effusive in how grateful he feels.
The fans cheering on his daughter as she took to the Anfield pitch at the end of last season clearly sticks in his mind—"the only time the fans have ever booed me [was] when I took the ball off her!"—and says it was a "great day" when he was serenaded by the Kop after winning the Golden Boot.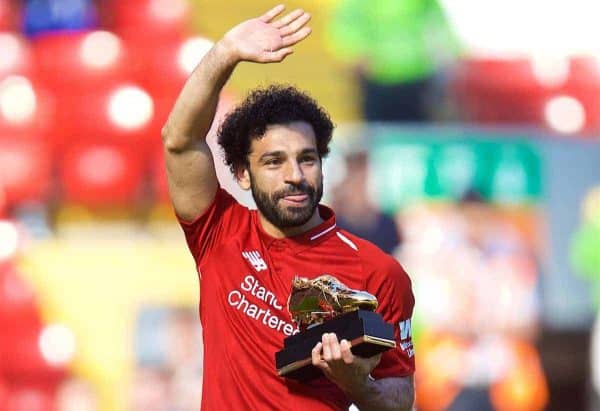 "The [song] I like the most is the 'Egyptian King' one…After 10 or 15 games, I first heard it…I felt amazing.
"Honestly, the fans singing my name filled me with emotion and when I heard it during the game, it filled me with adrenaline… wow. I had only been here two or three months, yet they already had a special song for me."
Of course, there were also questions on the players and staff he interacts with at Melwood and how he first found them.
Since Salah joined, a close friendship with Reds' centre-back Lovren has grown—and the forward has alluded to having a great influence over his home nation with the Croatian's popularity!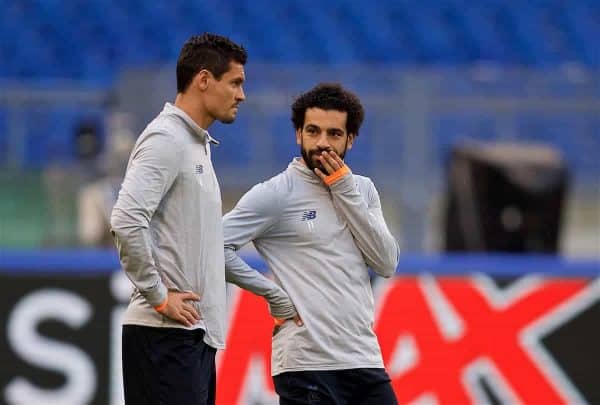 "We are always joking together, we're very close friends now and like to have fun. He is always posting jokes about me on social media, but I like it.
"In fact, I always tell him I am making him famous in Egypt when he publishes a picture with me in it! He is a great guy."
Salah has returned to form with four goals and two assists in his last three games and his happiness on the pitch is once again evident.
With the forward in such a great moment it only bodes well for Liverpool—and fans will be hoping that continues at the weekend against Arsenal.