Andy Robertson has acknowledged how Xherdan Shaqiri "has hit the ground running quicker than he did," highlighting his immediate importance to Liverpool.
Shaqiri came off the bench to score twice and win the game as the Reds beat Man United 3-1 at Anfield on Sunday, capping a devastating performance from the hosts.
United had little chance throughout the game as Jurgen Klopp's side dominated from kickoff, firing 36 shots on goal to the visitors' six and ultimately prompting Jose Mourinho's dismissal on Tuesday morning.
Their overwhelming play would have mattered for little without Shaqiri's goals, however, and the Swiss brought his tally for the season up to five in 17 games.
Crucially, these have come in just 802 minutes, with the 27-year-old averaging a goal or assist every 100.3 minutes—discounting the two he effectively teed up in the 3-0 win over Southampton in September.
Shaqiri is proving a very popular member of the squad, and at just £13.75 million he was a bargain signing—much like Robertson, who was brought in from another relegated club, Hull, for £8 million in 2017.
Speaking to LiverpoolFC.com, the left-back attested to the swift impact Shaqiri has made on Merseyside as a testament to his quality.
"He is seizing his chance and good on him," Robertson enthused.
"Shaq has hit the ground running—quicker than I did—so credit to him. He has learned the way to play.
"He has been fantastic all season and a real threat for us and his stats this season are very good, so long may that continue."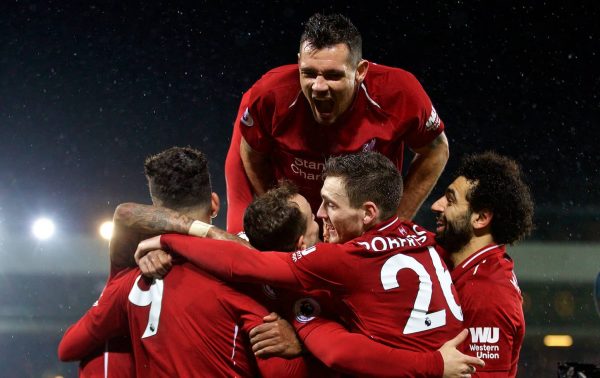 Liverpool have now seen seven of their 37 league goals come through substitutes so far this season, compared to just three last time out, with others coming from Roberto Firmino, Daniel Sturridge and Divock Origi.
For Robertson, that is "the beauty of having a good squad," with the frustration of being left out spurring players on to make their mark when brought on:
"You look at the bench and there is probably a few people disappointed not to start, rightly so and we have all got positions to fight for and that is the beauty of having a good squad.

"Shaq comes on and shows everyone what he can do and scores the two goals and he will take the headlines but the other subs that came on…

"Hendo came on and shored up the midfield, won every tackle I think, and never lost a header against Fellaini, which is always tough.

"So these guys were disappointed not to play before kickoff but they come on and make such a difference for us.

"It was a real all-round performance."
But the majority of the praise after Sunday should remain with Shaqiri, as despite arriving as a perceived gamble, he has settled quicker than the likes of Robertson and Alex Oxlade-Chamberlain last season, and is already key.