Liverpool looked to have reclaimed their strength as they bulldozed Bournemouth on their way to a 4-0 win to send a message to their Premier League rivals.
There has been a train of thought that we've just milling around towards the top of the Premier League so far this season.
The mantra has been "just imagine if we start playing." Imagine no longer.
Outrageous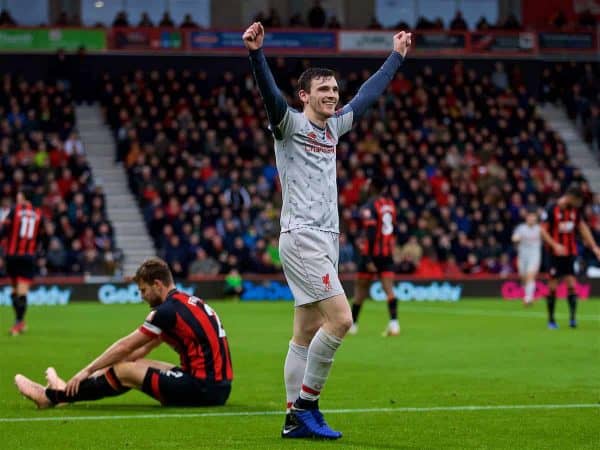 That was outrageous. In so many ways, that was outrageous. You could level that accusation of outrageousness about our first goal being a 10th of a yard offside.
You could level that accusation of outrageousness about the recriminations surrounding how the officials missed that 10th of a yard, despite Mohamed Salah running across the Bournemouth defence, rather than through it.
Easy to be magnanimous when your team is the beneficiary of a stroke of good fortune, when it comes to the liner's flag staying down, but Salah's movement was so intelligent for that first goal that it was easy to get the call 'marginally' wrong.
The incident was difficult to spot, but the goal well taken.
You could level that accusation of outrageousness about the assured manner in which Salah made it 2-0. This was very much a glimpse of the Salah of last season. The chrysalis has cracked open and he is beginning to stretch his wings.
You could level that accusation of outrageousness about the confident way in which the belligerent Steve Cook scored his own goal.
He will never score a better goal at the right end of the pitch, should he try for 1,000 years. This was John Barnes-esque, almost.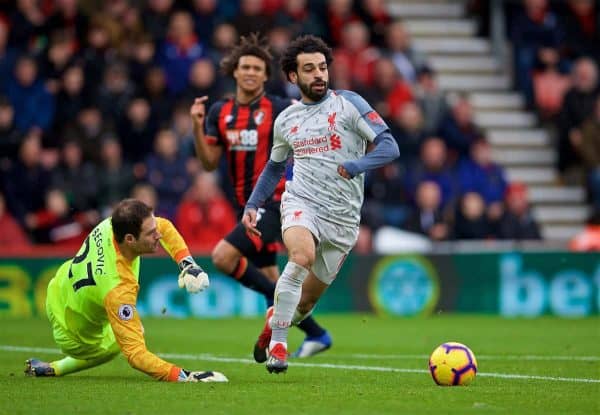 You can certainly level the same accusation of outrageousness about the impudent style with which Salah completed his hat-trick and made it 4-0.
Not only did he swerve his way around the 'keeper once, he did it twice, before going full-on school playground ethos by prodding the ball in the net when he was looking in another direction. It was a goal scored with a childlike joy.
I think we will look back on that third goal of Salah's at Bournemouth as the moment he renewed his vows to outrageous football.
Within this, there was a degree of the carefree to Salah's football. When he hits levels like this he inhabits that 'zone' when he plays without worry. All the fear belongs to those pitiful defenders who must face him.
The Premier League's Seventh Wonder?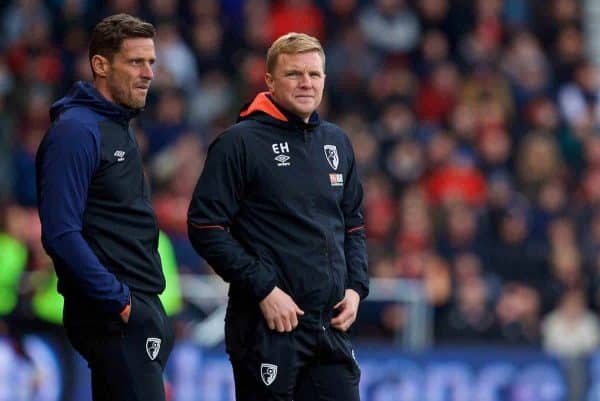 This is a win which shouldn't be undervalued. Of course, every win is of value, but when a team is on a winning streak it is easy to be blasé about the quality of the opposition.
Bournemouth are within the midst of a fine season. There is every chance that they will end the season as the highest-placed Premier League club not to be classed as a member of English football's 'big six'.
They always set out to 'play' football. Their spirit and the way they approach the game should be applauded.
That they are led by an English coach makes it all the more remarkable. Eddie Howe should be the template for up-and-coming English coaches. Bournemouth deserve respect.
The perceived ease with which we won this game should be seen as one of the biggest compliments we've had this season.
Clicking through the gears, we have made the perfect response to losing in Paris. The feel-good factor generated by the comedy manner in which we won the Merseyside derby has acted as a wonderful springboard.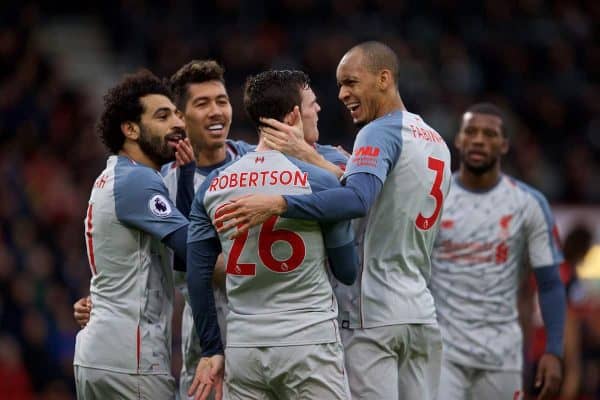 Seven goals scored in the last two games, some giant performances have been made at Turf Moor and Dean Court.
It leaves a feeling that Alisson, Virgil van Dijk, Naby Keita and Salah should be prowling around the city next May, with the Premier League trophy, as an alternative to Jean-Luc Courcoult's gargantuan puppets, which went into retirement after their last visit to the city in October.
On days and in games like these, they share a similar stature and aura.
Saturday Was a Good Day

So, to the top of the Premier League we went, in the slip-stream of this one.
Many felt it would be only for a short few hours, but it felt to me that Chelsea would pose a danger to Man City, as they had been backed into a bit of a corner by losses to Tottenham and Wolves.
This wasn't a good time to face Chelsea.
Imagine throwing out the type of shapes that City have this season, only being inflicted with a first league defeat in December and not being top of the league.
We will remain top of the table until Everton lose at Eastlands in the early kickoff on Saturday. We will then have the chance to reclaim it at home to Man United on Sunday.
Of course, we have Napoli to face between now and then, in a make-or-break Champions League engagement and it almost feels like an inconvenience to me at the moment.
I'll be Euro-centric once again by the time I wake up on Tuesday morning, but right now I'm waiting impatiently for the next league game.