Liverpool academy star Rhian Brewster has joined Raheem Sterling in speaking out against recent examples of institutional racism in football.
Sterling was the subject of alleged racist abuse from Chelsea supporters during Man City's 2-0 defeat at Stamford Bridge on Sunday, with the Metropolitan Police now investigating claims.
This came just a week after a Tottenham supporter was arrested for throwing a banana skin at Arsenal striker Pierre-Emerick Aubameyang during the North London derby, and both incidents are unfortunately signs of a growing trend.
For Sterling, who spent five-and-a-half years with Liverpool before joining City in 2015, this has seen him become the focus of a bizarre, extended campaign in the British press.
And taking to Instagram on Sunday morning, the 24-year-old held up portrayals of team-mates Tosin Adarabioyo and Phil Foden as examples of underlying racism in the media: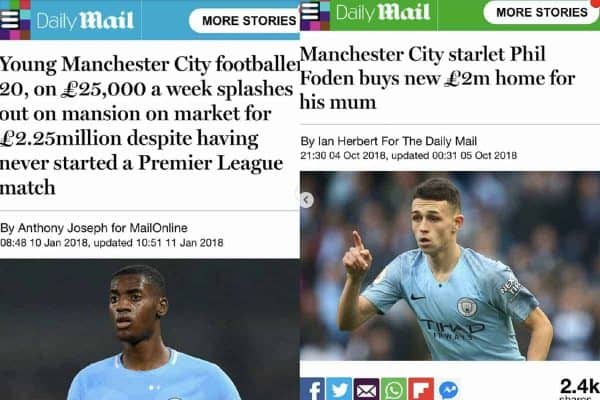 "Good morning, I just want to say, I am not normally the person to talk a lot but when I think I need my point to [be] heard I will speak up.

"Regarding what was said at the Chelsea game, as you can see by my reaction I just had to laugh, because I don't expect [any] better.

"For example, you have two young players starting out their careers; both play for the same team, both have done the right thing.

"Which is buy a new house for their mothers, who have put a lot of time and love into helping them get where they are.

"But look how the newspapers get their message across for the young black player and then for the young white player.

"I think this is unacceptable. Both innocent, have not done a thing wrong.

"But just by the way it is worded this young black kid is looked at in a bad light, which helps fuel racism and aggressive behaviour.

"So for all the newspapers that don't understand why people are racist in this day and age, all I have to say is have a second thought about fair publicity and give all players an equal chance."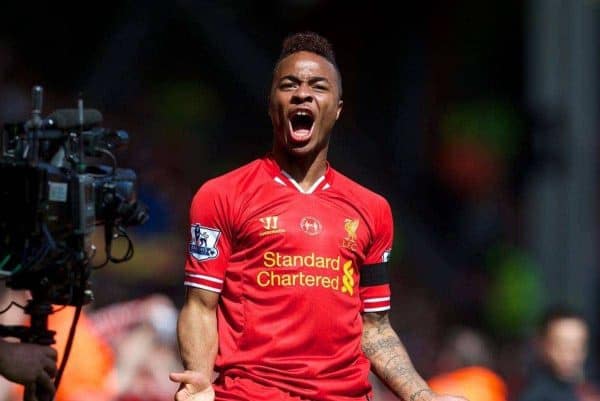 The extent of Sterling's treatment by publications such as the S*n, the Mail and even the Times was highlighted in a thorough Twitter thread by user Adam Keyworth (@adamkeyworth).
But this stretches back to his time at Liverpool, when his private life was intensely scrutinised after breaking through into the first team at the age of 17, most notably regarding spurious claims he had already fathered multiple children.
The reality here is that this is indicative of an institutional racism, acknowledged by high-profile journalists such as the Mirror's Darren Lewis and the Times' Henry Winter and Jonathan Northcroft on Sunday.
Liverpool's head of club and supporter liaison Tony Barrett took to Twitter to applaud Sterling for his efforts in tackling such a widespread, and largely ignored, issue:
It takes some bollocks for a young footballer to stand up for himself the way Raheem Sterling has today. It might be an idea if what he has said is listened to rather than just being dismissed by the usual big noises.

— Tony Barrett (@TonyBarrett) December 9, 2018
And Reds youngster Brewster, 18, who has spoken out against racism in football on a number of occasions in his short career so far, shared his embarrassment at the incident, saying "just when you thought things had changed for the better…":
Another day another racist incident. Embarrassing for it be happening twice in two weeks in England. Just when you thought things had changed for the better… #LetsKickRacismOutOfFootball

— Rhian Brewster (@RhianBrewster9) December 9, 2018
Sterling has been supported by equality in campaign Kick It Out, as Brewster was when he discussed instances of racist abuse while playing for both Liverpool and England in an interview with the Guardian last year.
But the hope is that, as the player writes, the onus is on the media to change their stance before behaviour in the stands improves.
In 19 appearances for City this season, Sterling has scored nine goals and assisted eight, while Brewster is working his way back from a long-term ankle injury and will be part of Jurgen Klopp's first-team squad on his return.