The Liverpool squad have little time to savour their scintillating performance in a 4-0 thrashing of Bournemouth, with Napoli to come on Tuesday night.
Mohamed Salah scored his second hat-trick of the year in a 10-out-of-10 display as the Reds enjoyed one of their best games of the season so far at Dean Court on Saturday.
Aided by a well-taken own goal by Steve Cook, it was the fourth time Jurgen Klopp's side have scored four or more this campaign, despite typically taking a more conservative, controlled approach.
Given more freedom due to Bournemouth's own expansive outlook, Liverpool were able to flex their attacking muscle, and for Andy Robertson, the debate rages on as to whether his 'assist' for Cook's flick past Asmir Begovic counts.
Speaking to LiverpoolFC.com, the Scot elaborated on his exchange with Trent Alexander-Arnold after the game, as the full-backs compete for the most assists this season:
"I don't think the lads are giving me it. I'll try to argue it!

"I think an assist is the second-last person to touch the ball—that was me, so I'll be trying to claim it.

"But as soon as I walked off, Trent wasn't too happy. If it counts, it counts; if it doesn't, so be it."
More importantly, this win saw the Reds move above Man City—who lost 2-0 to Chelsea—to the top of the Premier League, though Robertson was keen to stress the run must continue:
"It's all we can do. When you're in the chasing pack you can only keep putting the pressure on.

"This weekend we had the benefit of playing first, so we go top whether it's for a brief time or longer.

"Man City are an incredible team and it's all about staying with them—we're doing that just now.

"It's tight with us two; I'm hopeful it will go all the way and hopefully we can do it.

"But we just need to take it game by game and keep winning our games. We'll see where it finishes up."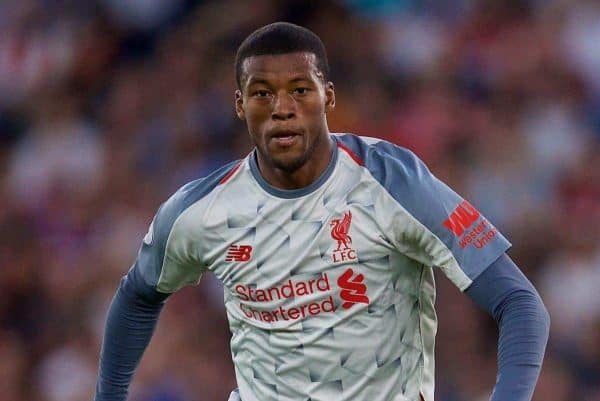 Klopp made seven changes for the 3-1 win at Burnley in midweek, and another five on Saturday, with Gini Wijnaldum one of those brought back in after a much-needed rest.
This winter sees Liverpool in the midst of a run of 11 games in 41 days, or one every 3.73 days on average, and the midfielder told the club's official website that rotation is vital to maintaining form:
"It's important to have a squad that can replace each other.

"Everyone knows in the Premier League—and especially when you play in the Champions League—you play a lot of games, so you need a big squad.

"If everyone can replace everyone and keep the level, it's really important.

"I hope we can stay fresh until the end of the season and injury-free. Then I think we can do big things.

"We're in a run right now and we have to make sure we stay in this run to succeed."
To that end, Wijnaldum praised the increasing contributions of summer signings Fabinho, Naby Keita and Xherdan Shaqiri, who started together as a trio for the first time at Dean Court.
The Dutchman used his own experience to highlight how their best form is yet to come, and employed a Kloppism in assessing that "they are in a good way":
"Everyone needs time to settle in. I needed time, we saw it with Ox, Robbo needed time. Everyone did well after a few months.

"Naby and Fabinho are doing well—and Shaqiri also.

"We hope they will do [even] better because that means they will help the team and make us even stronger. They are in a good way."
Speaking in his post-match press conference, Klopp stressed how his side would need to "go home, eat, sleep and recover immediately," with a result against Napoli imperative to their progress to the last 16.
And along with praise for hat-trick hero Salah, James Milner on his 500th Premier League appearance and for Adam Lallana "four stitches to go with three points," Wijnaldum led the squad on Instagram in calling for "focus on Tuesday":
Now top of the Premier League, the Reds need to follow this up with a positive result at Anfield in the Champions League, as they continue to cement their top-level credentials.
This is clearly something Klopp has drilled into his squad, as despite the nature of their victory in Boscombe, Liverpool won't be resting on their laurels, with Man United to come after Napoli.