The media lauded Mohamed Salah's performance and felt Liverpool sent a real statement of intent for the title race ahead in their 4-0 rout of Bournemouth.
The Reds produced their most complete performance of the season so far to storm past the Cherries and to top spot of the Premier League table.
A superb hat-trick from Salah and a comedy own goal from Steve Cook ensured another big three points were brought back to Merseyside.
It was a perfect afternoon as several Reds hit top form and Klopp was able to rotate shrewdly ahead of Tuesday's crucial Champions League showdown with Napoli at Anfield.
Before attention turns to that vital Group C clash, here's how the media assessed a fantastic result and performance at Dean Court.
The media were impressed by the manner of the win and the Reds' continued work in challenging Man City…

The Telegraph's Jim White assessed the win as one of "impending champions", praising Liverpool's perfect mix of resilience and magic:
"Resilient, resourceful and sprinkled with the star dust of a Mo Salah hat trick, this was a win which oozed authority.

"Under normal circumstance, it might be considered one which announced impending champions."
The Liverpool Echo's James Pearce labelled it the Reds' "most complete performance of the season" and a real statement of intent for the title fight ahead:
"This was Liverpool's most complete performance of the season so far. This was a booming statement of intent in the Premier League title race."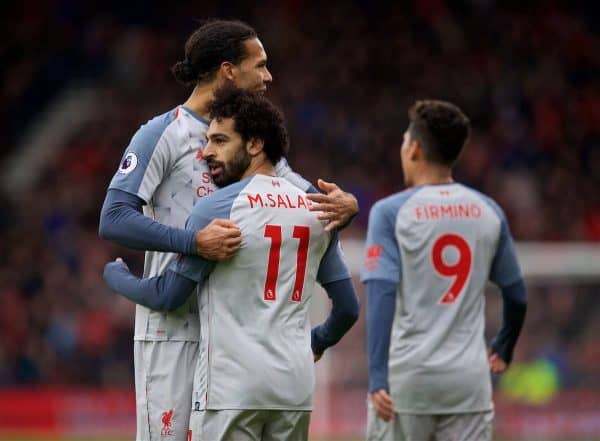 The Evening Standard's David Lynch assessed the biggest positive of the game was the routine manner of the victory:
"Here, Klopp's men put on one of their best attacking performances of the season to make their trip to the south coast a much more pleasant experience than might have been expected."
ESPN's Nick Miller thinks it is "extraordinary" how the Reds are competing so strongly against City:
"More than transient league positions with not even half a season gone, it's extraordinary that Liverpool are even keeping pace with Pep Guardiola's side."
Reporters picked out various impressive aspects from the victory…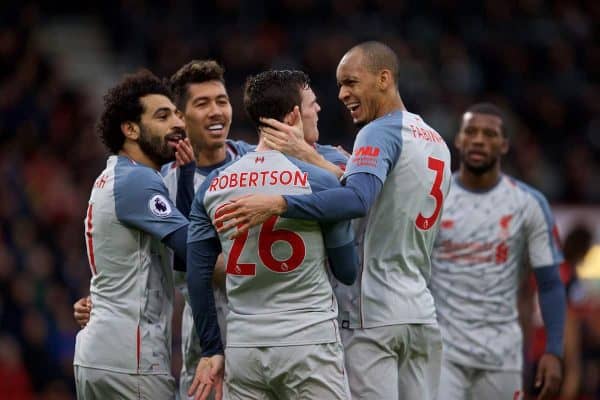 Our own Karl Matchett was in awe of the completeness of the display, explaining how the Reds were unstoppable at one end and unbreakable at the other:
"It was a true red machine, rolling in unstoppable and unflappable fashion to a victory – and it was great to see plenty of fast-paced exchanges in attack take place.

"Teams can't stop the Reds playing that way when they get going, and they're finding it tough to break down Virgil van Dijk and Co. at the other end, too."
ESPN's Glenn Price thought Liverpool's pressing was on point and noted how the setup deployed brought the best out of Salah:
"Liverpool's pressing was impressive, and the setup presented plenty of opportunities for Salah to make runs through on goal."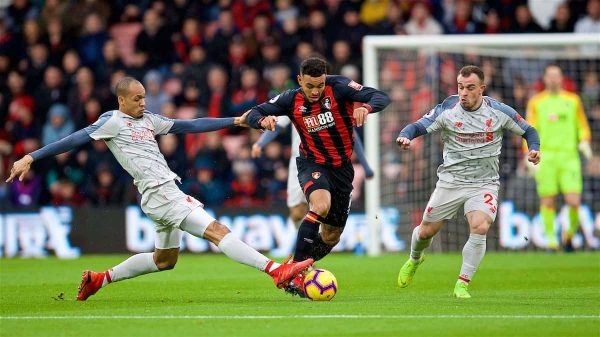 White was impressed by the performances of all of the outfield summer signings, praising how all have adapted so quickly to Klopp's style:
"The three midfielders the manager bought in the summer all started here and seemed to have been easily assimilated into the Klopp process: Naby Keita and Fabinho were precise and economical, while Xhedran Shaqiri […] was always seeking openings in the middle."
Meanwhile, Pearce has been impressed by Klopp's rotation in recent games and feels this will be key to the Reds keeping the pace throughout the campaign:
"This gruelling schedule is a balancing act for Klopp but so far he has played a blinder. Rotation has paid off with fringe players grasping their opportunities to shine."
There was plenty of praise for the hat-trick hero…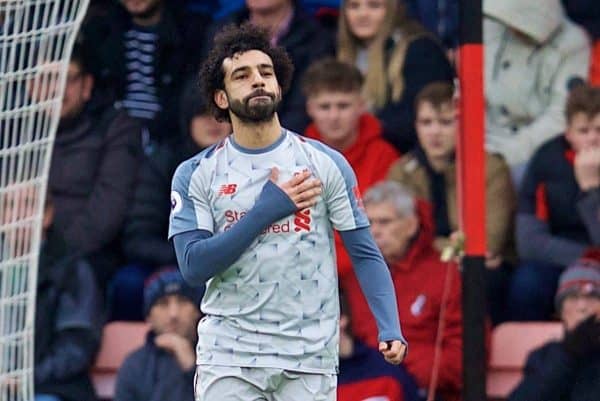 Writing for Goal, Neil Jones labelled Salah's display "something special" and explained how the hat-trick showed the Egyptian King is still the Premier League's most decisive player:
"He may not be at his most electric yet, but there remain few more decisive players in the Premier League than Mohamed Salah. As individual performances go, this was something special.

[…]

"He scores important goals, too. Seven of Salah's league strikes have been the first goal of the game. When Liverpool need him to open a contest up, he does it. A priceless asset for any side; for one chasing the Premier League, it could make all the difference."
The Mail's Riath Al-Samarrai believes Salah will be the key driving force behind the title challenge as the Reds are "elevated to another plain" when he's in this form:
"He may just be the best hope we all have for an interesting title race, as well, given Liverpool are seemingly the only team with the capacity to rival Manchester City and Salah is the most marvellous part of it. That's not to say they are a one-man band, certainly not.

[…]

"But it is equally obvious that the team is elevated to another plain when the Egyptian is on form, as goals one, two and four in this match showed, with Steve Cook scoring an own goal for the third."
The Mirror's Darren Wells dismissed laughable suggestions of Salah being a one-season wonder and thinks the Egyptian is hitting form at the perfect time:
"One season wonder? Nonsense.

[…]

"The Reds have got a key period coming up too, and Salah's form is a timely boost for Jurgen Klopp with clashes against Napoli, Manchester United, Arsenal and title rivals Manchester City on the way."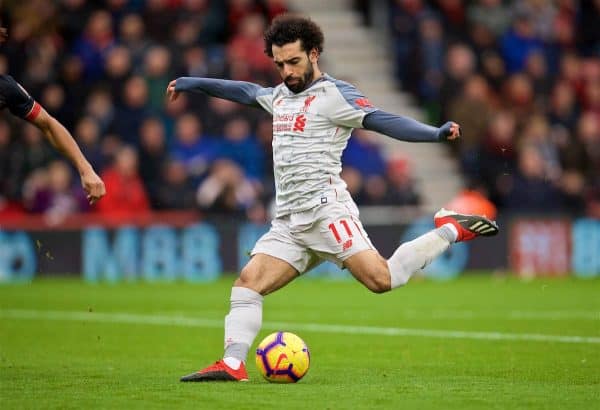 Miller thinks the most impressive aspect of Salah's form is how he has continued to score despite a change of role, also assessing this as a testament to the Reds' "impressive adaptability":
"Salah has had to make his own space, rather than exploiting that created by others. It tells you a few things, among them the impressive adaptability of Liverpool as a whole, and that Salah's 2017/18 might be his new normal, rather than a glorious outlier."
Matchett thought this was Salah's best performance as Liverpool's central striker, and lauded his movement and "imperious" finishing:
"It hasn't always been an easy transition for Salah into the true centre-forward role, but given space to run in behind on Saturday and a succession of raking through-balls looking for his movement, he had a field day.

[…]

"His channel-running and hold-up play was also good, but his finishing was imperious on this occasion."
Certain other Reds were also praised for top performances…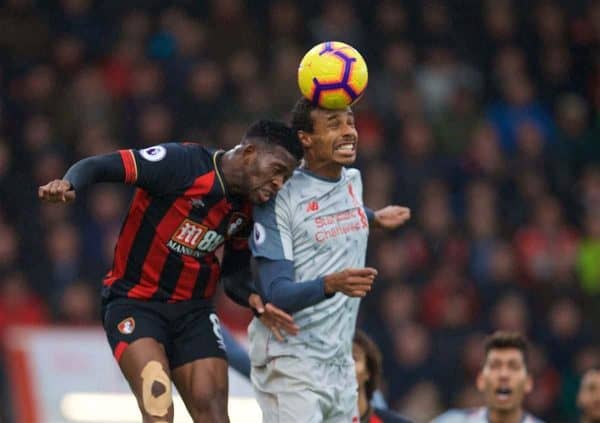 Our man Jack Lusby was impressed with Joel Matip and noted how the Cameroonian offers similar attributes to Joe Gomez:
"It was a big test for the No. 32, and though he and Van Dijk benefited from injury to Callum Wilson, he was impressive regardless, sticking tight and getting crucial challenges in as well as using the ball well in possession.

"Matip is clearly very comfortable on the ball, and like Gomez allows Liverpool to circumvent the opposition midfield – though he employs a different approach, with mazy dribbles instead of direct, vertical passes."
Wells was full of praise for James Milner, lauding the vice-captain's attitude and versatility, playing his 500th Premier League game at right-back:
"As you would expect, Milner slotted in as if he'd been playing there for years, keeping close tabs on Bournemouth's Ryan Fraser and bombing on to support in attack whenever possible.

"Is there nothing this man can't do?"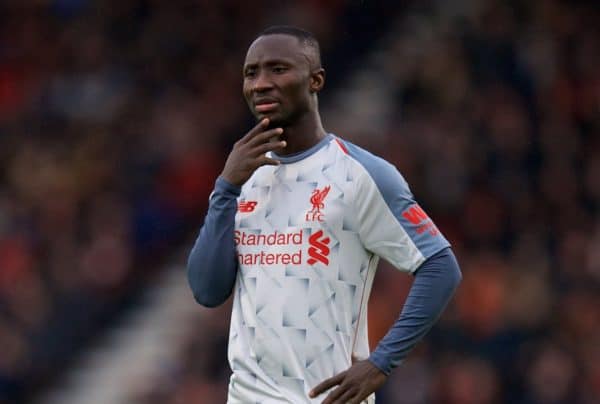 The Liverpool Echo's Connor Dunn saw exciting signs on the linkup between Naby Keita and Xherdan Shaqiri as Liverpool's midfield creators:
"The Guinean and the Swiss playmakers ran riot and were undoubtedly a spark for Klopp's side – the very midfield spark which has been called for on countless occasions already this season delivered.

[…]

"Make no mistake, Eddie Howe's side can play football, but this new combination was something they clearly could not deal with and a very exciting one to watch."
Finally, Lynch was among numerous reporters who thought Fabinho excelled and feels the Brazilian is now proving why he's the best option for the holding role:
"Restored to the starting lineup after missing out at Burnley, Fabinho produced his most complete performance for Liverpool since a summer move from AS Monaco.

[…]

"It feels like it has been coming for a while, but Fabinho is surely ready to command a starting role in even the biggest of games now."