Liverpool have adapted over Jurgen Klopp's tenure into a squad he can trust, and one that has age on its side, as evidenced by a brilliant new graphic.
Much has been made of Liverpool since they hired the enigmatic German.
While he has the outward persona of a carefree individual, the truth is the ex-Dortmund boss has shaped his squad ruthlessly, aligned with his own vision of where the club should be.
During his initial press conference the 51-year-old made great reference to a journey that would take time: after four years he envisaged a Liverpool side that could challenge for top honours.
For his opening game, against Spurs at White Hart Lane, the then-new Liverpool manager had a matchday squad of 18 that consisted of 12 players no longer on the Reds' books.
Of the rest, five are now considered second (or even third) choice—leaving just James Milner as regular starting XI player.

Klopp had no choice: if he wanted to guide Liverpool into a team that could compete then wholesale changes had to be made.
Of course, this was nothing new. However, this time it had to be different.
There could be no room for an influx of talent that degraded the squad, not upgraded it, as seen with the replacements brought in after the sale of Luis Suarez.
Liverpool needed readymade talent, not potential, but they also needed that talent to be sustained—not a one- or two-season effect from players in their twilight.
Four years on from his appointment it seems that Klopp has settled on a regular 15 players he can trust—a far cry from the days where Liverpool had a good XI but nothing to supplement it with come injury or suspension.

Clever recruitment by the entire management system has led to a Liverpool squad with depth and, crucially, age on its side.
Graphics produced by Ben Mayhew (@experimental361), Head of Data Analysis at the Press Association, detail just how key certain players have become.
Klopp's chosen 15 include all nine of the signings brought in to help the Reds get back to a force to be reckoned with: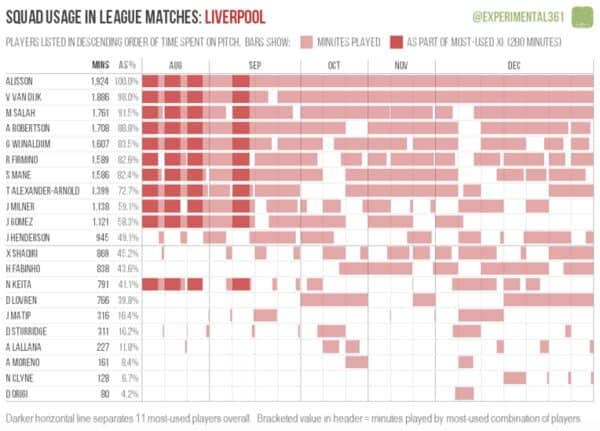 Unsurprisingly it is Alisson who leads the way, with 100 percent inclusion of all minutes played during the current Premier League campaign. His arrival at Liverpool underlined just how ruthless the Reds' manager can be.
However, players such as Xherdan Shaqiri (45.2%)—a cut-price purchase from Stoke in the summer—show that everyone who comes in does so for a reason in Klopp's new Liverpool.
The graphic shows without doubt that the Reds have a set 15 for the Premier League, outside of that group minutes on the pitch drops to over half.
It is also no coincidence that those players in the bottom four of minutes played are the most likely to leave during the next two transfer windows.
Interestingly, after initially sticking with a trusted starting lineup in the opening weeks of the campaign, Klopp's rotational approach is clear—particularly with the likes of Milner, Shaqiri and Jordan Henderson.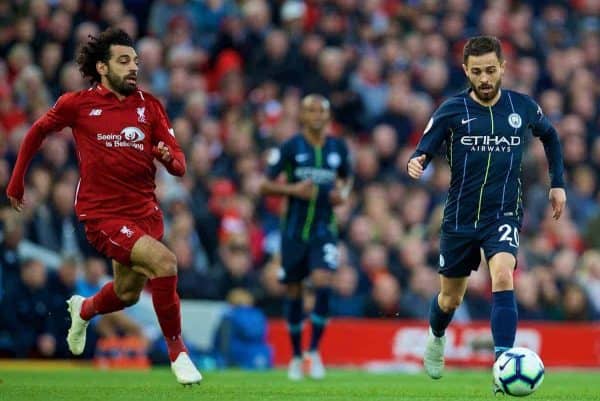 Closest rivals Man City have 17 players they call upon the most whereas mid-table sides such as Watford have a bare 11—something Liverpool had to adapt from to become league challengers.
Finally, there is evidence that Liverpool have managed to balance readymade talent with youth. This will allow Klopp to oversee a sustained challenge, avoiding mass change over subsequent seasons.
Of the 20 Premier League teams, Liverpool have the youngest average age of the current top-four sides (26.3).
Under-performing Fulham (26) have the youngest overall whereas fellow strugglers Burnley (28.6) have the oldest—evidence that the right balance is a major requirement.
Ben Mayhew's entire Premier League squad usage of all 20 clubs is available here, including his squad age profiles.