Liverpool have been in spectacular form this season, but how does their points tally at this stage of the campaign compare to that of previous title-winning sides?
The Reds currently sit atop of the Premier League with a four-point buffer after 23 games, having displayed a level of pragmatism and maturity not present in their recent history.
Jurgen Klopp's side have proven a tough prospect to face both on home soil and on the road, where 19 wins and a solitary defeat to their name has seen Liverpool collect 60 points.
The feat comes as a record for the club as no Reds side in history has ever reached 60 points at the 23 game mark.
More remarkably, however, is that the Reds have accumulated their points quicker than nine of the last 10 eventual Premier League champions, second only to Manchester City last season.
Liverpool have 60 points – when did the last 10 eventual champions hit that mark? pic.twitter.com/2zK5vUf8P2

— Andrew Beasley (@BassTunedToRed) January 22, 2019
The finding from Andrew Beasley emphasises how spectacular Liverpool's form has been thus far in the league, as the average time of previous title winners to reach such mark is 26 games.
It was said at the start of the season that Liverpool would find it hard going to keep pace with a City side that appeared set to dominate the English top flight for the foreseeable future.
But this is where it gets interesting and truly highlights how incredible Liverpool have been this season.
Although Pep Guardiola's side are currently positioned second in the table, their current tally of 56 points was obtained quicker than seven of the last champions, equal to two and behind only themselves.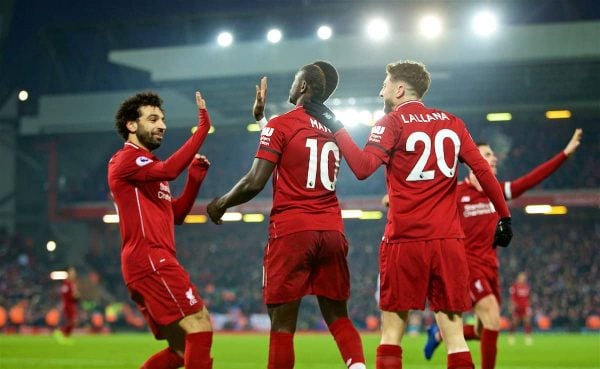 It is why the Reds' current place atop of the table, with a four-point buffer, is truly remarkable when considering the level of competition breathing down their neck.
When you compare the potential margins to other seasons Liverpool could have held, at the most, a 13-point advantage over Leicester at this stage of the campaign in 2015/16 and comparative to only two points behind City last year.
Interestingly the table also shows that matchday 28 has proven to be a stumbling block in the past as six of the 10 previous winners dropped points at this point of the season.
For Liverpool, that corresponding fixture sees Watford visit Anfield on February 27, sandwiched between two of the most highly anticipated games against Manchester United and Everton – both away from home.
The Reds, however, could prove to be one of the exceptions as from the day of the Leicester game until the Hornets' visit, Klopp's side have a relatively straightforward schedule as they are to play only six games in 28 days.